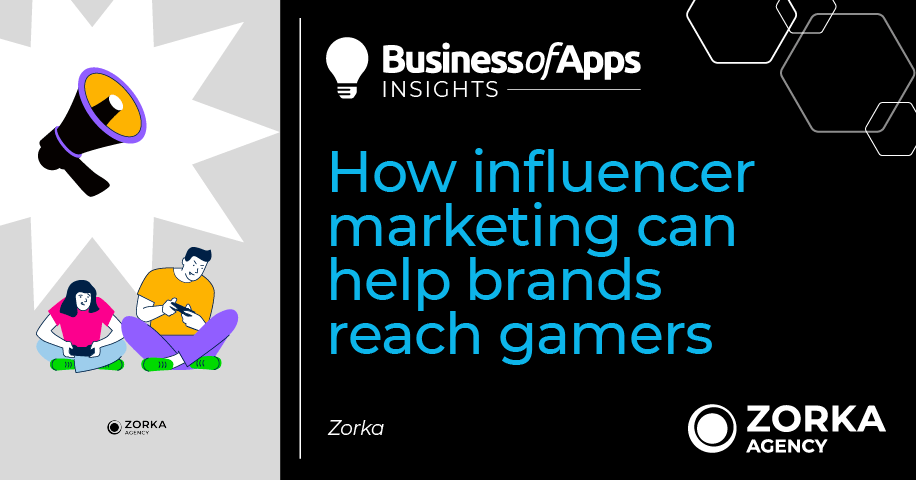 Getting users' attention involves both creativity and technology. On the one hand, it requires precision in building a sales funnel and testing hypotheses. On the other hand, the chosen creative approach helps in dealing with issues that brands face at different product development stages.
At times marketing professionals run out of new ideas for user acquisition campaigns. They may even struggle to communicate their message to an audience, encourage users to communicate with the brand and share content online. In both cases, it's important to step outside the box, look at the situation in a broader, unconventional way, and try and answer the following questions:
Where can you find new paying users?
What unconventional ways of interaction will draw their attention to your product?
Engaging with an influencer gaming audience could be the answer, and in this article we discuss why. According to Newzoo, over 3.9 billion people around the world play games. As the gaming industry has long surpassed other areas of entertainment in terms of total revenue, gamers are the largest audience in terms of potential users for advertisers, brands in the gaming industry, and beyond.
Next level: Acquiring a gaming audience
Influencers are the key to any gaming audience. Start working with vloggers and streamers – and you will find how convenient and profitable it is:
Vloggers' audiences tend to be more engaged and are more likely to take action than, for example, lookalike audiences.
People trust and support vloggers they are subscribed to.
Attracting gamers is a winning strategy for brands that are just entering the market or brands that find it difficult to reach new audiences for their product, because:
Gamers are a huge and powerful audience, which has clear segmentation and can be engaged, if you choose the right tools. Influencer marketing is one of the best ways to interact with a gaming audience, which can, in turn, help you get media coverage and improve performance metrics.
The next step is choosing the right strategy for your audience interactions that will guarantee you the highest engagement rate.
Difficulties and overcoming in attracting a gaming audience
Although the influencer market hasn't stopped growing (in 2022, it will be worth $16.4 billion), there are some industry patterns that reduce the performance of influencer marketing campaigns and should be considered. These are:
Media platforms are overflowing with similar ads. This reduces the interest and attention of the audience.
The space is highly competitive and the process of finding, communicating, and placing an ad with an influencer is getting more and more difficult.
A regular brand integration with a influencer's audience is a set of marketing activities in the form of contests, giveaways, social media takeovers, affiliate programs, posting sponsored content, unboxing and reviews, brand ambassador programs, etc.

Unlike typical influencer marketing integrations, projects targeting a gaming audience are aimed at attracting attention of the audience to a brand's values and the specifics of the advertised product using high level of creativity and exciting design. It could take the format of a Massive Interactive Live Event (MILEs), a kind of an in-game entertainment event that allows gaming audiences of any size to gather for a shared activity. For instance, collaboration between a free-to-play Battle Royale game Fortnite and an American rapper and influencer Travis Scott resulted in a MILEs event called Astronomical. 12.3 million players connected to watch the 9-minute live show Astronomical.
For another example, a project to engage a gaming audience could take the form of complete simulation of gamer experience as it was the case with the Play NZ advertising campaign created by New Zealand's travel agency. The campaign ran in the midst of the global lockdown to make people consider New Zealand as a destination as soon as travel restrictions were lifted. Play NZ was promoted with the help of influencers on Twitch and YouTube. In particular, they hired Loserfruit, a Game Dev influencer with an audience of 3.35 million subscribers, to make a 10-minute walkthrough video, which she posted on Twitch and YouTube.
Benefits of influencer marketing campaigns:
Wider reach thanks to the creative mechanics, higher engagement rates, and the tech features of media platforms used
Content virality due to influencers' target audience interactions and the creative mechanics of a project
Opportunity for a brand to connect with a narrow, targeted, and highly engaged audience
Gamer's audience + influencer marketing projects = successful strategy
When combining this potentially most engaging interaction format – IM projects – with the largest user audience – gamers – advertisers can enjoy a plethora of marketing benefits:
Access to the biggest audience in the industry
Audience ready for innovative creative formats
Audience actively engaged in the game (creative) mechanics
Audience with a large share of Gen-Z users
Influencer marketing projects aimeed at a gaming audience will suit any business. Predictably, the format of influencer marketing campaigns is an opportunity for gaming products to enhance brand and product awareness among their target audience and draw more attention to themselves thanks to the innovative and creative designs used in a campaign.
For products in other industries, projects with gaming influencers are an opportunity to enhance a brand's visibility among the largest and most engaged customer audience with great paying potential and high level of engagement.