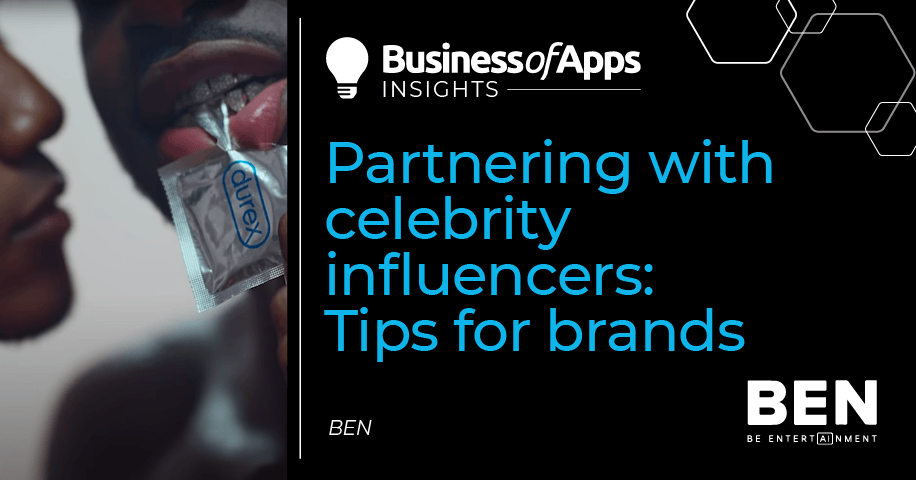 In the middle of his music video for "That's What I Want," American rapper Lil Nas X rips a Durex condom wrapper open with his teeth, creating an iconic branding moment that will forever tie him with the Durex name.
The video collaboration, in addition to a social media campaign with Lil Nas X to promote Sexual Health Awareness month, created a huge moment for Durex. It activated the ideal outcome: securing both mass reach and creating a headline-grabbing moment that generated ongoing social engagement.
This post was first published on ben.productplacement.com.
Brands dream of these kinds of partnerships. But while it may seem like celebrities always offer the most optimal exposure, they aren't necessarily the right partner for every influencer marketing campaign—and they require a special approach. In practice, deciding whether to work with a celebrity versus a traditional influencer comes down to what the brand is trying to achieve.
Big names can bring big moments — and high costs
If a brand is looking to make a bigger splash and tie their brand to a famous name, celebrity influencers are a great option. They can bring mass awareness with huge follower counts, in addition to sparking organic press pickup and cultural chatter on social media. But if a brand is simply looking to get their biggest return on investment in terms of the highest number of views, working with non-celebrity influencers may be a better call.
For one thing, celebrities tend to be more expensive partners. That's because they're often looking to do fewer, bigger brand partnerships that are more meaningful than a one-time deal. Many won't even entertain being approached for a single social post, and if they do, that's when brands will need to pay a premium.
Still, there's plenty of reasons to partner with celebrities. Approaching and maintaining a partnership with them just requires a unique mindset.
You're living in their world
Traditional influencers are accustomed to working brands and are familiar with the kinds of requests they make. But when it comes to celebrities, brands often need to play more by their rules. Be open to content direction, as artists often have a clear sense of their personal brand and how they want to communicate to their fans.
For example, BEN designed a strategy for sexual wellness brand VUSH where its products were promoted in a Cardi B music video. The rapper had full autonomy in her creative process—and it paid off. Instead of having extras hold the product, Cardi B opted to hold it herself. The result: VUSH's product received prime placement in the video, earning 69 million views on YouTube within 30 days, driving pre-sales and a flurry of media mentions for VUSH.
Create meaningful opportunities
While brands may be more interested in talking KPIs and ROI, celebrities are more focused on impact and ideas. BEN serves as a liaison between these two sides. It not only ensures that brands are getting the results they want, but also that celebrities feel fulfilled.

To that end, BEN often works with brands to initiate ambassadorships with celebrities that involve long term, multi-channel campaigns. Take HP's partnership with rapper Diamonté Harper, aka Saweetie, to license her song for a laptop campaign on TikTok. The partnership also involved animator King Science, who developed a three-part story of him and Saweetie going back to school and saving the day with an HP laptop.
The video was posted on TikTok exclusively first, but both artists also promoted the content on other social channels. In addition, BEN helped HP work with Saweetie to donate laptops to a school charity she supports. Because celebrities crave meaningful engagement, brands should seek opportunities to extend campaigns and make them bigger moments in time.
Be patient, flexible, and open-minded
The process of working with a celebrity influencer is often not quick or transactional. Patience and flexibility, especially around deadlines, are needed for a partnership to thrive. Celebrities are often juggling many projects at once: albums, tours, movie shoots, media appearances, etc.
It's also important to remember that like all creators, celebrities are people, too. They have family and personal lives to balance on top of a fully booked work schedule. Brands should be prepared for the process to be elongated and last-minute schedule shifts to happen.
Another tip? Be open to alternatives. Brands often have a dream celebrity in mind for a partnership. With extensive relationships across gaming, sports, and the music and movie industries, BEN will work to make it happen. But if one particular celebrity isn't an option, BEN can also use its vast network and AI technology to find lookalike artists with similar audience demographics or aesthetics. Sometimes, that alternative talent option is an even better fit and/or more cost efficient.
Celebrity partnerships done right can be magic
While working with celebrity influencers can require more flexibility, patience, and diligence, once the right partnership comes to fruition, it can be a magical moment for a brand.
If done right, the chance to work with a household name can generate organic press pick up and social media buzz. It can, overall, take the general public's awareness and understanding of a company to new heights.
Ready to partner with a celebrity for your next influencer campaign? Get in touch with the team at BEN Group today.