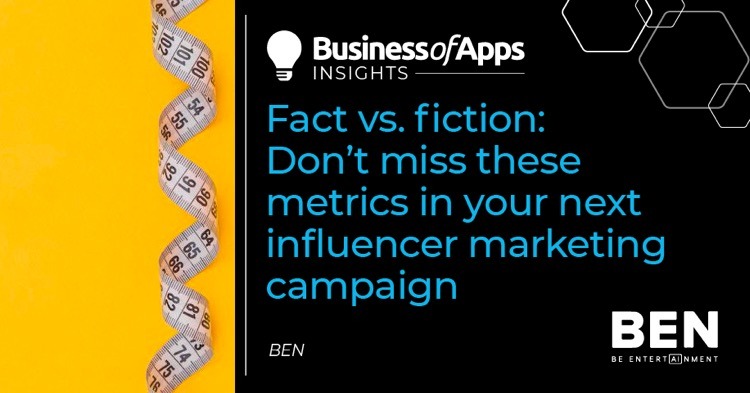 There's a measurement gap in influencer marketing.
According to a 2021 survey of marketing agencies, brands, and other relevant professionals, 90% believe influencer marketing is an effective tactic. But only 67% measure the ROI of their campaigns. 
It's true that for many years, measuring influencer marketing impact was a challenge. But as the industry matures, brands, creators and agencies alike are finding ways to accurately measure meaningful KPIs and turn the channel into a core part of marketing strategy. For example, measuring brand awareness used to rely only on a specific influencer's reach or the number of total impressions. Now, however, brands have more tools at their disposal to assess the impact—like a brand lift study to measure the effectiveness of those impressions.
When it's time to decide how to leverage influencer marketing for a brand's specific goals, understanding what is measurable can help determine the best use of your budget. Here, we're separating the facts from the fiction.
Fiction: Only reach and impressions can measure brand awareness
Fact: Interpreting brand awareness can be much more specific, measuring how brands stack up against competitors and analyzing consumer sentiment.
When brands run influencer marketing campaigns, tracking typical metrics like impressions is table-stakes. In addition, a brand lift study can help unpack the stories behind those impressions, answering questions like "how does my brand's awareness compare to my competitors?" and "is my influencer marketing campaign driving positive affinity for my brand?"
A brand lift study can measure the effectiveness of a brand's campaign using survey data taken from the audience before and after seeing influencer content. These studies can measure things like audience recall, awareness, and affinity for a brand to show the campaigns effectiveness toward specific goals.
For example, one retail brand used an Instagram campaign to raise awareness—and the brand study executed in partnership with BEN helped interpret the effectiveness of the campaign. It revealed that influencer videos on YouTube supported strong brand recall, with an average of 90% of survey respondents able to correctly identify the brand unaided. The brand study also revealed which influencers, brand messages, and formats drove stronger recall, helping inform future creator partnerships and messaging strategies. Finally, the research showed a marked improvement in respondents' opinion of the brand following the influencer marketing campaign.
Fiction: Influencer marketing can't support my mid-funnel marketing KPIs.
Fact: Survey data from brand studies can measure purchase consideration and intent in a mid-funnel campaign.
Most brands seek influencer marketing to drive awareness at the top of the marketing funnel, or drive online sales at the very bottom. But there are key metrics that influencer marketing can bolster in the middle of the funnel, too. 
First: consideration. Campaigns that have dedicated links to a product page or the brand's website generate a click-through rate metric. This metric tells brands whether a consumer is evaluating products or services and considering making a purchase or taking further action with the brand as a result of the influencer marketing campaign. A brand study can also support this KPI, asking audiences their likelihood to consider a brand for their next purchase.  
Second: favorability. This is another brand study metric, tracking consumers' general opinions or emotions toward a brand, as well as likelihood to recommend it to others. Brand-creator partnerships that intend to measure this statistic are often more focused on audience education (e.g., how to use a financial services app to make your next vacation more budget-friendly—check out the full story here.) In the brand study, brands can ask audiences how a particular piece of content changed their opinion of the brand.
Fiction: Influencer marketing is not a sales tactic. 
Fact: Influencer campaigns can drive — and measure — digital and physical sales lift.
Dedicated links are a sure way to measure online sales that result immediately from an influencer marketing campaign. But just because not everyone in the audience is immediately hitting '"purchase" after they see influencer marketing content doesn't mean that content didn't influence purchases down the road. 
While today's platforms don't have the ability to follow every impression all the way to a physical sale, brands can still generate their own data about longer-lead sales. The name of the game? A simple post-purchase survey. When a customer completes a purchase online, a brand can prompt them with a simple survey asking, "How did you hear about the brand?" The easier it is for customers to complete the survey (think: multiple choice options), the more likely brands will gather robust results. 
For example, one fitness brand worked with BEN and found that influencer content was driving 10,000 sales per month — roughly 3% of all sales on the direct-to-consumer website — with an average order value of $1,800. The same data can be collected through a survey at the in-person point of sale, or even through an email touchpoint following the sale.
Expect measurement KPIs to continue evolving
Measurement is ever-evolving as the platforms that brands and influencers use. For example, our team recently wrote about platforms' policy changes to try to increase brand safety. And just in the last month, platforms like YouTube and Instagram have shifted their policies around the like and dislike buttons for example. How generous platforms are in their data sharing through APIs determines what types of measurement are possible. 
Moreover, as applications of data and analytics technologies grow in sophistication (thanks, in large part, to the rise of machine learning algorithms and artificial intelligence), we can expect the ability to track influencer marketing campaigns to improve in scope and granularity.
Interested to learn more about measurement in influencer marketing? Get in touch with the team at BEN Group today.