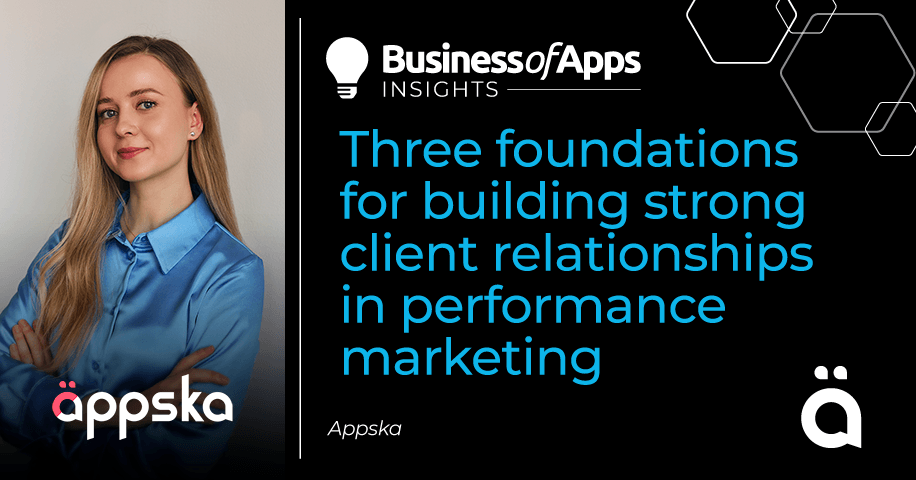 My name is Nadia Katrich. I am the co-CEO of performance marketing agency Appska. Our company pays great attention to interaction with clients. It is an essential factor in our success in the market, distinguishes us from competitors, and contributes to long-term relationships with partners. In this article, I will talk about the three foundations of working with clients on which we build our relationships.
In-depth analysis
One of Appska's values is: Focus on the client, and everything else will follow.
It is crucial for us to understand the needs and goals of our partners deeply. We believe that this focus on a specific business and individual approach is the key to the success of a product promotion campaign.
Based on this, we attach great importance to careful analysis in our work. This is a multi-level process, and it begins even before the start of cooperation, before the first touch.
We always come to a potential client full-handed. Before the first contact, our sales team studies the business using publicly available sources. It determines the stage of product development, analyzes the needs of future partners, tries to understand how we can help, how to solve their problems, describes promotion options, etc. Based on our successful cases, the Appska team decides what work needs to be done to bring results.
With such a primary analysis and understanding of the future partner's business, we make contact. In this appeal, we do not give extensive details and do not write long texts but pronounce theses and bullet points. It's short and lets clients clearly see how Appska can help develop their product. This establishes a dialogue and dramatically increases the likelihood of a fruitful relationship.
Once the contract is signed and the collaboration begins, we move on to a more in-depth analysis stage. In Appska, it is not customary to simply ask advertisers what paid action they need and in what GEO, and immediately launch a campaign based on superficial data. Also, we do not use standard briefs and do not shift the responsibility for filling them out to the client. Instead, we conduct in-depth interviews to identify needs, find growth points, and understand the target audience segment the campaign should be aimed at.
At the stage of in-depth analysis, it is necessary to explain to clients the importance of their involvement in this process. It will make the campaign as effective as possible.
As a result of such a thorough multi-level analysis, we understand the values and mission of our partners, their customers, and their needs and growth points. In fact, we become experts on the client, allowing us to develop an adapted and personalized version of their product promotion. Appska's experience and successful cases show that this approach brings the best results.

Expertise and continuous development
Another value of Appska sounds like this: Provide WOW through our services!
We have a large set of digital tools in our arsenal. Appska can provide services in any vertical and any GEO. In addition, we have mastered more than 150 first-class traffic sources.
It allows the client to receive a full range of services in one place, to cover all the needs for product promotion. Partners always have a choice — to use our tools separately or act on the omnichannel principle when different marketing services, when used in parallel, reinforce each other and significantly increase the campaign's effectiveness.
The digital market is constantly changing. Something is always happening here — some old things die off, but new opportunities appear. That's why staying flexible and fast is important because speed is vital in this field. Appska evolves along with the market. We follow trends, analyze competitors, take many training courses, invite famous speakers, and participate in all significant conferences and exhibitions worldwide. Thus, we always understand where Appska needs to move and how to adjust our development vector.
Appska allocates resources for testing new verticals, GEOs, traffic sources, and digital tools. After that, we keep the most profitable solutions and discard those that do not work.
Considerable attention is paid to developing and recruiting the best specialists on the market and establishing communication between the teams. This contributes to building effective relationships with partners. In the case of Appska, hunters from the Sales Department find clients, then transfer them to account managers, who "grow" them and implement agreements, while affiliate and influence managers build connections with advertising networks and publishers. Everyone is doing their job, and at the same time, each department is constantly communicating with others. Such an established chain allows us to interact closely with clients and satisfy their needs.
The focus on expertise and development significantly impacts building successful relationships with partners. We have a deep understanding of what we do. Our team knows how the psychology of the buyer works. We know the trends and how to perform competently in this volatile market.
Trusting relationship
We do care! — this is another value of Appska.
We pay great attention to customer care. It is essential for us to build trusting relationships with partners, identify their needs, pains and desires, and even exceed expectations. We are not indifferent to what happens to the partner's business, so all customers — large, medium and small — receive the same high level of service and can count on the help of our specialists almost 24/7.
This approach increases loyalty and helps to ensure that relationships with our partners are long-lasting. In addition, we earn a reputation in the market — our good name works for us and triggers the effect of word of mouth.
Nowadays, in the field of activity in which our agency operates, there are many players promising what they cannot fulfill. In other words, they "sell air" — conclude a contract and then think about how to perform it. Appska believes that long-term relationships cannot be built on "selling air" because it threatens the loss of reputation earned by hard work.
We always try to be as honest and transparent as possible with our partners, and we are careful not to promise the client what we cannot do. That's why Appska always relies on our successful cases. Also, during the negotiations on cooperation, we try not only to show the possibilities but also to inform about the risks.
Final thoughts
In conclusion, I would like to note that at the moment there is a lack of normal human relations in our market. At Appska, we believe that it is important to build not only purely business relationships with partners but also friendly ones, up to helping with personal issues. Therefore, we are often told that we are just good guys, and it is not only pleasant to work with us but also to communicate, meet at parties and have fun. Such humanity also contributes to the fact that customers prefer us to competitors, and the relationship with them is long-term and fruitful.
Deep analysis, expertise and trusting relationships are important foundations of successful client interaction. Being in a bundle, they complement each other and produce a synergy effect that allows you to achieve maximum results and be head and shoulders above many other players on the market.