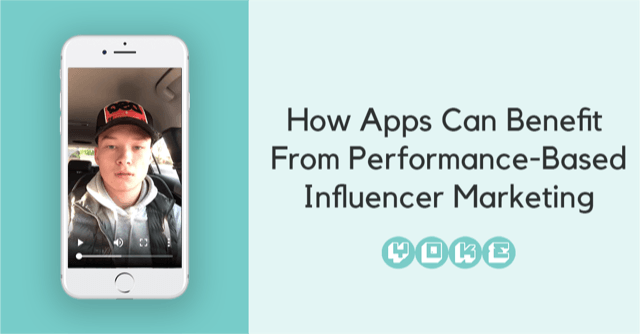 There are many issues in the way traditional marketing is measured at the moment. Thankfully, there is a straightforward solution for brands and apps. More and more companies succeed with performance-based influencer marketing. We believe that the next big step in the influencer industry will be performance marketing in combination with influencers, especially in the case of apps. Undoubtedly, it might be something to consider when you are setting up your next influencer marketing campaign.
Performance marketing is like buying a huge billboard and only having to pay when someone reacts to it. You can see how this might work out better for online marketing than it would for traditional. Performance marketing introduced people all over the world to an engaging way of carrying out marketing, which allowed influencers to constantly engage with their audience. In affiliate marketing (a different term for performance marketing using influencers to promote products, brands or apps), advertising will always be a win-win situation. Influencers are encouraged to come up with creative content, and advertisers will only have to pay after the desired action is completed.
Next to being a win-win situation, performance marketing has other important advantages. Here are four of the biggest benefits for apps when working on a performance-based campaign:
Performance marketing is highly measurable with little risk
Measuring your success won't get more precise than through this type of marketing. You don't need to pay influencers upfront and will only have to pay them for successful conversions. Conversions are determined before the start of the campaign and depend on what you want your app to achieve. This way of working ensures you know your money is going to be spent well and that you will be able to closely measure your successes. In performance marketing, every click is trackable. All you need is a unique tracking link that will accurately determine the effectiveness of the campaign and show you more insights like the kind of influencer channels who drive the highest quality.
Working with influencers extends your traditional advertising reach
The type of influencer you should collaborate with is highly engaged within their niche. In comparison to traditional advertising, this will give you direct access to your target audience. When an influencer has built an entire social presence around a certain subject, a high percentage of their audience will also be interested in that topic. Linking yourself to this influencer will benefit you, as their audience is most likely open to hearing about you. You can even go further and extend your advertising reach through traditional blogs, Facebook groups, and product reviews.
Influencers come with innovative ideas and creativity
The influencer marketing world is highly competitive, so creators are forced to add innovation and creativity to their content. Thankfully, influencers are often creative thinkers. When working on a performance base, influencers realise they need to think outside the box and go all out to create content their followers will engage with. Otherwise, they won't generate high earnings and would get nothing in return after having invested time and energy. A simple way to make sure influencers keep creating engaging content is by gamifying the advertising experience. You can do this by adding the incentive to perform every time they reach a certain goal.
Third-party validation
Generally, brands lack authenticity when they are competing with influencers. Consumers care less about the message coming from a company and more about the opinion of their favorite social media celebrity. Companies will never have the same kind of relationship that influencers have with their audience. It means more to them when influencers praise and promote apps through high-quality content. Think about it this way: it is always better to have someone else say how great your app is, rather than you claiming it yourself. Where is the reliability in that?
Before you decide to delve into performance marketing, you should, like for any other marketing campaign, define why you want to set up your performance-based campaign. Do you want to generate more downloads? Celebrate the launch of a new in-app feature? Even a goal like brand awareness, that proves to be difficult to measure, can benefit from performance marketing if measured on a CPM (cost per mille) measurement.
Most importantly in setting up a performance-based influencer marketing campaign, you should approach your campaign costs realistically. Working with influencers is not yet as expensive as working on a traditional marketing campaign. Still, you should set aside an honest budget for the influencers you are going to be working with. Don't underestimate your affiliates. Influencers know their worth and you should treat them like business partners. If you're not completely sure how to approach setting up your budget, doing a simple competitor search can lead you to a few important insights. This way you get to compare your budget with the one your competitors set aside for their performance-based influencer marketing campaigns.
If you are still hesitant to take a step into performance-based influencer marketing with your app, keep these final insights and tips in mind:
Try out your own A/B tests to see what draws your audience more to click on. This will lead you to insights of what your audience likes best and can help you tweak your campaign to being more effective.

Influencers have access to knowledge that is valuable to your app. They build a loyal relationship with their audience with more personal and real messages. That creates trust and lets them understand their audience and its wishes better. If you learn to listen to the insights influencers get from their followers, it could make your app the leading app in the industry.

Find the right type of influencer for your marketing campaign. Not just any influencer with a large number of followers will work for your brand. They need to reach the right audience and need to lead to the right amount of traffic to your app.
If you want to know more about Yoke Network performance focused influencer ad network click here.