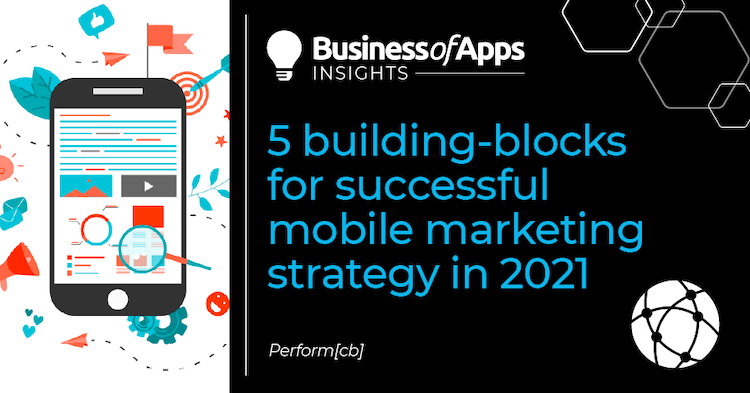 The past year has transformed the mobile marketing landscape as we know it. In Q1 of 2021, it's safe to assume that the mobile marketing space will continue to grow and thrive. The question is, how can mobile marketers ensure they are employing the correct insights and data to be successful in our continually accelerating environment? How will iOS 14 change the mobile landscape for marketers? Is 2021 the year for on-demand apps? It's important to enter the new year with innovative optimizations to beat out the competition. Perform[cb] has formulated a list of the top mobile trends, optimizations, and predictions that marketers should take into consideration as 2021 kicks off. 
Mobile user experience
While having a user-friendly mobile experience may seem like a given, many mobile marketers struggle to achieve this. The first step in attracting and retaining users as a mobile marketer is to create a smooth, personalized UX tailored toward the user's wants and needs. It takes only 0.05 seconds for a user to form an opinion on a site that will determine if they stay or search elsewhere. 
When creating a personalized mobile journey in 2021, mobile marketers need to utilize user insights to better understand and target their preferred customers. Apple's iOS 14 update disables third-party cookies, making it even more difficult to obtain user attribution data. While personal data tracking will now require explicit permission from all Apple users, 90% of users have said they are willing to share personal data with companies if it makes for an easier user experience. Mobile marketers will need to get creative in 2021. A network partner can be a great resource to alleviate the lift of continuous tracking and data analysis, especially those with in-house platforms like Perform[cb]'s PerformLEAP®. Launched in 2015, PerformLEAP offers marketers a lighter lift on campaign management with features such as customized dashboards, real-time reporting and tracking, proactive fraud monitoring, budget management, and smartlink technology. Read more about the top new features our team made to PerformLEAP in 2020. 
Personalized targeting and in-app content
Now more than ever, customers are being exposed to thousands of mobile ads daily. If marketers aren't creating and promoting personalized, attention-grabbing mobile content, it's likely marketers will lose those potential users to the competition. Promotional personalization can increase marketing spend efficiency by up to 30%. By employing user data and insights, mobile marketers can learn which types of content and calls to action resonate best with their target audience. Personalized CTAs have proven to convert 202% more than default or standard CTAs. 
Mobile marketing makes it quick and easy to send personalized messages to different targeted user segments. In 2021, it will be important for mobile marketers to invest time in collecting customer feedback in order to optimize these personalizations. Content personalization can reduce customer acquisition costs by up to 50%, ultimately, making user insights more cost-effective for mobile marketers. In-app reviews and feedback will play a pivotal role for mobile marketers in 2021, and can substantially reduce user acquisition costs. This type of feedback can take several forms including short surveys, app store reviews, A/B testing, and customer support chatbots. 
Customer service and user feedback
Instant gratification controls the mobile experience. Mobile consumers have been trained to expect instant gratification and customer service as the digital world continues to grow. 75% of users expect immediate results or information while using their smartphones. As consumers were stuck at home in the early days of the COVID-19 pandemic, brands experienced an overwhelming spike in mobile sales. This is extremely important for mobile marketers working in verticals such as e-commerce, entertainment, and gaming, as consumers continue to look to their mobile devices to make purchases, avoid boredom, and find new ways to bond with their loved ones. This spike in mobile screen time is expected to continue through 2021, making user feedback and implementation exponentially more important for mobile marketers. 
Staying relevant in a shifting digital world
It's no surprise that competition is growing for mobile marketers. Going into 2021, the mobile app industry expects to see major increases in mobile video marketing and utilization of App Clips.
Video is expected to make up 76% of all mobile traffic by 2025. In an increasingly competitive market, it will be essential for mobile marketers to create video content that's made specifically for their target demographic. This content must be authentic and consumable across multiple devices. In 2020, 92% of marketers said that video was an important part of their marketing strategy. By optimizing mobile campaigns to include video content, mobile marketers will be highly effective in scaling their campaigns. 
By the end of 2020, 151.7 million U.S. mobile users were playing gaming apps on their phones. This combined with Apple's most recent iOS 14 update will be a major player for marketers to stay in the mobile landscape. Read more about how Perform[cb] has prepared its mobile marketers for the iOS SKAdNetwork here! Going into 2021, we can expect 'App Clips' to be a major player for mobile marketers. App clips allow a mobile user to demo an app before downloading and installing it. This will allow on-the-go users to access apps by scanning QR codes, clicking a link, utilizing NFC tags, and more – ultimately relieving apps' reliance on app stores. App clips are meant to improve user experience and maintain privacy, as the user doesn't have to download the app to try it out. This feature will motivate users to download the full app, in addition to encouraging engagement and greater innovation opportunities for mobile marketers.
Data-driven mobile strategy
To be successful in the mobile space, marketers must use their insights to optimize campaigns based on both user pain points and aspects of the app that are performing well. Since Apple's iOS 14 update went live in September 2020, mobile marketers have had to adapt to ensure their app is gaining the same amount of visibility with users. iOS 14 includes a new feature called "App Privacy", which notifies users when an app is tracking their purchases, browsing data, contact, and financial information. Since access to this information will be limited in 2021 and onward, mobile marketers will need to create new, unique ways of obtaining these insights while still respecting the privacy of the user. 
With an open rate of 90%, push notifications are a great way for mobile marketers to engage with users. Mobile marketers should consider segmenting users to conduct A/B testing when creating push notifications. By creating two notifications with subtle differences in messaging and imagery, mobile marketers will gain insight into which variation performs best with their targeted users. With a retention rate of 93%, push notifications will be useful for mobile marketers to improve the performance of an app's user engagement. Find out more about the importance of diversifying your distribution and data collection by downloading our 2021 Digital Marketing Trends guide.
What's next?
2020 was a year of fast-paced growth and optimizations for mobile marketers. To keep that momentum going into 2021, it will be crucial to stay ahead of the competition. In order to do so, marketers will need to employ the tactics listed above to stay current and visible to users in the mobile space. Additionally, marketers may seek the help of Networks or Agencies to optimize and scale their campaigns. 
With a wide variety of campaign and payment models, performance marketing is a great channel for mobile marketers to turn to in the face of change. Performance marketing allows marketers to test a variety of campaign and distribution types while only paying once their desired action or conversion point is accomplished. Want to learn more about how performance marketing could boost your user acquisition strategy? Reach out to Perform[cb]'s team of mobile experts to learn more about how we can optimize and scale your campaigns.