It's easy for app marketers to get excited about new marketing channels. But they shouldn't invest in new areas before reviewing their SMS marketing costs. And that's because an accurate SMS marketing cost can help to plan for better conversion rates, CTRs, ROI, and personalization.
Recent studies reveal the market for SMS marketing will triple by 2030. And since there will be significant growth in this area, app owners should be confident about how to calculate the cost of SMS marketing. Doing so may reduce the risk of wasted resources and promote better-planned and executed SMS text messaging campaigns.
To explain more, in this research piece, we'll review the key details behind some common pricing models, different rates such as cost-per-message, and the factors that can influence an SMS marketing cost. App verticals like e-commerce, retail, health, and travel can all achieve impressive SMS marketing ROI, higher CTRs, and conversion rates. And this guide aims to reveal each aspect of SMS marketing pricing to get there.
Key data points
The SMS marketing market will reach USD 38442.44 million by 2030 (Data Bridge Market Research).
The average open rate for promotional SMS is 98%.
44% of Gen Z, 47% of Millennials, and 49% of Gen X are happy to receive SMS (Statista).
SMS has a 209% higher response rate than email (Linkedin).
46% of US respondents are happy to opt into SMS-based marketing from e-commerce platforms and banking services (Statista).
SMS is a top 3 revenue-generating channel for over 50% of marketers (Attentive).
73% of marketers say SMS drives incremental revenue from their business (Attentive).
Over 30% of marketers say SMS increases the value of their average order and/or grows total customer LTV.
Over 93% of brands add SMS marketing costs to their marketing strategy.
SMS open rates are between 94-98% depending on the region (LinkedIn).
Over 85% of SMS recipients open them in the first 30 minutes (LinkedIn).
E-commerce brands sent over 60% more SMS campaigns in 2022 than 2021. These efforts achieved a CTR of 10.66% (Marketing Charts).
60% of e-commerce shoppers who opted-in to SMS bought via a text message in the last three months (Attentive).
80% of consumers say getting new deals, new products, or special offers on their phones as one of the top reasons to opt-in to a brand's SMS program (Attentive).
SMS continues to achieve higher open rates compared with email at 98% vs. 20% (Business2Community.com).
Click-throughs are also much higher with SMS at 10.66% in 2022 compared to a CTR of 1.23% for email (MarketingCharts).
52% of marketers planned on increasing investment in SMS marketing (Attentive).
84% of marketers use location-based marketing and 80% feel their campaigns are more effective with it (SlickText).
48% of consumers prefer to receive SMS over app notifications and email (FinancesOnline).
SMS marketing definition
SMS marketing (Short Message Service) is the process of sending text message communications to customers' mobile phones. It refers to the limited number of characters that appear in a text message. Types of SMS text messages include offers, deals, and promotions, but they can also include transactional messages like alerts, updates, welcome messages, and announcements.
SMS marketing remains a strong and reliable strategy for encouraging high CTR and conversions with an average open rate of 98% for promotional SMS.
Also, a LinkedIn report shows how SMS marketing has a 209% higher response rate compared with email marketing. SMS marketing is also popular with younger generations. And 2022 figures show that 44% of Gen Z enjoy being contacted via SMS. This also shows up at a similar level for Millennials and Gen X.
Popularity of text message marketing among consumers in the United States as of June 2022, by age group
Source: Statista
To send SMS messages to a user's phone, app owners and marketers must get a mobile user's permission or official opt-in. If a company sends unsolicited messages it can result in complaints or fines. But there are a few options for how marketers can send opt-ins:
Single Opt-in: This is where app owners can add a mobile user to a distribution list but they won't send an SMS text confirmation to them.
Double Opt-in: Customers request to join an SMS list and then receive confirmation of opting-in.
Soft Opt-in: If app owners have their contact information from another route they can use it to invite users to join their SMS distribution list.
In a recent survey, 46% of US respondents said they were happy to opt into SMS-based marketing from e-commerce platforms and banking services. And while SMS attracts an active audience, it's important to be purposeful in communications to keep SMS marketing cost to a minimum.
SMS marketing ROI
Calculating SMS marketing ROI helps with understanding campaign performance and determining SMS marketing cost. There may be several outcomes that marketers want to target such as revenue generation, app user retention, or re-engaging lapsed customers.
In their 2023 SMS marketing benchmarks report, marketing platform Attentive showed how SMS is a top 3 revenue-generating channel for over 50% of marketers. Plus, 73% said SMS drove incremental revenue from their business while over 30% said SMS increased the value of their average order and/or grew customer LTV.
An example of achieving high ROI is when Attentive worked with e-commerce fashion retailer Urban Outfitters to achieve an SMS marketing ROI of 27x+. The campaign resulted in a 230% increase in sales volume, year-over-year, and led to a rate increase of over 30% YoY in onsite conversions.
How to calculate ROI
App owners can calculate SMS marketing ROI by dividing their spending and earnings by the level of investment made. In essence, this means taking Net Profit and dividing it investment costs before multiplying it by 100, as shown in the graphic below:
SMS ROI calculation equation
Several metrics and KPIs can influence a potential SMS marketing ROI, as per the following:
Open rate
CTR rate (Click-Through Rate)
Response rate
Conversion rate
Attrition rate
Growth rate
Opt-out or unsubscribe rate
Cost per subscriber
Benefits of investing in SMS marketing cost
From high open rates and click rates to fast response times, investing in SMS marketing for long-term gains is a good idea. Many app users favor getting personalized SMS, especially when they link it to special offers, deals, or new promotions. But also, SMS makes up a critical part of any omnichannel marketing strategy, since over 93% of brands add SMS marketing costs to their marketing strategy.
To get into more detail on the topic, let's cover the key benefits of focusing on SMS marketing costs.
High open & response rates
SMS marketing is famous for very high open rates. And this makes sense when there are over 3 billion active Android users and around half that number for iPhone users who look at their phones many times each day.
Unlike in-app push notifications that users don't always open or read, SMS marketing has a stronger impact. Most people won't see the sender of an SMS until they open and read the SMS. And with billions of mobile phone users looking at their phones more than ever, the chances of them reading an SMS text message are very high.
Other studies suggest SMS open rates are somewhere between 94-98% depending on the region. And the same study suggested over 85% of SMS recipients opened them within the first 30 minutes.
User engagement rate
SMS marketing costs should also factor CTR metrics since these can reflect engagement levels. A recent report from Marketing Charts shows how e-commerce brands sent over 60% more SMS campaigns in 2022 than the previous year. These efforts achieved a steady click-through rate (CTR) of 10.66%. And such investment in the cost of SMS marketing has resulted in an increased level of orders to 23.8% year-over-year in 2022.
E-commerce brands SMS response rates – 2020 to 2022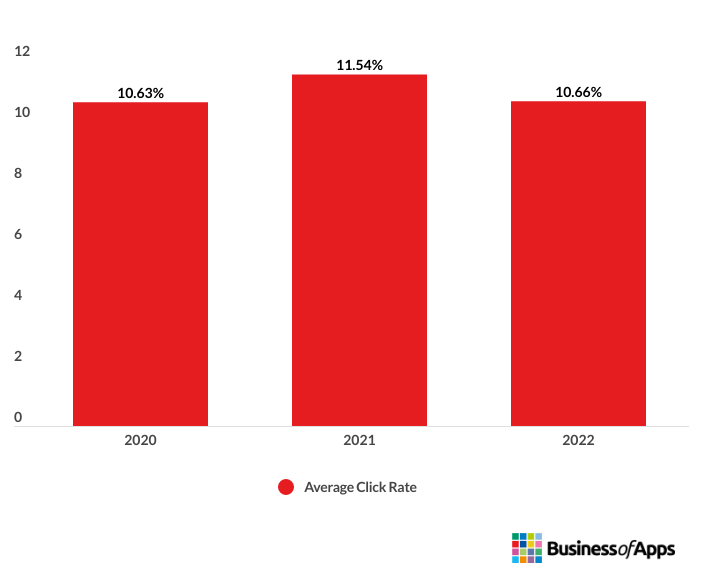 Source: Marketing Charts
Cost-effective
Due to the popularity of mobile phones and their widespread use, SMS marketing costs are traditionally low. So, the simplicity of sending SMS text messages to an app user's phone makes SMS marketing cost calculations easy.
As confirmed in a report by Attentive, e-commerce shoppers who receive SMS text messages are also more likely to convert to a sale. Their report suggested over 60% of e-commerce shoppers who opted-in to SMS bought via text message in the last three months.
Mobile friendly
Consumers want to receive SMS on their phones so they get notified of deals, new products, or special offers. And in the report from Attentive, almost 80% ranked this as one of the top reasons to opt-in to a brand's SMS program. This makes SMS a well-received form of direct communication with user's mobile phones.
Nurtures loyalty
Despite the increasing focus on new technologies for app marketing, a key advantage to maximizing SMS marketing cost lies in the reliability of SMS. For instance, the Australian fashion app LSKD worked with an SMS marketing platform to drive an effective SMS marketing ROI of 147x by nurturing a community of customers. As part of this loyalty campaign, almost 40% took part in product reviews via SMS while subscriber numbers increased by 173%.
SMS marketing vs. email marketing
The cost of SMS marketing is often pitted against email marketing. And that's because both practices offer effective communication methods for engaging customers, clients, and app users.
Email has a long marketing history due to its low cost. Statistics show that marketers send around 74 trillion emails every year compared to 8 trillion SMS. Yet, despite this popularity, SMS continues to achieve higher open rates compared with email at 98% vs. 20%.
Many people today get bombarded with emails, and almost 50% of them are spam. SMS can cut through this, especially when personalized. Click-throughs are also much higher with SMS at 10.66% in 2022 compared to a CTR of 1.23% for email.
Attentive's report also highlighted how 52% of marketers planned on increasing investment in SMS marketing. And this compares to only 38% of marketers who plan to increase their spending on email marketing. We can also summarize the key advantages and disadvantages between the two in the table below.
SMS marketing pros and cons table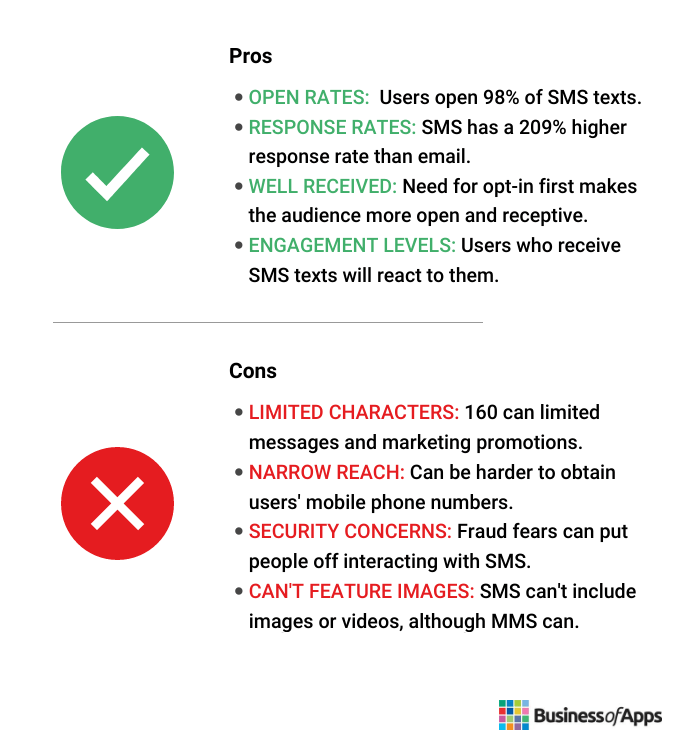 Email marketing pros and cons table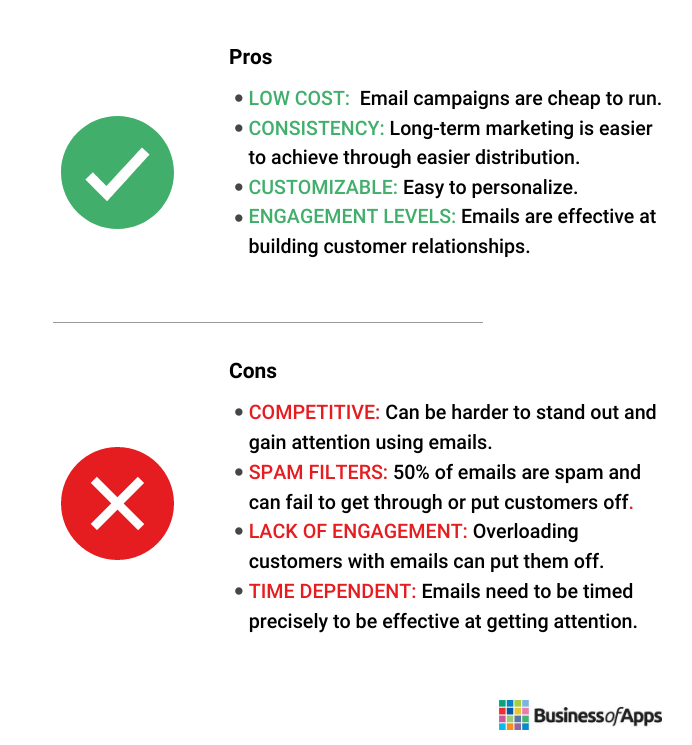 How much does SMS marketing cost?
Now that we understand more about the benefits of SMS marketing, let's review the range of SMS marketing costs and calculations to plan for. Factors affecting price can include character number, keywords used, and SMS marketing platform subscription fees.
Many SMS marketing providers offer packages that include a certain number of SMS. But it's also important to note that outbound SMS marketing costs refer to the text messages a business sends to app users. Inbound SMS refers to those the business receives by return, which can be in response to the amount of SMS sent.
There will be price differences when it comes to outbound international SMS rates. Some countries only allow SMS from dedicated business numbers, which may be toll-free or 10DLC (10 digital long code) numbers. And these can incur different cost rates. Plus, SMS providers can charge their customers different rates for individual and dedicated business numbers. There are also other optional fees to consider such as carrier validation, which validates numbers for you before sending texts.
So, let's break down some of these aspects in the following sections:
Cost per message
A good place to start a review is the unit price or cost-per-message. Estimating any cost-per-message will depend on which country the SMS message recipients are in and any differences in the rates charged in that territory. For example, TextMagic offers a current Price Per Text of $0.049 to any US phone user.
Another provider, PostScript, offers individual rates embedded into pre-packaged bundles or tiers. Their approach allows app owners to find a package or offer that aligns best with their needs or stage of development. PostScript's entry-level "Starter" package asks for no monthly fee and aims at "shops getting started with SMS marketing". Their Starter SMS rate is $0.015 plus Carrier Fees.
This rate is also verified by Omnisend, who suggests a rate of $0.015 for a standard text SMS based on 160 characters. Those who need more space or more messages can upgrade and pay a little extra per message.
Cost-per-message rates by volume (Omnisend)
Character No.
Up to 160
$0.015
Up to 320
$0.03
Up to 480
$0.045
Up to 640
$0.06
Source: Omnisend
Cost per keyword
Many app marketers will need or want to include particular keywords in their SMS messages to app users. Choosing the right keywords for a marketing campaign can make or break response rates. But these will come in the format of either a 5-6 digit shortcode or a standard long code.
Of course, some keywords will come as standard in a text message at no extra cost. And these will be words associated with subscribing or opting in or out like STOP or OPT-OUT. But specific branded or campaign-related keywords promoting special offers or discounts–like BLACK FRIDAY–will come at a cost.
Each provider will have a different arrangement for how much they charge for keywords but sources suggest this can be as high as $10-25 per month. Companies may need to set up either a shared or individual SMS Short Code to let users respond to their specific keyword.
Cost per click
Another way to calculate SMS marketing cost is to review the price for each click your app users make on an embedded URL within the SMS message. Marketers can achieve a cost-per-click calculation when they divide the total cost of their SMS campaign by the number of clicks they receive on their SMS campaign text messages.
Marketers can calculate the total campaign cost by adding the cost per message to any cost per keyword and using this as their total campaign cost.
SMS CPC calculation equation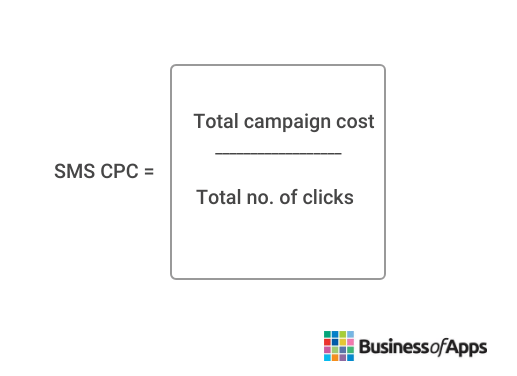 Calculating your cost per click helps to assess your SMS marketing ROI. Plus, it's useful to benchmark this against campaigns in other channels like social media, search, and even Amazon Ads which has a current CPC of $0.89.
Cost per lead
CPL stands for Cost per lead. This rate helps to measure the total cost of generating new app users or subscribers using SMS text campaigns. As part of any SMS marketing cost, it's a metric that can highlight the total value and SMS marketing ROI.
To calculate this rate, you must divide the total cost of generating SMS leads by the number of users acquired using this method:
SMS CPL calculation equation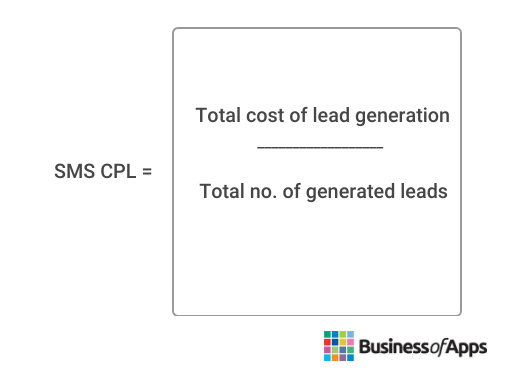 SMS conversion rate
Another way to support any SMS marketing ROI calculations is to determine your SMS conversion rate. This figure represents the number of customers who go on to take or perform the desired action once they receive an SMS text message.
You can calculate this by dividing the number of conversions by the number of delivered messages. Then you can multiply the result by 100 to get a percentage rate for SMS conversions.
SMS Conversion Rate calculation equation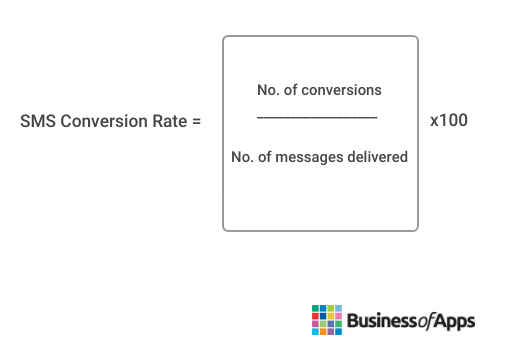 SMS marketing platform fees
Along with specific costs for SMS and the range of keywords, several platforms offer monthly or annual subscriptions based on a preset number of SMS texts and supportive features. For instance, SimpleTexting can offer a wide number of monthly subscription packages based on the bulk volume of texts you plan to send.
Ranging from 500 texts to 50,000, subscribers may pay $29 per month at the low end up to $899 per month for bigger volumes. Packages can include things such as no charge for inbound SMS texts, daily customer service support, and unlimited keywords. So, it's always worth checking the finer details of any package.
SlickText also offers a range of platform packages that may suit different needs and objectives. Their packages start at a similar rate of $29 per month for 500 SMS texts including 2 keywords, MMS messaging, free inbound messaging, and Live Chat.
What influences SMS marketing costs?
App marketers need to consider many factors that will influence the value of their SMS marketing cost. Many of these considerations will lie in the contents that marketers plan to include in their SMS text messages.
With 160 characters available per message, and many marketing touchpoints to make, app marketers need to plan to include mandatory opt-outs, company name, keywords and CTAs.
Message length
Each SMS message can hold 160 characters. So marketers need to consider what they should and shouldn't include. There will be mandatory elements like opt-out instructions, keywords and CTAs. But if marketers want to keep within the bounds of a single message they'll need to be precise with character use. Otherwise, they could find the costs doubling or tripling since every message that exceeds 160 characters will incur extra costs.
Format
SMS is the format for sending text messages to users. But marketers may also need to use MMS if they plan to send any media files like images, videos or GIFs.
As a slightly more advanced or alternative form of SMS, MMS also has the advantage of offering space for up to 1,600 characters. And this can be useful when working with more complex marketing tactics. Again, marketers should factor the potential use of SMS and MMS into their costing plans since MMS will be more expensive. But also, some phones may not accept MMS messages. To review the potential cost differences, Omnisend has a helpful comparator chart.
SMS vs MMS estimates comparator chart (Omnisend)
SMS
MMS
50 messages
$0.75
$2.25
100 messages
$1.50
$4.50
150 messages
$2.25
$6.75
Source: Omnisend
Location
Sender and receiver locations are important considerations when planning SMS marketing costs. For instance, businesses based in EMEA may want to send SMS to app users in the US. If so, they'll need to understand and plan for these differences within audience targeting. That's because the price at the location of the sender will be different from the price at the receiver's end.
Location-Based Advertising or LBA is also a popular trend in SMS marketing. This is where particular offers or promotions can benefit app users in their locality or region. A report from SlickText suggests that 84% of marketers use location-based marketing in some way. And the same report says over 80% of marketers feel their campaigns are more effective using location-based advertising.
Marketers can play these opportunities to their favor too. One example of this is the use of textwords that use keywords specific to the location. This can enhance marketing through memorability and relevance.
Example of Location-Based Advertising (LBA) using text worlds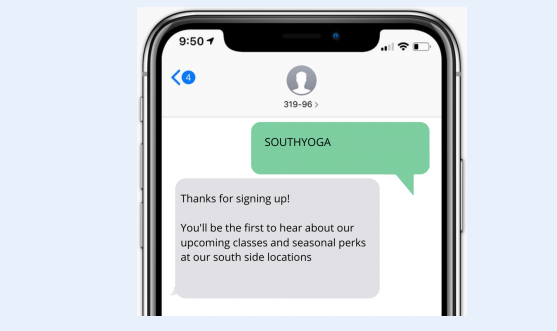 Source: SlickText
Carrier Variability
As an extension of location as a consideration, SMS marketing costs can vary depending on the wireless carrier and also different wireless carriers in different countries. Different carriers like AT&T, T-Mobile, and Verizon can impose different fees and surcharges depending on the campaign activity. Plus, companies who use 10-digit long codes also known as 10DLC can now face extra fees from some mobile and wireless carriers.
Added features
Successful SMS campaigns usually include extra features that help in targeting massive volumes of leads or promoting retention. Reports suggest 48% of consumers prefer to receive SMS over app notifications and email, so it's a good idea to maximize SMS marketing pricing by factoring in extra features.
Some elements that may feature in an SMS campaign might include the following:
Short-codes: Relying on long codes to run an SMS campaign runs the risk of carrier filters picking up on high-traffic volumes and marking them as spam. But, because they're pre-approved by carriers, SMS short codes overcome this and aren't filtered in the same way.
Automated responses: Lower maintenance SMS marketing campaigns can use texting automation tools or autoresponders to support their campaigns. Using such tools allows marketers to set up automated responses when mobile users respond to a campaign.
Post-purchase SMS marketing: Post-purchase texts offer an effective way to thank and acknowledge mobile app users. And they can come in different forms including:

Order and payment confirmation: Along with SMS texts to confirm and acknowledge orders, third-party providers like delivery services may also need to run customer details through their own system.
Feedback and surveys: App marketers will want to ensure their order process, customer experience, and transactions are working well. Plus, they'll use SMS surveys to drive those customer satisfaction scores.
VIP and Loyalty schemes: Retailers and e-commerce apps can gain higher rates of retention when they make use of post-purchase SMS marketing to drive VIP and loyalty schemes.
Screenshot of VIP scheme as a form of post-purchase SMS marketing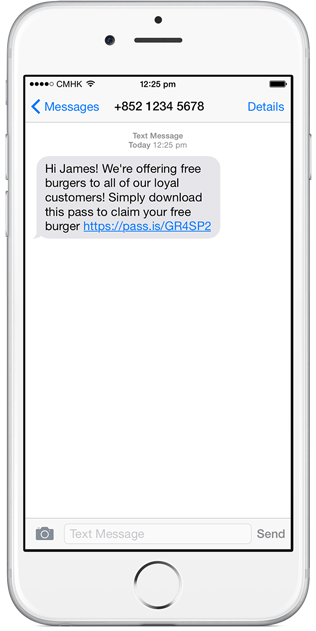 Source: passkit
Final thoughts
SMS marketing is a growth area for app marketers and is increasing in popularity with younger generations. Capitalizing on this market starts with a review of SMS marketing costs. But also the various metrics that drive customer acquisition and retention.
Cost-per-message, Cost-per-keyword, and the cost of SMS marketing platforms to support campaigns are all vital considerations when understanding how much a campaign for SMS marketing costs. But these costs can vary based on the number of SMS texts, outbound and inbound locations, using a short code or MMS, and any post-purchase SMS marketing plans.
Regardless of the volumes and locations app marketers may choose for their campaigns, SMS marketing remains a cost-effective channel. Because app users need to opt-in to receive them, SMS texts can support conversions, lead generation, and nurture campaigns that encourage loyalty and peer recommendations.
Apps in all verticals can maximize their campaigns by planning accurate SMS marketing costs. Successful campaigns may or may not include partnerships with SMS marketing platforms that offer viable subscription deals and offers for ongoing campaigns.