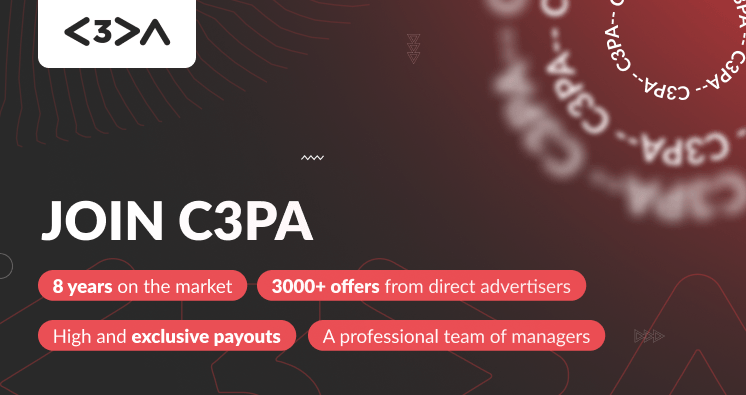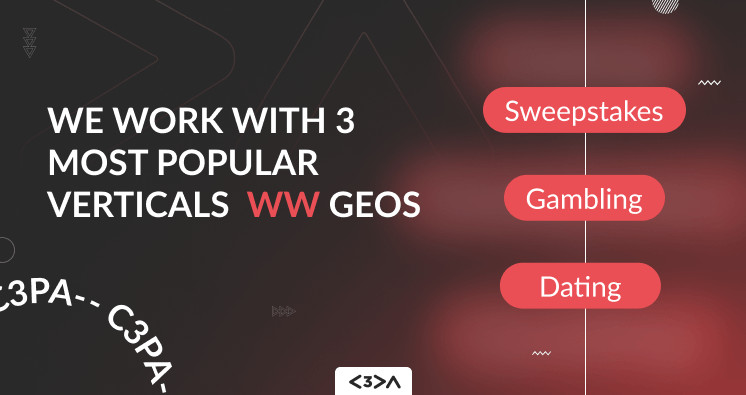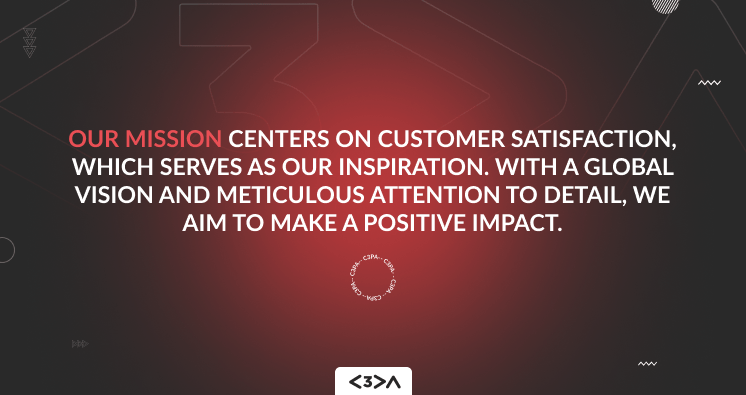 C3PA is a cutting-edge network of affiliate Pay-Per-Action programs, and we take pride in offering our affiliates exclusive opportunities tailored to their unique needs. 
Our extensive portfolio boasts over 3000 offers in the realms of Dating, Sweepstakes, and Gambling, encompassing both in-house offers and white labels for worldwide geos. For your convenience, we provide prompt weekly payments for Dating and Gambling and a net-15 payout schedule for other categories.
Here are the compelling advantages you'll enjoy when partnering with us:
⚡️ We equip you with a suite of powerful tools such as Smartlink, API, and tracking links to enhance the profitability of your endeavors.
⚡️ We value top-tier traffic and incentivize higher volumes by significantly boosting payout rates.
⚡️ You can trust in our team of knowledgeable managers who genuinely care about the success of your campaigns.
⚡️ We offer in-house products that set us apart.
⚡️ You'll receive weekly payments without any withholdings, with convenient payment options like PayPal, Paxum, and Wire.
⚡️ Expect regular bonuses and increased payouts for high-quality traffic.
⚡️ Our industry-leading loyalty program operates with complete transparency.
Each day, we strive to create an environment conducive to the growth and advancement of our affiliates. Count on us to provide unwavering support in selecting offers, delivering valuable insights, and keeping you updated on industry developments.
Join our network and experience enduring satisfaction with the way we do business!
Our team:
😎 Alex Kholodenko — Head of Project
E-mail: ok@c3pa.network 
Skype: live:.cid.58d26dc470c6be31
💼 Marina Baginska — Business Development Manager
marina.baginska@c3pa.network
Skype: marine2777
Account Team
💁‍♀️ Maryna Shmaluik — Team Lead of Account Managers
E-mail: marina.shmaliuk@c3pa.network
Skype: live:.cid.d6a200c104748a61
💁‍♀️ Svitlana Kryukova — Account Manager
E-mail: svitlana.kryukova@c3pa.net
Skype: live:.cid.26bf3d360012fa35
💁‍♀️ Oksana Zhelianova — Account Manager
E-mail: oksana.zhelianova@c3pa.network
Skype: live:.cid.2eec4f10c5f2b04c
Affiliate Team
💁‍♀️ Lana Dzhobava — Affiliate Manager
E-mail: lana.dzhobava@c3pa.network
Skype: live:.cid.4c704656dcab8086
💁‍♂️ Serhii Hillenko — Affiliate Manager
E-mail: serhii.hillenko@c3pa.net
Skype: live:.cid.e443d5312aa92ac6
💁‍♂️ Ihor Kutsyi — Affiliate Manager
E-mail: ihor.kutsyi@c3pa.network
Skype: live:.cid.6cfe11040dccbd09
💁‍♂️ Saba Skhulukhia — Affiliate Manager
E-mail: saba.skhulukhia@c3pa.network
Skype: live:.cid.40d8d773f6077f33
💁‍♀️ Anastasia Shuliak — Affiliate Manager
E-mail: anastasiia.shuliak@c3pa.network
Skype: nastyashulyak1
Gambling Team
💁‍♂️ Ihor Pismennyi — Team Lead 
E-mail: ihor.pismennyi@c3pa.network
Skype: live:.cid.acd5750487598053
💁‍♀️ Yuliya Ovcharenko — Account Manager
E-mail: yuliya.ovcharenko@c3pa.network
Skype: live:.cid.2f767bdc3c308ed5
Awards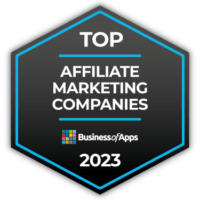 C3PA Network Features
Wide range of exclusive offers
On-time payments and high payouts
Comfortable platform with fast campaign approval
Multiple integration options, conversion tracking capability
The best referral program on the market
Only relevant traffic, without fraud
Office Locations