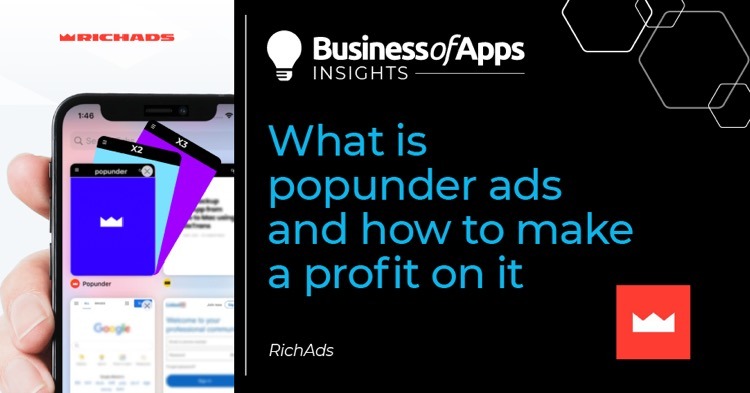 New ad formats are constantly cornering the market. The future lies in easy channels that bring high traffic volumes as quickly as possible. Popunder traffic will have a high potential for mobile campaigns even in 2022. Read what it is and how to make a profit from it.
What are popunder ads?
Popunder ads are the ad type that opens in a new window behind the user's active window on a mobile or desktop device. How does popunder appear? Sometimes it's necessary to open a website. Sometimes the user should also click.
There are also popup ads. This type appears in a new window during the user's session. This format is more aggressive, especially on mobile devices, while popunders are more delicate and less intrusive.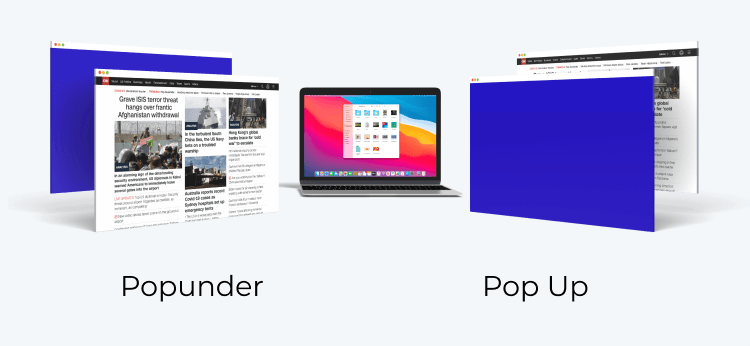 Advantages and disadvantages of popunder ads
Before launching a popunder campaign it's necessary to take into account all the pros and cons to be prepared for surprises.
Advantages:
Popunders are the best format for affiliate marketing newbies.
You don't need to prepare creatives for your mobile and desktop campaigns. Use only landing pages to launch a campaign. The learning process is easy, and you need not test a huge number of variables to get data for optimization.
Popunder ads are one of the cheapest ad formats.
Pops are cheap as you pay for 1000 impressions immediately. For example, at RichAds, minimum CPC starts from $1 in Tier 1 and from $0.5 in Tier 2 and 3. Look at this map to know more about GEOs you can begin with.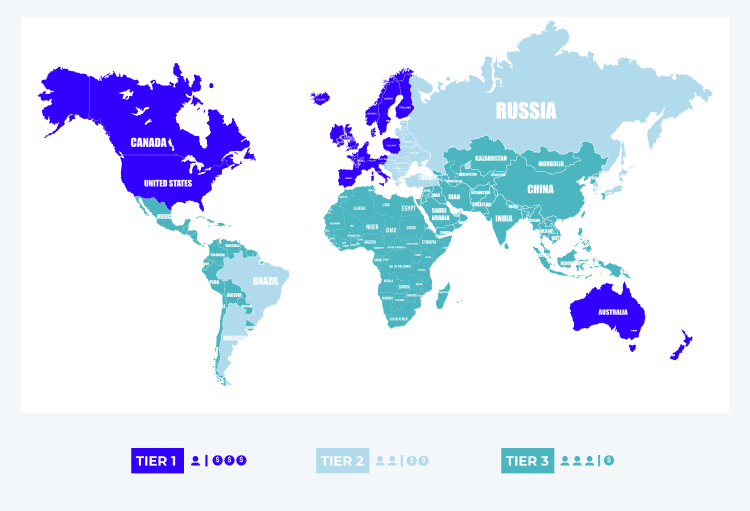 Popunders are resistant to banner blindness.
Banners today are not vivid due to the phenomenon called banner blindness. They do not interfere with the website appearance. Also, popunders are not associated with classic ads. That's why they look really native. 
Popunders are a perfect way to monetize your website.
Pop ads do not spoil the appearance of the website and do not overload your resource with information.
Popunder is adapted to mobile devices.
If you want to launch ads for mobiles only, you can easily make it. The ad network automatically prepares ads for mobiles, and you won't have to take additional actions wasting your time. Moreover, you can launch separate campaigns for mobile and desktop to get different data and analyze performance. 
Disadvantages:
It may be difficult to identify the target audience.
Pop ads are suitable for very broad categories of customers. But in ad networks, there is no targeting according to interests, age, etc. that allows narrowing your potential targeting audience. 

Pop ads depend on browsers' updates and ad blockers.
Browser restrictions fight with all the ad types, and pop ads are not an exception. But today, you can still use popunders as there is no explicit prohibition of it.
The share of bot traffic on pop traffic may be high.
Of course, there is a rumour about bots on popunder traffic. In the affiliate marketing sphere, almost all networks have special anti-bot filters that provide 100% quality traffic.
How to choose an offer for popunder ads?
Popunder is a peculiar ad type. If you have a narrow product or business, popunder will hardly work with "cold" customers. 
Prepare very simple offers in which users should perform minimum actions. Here are the examples of such actions:
subscribe;
leave an email;
download something;
install an application.
There are 2 main rules of making a profit on popunders:
High traffic volumes.

 

The right angle of approach.
What concerns the top verticals on popunders, they may vary from one network to another. Trends depend on many factors, and it's better to ask the manager of the platform you work with.
Top verticals for popunders
Popunders work with many niches, and top verticals are very dynamic. For example, at RichAds ad network, top verticals are Gambling, Traffic Arbitrage, Sweepstakes, Mobile Carrier Content, Antiviruses, and Cleaners.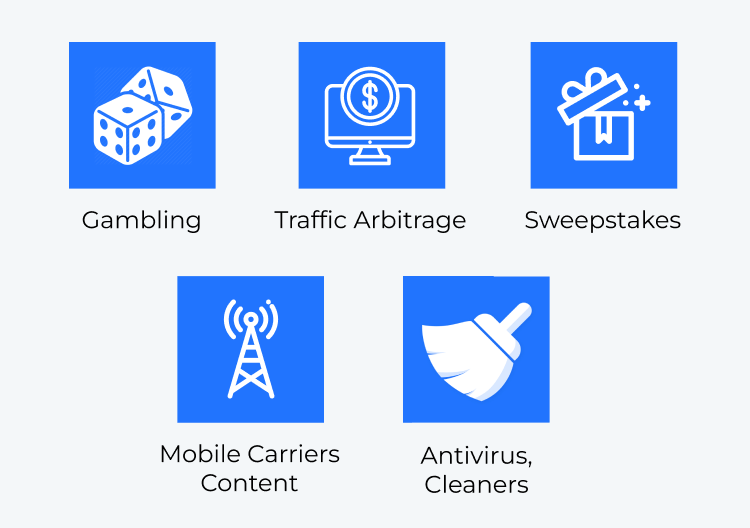 Working from home makes people pay more attention to the protection of their computers. That's why top verticals in 2021 are antiviruses, cleaners, and VPN. 
Also, people started taking an interest in cryptocurrency as the price for bitcoin increased recently. Since then, the crypto vertical in affiliate marketing has also become popular. 
Here are the top evergreen verticals for pop traffic:
Dating,
Gambling,
Betting,
Adult,
Sweepstakes,
Smartlinks.
Advertising with popunders: what you should know
There are 3 secrets to success on popunders:
Simple offer.
Fast landing page.
Clear CTA button.
How to launch a popunder campaign and make a profit from the start?
Test a few landing pages simultaneously to determine a winner.
You need to choose a strategy that will work and do it as quickly as possible not to waste your budget. A/b testing is the perfect scheme. Sometimes you can also test a bundle: pre-landing page + landing page. 
Launch separate desktop and mobile campaigns.
It's much easier to optimize mobile and desktop campaigns separately, that's why we recommend launching separate campaigns for mobile and desktop. Also, you will save money as mobile and desktop traffic have different costs.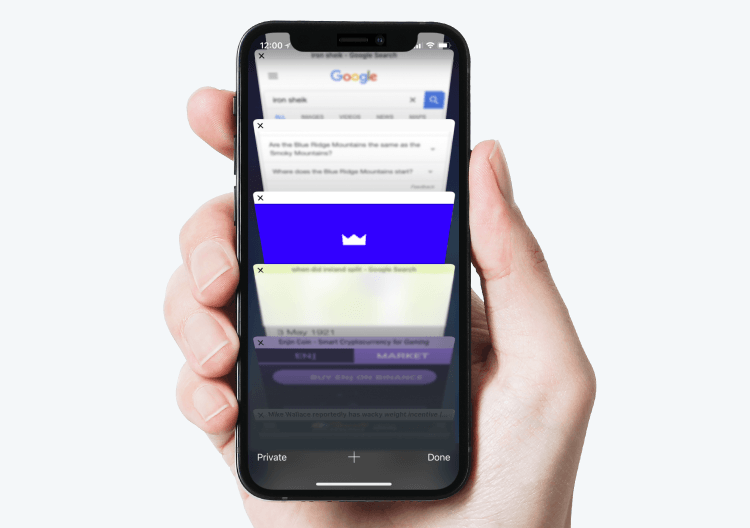 Launch campaigns on the best

 

sources from the very start.
Start with the best sources to skim off with the best prices. Ask your manager to give you the list of such sources. At RichAds, there is a Premium Subscribers List Group in the interface. These are sources with the highest CR.
Use a tracker to optimize effectively.
If your tracking tool identifies bot traffic, use it to save time and money. We recommend setting up a postback as this tracking method allows getting as detailed and full statistics as possible.
Use auto optimization tools.
Choose advertising networks that have automated tools. Optimization is a really time-consuming process, especially if you have lots of campaigns. Such tools will do optimization for you and save your time and money. If you are an experienced affiliate marketer, this tip is especially important.
Don't wait and start making money on popunders now! Launch a campaign.