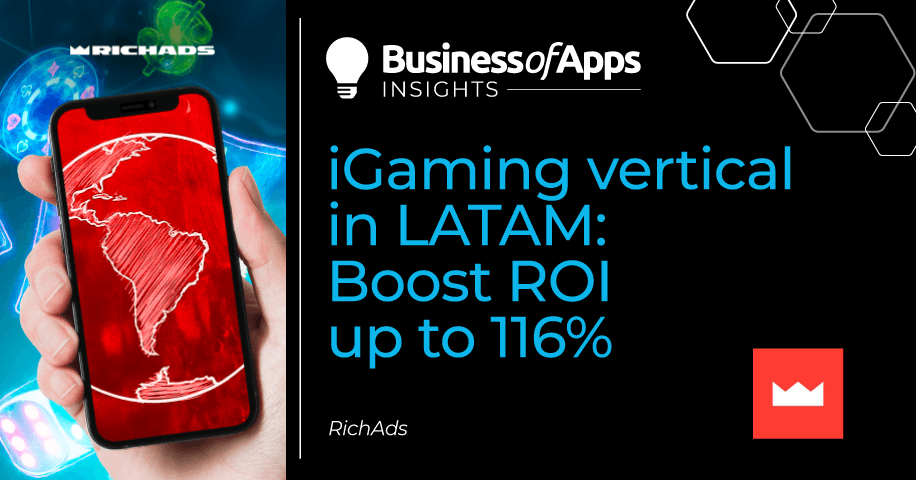 If there's any hyped topic in the affiliate marketing industry, it's certainly LATAM revenue in the iGaming vertical.
According to Statista, the GGR of the betting market in Latin America is bound to reach $3.4 billion in 2025 while the gambling industry will make up $4.4 billion according to VIXIO Gambling Compliance's study.
What's more, the region is developing and growing fast, 2022 NewZoo Global Games Market Report says that the year-over-year growth in revenue for LATAM is 10% and is estimated at $8.9 billion.
To be even more precise, RichAds ad network's internal stats show that gambling and betting converted best of all for the whole year of 2022, specifically in Brazil. It also proves the theory that iGaming in LATAM is a promising bundle to pay attention to in 2023.
In the research article, we'll provide a successful case study of gambling promotion in Brazil on push traffic as well as reasons to test LATAM, launch hacks and creatives approaches.
LATAM and iGaming: Why test the bundle?
As mentioned before, LATAM is one of the most exciting regions in the affiliate industry together with gambling and betting niches. In short, the reasons are simple — huge population, new laws, extreme growth and intense usage of mobile devices for online Gaming.
Not to be unfounded, let's look at the facts that actually prove all of the aforementioned statements:
Basically, that's the main points that prove that iGaming launches in LATAM will be extremely popular in 2023.
RichAds' insights on iGaming in LATAM
To accumulate as much revenue as possible while driving traffic to this bundle, it's vital to be aware of all the specifics — GEOs, creatives approaches as well as traffic sources.
We've collected all the insights from our experts as well as the latest stats to make the article as useful as possible.
GEOs
We've analyzed the best LATAM countries by impressions:
Brazil — 20.1 million
Chile — 2 million
Peru — 2.8 million
Colombia — 2.5 million
Argentina — 2.2 million
To learn the exact volumes a day, you can consult a manager or use the Predictor function, it shows the approximate amount of traffic you'll get on a certain GEO with specific targeting.
Traffic sources
Everybody knows of the prevalence of Facebook, ASO, SEO and Influence traffic when it comes to iGaming. Those are the so-called good old approaches the advertisers apply and get profit while facing several obstacles like restrictions and bans.
In 2023 it's high time to stake on alternative sources with lower competition and high volumes, this will help to boost the CR and get a fresh audience.
According to the report of 2022, there were 2 ad formats that showed consistently good results for the iGaming vertical at RichAds — direct click and push notifications.
There are several main reasons behind it — no bans and restrictions when it comes to creatives, affordable prices, extremely interested target audience as well as great volumes.
To be more precise, push ads are said to be the proven format at the platform — they've shown great results for marketers on iGaming starting from the inception of RichAds in 2018, the CR with the format was skyrocketing, especially during the World Cup.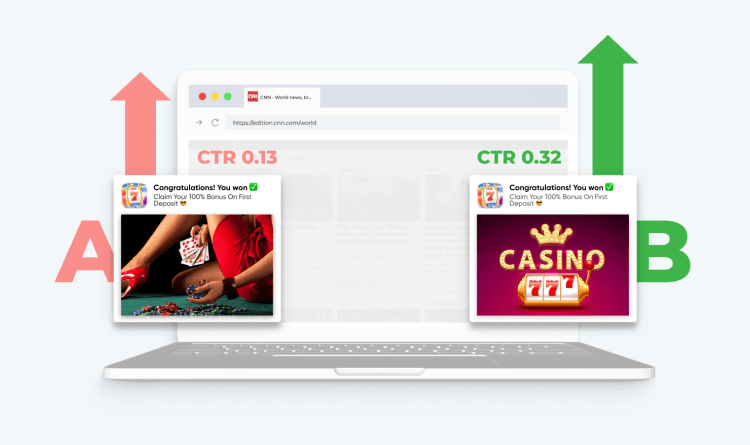 Source: RichAds
While direct click is quite a fresh channel yet it has already become one of the most efficient for gambling and betting offers.
The mechanism behind it is quite simple — a user is looking for a website, makes a typo and gets redirected to an advertiser's website. This makes a format really luring as a user's already searching for similar offers.
We've seen these verticals showing high best results on the direct click format almost every month of 2022, so it's definitely worth trying. Besides, it has the highest conversion rate from registrations to deposits.
Creatives
When it comes to LATAM, it's crucial to be abreast of the trends and test different approaches as the GEO is very competitive. It's crucial to know your target audience, for instance, Statista says that the amount of female gamers in Brazil is slightly higher than male ones.
To make the process easier for you, we've gathered the approaches to creatives that had the highest CTRs and work for our clients best of all.
Bonuses convert: This is a universal approach both for male and female audiences and you can never be wrong with it, everybody wants a freebie. Just make sure that the bonuses are relevant to your offer!
Make your ads personal: Imply that the user is the next winner, and use texts that include a "you" phrase. But do not give empty promises, just a hint that your client has the opportunity to earn a great sum.
Tell stories about winners: If there's anything that can make a person believe in his luck, it's certainly a good story about an ordinary person that made a fortune. Use local languages and region names to make it more plausible.
Case study: 116% ROI on gambling in Brazil
We've conducted a case study together with Gambling.pro to check out how much can actually be earned on gambling in Brazil in just one week.
Important note — this was the first encounter of the advertiser with push ads.
Initial data:
Traffic Source: Push Ads
Country: Brazil
Offer: Lafabet
CPA network: Gambling.pro
Goal: Deposits
CPA: $30
Period: Jan 15 – 22, 2023
Setting up
As we've mentioned, the advertiser never worked with push ads, he used only Facebook for promotion, that's why he consulted the manager before creating his campaign.
The test began with 1 ad campaign and 5 creatives. Targeting was on mobile devices only.
The advertiser chose CPC $0.03, later the bids were adjusted with the help of a manager using the Micro bidding option.
During the first 2 days, the daily budget was $50, then the advertiser scaled it to $100 a day.
The client also used 2 Advanced Targeting options: Android OS from 6 to 12 versions and turned on New subscribers only. This feature allows targeting users who subscribed to push notifications 7 days ago or less.
Also, the frequency cap was set not to annoy potential clients — 1 impression per user a day.
The advertiser also used his previous experience of working with Brazil and decided to set up a schedule. So, the campaign was run only during the second part of the day: from 12 AM to 12 PM.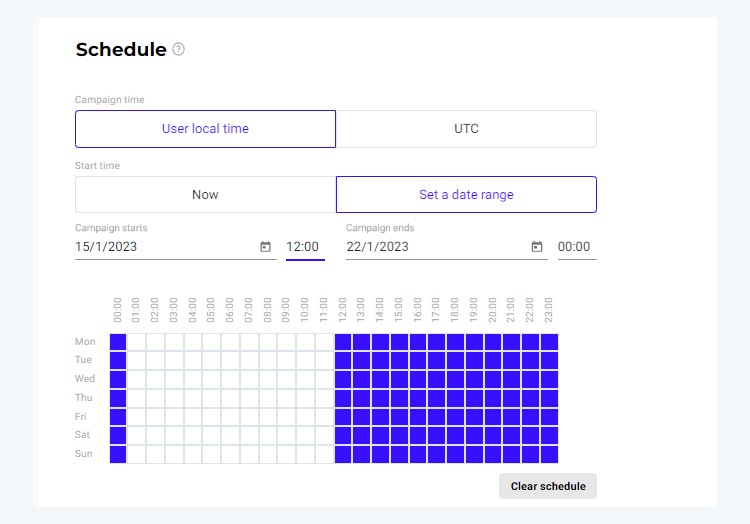 Source: RichAds
Choosing creatives
All the creatives were made with the help of the RichAds team — the designer prepared images and texts for free. The main approach was bonuses, that's the most converting one.
Here are some examples:
Bónus no 1° depósito de 125% – Reivindique bônus de até R$ 3360! 💰💰🔥
Bónus de primeiro depósito – Bônus de até R$ 3360 no seu primeiro depósito
Bônus no seu 1° depósito! ✔️ – Reivindique um bônus de 125% de até R$ 3360!
Bónus de depósito de Lafabet – Faça um depósito e ganhe até R$4035 💸✅
Faça um depósito agora! 💵 – Ganhe 1,5x mais dinheiro – até R$4035! 🤑💰
Optimization
Before optimizing the campaign, the advertiser analyzed the results of the first day of testing.  It's important to say that first he used the widest targeting options and the campaign was launched at 4 PM Brazilian time on Sunday.
The first day of the test showed that the campaign got 1218 clicks in CPA networks and 1360 clicks at RichAds. Another first day's result was 23 registrations but 0 deposits.
This helped our advertiser to collect the first optimization data and turn off unnecessary targeting and several traffic sources.

Source: RichAds
After the first optimization, the results got better — the campaign received 1360 clicks in RichAds and 1203 clicks in the CPA network. What's more, the first deposit appeared right after the optimization on Day 2.

Source: RichAds
After collecting more data, the manager helped the advertiser to add more inefficient sources to the blocklist and set up Automated Rules and Micro Bidding.
Another decision made was to increase the budget up to $100 a day to control traffic constantly and not fly into the red.
Results
As a result, the advertiser got 245 registrations and 36 deposits. The total revenue was $1080, while the profit was $580. That's quite satisfactory for just a week of testing and an ad spend of $500.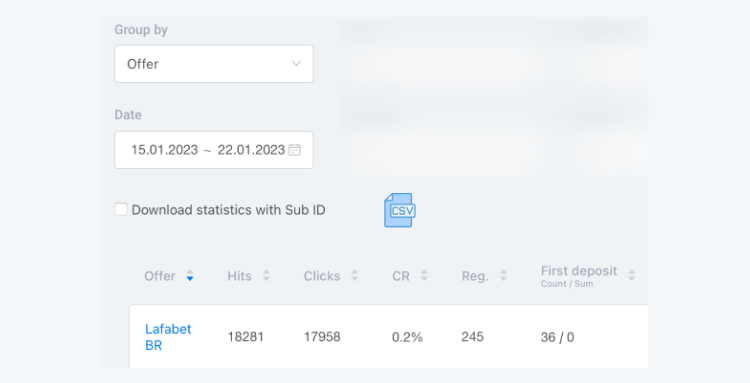 Source: RichAds
He claims that push ads turned out to be more than suitable for promoting gambling, yet expertise is required. The advertiser says that managers were a great helping hand during the promotion and he'll continue scaling the campaign to get even more results.
In conclusion
Obviously, iGaming in LATAM opens a whole land of opportunities for marketers and allows them to get the highest ROI and CR. If you're eager to learn more peculiarities on promoting iGaming in LATAM, watch the latest Ads&Grans video on RichAds' YouTube channel, more hints can be found there.
Join RichAds' ad platform to launch profitable iGaming campaigns!