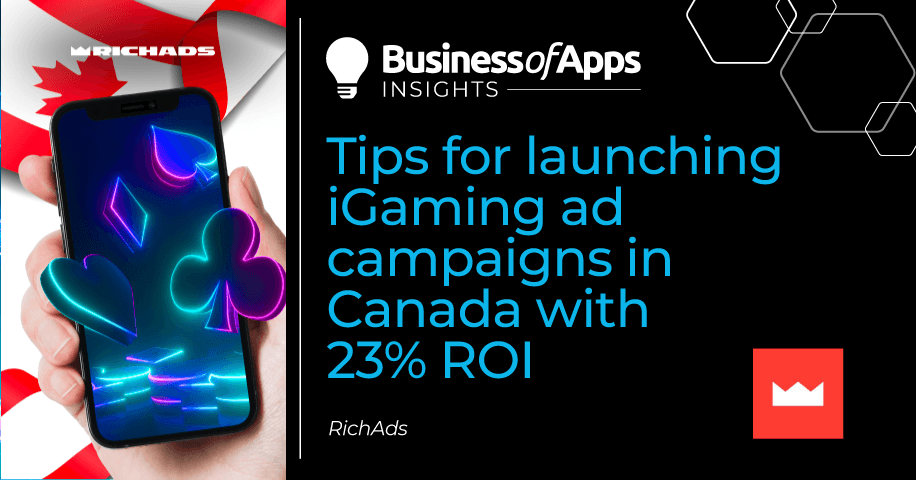 Being the most competitive GEO, Tier 1 countries have the reputation of being "mission impossible" when it comes to iGaming offers. However, such GEOs are really promising in terms of profit and aren't that scary if you know the basics of working with them.
In the article, the RichAds team shares their insights on promoting iGaming offers in Tier 1 countries and offers a real case study from an experienced marketer.
Promoting offers in Tier 1: Tips to start with
Before even starting any campaign, it's crucial to understand the basics of any successful launch, especially when it comes to Tier 1.
The more competitive a GEO is, the more effort you need to put into your campaign, but it will surely pay off with greater profit.
Choose the right bid
It's vital for Tier 1 countries because if the bid is too low, you won't get enough volume and the campaign won't be spending at all.
Apply at least 5-10 creatives
Old but golden advice is to always test as many approaches as possible. As a rule of thumb, no less than five creatives are needed for a proper test. This way you'll find your target audience and know how exactly you can attract it.
Divide mobile and desktop campaigns
The cost of mobile and desktop traffic actually differs, so it's better not to mix the two traffic types within the same campaign. This way you'll collect better data for optimization and get more quality traffic.
Start with whitelists
If you're new to a specific GEO, it's better to cut off potentially expensive or non-converting sources in advance.
Always set up tracking
Not just Google Analytics, but a tracker and a postback should be your permanent helpers. This way you'll know all about your traffic and can analyze and optimize it properly to get higher profits.
Case study: iGaming in Canada with 23% ROI
The case was conducted by Nick Lenihan, a full-time affiliate marketer with 12+ years of experience together with the RichAds team.
CPA network: Yellana

Offer: Kazaboom
Payout (FTD): $176
Country: Canada
Period: 27.02.2023 — 02.03.2023
He took an iGaming offer named Kazaboom from the Yellana network and chose Canada as one of the best GEOs for iGaming as he had run many offers there in the past six months with great success.
Campaign structure

Source: RichAds
His strategy was a mixed one, using both push ads and email marketing to promote his offer. Basically, he ran traffic to landing pages with a form on them, got the users to opt-in to his email list, and then I promoted offers to them via email marketing.
Choosing the creatives
The first step of his strategy was to attract clients via creatives linking to a  landing page. The next one was to get them to register with their emails.
To do this, he used a mix of push creatives, putting an emphasis on the bonuses available. He tried to avoid using the word "free" because that tends to attract freebie seekers and low-value players.
Example campaign in action

Source: RichAds
Nick then tested various pre-landing pages with interactive elements and without them. After a user plays on the pre-landing page, they are then invited to claim their bonus and get redirected to the landing page with the email form.
Creating an email list
The next step was to create email templates. Most affiliates that use email marketing send generic emails and simply rotate offers, but Nick does it a different way.
He wrote unique emails (both promotional and follow-up emails) for each offer. All in all, there were 5 emails for each offer.
Example email
Source: RichAds
Once the emails were created and added to an automated emailing and tracking system, they were sent out to subscribers.
The system reacts to the actions users are taking in the email. For instance, if a user registers at a casino but doesn't make a deposit, they'll receive a follow-up email asking them if they would still like to make a deposit.
Automated emails in actions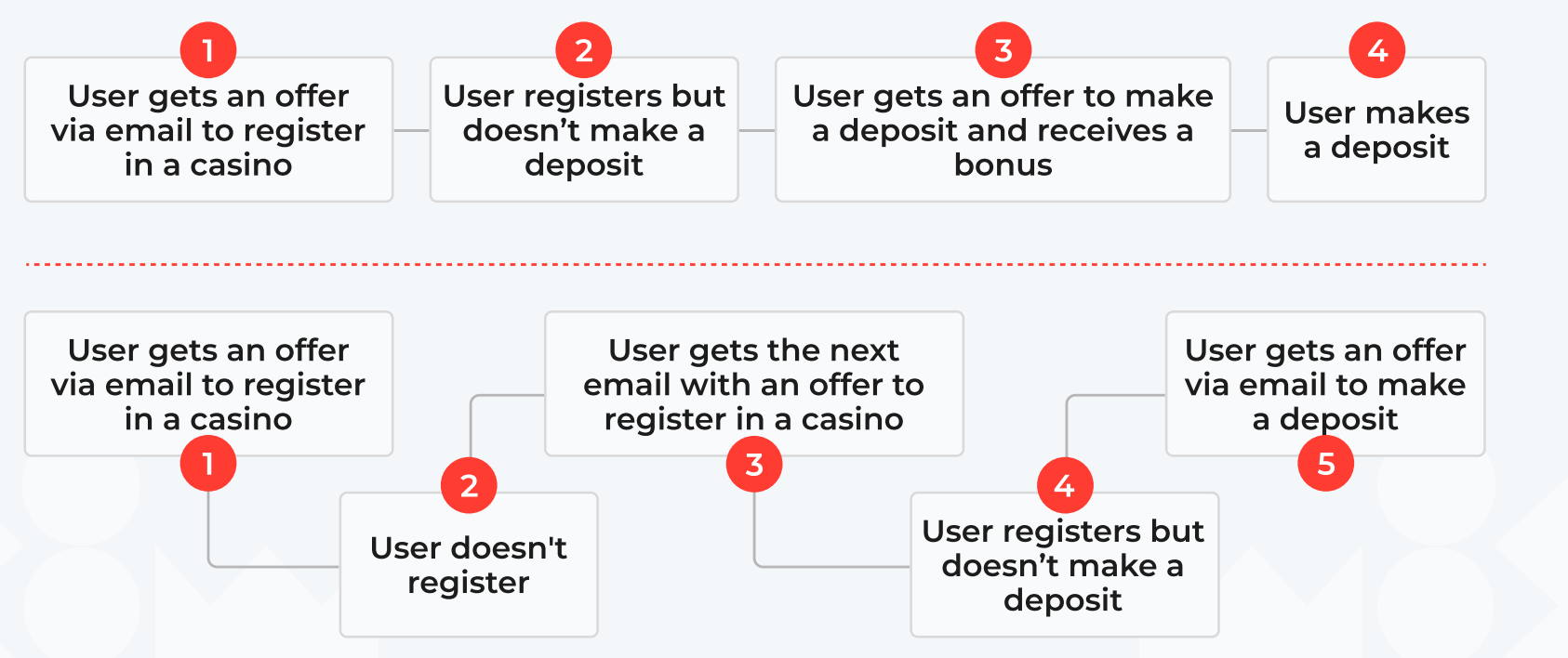 Source: RichAds
Setting up the campaigns
Nick decided to set up three push ad campaigns with the same targeting. One was a classic manual CPC campaign, and the other two were target CPA campaigns that were optimized automatically.
He chose mobile devices only. He also chose to keep the targeting fairly broad, only excluding a few of the older operating systems and lower population regions.
Targeting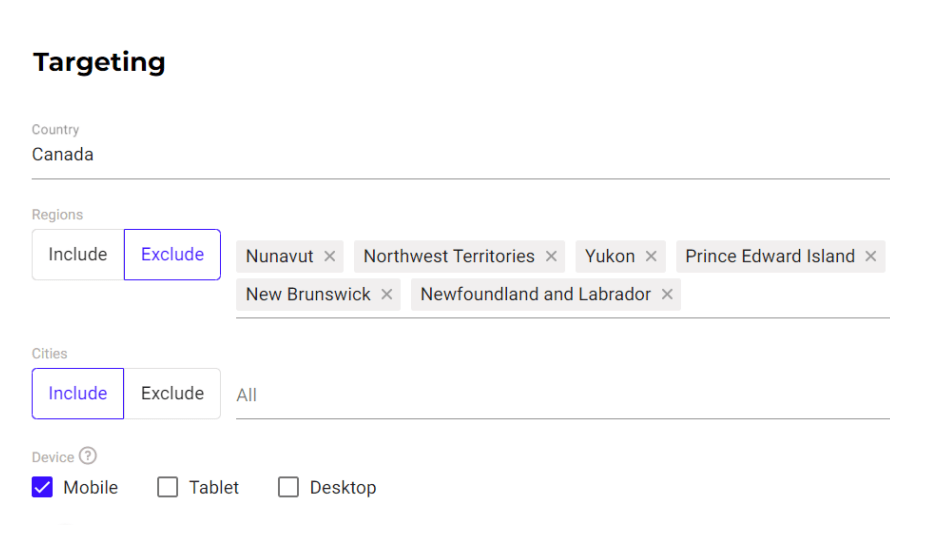 Source: RichAds
He then saw that Android versions from 9 to 13 showed the best results and targeted them.
Optimizing the campaigns
As we've mentioned earlier, Nick had three campaigns running. Two campaigns were optimized by a target CPA algorithm, which means that the black- and whitelists were created for him automatically. The only difference between these two campaigns was that one was solely for new subscribers, aka users who subscribed to push notifications less than seven days ago. Finally, the third campaign was run manually.
Conversions
Source: RichAds
The outcomes of the campaigns were as follows:
The manual CPC campaign had the best results, getting 72 conversions.
The target CPA campaign for the usual subscriber base got 32 conversions.
And the last one received 13 conversions. The target CPA campaign for new subscribers got 13 conversions.

Results

Source: RichAds
Nick's campaigns brought in 117 registrations and 7 deposits. His total revenue was $1,232 with a ROI of 23%. The campaigns brought in $232 in profit.
Conclusion
It doesn't matter whether your experience in affiliate marketing is extensive or you've just started working with such competitive GEOs as Tier 1, it's crucial to create your own flow and have a checklist of tips.
Don't hesitate and launch your iGaming campaign with RichAds to increase your results and become successful.