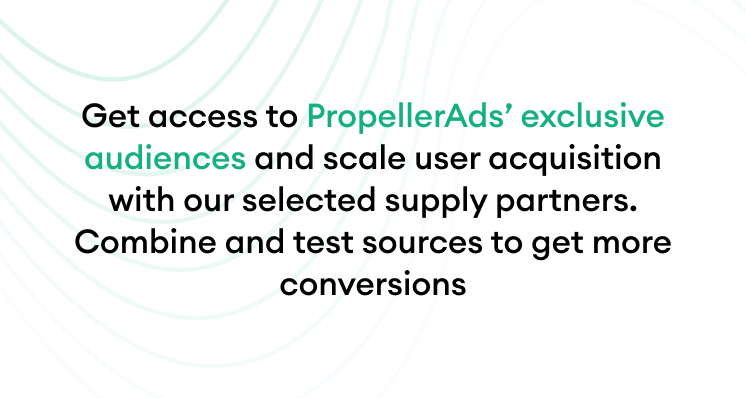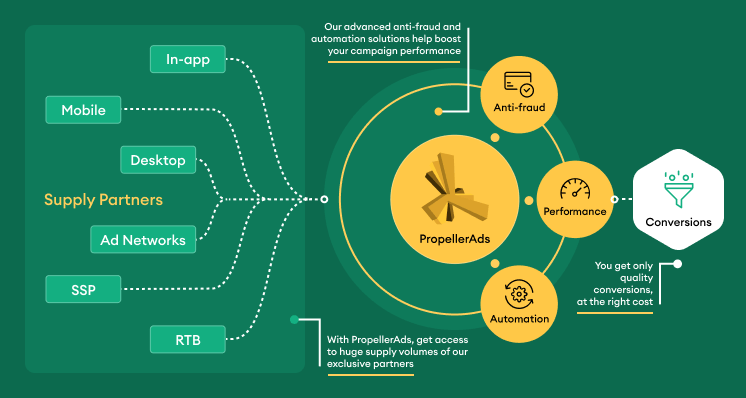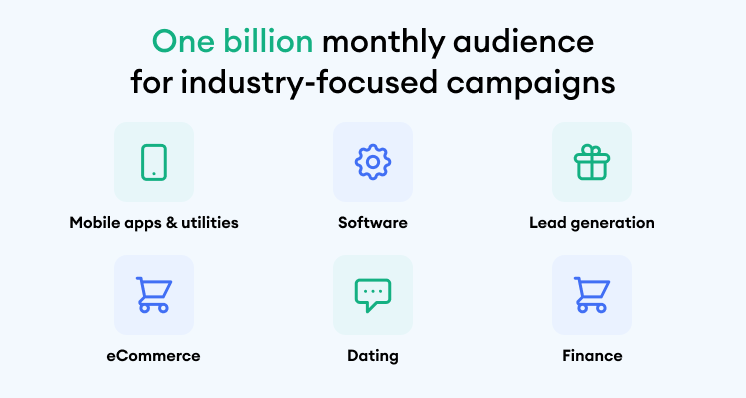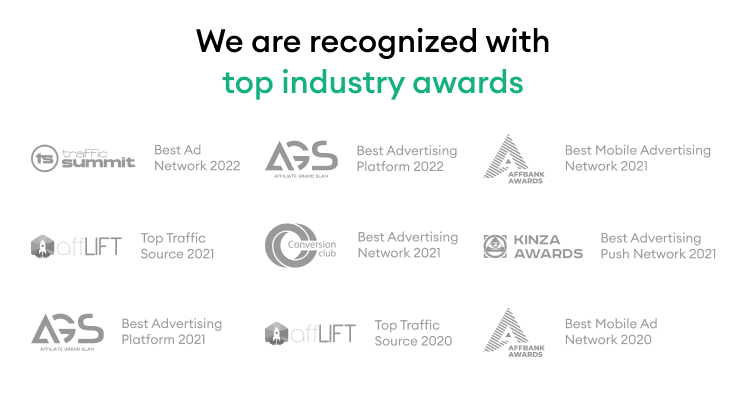 Propeller Ads is a multisource advertising platform providing access to unique traffic sources and AI-based ad-serving/optimization tools for media buyers, agencies, brand owners, and affiliate marketers.
This includes advanced Demographic and Interests Targeting to find matching audiences, CPA Goal pricing model for automatic bidding and optimization, efficient ad formats (Push, In-Page Push, Interstitial, Popunder) with unique templates for customization, and more.
Founded in 2011, the company rapidly became a leader in Popunder advertising first, and then expanded into the native and display advertising market with Push Notifications and other formats. The company covers 195+ GEOs with 12 billion advertising impressions per day. The company is also a member of IAB Europe with a ISO/IEC 27001 Safety Certification.
PropellerAds' in-house developments, such as advertisement rotation algorithms, allow us to analyze a large number of users by numerous parameters and find the most suitable audience for each offer. These features are:
CPA Goal bidding. AI algorithm that tests many ad placements and automatically picks the best bid (auction price) for each placement taking into account the desired conversion price set by an advertiser. So our partners don't have to filter, blacklist, or whitelist zones (ad placements) manually. Based on our tests the traffic price is 40% less than with the manual bidding models.

Interest Targeting for Push Notifications is our exclusive targeting option for our market.
Based on data of the latest user activity in the system and big data predictions, this feature allows bringing users together in cohorts with the highest probability of relevant interest to an offer. The cohorts include various affiliate marketing verticals.
Direct Click allows testing an offer with the most-engaged audience that the system identified. This traffic type is most likely to bring desired conversions based on PropellerAds algorithms and system predictions.

Multiformat CPA Goal campaign – it's possible to show ads to the broadest possible audience with just a couple of extra clicks. By turning on this feature advertiser lets the system automatically copy the campaign parameters to other ad formats – Push, In-Page Push, or Onclick, depending on the initial format. Thus, no need to set up extra creatives and copy targeting settings manually.
Propeller Ads Jobs and Careers
PropellerAds lists available positions here across roles in Marketing, and Sales and Finance.
You can also find employee reviews and open positions on the company's Glassdoor profile.
PropellerAds Features
SmartCPC: Bidding Model for Auto Optimization
High converting Direct Click traffic
Interests/Demographic Targeting for push ads
CPA GOAL - Fully Automated Optimization for Fine-Tuned Campaigns
PropellerAds Data
| | |
| --- | --- |
| Founded: | 2011 |
| Employees: | 500 |
Sources: Company Data, Press Reports, Linkedin, Twitter, Owler, SimilarWeb