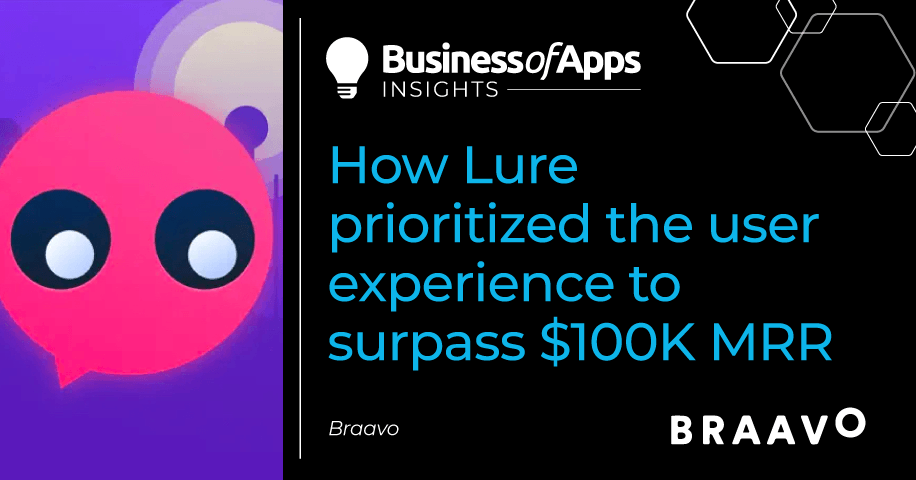 In 2017, Lure embarked on a mission to modernize traditional storytelling with immersive experiences that make reading addicting. Their stories are written by professional writers and designed to hook the next generation of readers with bite-sized, interactive chat stories. Launched by mobile entertainment studio RepresentLY, Lure has since gained more than five million installs, 800 million content views, and a 4.5-star App Store rating. They have surpassed $100,000 in monthly recurring revenue and are continuing to grow quickly.
So how did a mobile app studio, bootstrapped by three founders, launch and grow an app to $100,000 MRR in less than 3 years? All signs point to a customer-first approach to growth. RepresentLY CTO and co-founder, Marcus Ferrario, sat down with us to share how they prioritized the user experience across every element of their business — testing and optimization, funding, and always remembering to have perspective during the tough times.
Optimizations are central to retention
Continued optimizations are essential to understanding what users value and why they stay. Ferrario says it's important not to overlook the intricacies of testing because that's where all the important insights live. Beyond CTAs and UA plays, a thorough testing process helped Lure nail down its content and pricing model.
This post was first published on getbraavo.com.
Lure launched with a library full of romance stories. They saw a great opportunity to improve an already booming market with their unique method of storytelling: a choose-your-own-adventure experience with riveting storylines — all delivered in bite-sized nuggets that read like a Snapchat or text message conversation.
Ferrario soon realized that customers wanted more. By looking at the entire marketplace of readers, it was apparent that blended genres, e.g., romantic horror or romantic comedy stories, were increasing in popularity. By testing different genres, Lure's users told Ferrario and his team what content to focus on building.
For pricing, Lure set up subscription tiers but soon found this wasn't the right pricing model for their customers. The freemium version offered portions of content for free; but in order to read the entire story, a subscription was required. With high engagement, but not enough conversions, Ferrario and his team questioned if this was the right pricing strategy for them. They tested micro transactions, or in-app purchases, which yielded more favorable results including an immediate increase in retention and growth.
…And sometimes you have to guess
Not sure where to start testing? Ferrario says, "sometimes you just have to pick a starting point and dive right in." Get inspiration from competitors and non-competitors. What experiences are they providing users that might work for your audience? Tap into your network and speak with other founders. Gather inspiration and then put your ideas to the test. Be strategic and methodical, always connecting tests to improving user experiences. Run small tests to establish a baseline that you can build off.
Control your vision
A born builder with previous app development experience, Ferrario had a clear understanding of the problem that Lure was designed to solve and how to go about doing it. "It was too early to raise equity," Ferrario says, pointing to the importance of retaining company control so that he and his team could carry out their vision (while building more enterprise value).
Instead, the bootstrapped company looked to non-dilutive funding options to help them scale. It came down to two options: bank loans or revenue-based funding (RBF). Loan options weren't structured in favor of a growing mobile app business and came with more risk. Ferrario and team decided on an RBF partner with a specialized focus on mobile apps. Since the goal was to use the capital to scale, they knew they'd be spending more upfront and needed a smart funding partner who understood the needs of their business. With access to flexible funding customized for his business, Ferrario and his team were able to execute against their vision without investors pushing them to meet unreasonable or inappropriate growth goals, which often conflict with building the best user experience.
Never forget the importance of perspective
The Lure team is most proud of the experience they've built for users over the past five years. It's come with a lot of work and constant improvements. Through all the ups and downs of being a founder, Ferrario reminds us, "Every dollar counts and it can be scary, but it's important to think long-term, get perspective, and think about the big picture."
The challenges are just as much a part of the growth journey as the wins. It's all about being adaptable, proactive curiosity, and smart money management and decisions. The Lure team has since grown to a team of about 20 writers and contractors, with new stories added daily, and has been recognized by the App Store as an App of the Year for Reading Reinvented.