In a competitive digital landscape, organizations need to constantly identify business opportunities, re-evaluating marketing activities, tech stack integrations, growth strategies and conversion touchpoints not only to survive in the long-term, but to strive for success. Growth is the result of iterative processes that lead to incremental positive changes that we are able to analyze and implement.
Although the conversion funnel analysis is a process usually used in the eCommerce space, at REPLUG, we have successfully implemented it with both mobile-first startups and traditional companies, such as Wetaxi, CodeCheck, Winelivery, PhotoSì, to identify growth levers in different business areas. The objective is the same: identify possible "holes" in the user conversion funnel to maximize the conversion points.
Although it might sound complicated and difficult to approach, if we are selling a product, a service or a subscription through our mobile app, we are already making use of the conversion funnel, in some ways.
With this article, we want to share how to set up a conversion funnel analysis to enable your mobile app growth.
What is a conversion funnel?
The conversion funnel is a model that breaks down the user journey into the steps needed to identify all the possible touchpoints, from discovery to conversion. Depending on the complexity of the organization, this can be divided into different areas of analysis, but generally speaking, it takes into consideration 4 phases: awareness, interaction, conversion and retention.
It is called funnel, because, as marketers, we are taking users on a journey from one step to the next, towards the ultimate conversion point. As the users move down the funnel, from install to monetization, there will be a natural drop-off in the number of users who get to the last stage. In this process, conversion rate optimization plays a crucial role in the funnel optimization process.
For this reason, the visualization of each step in the conversion funnel becomes essential to easily identify the weakest points of the process and optimize for better conversion. When performing all this, we are forced not only to consider our marketing activities, but also UX/UI, Design, and tech integrations. It forces us to take a holistic view on our growth strategy.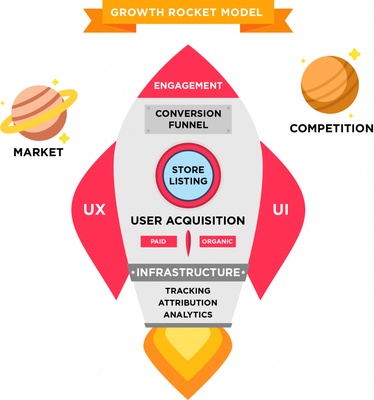 Source REPLUG
Why is the conversion funnel analysis important?
Depending on the company growth stage, departments tend to operate in silos with their own objectives in mind. And although each business area's objectives should sum up to an overarching organizational goal, experience has shown us that this is not always the case.
The conversion funnel analysis is a brutally honest assessment of what happens in a business and, more than that, how users interact with it in each phase of the buying journey. It's a powerful process that, if used correctly, can deliver unique insights and shed light on business opportunities and internal responsibilities. Before proceeding, we need to understand that, when talking about conversion funnel, we can either get very much into details and build complex models, or take a simpler approach and perform a high-level analysis. It is up to us to define the best approach, and it all depends on the level of insights we are willing to look for.
How to implement a conversion funnel analysis in a mobile app ecosystem?
The visualization process of the funnel is a key moment that helps us to map out all the interactions users have with our mobile app, as well as how we facilitate the conversion to the next step of the journey. (must read: Case Study )

Phase 1: Brand awareness through performance
In the awareness phase, we identify the sources through which the target audience comes in contact with our business. These should include both organic and paid traffic, as well as digital (web and mobile) but also offline channels, where possible. We try to create a visual map of the different touch points users can have with our brand.
This very first step should already give us some level of transparency on different channels' performance, and where the most drop-offs are before the acquisition, helping us in analyzing the different messages and communication styles we use, but also how we track our marketing activities.
Key Activities to consider are:
Paid Advertising
SEO/ASO Strategy
Keyword Strategy
Tracking and Attribution
Phase 2: Interaction is about (early) conversion
The next stage, the interaction, represents how we communicate with our target audience through our presence, both online (website, landing pages, etc…) and mobile (App Store and Google Play Store). The core question in this phase is: how easy is it for users to experience our brand, i.e. download our mobile app?
The second stage of the conversion funnel analysis poses already some serious questions about Conversion Rate Optimization (CRO), where we, as marketers, need to analyze the design and communication strategy of the landing pages (web but also in the Stores).
Key Activities to consider are: 
App Store Optimization
A/B testing
Conversion Rate Optimization
Tracking and Attribution
User experience
Phase 3: Designing a conversion journey
Once users decide to download our mobile app, we move onto the next phase, the conversion. In this phase, our consultants work closely with our partners to identify and map out all the possible interactions (or in-app events) of our target audience within our app to reach the conversion point.
There are though some interesting questions to answer:
How does the registration process look like?
Are the benefits to register or progress in the funnel clear to the users?
What is the opt-in rate for post-install communication (push notifications, request for tracking, cookies, etc…)?
What are the steps the users need to take before being able to convert or take a key in-app action?
Key Activities to consider:
Conversion Rate Optimization
KPIs definition and mapping
Tracking and Attribution
Data visualization
User Experience
Design / UI
Phase 4: Planning for long-term engagement
The last stage of the funnel is the retention phase, which is often neglected as a step to optimize the user journey for. However, especially in a non-gaming environment, the retention phase is where we create a long-lasting relationship with our customers. Keep in mind that sending tons of email or push notifications out with discounts cannot be called a "strategy".
As marketers, we need to identify post-conversion actions that we want to foster to increase the LTV of the user base, for example: referral process, or repeated purchase. Once we understand what matters the most to us as a business, we then need to translate these objectives into users' needs. Remember that users listen only to one radio station, WII.FM ( What's In It For Me ).
Key Activities to consider are:
Integrated CRM Strategy
KPIs definition and mapping
Communication style
3 Ways the conversion funnel analysis supports mobile app growth strategy
Now that we have understood what the conversion funnel is, why it is important and how to plan with it, let's have a look at the benefits of implementing this step in our everyday strategy.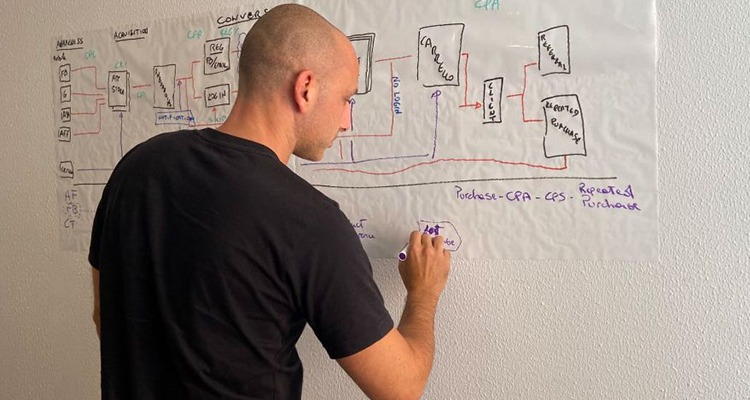 1. Creating transparency on the status quo
In our experience, collaborating with companies operating in different verticals, from eCommerce to Health & Fitness, we have noticed that the more our partners grow and add activities to the mix, the more complicated it becomes to keep an eye on the status quo.
By status quo, we mean understanding where we stand in that particular moment; specifically, what key metrics and KPIs are contributing to the results we have. The conversion funnel analysis gives us an overview of all the user journey's conversion points and helps us to identify what contributes to the current results. By doing so, we are forced to focus on in-app key metrics that matter.
The key question is : What are the KPIs that really matter?
2. Understand users behavior to identify growth opportunities
The conversion funnel analysis forces us to analyze data in an objective way and focus on key metrics that matter. On top of that, when doing this exercise with an external partner, companies are able to identify patterns in users behavior that they might have missed.
For example, if we are trying to increase user engagement, do we need to engage them with as many messages as possible or try to foster the power-users' behavior to everyone who gets in the funnel?
To identify growth opportunities, we need to make assumptions based on data analysis, and test until we find the right hypothesis to leverage.
The key question is : What is the user behavior that drives growth?
3. Test, learn, optimize, scale, repeat
Part of implementing the conversion funnel analysis in our growth routine is the optimization process that comes with it. When working with our partners, we explain that this activity doesn't result only in visibility and transparency, but it's also the basis from which we start to optimize our growth activities.
In a continuously changing environment, from a marketing and tech perspective, as marketers, we are forced to review our processes, test new ideas, optimize processes, and eventually scale. This analysis can give us unique insights into how we operate and what areas need improvements.
A recent example of how things can quickly change is iOS 14 and how it has turned our proven processes into uncertainties, forcing us to review the role of paid marketing activities as well as attribution models, but also how we ask users for tracking permissions.
Conclusion – drive growth through transparency
Thanks to the conversion funnel analysis, we can spot opportunities that otherwise would be missed. Sometimes, it will force us to stir away from our usual strategy, which might be difficult to accept or scary to test, but growth is the result of incremental improvements that can come only as the result of testing hypotheses.
REPLUG's growth consultants can support mobile growth teams, implementing and analyzing successfully a conversion funnel analysis with the aim of driving growth for the long-term.
If you are looking to scale efficiently your app growth strategy, get in touch with us and talk with one of our experienced consultants for a free consultation.