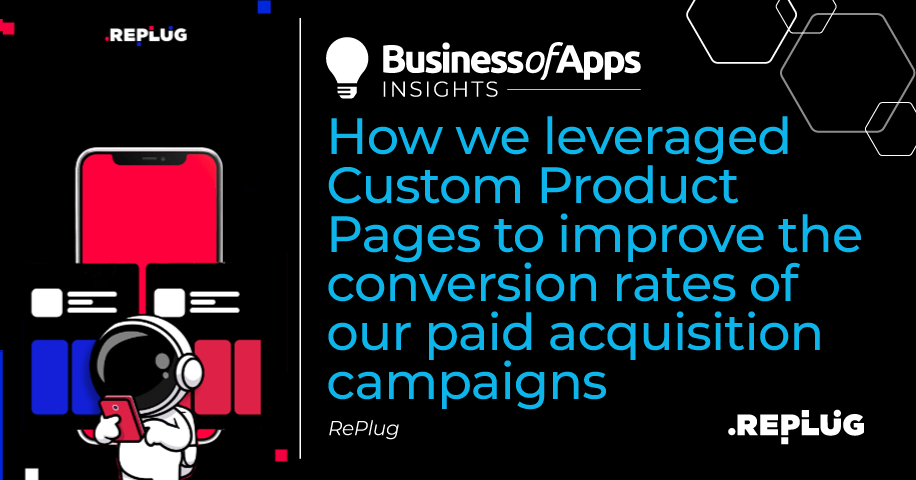 With the launch of Custom Product Pages, Apple has taken away one of the biggest frustration for app marketers in the iOS ecosystem—conversion rate optimization (CRO).
It's been a little more than a year since the launch of CPPs, and we can say, with no doubts, that these have been one of the most interesting releases Apple has made in a long, long time.
Custom Product Pages (CPP) offer the possibility to personalize product pages to align with either the search entries in the App Store or the creative and call-to-action seen in an advertisement on Facebook.
In fact, CPPs were only available for Search Ads at the release, which was still great, but within a few months (mid of August), this option also became available for Facebook campaigns. While we anxiously wait to get CPPs for other channels, at REPLUG, we have been extensively using this functionality for our clients' campaigns, gathering learnings and interesting results.
Why are custom product pages valuable for app marketing activities?
CPPs enable marketers to direct traffic from an ad (either Search Ads or Facebook) to a customized Store product page with creatives that are consistent with the ad itself.
In CPPs, app marketers can customize the following:
Screenshots
Preview videos
Promotional Texts
Illustration of what a CPP looks like
Source: REPLUG
With CPPs, we are able to align our ads messages with our creatives and audiences. Although very "basic," it took Apple quite a while to give us this option, and now it's time for us to collect the fruits of it.
What are the advantages of using Custom Product Pages for our app?
The advantages of using CPPs for our app marketing campaigns are several, and although they might be obvious for some, it's still worth spending a few moments sharing them here below. Below you can see the main advantage that we have experienced.
Showcasing specific features or products of our app
Many apps offer more than one feature/service. Most importantly, each feature or service might appeal to a different subset of users, especially when deciding whether to download the app.
For example, for an app that offers audiobooks, podcasts, news, and book summaries, we could test different CPPs that focus on each product with different images and CTAs.
Speaking to different demographics
With the same idea in mind, we can also customize CPPs to speak to different demographics, enhancing the ad relevancy and possible conversions from impression to install.
That can be relevant for many verticals. We have experienced so far that it leads to quite strong results for shopping and eCommerce apps, dating, and health and fitness apps, where we could create CPPs that appeal to women and men.
Leveraging seasonality
Too often, we have been forced to update our default product page screenshots because of a specific period of the year (Black Friday, Christmas, New Year, etc.).
Although this might not be a major issue after all, Black Friday is a promotional moment for all users. CPPs now offer us the possibility to segment the message on the Store for different types of users. This type of promotional segmentation increases the chance of conversions.
A/B test different visual assets
Although Apple offers a Product Pages Optimization (PPO) feature, CPPs could help us test visual assets more quickly. The PPO functionality is interesting, but if you have ever used it, you know it's not as strong as the Google Play counterpart.
For this reason, using Custom Product Pages to test visual assets could be an interesting alternative for many marketers.
Disclaimer: When thinking about using CPPs for A/B testing purposes, we need to be aware of two things:
Like any A/B test, we need to change only one variable at a time
Paid traffic is different from organic traffic, so we need to analyze the results with particular attention
Improving the effectiveness of offline campaigns
Take this a step further and implement the unique CPP link into a QR code on a billboard and start measuring how many offline users convert with a customized product page built exclusively for that offline campaign.
CPPs' advantages are many and different. These stated above are probably the most interesting from our perspective.
CPPs
Source: REPLUG
The bottom line, however, is that CPPs help us improve the relevance of our ads. For too long, we had put up with the limitations of the App Store, and now we have a real chance at improving the conversion funnel with a personalized experience for our users.
How REPLUG leveraged CPPs to improve the conversion rate of our paid campaigns
At REPLUG, we have been testing CPPs extensively for our partners as part of our approach to scaling acquisition activities. As shown in our paid user acquisition framework, in the 5th phase, "Optimization & Testing," CPPs are crucial in finding cross-functional opportunities to reduce acquisition costs.
After dozens of tests run in the last 12 months in different verticals, we have gathered some exciting learnings that we want to share here below on how to leverage CPPs for app marketing activities.
Target the right audience or USP with the CPP
Showcasing the same product or service used on a Facebook ad on the CPP screenshots is the most basic yet effective way to facilitate user conversion. But what about targeting our desired audience not only with relevant ads but also with relevant screenshots on the CPP?
As seen among the advantages above, CPPs can help us speak to different target audiences more effectively, addressing their needs directly.
For one of our partners, InvoiceASAP, a leading invoicing app in the US, we decided to implement this type of testing with CPPs, addressing different audience verticals, with a combination of ads optimization activities, as well as creative optimization, for both ads and Store screenshots.
With this simple, yet effective optimization and testing strategy, the cost per acquisition decreased by 24.5% on average across all audiences.
InvoiceASAP real example of a custom product page by REPLUG
Source: REPLUG
Align user-generated content with CPPs
Another exciting learning that our paid user acquisition team gathered by running CPPs in combination with ads was that we could take the personalization experience to a whole new level when using UGC ads.
Specifically, we tested this for another partner of ours, in the dating space, ODXClub, for whom we had been spending a significant budget on user-generated content ads on paid social channels, including Facebook and Instagram.
Our paid user acquisition specialists were already testing audience personalization with CPPs (i.e., showcasing different male and female screenshots).
However, as we wanted to align the characters used in the ads also on the screenshots, we engaged with the best-performing content creators and got the approval to use their photos on the screenshots.
Just by showcasing in the screenshots a real person, the same that users were watching in the ads, the conversion rate increased by 56.2%, resulting in a cost per acquisition 33% lower compared to the same ad redirecting to another app store page.
ODXClub real example of a custom product page by REPLUG
Source: REPLUG
Design CPPs for a group of keywords in Search Ads
The last interesting learning that we got from these 12 months of extensive testing is that also, with Search Ads, we can achieve great results thanks to Custom Product Pages. One of our partners in the fitness and health space provides a variety of products and exercises tailored to different needs.
Our team addressed the need to create dedicated CPPs that would appeal to a different group of keywords targeting a specific type of exercise, such as abs, chest, and glutes exercises, and keywords focused on losing weight and improving body shape.
With this type of test, we managed to increase the IPM considerably, but most importantly, the cost per subscriber, as the ad relevancy increased drastically.
Conclusion: Decide on your target and optimize
Custom Product Pages are, without a doubt, a valuable tool for app marketers. However, like anything else, it is up to us to make the most out of them. We can either choose to use them in the most basic way (which is still effective) or creatively test new ideas to improve results.
CPPs solve a major problem for us marketers, especially on channels like Facebook, where the user intent to interact with ads is low. With this solution provided by Apple, we can now address our audience needs better and improve the overall ad experience, effectiveness, and conversion funnel.
Are you looking to integrate custom product pages in your paid user acquisition strategy? Get in contact with Luca Mastrorocco, REPLUG co-founder and head of growth, at luca@rplg.io.