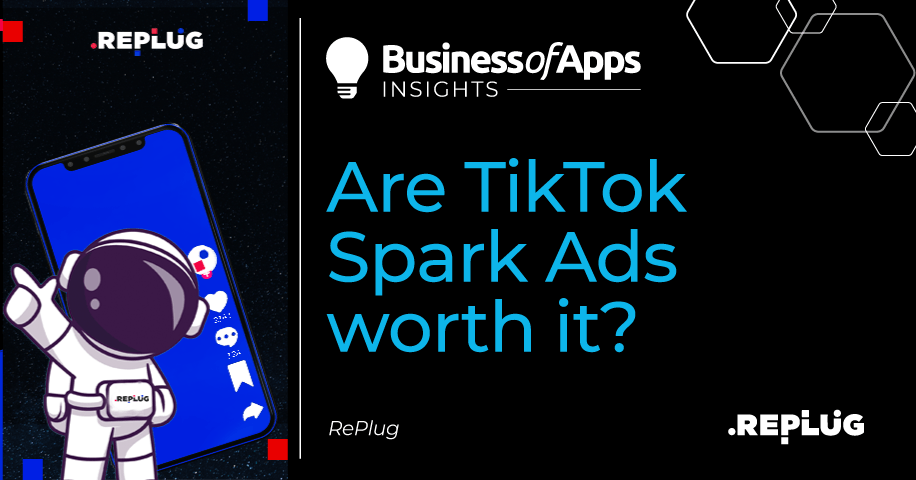 As TikTok's user base grows, it's no wonder that marketers are rushing to the platform. TikTok introduced Spark Ad property in July 2021 as part of the ongoing advertising features development, which allows marketers to promote posts from their own accounts or straight from influencers' profiles.
We'll go over the Spark Ads solution in this article, which is an ad display type that allows advertisers to boost native, organic, and effective content. Furthermore, we will focus on REPLUG's two TikTok Spark Ads campaigns and overall outcomes to show you what to expect in terms of KPIs, cost, and effectiveness.
What are TikTok Spark Ads?
"Spark Ads is a native ad format that enables brands to use organic TikTok postings and its features in their advertising," according to TikTok. This one-of-a-kind format allows brands to run the following ads:
Using organic posts made by other creators
​Using brands' own TikTok account posts
The concept is already well-known—in fact, you may recognize it as a "boosted post" and "sponsored content" on other social networks such as Facebook and Instagram.
TikTok Spark Ads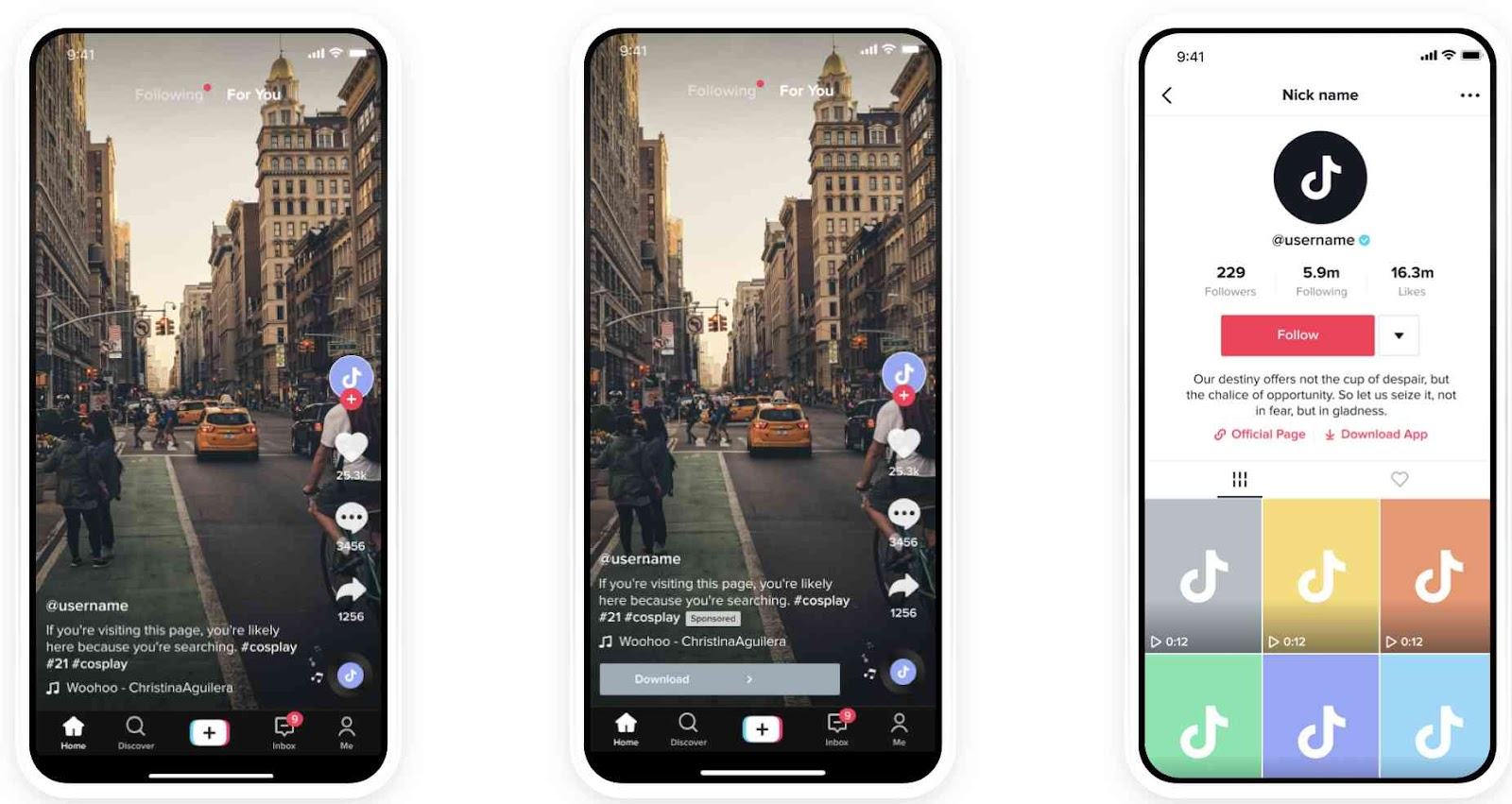 Source: REPLUG
Like anything else in marketing, growth is fueled by testing, so we opted to give it a shot while executing campaigns for two of our clients and advertising their app on TikTok.
What are the differences between in-feed ads and Spark Ads?
In-feed TikTok ads display as users go through their "For You Page." They can last up to 60 seconds (though videos lasting 9 to 15 seconds appear to be the "perfect balance"). TikTokers can interact with these ads by liking, commenting, and sharing them. On the other hand, these ads can be skipped.
On the other hand, instead of creating a video from zero, Spark Ads allow marketers to promote their existing TikTok videos. Such ads, like In-Feed ads, appear and feel like organic content. This is due to the fact that they are displayed in-feed without interfering with the scrolling sensation.
And yet, unlike In-Feed advertisements, Spark Ads can lead to a TikTok account rather than just a landing page. Because these ads are linked to a genuine TikTok account, viewers may go straight to the initial poster.
The organic post receives all Spark promotional video views, responses, shares, likes, and followers. This applies to the brand's or the creator's creative content. Moreover, the in-built Spark Ads' analytics make campaign ROI evaluation easier.
And last but not least, they can also feature a CTA button that takes visitors to a landing page rather than an account page. Viewers may also click the ad's music icon to access that song's audio page if they wish.
Now, let's start by examining each campaign and breaking it down to see the final outcomes.
TikTok Spark Ads: First experiment
We explored both Spark Ads options to understand how Spark Ads may help our partners' growth plan.
Video choice: We picked the best-performing video and promoted it from both our partner's brand and the influencer's account.
Goal: The campaign goal was set to "App Install"
Timeframe: Three weeks
Platform: iOS
Side note: Given the SKAN's limits on conversion metrics at the ad level, we had to examine additional metrics when determining if Spark Ads was a success or failure for our partner.
Below you can see the metrics we analyzed for this first campaign.
Significant increase in followers and likes
Spark Ads generated about 250% more followers and a 150% boost in likes during the three weeks compared to our previous statistics. Surprisingly, the advertisements did not result in a rise in post shares or comments.
High CPM and CPC
Even though we saw an increase in followers and likes, the CPM and CPCs for the video from the influencer's account appeared to increase. Although our previous statistics for CPM was €0.80 and CPC was €0.14, the Spark Ad reached over €1.2 CPM and €2 CPC.
However, when analyzing the video promoted from our own brand account, both CPM and CPC stayed within acceptable and decent ranges.
Rise in profile visits and average watch time
Moreover, we also looked at average video view time and profile visits as engagement KPIs. Throughout the test, we saw a big improvement in both measures. In particular, we noticed that average watch duration increased by 20%, while paid profile visits increased by 45%.
TikTok Spark Ads: Second experiment
In one of our most recent experiments, we compared the results of the same video when used as a traditional TikTok Ad—that is, advertising the footage from the client's TikTok account—and when utilized as a Spark Ad. The outcomes were unexpected.
We discovered that the costs of Spark Ads weren't always lower in terms of CPC and CPM. Regarding CPC, just one concept had a lower CPC when using Spark Ads (-25%), whereas the others had cheaper CPC (up to 20%) when using standard ads.
TikTok Spark Ads: Campaign results
Source: REPLUG
We found a similar trend with TikTok CPMs, where Spark Ads had reduced CPMs (up to 17% cheaper) on two separate occasions. The good news began with CTR. Spark Ads had a much greater CTR than traditional ads for three out of four concepts (up to 40%).
The advantage of Spark Ads was that the conversion rate from click to install was always greater than regular ads (up to 72% greater install rates). These numbers resulted in a reduced final cost per acquisition using Spark Ads, both in terms of CPI (up to 57% lower) and the CPA, which was 61% lower in the exact scenarios.
The last interesting notice is that the conversion rate from install to install to conversion event was often doubled when comparing the outcomes of Spark Ads to the all-time best-performing non-Spark Ads.
Conclusion
We've reached the conclusion of the article, and you undoubtedly wonder if the TikTok Spark Ads strategy can help your app marketing efforts. We have a few notions we'd like to share with you.
According to our extensive testing, TikTok CPMs and CPCs are not always less expensive with Spark Ads. Yet, the final CPIs and CPA are—as a result, we are confident that you should try Spark Ads.
Moreover, it is logical that more comprehensive testing is required before labeling the Spark Ads approach a success or failure. At REPLUG, we think that testing new channels and ideas is the foundation for establishing new possibilities for our partners and, at times, discovering a more profound potential for growth.
Interested in testing TikTok ads to scale your audience and result on a performance-driven basis? Get in touch with us.