The Covid crisis has driven an explosion of growth in video gaming over the past year. With people spending far more time at home and in front of screens, video games have been a natural place for them to turn to cure boredom, work out stress, and to simply pass the time. As a result, not only have established gamers been spending more time playing, but new people have started gaming as well.
In the US alone, The NPD Group found that four out of every five consumers had played a video game in the six months preceding November 2020. In that period, NPD also found that consumers spent 26% more time playing video games than they had previously, and increased their spending on games by 33%. In its 2020 Digital media trends survey, Deloitte found that during 2020, a third of consumers subscribed to a video gaming service used a cloud gaming service, or viewed a virtual sporting (e-sports) event for the first time. 
The gains of video games
Video gaming is a very popular entertainment choice — Deloitte found that nearly half of US consumers had participated in some sort of video gaming activity (which also includes watching video game streams) since the start of the pandemic, and global video game revenue was projected to jump over 20% year-on-year in 2020. It is especially popular among the younger, so-called "digital native" generations (Millennials, born 1983-1996, and Gen Z, born 1997-2006). The video gaming rate for these groups during the crisis reached 69% and 75% for Millenials and Gen Z, respectively. 
Older generations haven't been left behind in the trend, however. According to TPG's report, there was a 59% increase in the time spent gaming by people 45-54, along with a 76% increase in spending on gaming in that age group. For people aged 55-64, time and money spent on gaming shot up by 48% and 73%, respectively. Even people 65 and older saw their time and money spent on gaming increase by 45% and 29%, respectively. This indicates that the pandemic-driven increase in video gaming hasn't just been limited to young people, and it similarly hasn't just been limited to the games that younger people play or the platforms their favorite games are made for. 
A boon for mobile gaming too
It is important to note that mobile gaming has been a part of this video gaming renaissance, in addition to the more traditional PC and console games which come to mind when people think about video games. In their report, The State of Gaming App Marketing – 2020 Edition, AppsFlyer noted that demand for games in mobile app stores surged by 45% last year and that the amount of revenue generated from paying users jumped by 95%. This indicates that the market for the relatively simple games offered on mobile platforms has seen a massive boost just like the market for more sophisticated PC and console games.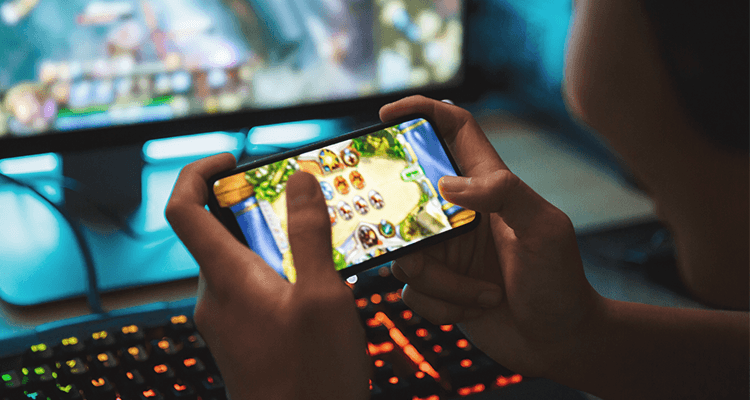 Most mobile games are designed for casual gamers who might not even consider themselves video game players, and who definitely wouldn't classify themselves as "gamers" in the stereotypical sense. They don't spend hundreds of dollars buying games, consoles, and accessories. The games they tend to play are even nominally free. However, the mobile gaming industry has managed to perfect the so-called "freemium" model, by which people play the game for free, but buy special features or in-game bonuses in exchange for real money. Players might be able to purchase special in-game tools or capabilities in exchange for a small payment or receive large amounts of in-game currency in exchange for a somewhat larger one.
It is certainly possible to play the game without making these purchases, but the purchases make the game more enjoyable by, for example making levels easier or less frustrating to beat, or by allowing the player to customize their character in more appealing ways. These purchases are very easy to make, and because the bonuses they provide are already programmed into the game, the profit margin on the transactions to purchase them is basically 100%. When you put this arrangement into the context of a pandemic where everyone is staying at home in front of their screens for many more hours a day. While also not spending the money they usually would on in-person social activities, it's easy to understand why AppsFlyer found that in-app purchase revenue for games jumped by 67% between February and August.
CTV during the pandemic
Along with the big spike in video gaming, another big trend in digital media during the pandemic is the accelerated proliferation of connected TVs, also known as CTVs. CTVs support a variety of internet-connected apps and programs, thus allowing people to enjoy entertainment from their TVs beyond what can be provided by a cord. According to research by Nielsen, weekly TV watching on CTVs rose by over 1 billion hours during the peak of pandemic lockdowns and has remained well above pre-pandemic levels since. 
More and more Americans are ending their subscriptions to broadcast TV, also called "cutting the cord," and relying on streaming services for their entertainment instead. According to broadbandsearch.net, over 6 million U.S households 'cut their cord' in 2020, which pushed the total number of cord-cutters (people who have opted out of broadcast TV subscriptions for their video entertainment) to 31.2 million. It is expected that this trend will accelerate and the number of cord-cutters will grow to 55 million in the United States by 2022. With more and more people turning directly to content providers for their entertainment, the apps available for content providers on CTVs will make the CTV platform ever more popular.
The state of CTV gaming
In addition to Netflix, Hulu, Disney+, and other apps, CTVs offer video game apps as well. CTV gaming is a relatively nascent phenomenon, and it offers certain advantages which can be especially appealing to families and older video game audiences. While the games one can play on a CTV are fairly similar to those available on mobile, CTV gaming offers a big screen, which is easier on the eyes and provides a far more immersive experience. Additionally, televisions tend to be located in a central family space in a household with comfortable seating, and are often enjoyed with the family together, making CTV games great for family entertainment. 
However, games accounted for just 1.4% of all the apps published in the app store for Roku, one of the most popular CTV platforms. Thus, there is a relatively narrow selection of high-quality games, and the offerings tend to be produced by amateurs and hobbyists who are exploring the possibilities. This fact, combined with the fairly recent advent of the platform, means that well-resourced gaming studios haven't gotten very involved in the CTV domain. Moreover, since games are themselves finished products, they require much more time and effort in development to compete for the user's attention, and much more frequent updates compared to the streaming and video program apps that predominate on CTV marketplaces. All of these factors combined show that CTV gaming is wide open for digital media companies willing and able to invest time and resources into CTV game development.

The developers moving into the domain of CTV gaming hope to combine the best of both worlds by taking the things that have made mobile gaming such a booming industry (attractive graphics, addictive gameplay, easy and appealing in-app purchases) and bring them onto a platform that is ideal for older and more family-oriented users. Playcent Games is one of the first studios with significant financial and organizational backing staking a claim on this wide-open territory. Their team of experienced mobile developers wants to introduce the same sort of casual games that have been so successful on mobile to the CTV universe. 
CTV has grown impressively during the pandemic, but the signs are that its presence and expansion are here to stay, even after our lives and entertainment habits settle into a post-pandemic normal. That means that in addition to the proliferation of CTV video content, the CTV gaming market is going to see accelerated growth as more people unlock the potential of their CTVs. The potential is huge, and the market remains wide open.