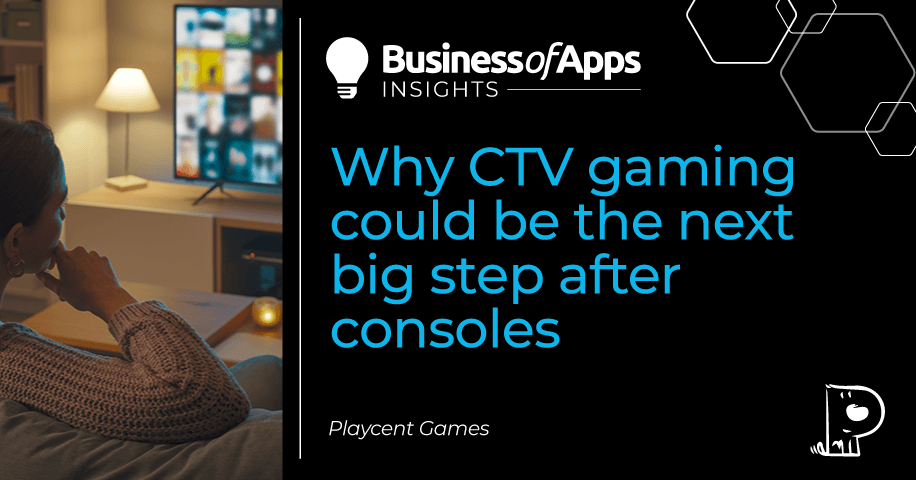 Convenience is the craze, and with it comes a change in how people prefer to game. Consoles have been around since the 70s and have held their own over the years. They have gone through nine generations, virtually uninterrupted, even with the rise of PCs in the market. "Exclusivity" was the word for a long time, and consoles provided just that – an ability to play games not available anywhere else.
However, buying a console can be costly, especially for an occasional user. Exclusivity has gradually lost its charm as well with the introduction of cloud services to the market. These days, people are beginning to look at other forms of entertainment. That is where CTV gaming comes in, offering an affordable and convenient way to enjoy these activities. It has already started to change the current perception of gaming itself, and the rising popularity of Smart TVs will make the difference even more distinct.
CTVs: Growth of a new entertainment form
The CTV market has been increasing for the last several years, and that growth shows no signs of slowing down. According to one report last year, more than 665 million households own a Smart TV. This is more than 34% of the global market, and analysts expect that more than half of homes worldwide will own a Smart TV device by 2026. This rise in popularity is attributable to several factors, among them the pandemic, the accessible price, as well as the broad variety of functions the technology provides.
Along with Smart TVs, consumers are taking an interest in OTT devices like Roku, which has more than 60 million active subscribers in the United States alone. Others, like Amazon Fire TV and Apple TV, have about the same number of active users. All of these platforms are continually expanding their libraries – not only with movies and TV shows but also with games.
People living more sedentary lifestyles caused a shift in preferences during the pandemic, which helps to explain the increase in the number of subscribers. Customers staying indoors meant that TVs were able to topple even smartphones in terms of sales. CTVs have quickly become the preferred way to watch movies and, in some cases, even play games. This trend is still going strong even after the major waves of the pandemic.
CTV gaming filling in a vacant niche
CTVs and consoles each take their own share of the market, attracting their respective customers with various upgrades and additions. Gaming through Smart TVs mostly appeals to hyper-casuals, a very distinct audience that values simplicity and the ability to relieve stress over complicated mechanics or high-quality graphics. For them, the most important thing is being able to relax in the comfort of their own home without thinking about complex solutions or stressing over increasingly challenging levels.
Companies like Amazon and Roku cater to this need. The most popular games on these platforms include all-time classics like Tetris, Snake, and Crossy Road. Also, according to the Playcent Games' research, Arcade is the most popular category on Roku, with more than 40% of releases being in this genre. Social casino games are also a big hit with the hyper-casual market, showing 17% growth between April 2021 and June 2022. Meanwhile, genres like sports games have been expanding at a slower rate, which can be explained by the indifference of hyper-casuals to these more stressful game types.
Obstacles and possible benefits of designing games for the CTV market
Making games exclusively for Smart TVs can be a risky decision for a developer, and not many game designers have decided to take this chance just yet. The CTV gaming market is still in its early stages. On Roku, Games account for only 2% of overall released content for the platform. This means that creating a game exclusively for Smart TVs that may not attract customers is a considerable risk. It is worth noting that a large share of already popular crossover titles include classics that are hard to compete with.
However, the aforementioned "Games" is the second most used category on Roku and the second largest section on Fire TV and Apple TV by number of applications. Most games featured there, however, are ports from the Android or iOS systems. As a consequence, making a game designed mostly for CTV platforms could turn out to be an innovative decision in this field. With the current increase in Smart TV uptake, CTV gaming is gaining a boost in popularity as well. Exclusive titles – this time not for consoles, but for CTVs – may become the next big hit.
Can CTV gaming replace PCs and consoles in the future?
While CTV gaming could gain a massive following in the coming years, it will not replace consoles or PCs anytime soon. For years, the gaming culture centered around computers. As a result, a lot of people interested in video games already have top-notch PC builds and cutting-edge equipment; for them, there is no need to use other devices for gaming. Others may be reluctant to change as long as their systems work fine and provide everything people want. However, the gaming niche continues to explore new markets. Right now, cloud services are gradually gaining a foothold, and VR is becoming more popular and accessible day by day. At the same time, CTVs continue to expand their reach. Therefore, even the most dedicated PC gamers may start to turn their heads. CTVs do not need to replace PCs and consoles – they just need to provide a different alternative.
Smart TVs offer a solution for people looking to enjoy games in the most relaxing and comfortable way possible. People who value advanced graphics, complex solutions, and challenges will stick with their preferred gaming platform. However, CTV gaming is not here to challenge its users to outperform everyone else. It is simply a way to have fun and spend a relaxing evening in the comfort of your own home.