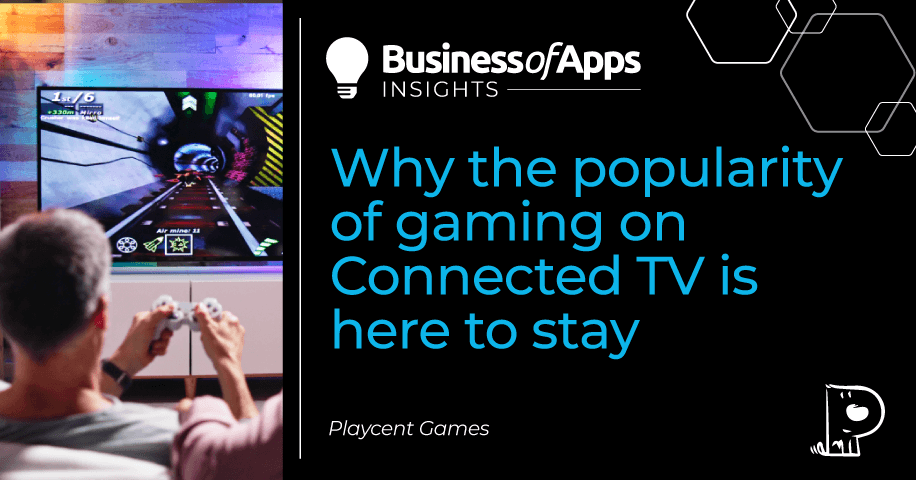 Connected television (CTV) has become a mainstream fixture of the media industry, and it is hard to imagine the TV and video industries without its presence anymore. Where once the idea of CTV becoming so pervasive that it would actually replace conventional, chord-based TV was unimaginable, nowadays the modern consumer is opting for smart TVs and related devices in droves, they're cutting the cord and not looking back.
One of the primary reasons why CTV has significantly increased in popularity is the choices that video streaming offers, meaning that audiences have more media at their fingertips than ever before.
CTV is an ever-evolving landscape, and while it will continue to be closely associated with video streaming, another aspect is growing in popularity amongst consumers, and that's CTV-based gaming. Given time, the exponential growth of this market segment could mean that we will someday consider gaming apps to be the primary purpose of this media format and that TV and video streaming will merely be the entrées.
CTV usage is at an all-time high with 87% of US TV households having at least one internet-connected TV device, including connected smart TVs, and gaming, where ad spend is reaching over $5 billion.
CTV and TV gaming are bigger than ever
One of the main reasons  CTV gaming is experiencing significant growth is because gaming as a whole is undergoing the same process, continuing its transformation from a niche preserve of youth to a thoroughly mainstream pastime. According to a study by GWI, the percentage of gamers aged 55-64 in the U.S. grew by 32%, thanks in part to increased accessibility.
More people in this age group (38%) are connecting with CTV gaming content via social media websites like Facebook on their mobile devices. A third of gamers overall are also prioritizing games based on high-quality narratives, again on mobile. This is because people in general, and in the gen x/baby boomer generations in particular, want convenience to be at the heart of their experience.
While some might argue that the share of the total CTV market occupied by gaming is relatively small, it's important to note that this is a short-sighted mindset. One only needs to look at the continuously growing number of gaming apps available via CTV services. For example, on Roku, CTV gaming apps only account for 2% of the entire platform. However, this seemingly small figure gains context when one realizes that gaming is the second most popular category available on that service.
Other CTV services and platforms have similar levels of gaming app penetration, with Apple TV currently offering 1,300 free and 1,200 paid games, and Amazon Fire TV providing 740 free and 490 paid games. Tech giants do not do things on a whim and there are good reasons they're investing in CTV gaming alongside TV and video streaming. Given the benefits to the average media consumer, it's not hard to see why.
Changing habits means changing taste
The sedentary lifestyle that many of us became accustomed to during the COVID-19 pandemic, which drove much of CTV's expansion, has become hardwired in many parts of the world, making consumers value convenience. Console gaming will always occupy a significant market share thanks to the dominance of platforms like PlayStation and Xbox, but consoles also tie users to a specific location.

On the other hand, CTV video games can be accessed almost anywhere, whether it be via a smart TV, a mobile phone or tablet, or some other device, making them much more flexible and convenient.
Console games are perceived to have an advantage over CTV video game content due to their powerful processors, and while that may have been the case a few years ago, CTV games have come a long way since then. The visual and immersive experience offered by gaming apps is far superior to what was available only five years ago, and gamers are now enjoying a much higher quality experience. The immersion offered by CTV games is deeper than ever, ensuring increased levels of user retention.
You also don't need to be seated in front of a screen at home to enjoy the highly retentive experience CTV gaming offers, you could be anywhere – while at the office, sitting on a park bench, commuting from home to work, the list is endless.
Whether or not you're taking a break from a difficult day at work by gaming on your phone, or sitting in the comfort of your home in front of a smart TV, you can relax, chill, and join a community of players with ease. There are so many choices of genres at your fingertips and it'll be easy for you to find the escape you need to remove daily stress from your mind.
Connected TV applications and blurred lines
The line between video gaming and conventional TV and video consumption is blurring, and while this trend is occurring across the media landscape it's particularly apparent in CTV, thanks to streaming. According to a comprehensive study by media pundit and academic Evan Shapiro, gamers are spending an average of up to eight hours a week playing games.
Additionally, they spend around three hours a week watching others play games on platforms like YouTube and Twitch. Shapiro suggests that this is comparable to watching traditional sports on TV, and when adjusted for age, viewers between 18 and 35 spend almost an hour more per week watching video games rather than sports.
CTV's influence on gaming apps extends beyond gameplay itself, as it introduces new possibilities for revenue generation and provides developers with opportunities for innovation and diverse monetization strategies.
As more advanced technologies, such as augmented and virtual reality are developed and deployed in CTV, the line between video and gaming will blur even further, presenting real opportunities for content creators.
By leveraging in-app purchases, subscriptions, and ad-supported models, developers can effectively monetize their CTV gaming apps while providing players with an ever more immersive experience.
What is next?
The intersection of CTV, TV, video, and gaming content is a very promising area for advertisers, content creators, and consumers alike. While in the past, these areas would have competed for the same space, it's now better to consider them as interconnected areas within a whole new media landscape, one that will continue to evolve and create new content formats.
It will offer an increasingly integrated experience for users and reduce costs for content creators and marketers, thanks to a number of different markets being condensed into one.
The rise of CTV presents a promising landscape for gaming apps to integrate with other media platforms, and the utilization of CTV advertising and seamless app integration will support a more qualitative experience for users. The market will likely become more collaborative, fostering mutually beneficial relationships between various players. Quo bono? Everyone!