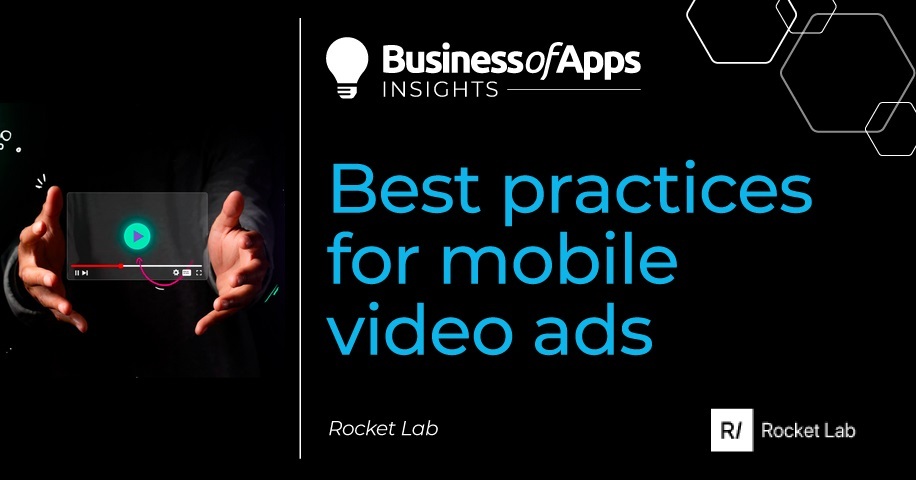 As is already evident to anyone who is in contact with the mobile advertising world, optimizing video creatives for formats on mobile devices improves the user experience and the main KPIs of the brand.
Improving the advertising experience through the use of formats adapted to the device, causes ad exposure and interaction to last longer, directly influencing effectiveness.
So that you can get the most out of your campaigns, in this blog post we share a series of good practices that you can perform in your video ads.
How users consume videos
Considering that there are many aspects to optimize in ad creatives, for practical reasons, we will focus on how to create a narrative and describe some design practices.
Once you have the general concept of a video ad in mind or even sketched it out, it's time to think about its structure.
First, examine the historical data of your user acquisition campaigns. That will help you identify which network and location generate the most traffic. There's a big difference in the way people consume messages when they appear on platforms, like YouTube pre-roll, Instagram Stories, or Facebook Feed.
Feeds: To stand out in the feed on FB or Instagram, use creatives that quickly communicate your message or grab people's attention in seconds.
Non-skippable mid-roll or pre-roll: A short 6-15 second video is recommended to keep your audience engaged. Sound (music, SFX, or dialogue) can be effective.
Skippable mid-roll or pre-roll: Most viewers will see a 5-second ad. A 15-30 second ad will reach only 10% of people or less. Try to get your message across before the skip button appears.
Stories: This is a fast-growing format that can be sequenced to create a more engaging and engaging narrative. Quality isn't that important, but music presents a great opportunity.
It's clear that each ad placement demands different attention from viewers. Your ads must respect and reflect the differences in the channels to maximize their impact. Because attention peaks in the first three seconds, users often move on soon after, so you need to communicate your main message instantly.
Best practices for creating video ads
Here are the best practices for creating mobile video ads on Instagram, Facebook, Instagram, Messenger, and Audience Network.
Create short videos
Create videos that are 15 seconds or less to make sure people watch until the end. Videos that are 15 seconds or less are also eligible for Facebook and Instagram Stories in-stream placements. If you want to use a video that wasn't made specifically for mobile, crop it.
In general, it is recommended that videos be short, but there are locations that support a longer duration. The Instagram feed and Audience Network locations support videos up to 120 seconds, while the Facebook feed, Marketplace, and Messenger home locations support videos up to 240 minutes.
Get attention quickly
Make sure the most attractive part of your video is at the beginning to grab the attention of your viewers. We suggest you do it within the first 3 seconds.
Use videos in portrait or square format
Most people hold their phones vertically. So choose a vertical or square aspect ratio that takes up as much of the screen as possible. Use 4:5 vertical video ads.
Show your product or brand message at the beginning
Just as you need to get attention quickly, it's a good idea to show off your brand identity right away so people will see and remember it. If you're using a video you already have, edit it so your product or brand appears in the first 15 seconds.
Design videos that can be watched without sound
People choose to watch videos without sound in many situations, such as in public places. Use text and graphics, and include subheadings whenever possible.
Try visual techniques that wow users
Think time lapse, slow motion, split screen, 3D elements, etc. Test what content works using different motivators to spark new ideas. But don't get stuck using a style you've used before. Our advice is to iterate and be innovative.
Try a call to action
Try to create a call to action that is connected to the motivator your ad is targeting. This could be "Upgrade your troops and win" for a strategy game, "Help her" for a mysterious hidden object game, or "Order with free shipping" for an e-commerce app.
Below you will find a table with the dimensions of the most frequent Facebook and Instagram video creatives:

Source: Rocket Lab
Video creative best practices for google ads
We share some points to integrate into your ads, as a recommendation to highlight the key elements of your app.
Use navigating hands: Presenting an app "in use" helps consumers understand its value. By showing hands navigating the app, the viewer can understand exactly what is happening. The same principle applies to augmented images, where you can, for example, add graphic labels to describe the functional benefits.
Engage with viewers: After your video ad's opening sequence, add emotions, show a plot, and develop the story to engage your audience.
Design to be seen: Make your app or game bigger, highlight key elements of your app's UI, clean up unnecessary elements, and increase contrast.
End with a call to action: Each ad must have a specific CTA.
Google recommends working with influencers, celebrities, and CGI (cinematic) ads if they perform well on Youtube pre- or intermediate placements. Game-focused ads, AR games, and vertically-targeted ads are most effective on the Google Display Network.
Because Google offers a wide variety of ad formats and placements, there's a simple rule to follow if you're looking to scale your campaigns: produce as many formats as possible for all videos. By doing so, you can unlock more inventory and give Google's algorithm a chance to find the best users whenever they are.
Below you will find the dimensions of Google static and video ad creatives:

Source: Rocket Lab
Conclusion
Once you've developed a concept for your ad, think about the context in which people will engage with the message you want to convey.
It's worth remembering that the first five seconds are decisive, determining if it will lead to action. Your narrative should be the opposite of what is used in TV commercials. The most important message should come first, after which you can develop the story.
You must accept that the average user will pay little attention to your ad. We know that no one watches an ad from start to finish with full concentration. Therefore, you should keep the visuals clear, simplify the interface, enlarge important elements, use illustrated buttons for finger taps, and communicate only one message per ad.
Once you've produced an ad and it shows potential during initial performance testing, clone it across all dimensions, lengths, and formats to unlock the largest possible inventory and acquire the best users.
Once you've optimized your content with these recommendations, you'll need a trusted partner to help you drive your video ads to get quality viewers. For this, it is important to choose a company that specializes in mobile app growth that guarantees that the right audience will see your ad.