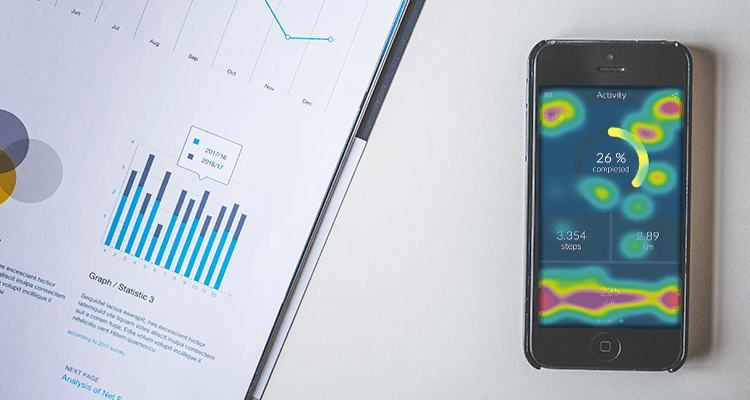 With approximately 82% of today's apps utilizing at least one app analytics SDK, it seems that app companies no longer debate whether or not to utilize mobile app analytics, rather which tool(s) will enable mobile app brands to craft and monitor the highest caliber app experiences. over the past 10 years, as users expectations change and technologies evolve, a particular type of mobile app analytics has risen on the scene and asserted itself as the new standard. Once termed the "solution of the future", research has shown that qualitative mobile app analytics has become today's principal industry tool.
Qualitative app analytics is defined as a collection of visual tools that allow mobile professionals to track and understand app user experience. These tools, such as user session recordings and touch heatmaps, allow mobile app brands to obtain actionable, diagnostic insight on user activity. The technology goes beyond aggregate metrics, such as DAU and MAU, by tracking and recording individual user sessions. Prominent use cases include:
Observe retention-risking user behavior by watching abandoned sessions
Detect usability and design issues with UI gesture heatmaps
Resolve crashes and bugs with ANR and crashed session recordings
Discover conversion funnel drop-off sources via step-by-step funnel recordings
Assess in-app ad experience with full-screen heatmaps and single session tracking
Through extensive research from September 2017 to September 2018 , we have identified some key trends regarding the increased adoption of qualitative analytics as well as correlations associated with this technology.
A Shift from Early to Late Majority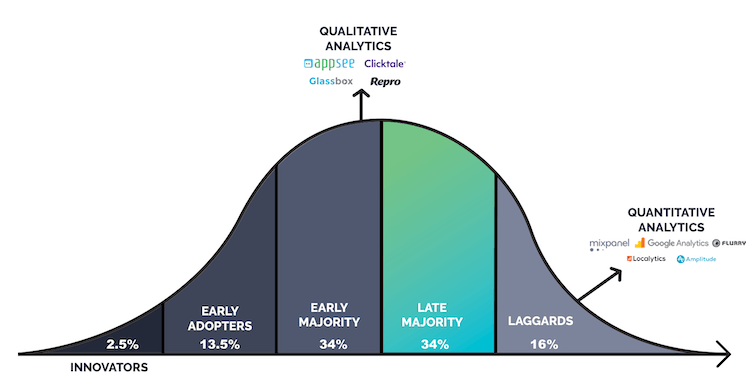 Source: Appsee – Mobile App Analytics category adoption – Q4 2018
Between the years of 2012-2016 the industry began to see a steady, gradual increase in adoption rate. From the end of 2016 to Q4 2018, we have seen a significant increase in the integration of this type of SDK.
More than 60% of today's top apps* have qualitative analytics
Source: Appsee – Mobile App Analytics category adoption – Q4 2018
Android Adoption of Qualitative Analytics
Among the 5,872 apps in the Google Play store with over 5 million downloads, within the top 100 rankings per category, we have identified that 64% of those apps are already utilizing qualitative app analytics.
iOS Adoption of Qualitative Analytics
Among the 4,390 apps in the iOS App Store with over 5 million downloads and within the top 100 rankings per category, 68% of those apps are already utilizing qualitative app analytics.
In total, across this collection of enterprise, top-ranking apps, 65.7% are currently utilizing the technology. Qualitative analytics has effectively entered the point of "late majority" in the mobile analytics industry.

*The term 'top apps' denotes apps across the Google Play and App Store that have garnered 5M downloads or more and fall within the top 100 rankings per app vertical.
Correlation between utilizing qualitative analytics and Ranking, Rating, and Installs
The majority of enterprise mobile applications have adopted qualitative analytics. How do the apps that have integrated the technology compare to their counterparts in terms of authority and positioning? We gleaned research on the correlation between the integration of qualitative analytics and the attributes of ranking, rating, and installs.
Higher ratings, rankings, & installs for apps with qualitative analytics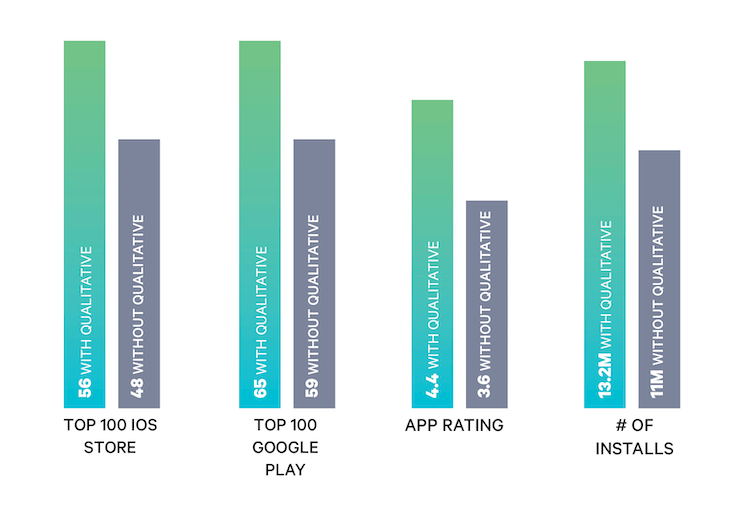 Source: Appsee – Mobile App Analytics category adoption – Q4 2018
Key Takeaways:
Out of the top apps examined ,Apps that utilize qualitative app analytics have 20% more app installs, overall
Apps with qualitative analytics were found to have ratings that were 22% higher
In the iOS App Store: App store rankings are 8 positions better
In Google Play: App store rankings are 6 positions better
"As more mobile teams recognize the essential need to obtain the "why" behind their quantitative data and diversify their analytics stack, we have seen a notable increase in the leveraging of user session recordings and touch heatmaps," says Zahi Boussiba, CEO and Founder of the market's leading qualitative analytics platform, Appsee. "Qualitative analytics has evolved from a complementary tool to one that is a necessity in order to keep pace with leading apps in the app store."
What do these findings mean for enterprise apps?
It's been four years since the industry breached the chasm from early adoption of qualitative analytics to early majority. The focus has shifted from vanity app metrics and placed the user front and center. With user experience functioning as the key differentiator between a successful app and a mediocre one, top mobile brands are placing more of an emphasis on gathering actionable, qualitative data.
Shortened product iteration cycles and better data collection lead to higher app authority
The use of qualitative analytics effectively cuts the element of guesswork within product iteration cycles, allowing mobile teams to evolve the product experience and achieve monthly KPI improvement. Notable case studies from companies like eBay, Samsung, and AIG show a saving of 20% additional R&D hours, mitigating of launch risks, and enhancing of product workflows. These case studies were significant in that these apps also saw an improvement in app rank, rating, and number of installs.