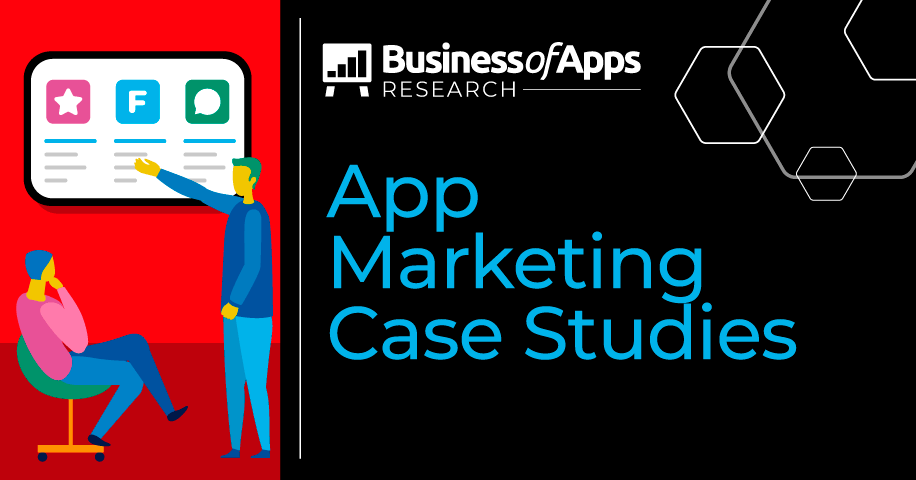 The best way to plan and execute your app marketing campaign is to start with mobile app marketing case studies, examples of how apps from the same category were promoted previously. In other words, to learn what app marketing strategies did work and were fruitful. In this article, we will highlight 10 examples of app marketing campaigns for mobile apps from 5 categories – Shopping, Games, Finance, Photo & Video, and Health & Fitness. Each case study consists of an objective, solution, and results, keep in mind all case studies are taken from open sources which don't provide too much detail about each case but we want to give you a general understanding of what marketing techniques were effective.
Let's start with case studies for mobile apps for shopping. For a number of years, eCommerce has been one of the fastest-growing verticals for mobile. Multiple factors such as the big screen, advanced hardware of smartphones in hands of billions of people around the globe, and robust mobile payment systems enabled mobile to become a platform for people to shop. The COVID-19 pandemic has tremendously accelerated the growth of mobile shopping apps when people had to shop from home worldwide. As of this article writing, we're still living under the influence of the pandemic, it turned out many people found shopping from home to be convenient even when they don't necessarily have to stay home under lockdowns.
Featured App Marketing Companies
Shopping app marketing case studies
Let's take a look at two marketing case studies for shopping apps and how various app marketing techniques are allowed these app brands to achieve specific marketing objectives.
Case Study #1 "Shopkick: Cash Back Rewards" app
The leading shopping rewards app that allows shoppers to earn rewards along shopping, both online and offline. Using the app, shoppers can earn rewards for the items they buy via scanning receipts. Shopkick is supported by all major retail chains and brands, including Amazon, Starbucks, Walmart, eBay, Groupon, Nike, Best Buy, and more.
Shopkick: Cash Back Rewards app screenshot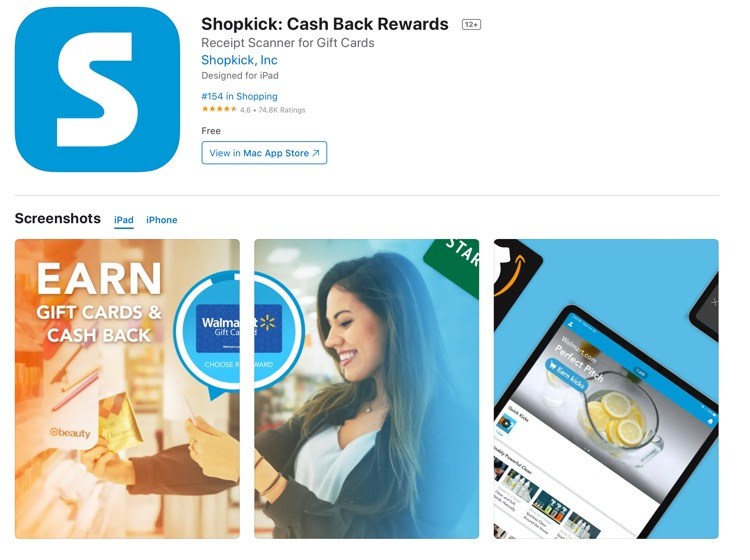 Source: Moburst digital marketing agency
App marketing campaign objective
In 2020, because of lockdowns, people couldn't visit stores and so in-store shopping was really low. For an app like Shopkick to grow it required people to do shopping in person and as a consequence, the app's CPI, aka Cost Per Install, went high.
Solution
To reduce the Shopkick CPI it was decided to plan and execute a TikTok app user acquisition campaign. The first attempt failed but, after additional tuning of the videos to match TikTok's visual style, a new campaign succeeded.
Results
During the two months since the TikTok ad campaign was launched, the agency managed to decrease CPI by 87%, on top of that the Cost Per Registration decreased by 89%, and the Cost Per Acquisition dropped by 86%. Aside from achieving the primary objective – to decrease expenses and acquire users for the Shopkick app for less money, the company got access to a young generation of shoppers who use TikTok to discover new products.
Switching to the second case study featuring a British app that was launched during the inception of the e-Commerce aggregator apps for online shopping in the United Kingdom.
Case Study #2 "Mallzee" shopping app
Mallzee is a UK non-retail shopping app that pioneered a non-retailer fashion shopping app concept back in 2013. Available on both iOS And Android, the app helps users to buy clothing with more than 100s high-street brands.
Mallzee app screenshot
Source: SplitMetrics mobile app growth agency
App marketing campaign objective
By the time an app marketing intervention was needed, the app had already enjoyed strong visibility on the app stores, as well as a very robust paid user acquisition campaign. The key component that required optimization was the Conversion Rate. That is to say that despite the fact that the app had a steady supply of traffic to its page on app stores, the number of people who actually downloaded the app was less than a desirable number.
Solution
To improve the Conversion Rate for the app, a number of A / B tests were conducted to test multiple changes for the app's icon, title, subtitle, description, and screenshots. The Decision to apply A/B testing in conjunction with a standard App Store Optimization was made to avoid possible negative effects and actually further decrease the existing Conversion Rate.
Results
As a result of multiple carefully executed App Store Optimization A/B tests, the Conversion Rate was increased by 10%.
From shopping apps to mobile games that command the bulk of revenue generated on both the iOS App Store and Google Play store.
Featured App Marketing Companies
Game app marketing case studies
As hard as the marketing of non-gaming apps is, mobile game marketing is always harder and more complicated. Let's shed some light on two specific case studies for mobile games.
Case Study #1 "Kingdom Rush – Tower Defence TD" mobile game app
Kingdom Rush is one of the most popular Tower Deference, aka TD, games, which was published back in 2011 by Armor Games. TD is a sub-category of a strategy game and its gameplay is based on the deference of territories and possessions.
Kingdom Rush – Tower Defence TD app screenshot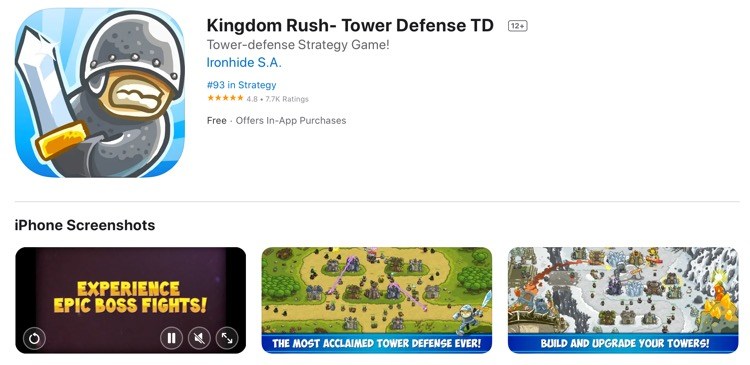 Source: App Radar App Store Optimization Tools & Services
App marketing campaign objective
Armor Games had been looking for app marketing support to help with the game's growth, which after the game's many years on the market began to wane.
Solution
The App Store Optimization was chosen as a marketing tool to reinvigorate the Kingdom Rush's growth.  The ASO updates were conducted on a monthly basis and consisted of keyword research, title, subtitle, icon, and screenshots optimization. Every update of the visuals was performed in conjunction with A/B testing to avoid any negative impact on the app's native traffic.
Results
As a result of applying ASO to the game, the team of marketers managed to achieve a 300% increase in organic installs and a 1,000% increase in ROI.
Case Study #2 "World of Warships Blitz" mobile game app
World of Warships Blitz is an online multiplayer naval war simulator and action game. It immerses players into the world of visually authentic WWII warships and lets them be in the seat of their captain.
World of Warships Blitz 3D War app screenshot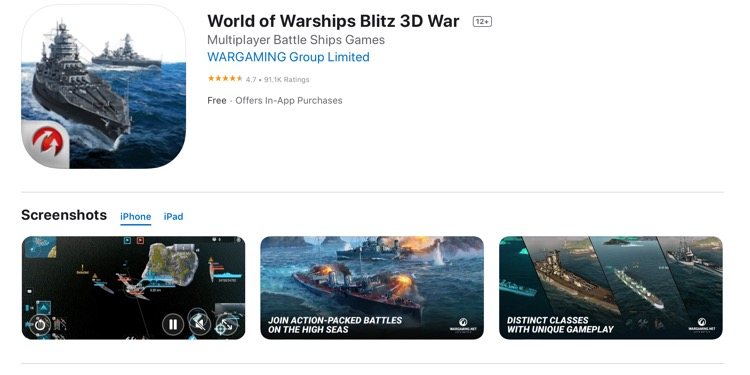 Source: App Radar App Store Optimization Tools & Services
App marketing campaign objective
Two major goals were set for the app marketing campaign for the game – grow exposure and raise brand awareness in multiple countries on both Apple's App Store and Google Play Store. A big part of the project was doing ASO for the game on 12 markets – French, Italian, Korean, Portuguese (Brazil), Russian, Spanish (Spain), Turkish, Chinese (Traditional), Chinese (Simplified), German, Japanese, and English (US). Running a successful App Store Optimization campaign on a single market is not an easy feat but to do it on multiple markets is extremely hard.
Solution
To meet the challenge of doing ASO for the game on a such big scale, the app marketing team applied a combination of AI-powered ASO tools and in-house expert knowledge. The team identified untapped opportunities to drive more traffic for the game with keywords it wasn't ranked for at the moment across all 12 local versions of the iOS app store.
Results
As the result, a 35% average increase in app store impressions across all 12 markets was achieved. Among the most competitive markets this result was achieved for were South Korea, Russia, and Japan, in some locations the increase reached 90%, in Spain in particular, the average growth was 73% and in Turkey, the increase was the highest – 91%.
Moving on from mobile games to Finance apps. Today mobile apps that help people to do their finance on the go are booming. The market has passed the moment when people didn't trust enough mobile apps to be their tool to do finance, hundreds of millions of people buy products and services, pay their mortgages, and send money to their relatives and friends every second 24/7 worldwide.
Finance app marketing case studies
Among other app categories, finance apps face a unique challenge – many people don't realize how versatile they can be and how many benefits it's actually possible to cram into a single app.
Case Study #1 "Providers" mobile app
The Providers app is the ultimate safe and secure app to manage all family finances, including banking, savings, benefits, EBT balance & spending, as well as a job search.
Providers: EBT, debit, & more app screenshot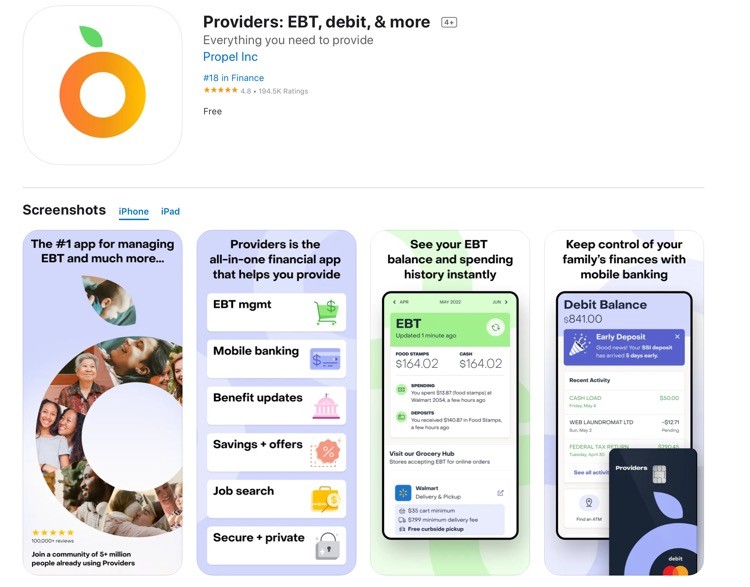 Source: Bamboo app marketing agency
App marketing campaign objective
In this case, the most challenging part of the app marketing campaign was finding a new way to grab people's attention and show the app's value on a quite crowdy social media landscape.
Solution
It was decided to use a combination of user-generated video testimonials on top of other app marketing channels. The marketing team launched a user-generated content campaign on Meta to capture the attention of more qualified users within the pool of the existing Android user acquisition campaigns. To ensure the success of the campaign the following activities were performed:
2-week A/B test through Meta's experiments function
Evergreen Android campaign that was our top performant at the time
Demographic audience targeting that attempted to reach our core persona
Results
Thanks to the launch of UGC, aka user-generated content, the app's Cost-Per-Registration was decreased by 68%, and also 15% increase was achieved for the ad campaign Click Through Rate.
Case Study #2 "iCash" mobile app
The app provides an easy way for Canadians to apply for a loan right from their smartphone. It features an easy application form that doesn't require any documents, as well as provides access to a wide range of financial rewards and membership advantages.
iCASH.ca app screenshot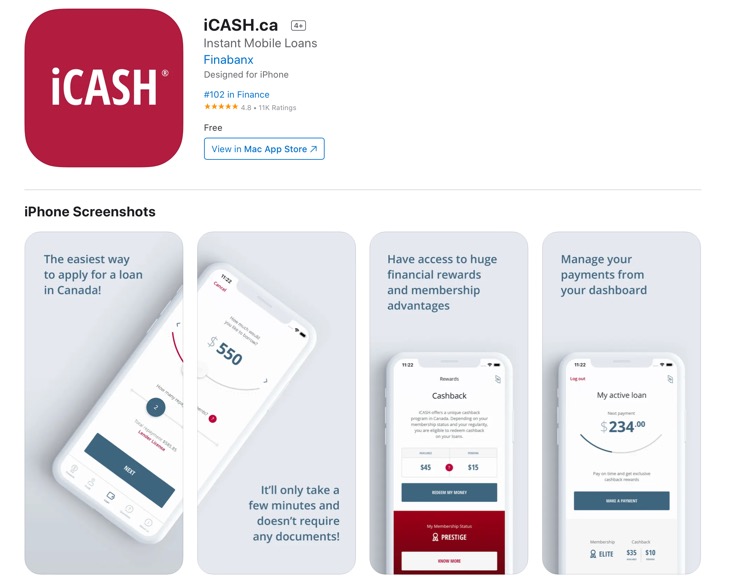 Source: Start.io mobile marketing platform
App marketing campaign objective
In this case, the major marketing goal was to regain the attention of the app's users who didn't complete their loan purchase process or invite people who previously purchased the loan to return and therefore become loyal customers. The important financial KPI for the campaign was to keep the campaign's Cost of Acquisition per user within the $20 – $30 range.
Solution
To achieve the goal, a re-targeting mobile app user acquisition campaign was launched.
Results
As a result, 300 new loans were sold per month and the Cost of Acquisition of new users was held at the $17 / per user level, which was below the agreed threshold.
Featured App Marketing Companies
From Financial apps to Photo & Video apps, yet another popular app category is filled with apps people use to capture photos and videos and apply sophisticated filters to enhance them.
Photo & Video app marketing case studies
The Photo & Video apps category is one of the both iOS and Android app categories that directly benefit from the smartphone camera's advance to deliver more features and help people with being more creative. Because Apple, Samsung, HUAWEI, and other OEMs all provide native apps for photography and video capturing, app developers are in fierce competition to beat these default apps and win consumers' hearts and wallets.
Case Study #1 "PhotoSi" mobile app
The PhotoSi app is one of the leading apps in Europe to print photos, and compose photobooks, as well as other photographic products.
PhotoSi app screenshot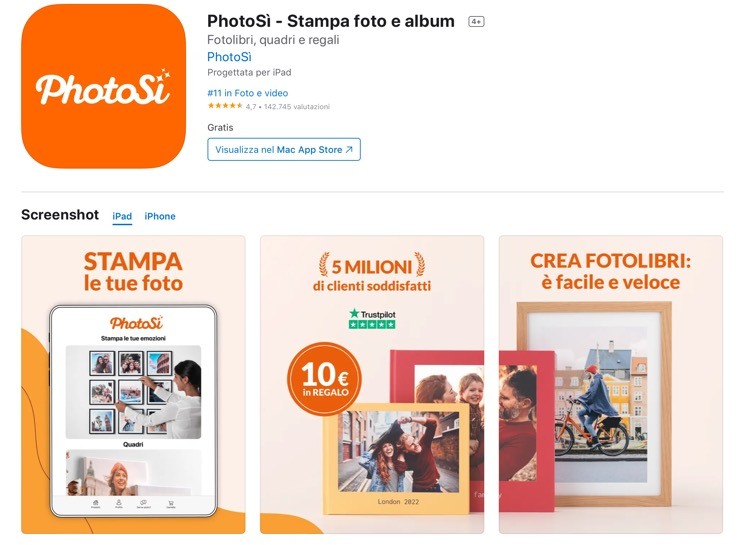 Source: Replug mobile marketing consulting agency
App marketing campaign objective
The app marketing campaign was launched to resolve quite common roadblocks app brands are facing when they decide to go outside of the  Google and Meta's ad platforms duopoly.  Specifically, the issues to address were:
What acquisition channels should the PhotoSi brand be using to reach the existing audiences beyond what the Google + Meta duopoly offered?
How could their marketing team keep the cost of acquisitions under control without eroding the bottom line?
How long would it take for the PhotoSi marketing team to effectively scale those new channels?
Was there a hidden opportunity in promoting their services to a whole new target audience?
Solution
After multiple discussions, the TikTok Ads advertising platform was chosen as the means to more app users outside of the exposure that Google and Meta provided. The stages of the marketing campaign were:
testing multiple channels to choose the most efficient channel
a search for the right micro-influencers to reach and work together on the app's promotion
A/B test creative messages and types
campaign performance optimization
audience identification.
Results
Compared with Facebook Ads CPI, Cost Per Install was lowered on average by 75% meanwhile an average eCPA was decreased by 54%. Video ads impressions increased by 363.2%, the number of the app's installs went up by 676.2%, while CPI decreased by 17.%
Case Study #2 "ProCamera" mobile app
ProCamera is a photography app that allows professional photographers to work with photos in .RAW format, retaining the high quality of images intact and achieving results not feasible with regular photo apps.
ProCamera app screenshot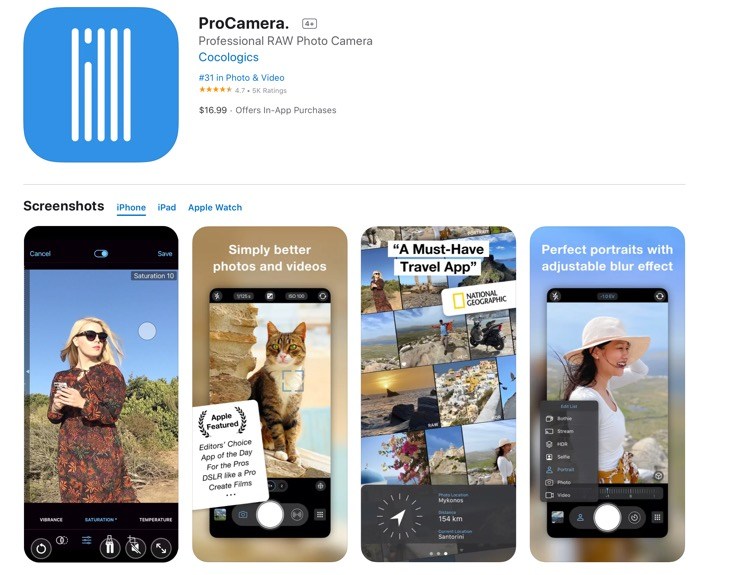 Source: App Radar App Store Optimization Tools & Services
App marketing campaign objective
Because of the COVID-19 travel restrictions, people were traveling less, and hence the demand for the ProCamera app went down as well. The app development team required help to compensate for that drop in demand.
Solution
The hired app marketing agency team decided to implement a combination of a full-scale App Store Optimization along with Apple's Search Ads paid advertising campaign.
Results
Upon the ASO campaign implementation, the number of downloads raised by 4%, as well as a 200% increase in the number of keywords the app was ranked in the Top 10 search results on the iOS App Store. Also after the first couple of months as the ASO & ASA campaign was launched, the marketing agency team managed to achieve a 28% increase in the app's Conversion Rate and a 36% increase in the number of organic installs.
And finally, the last app category that hosts apps that help people around the globe to steady fit and healthy – the Health & Fitness.
Health & Fitness app marketing case studies
With the advent of smartwatches, fitness trackers, and other hardware to monitor people's health condition, Health & Fitness apps' popularity skyrocketed. In the following section, we want to review a couple of apps that help people with their mental help, which is – no doubt – a vital part of a human's health.
Case Study #1 "Headspace" mobile app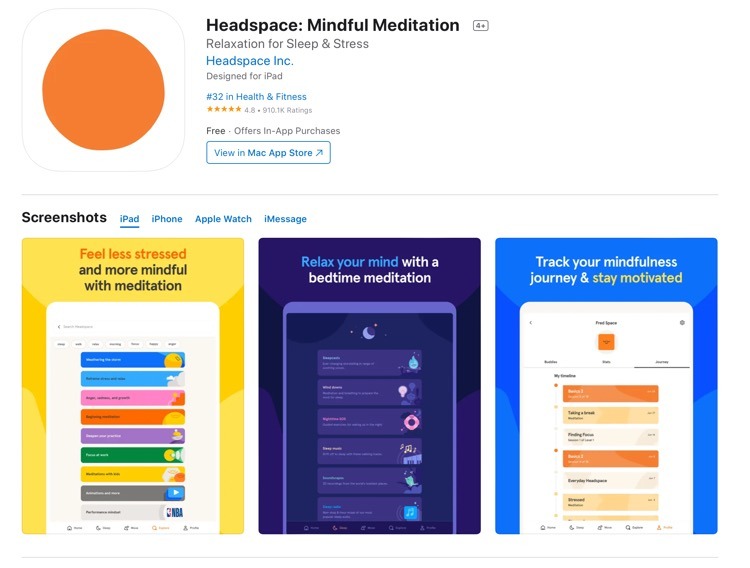 Source: Phiture award-winning mobile growth consultancy
App marketing campaign objective
Several years ago the Headspace marketing team approached a mobile growth consultancy with the problem of building a strategy to grow over existing back then 6 million app users. The ultimate goal was pretty ambitious – to become the best and most recognized meditation and mindfulness app in the world.
Solution
The App Store Optimization campaign, launched by the hired app marketing agency, consisted of the audit stage to assess the app's current ranking back then which was already strong but still allowed plenty of room for growth. The ASO-managed execution phase lasted for 6 months and included a series of experiments to pin out the best strategy to follow. The agency's internal ASO tools and in-depth analysis were deployed to allow the app to continue to grow rapidly.
Results
As a result of the performed ASO campaign, the Headspace app received a 40% increase in visibility and an 18% increase in installs acquired via search.
Case Study #2 "ThinkUp" mobile app
ThinkUp is one of the leading daily affirmations apps to help people with the right mindset to be happy.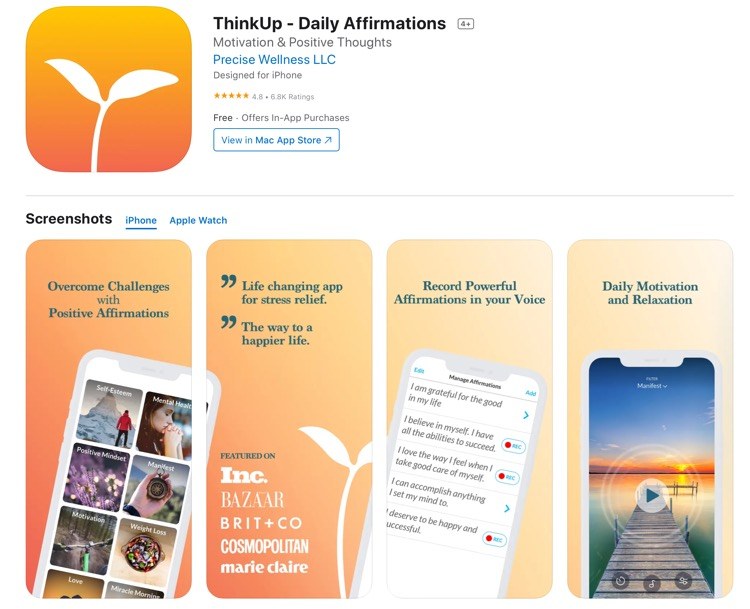 Source: App Growth Network app marketing agency
App marketing campaign objective
The goal of the app marketing campaign was to achieve higher efficiency with how much money was spent to acquire more users for the app.
Solution
The provided solution consisted of an in-depth analysis to understand user sentiment and values within the meditation/affirmation space by performing market and competitor research, as well as ASA campaign testing, weekly optimization, setting up automation, campaign-level optimizations, and more.
Results
The major result achieved during the course of a four-month app marketing campaign was increasing the Return On Advertising Spend by 83%.
Final Thoughts
Hopefully, you will find these app marketing case studies helpful to market your own app. The success of every app marketing campaign hinges on a choice of specific marketing channels to use, the effectiveness of messaging, seasonal effects, the market fit, and more. Every app marketing project requires a custom approach but we can identify a few app marketing channels / techniques that have a high potential to help the app to succeed on the market. These are paid advertising platforms such as Facebook Ads, Google Ads, TikTok Ads, Influencer marketing campaigns and App Store Optimization.
There is one more thing to mention at the end, these app marketing case studies mention only major contributors that allowed app marketing teams to succeed but there are always other marketing channels that are involved but those impact is hard to measure and hence present in these case studies.