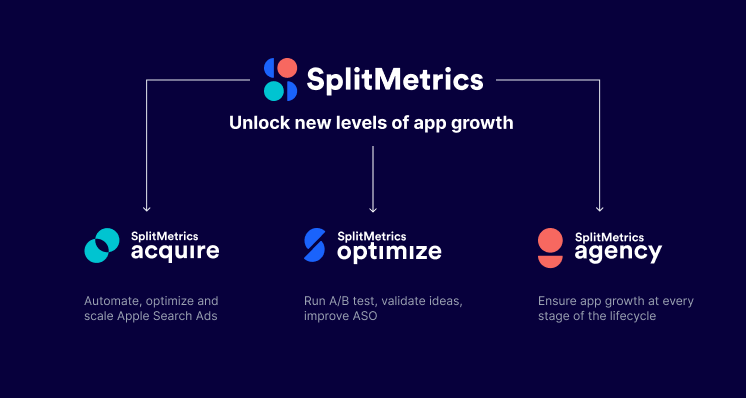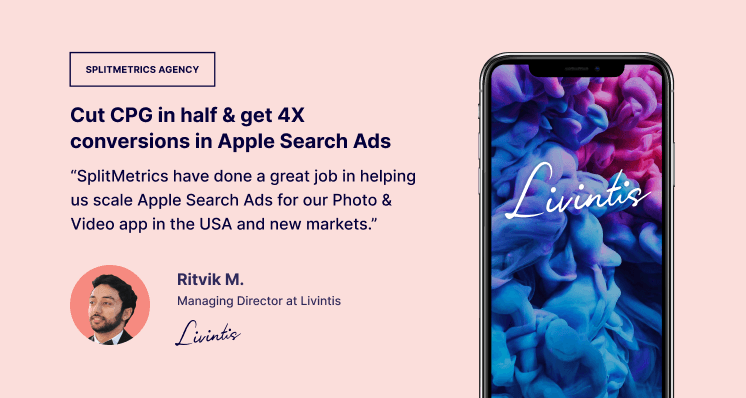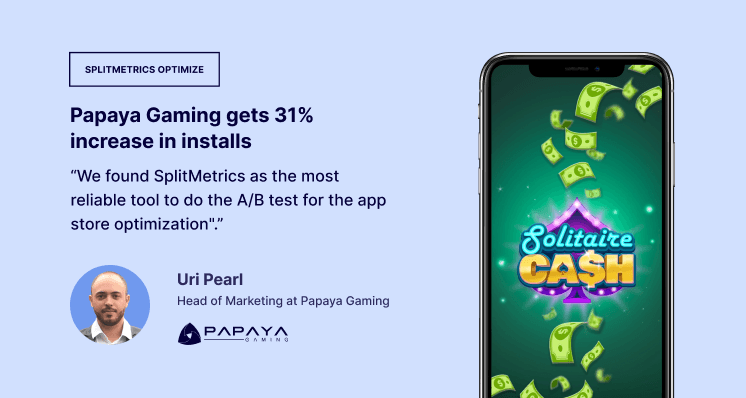 SplitMetrics is a global software company offering an enterprise-grade ecosystem of products and services that enable mobile app publishers and developers worldwide to scale their business to millions of users. An Apple Search Ads Partner, SplitMetrics is obsessed with making its customers successful. That's why top world app and game publishers like Babbel, Freeletics, InnoGames choose to grow with SplitMetrics.
SplitMetrics is a remote-first company. With a dedicated team of 180+ experts working from 9 countries around the globe, we are building the future of mobile marketing!
SplitMetrics Products and Services
SplitMetrics Acquire – an intelligent data-driven platform to optimize, automate and scale Apple Search Ads. The combination of advanced technology, extensive automation, AI-based optimization, and market insights enables app and game developers using SplitMetrics Acquire to drive growth and boost ROI easier and faster. An Apple Search Ads Partner, SplitMetrics was the 1st company to build the Apple Search Ads management platform (early in 2017).
SplitMetrics Acquire Advantages: 
Apple Search Ads focused: Customer Success, UA & Product teams are 100% focused on Apple Search Ads.

Sophisticated automation: Smart and flexible auto-rules, machine learning auto-bidding algorithm, competitors' insights and share of voice reporting. 

Advanced reporting: Full-funnel view, overview dashboard, BI integration, funnels with micro-conversions, custom formulas and metrics. 

Advanced customer service: Benchmarks, strategic recommendations and account audits based on best practices. 
SplitMetrics Optimize – an advanced mobile optimization platform for data-driven decision making, validation of ideas, concepts, and features via fully transparent A/B tests for iOS and Android on the product, search and category pages. The product was launched in 2015 at the dawn of A/B tests and, as of now, helps top world app and game publishers like Prequel, Etermax, Rockbite Games improve product page conversion rate, test new app ideas before investing in their development, and accurately identify target audience. 
SplitMetrics Optimize Advantages: 
Extended testing opportunities: 3 testing environments and extended number of traffic sources, web-to-app testing, in-app event testing, CPP management.

3 testing methodologies at hand: Bayesian, Thompson Multi-Armed Bandit testing, and Sequential. 

Unified space for A/B testing: 50+ behavioral metrics, internal knowledge base, test results library, collaboration tools for mapping next steps and generating new ideas. 

Built-in benchmarks and insights inbox: Category benchmarks based on behavior data of 100M users, smart suggestions, best practices, and category trends. 
SplitMetrics Agency – a full-cycle mobile marketing agency driving unparalleled results for top apps and brands. With a dedicated team of mobile growth experts, top-notch technology, and exclusive market insights SplitMetrics Agency ensures growth at every stage of your app or game lifecycle.
SplitMetrics Agency's managed services: 
Fully-managed Apple Search Ads: Dominate the App Store with an Apple Search Ads certified UA team, advanced software solutions for campaign automation, optimization and scaling, and hit your ROAS and revenue targets with KPI-based approach.  

ASO Turnkey: Successfully scale to the new markets and secure your high-traffic rankings with top industry experts, innovative tech stack for A/B/n testing and idea validation, and data-driven decision making. 

Multichannel Ad service: Find the right marketing channel mix for your app, maximize ROAS with well-thought-out multichannel digital campaigns, increase brand awareness and app installs with top-performing ad creatives across Apple Search Ads, Google, YouTube, Facebook, Instagram, TikTok. 

Design Studio: Ensure high-converting and attention-grabbing app store and paid ads creatives – from idea development to continuous optimization.
Awards and recognitions
Top App Store Optimization companies 2022 by Business of Apps.

App Growth Awards 2022 winner in the ASO tool category by App Promotion Summit.

App Growth Awards 2022 finalist in the App Marketing Agency category by App Promotion Summit. 

Leader in the App Store Optimization category on G2, winter 2023 reports.

High performer in Mobile & Search Advertising categories on G2, winter 2023 reports. 
Pricing
Prices for SplitMetrics products and services vary based on Apple Search Ads monthly budget (SplitMetrics Acquire), number of tests, apps and customer support packages (SplitMetrics Optimize), and managed services requested (SplitMetrics Agency). Fill in a form to get a quotation. 
Services
Apple Search Ads automation software solution

A/B/n testing software solution

Mobile app marketing agency services
SplitMetrics Services
Full-funnel optimization
Automated rules and alerts
Advanced customer service
Dedicated team of top-industry experts
Reduced manual work
Market insights
Team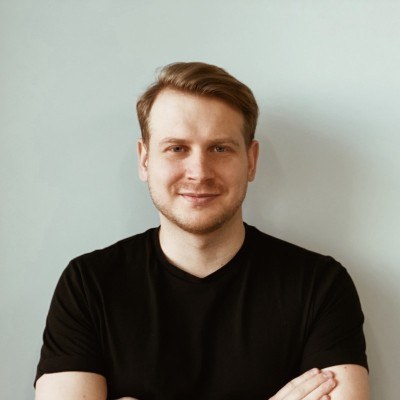 Max Kamenkov
Max Kamenkov is СEO and co-founder at SplitMetrics, an enterprise-grade ecosystem of products and services for mobile growth. With 7+ years of experience in the mobile industry, Max has become the go-to source for app growth innovative solutions. His background as a software engineer enabled him to come up with breakthrough solutions for mobile app marketers, SplitMetrics Optimize and SplitMetrics Acquire. SplitMetrics own success story began with Max's idea to make app marketers successful with a mobile A/B testing tool. As Apple Search Ads emerged, Max saw an opportunity to enhance the channel with SplitMetrics Acquire and became a pioneer in Apple Search Ads automation and optimization solutions. As the company was evolving thanks to new products and services, such as SplitMetrics Agency (a full-cycle mobile marketing agency), Max led SplitMetrics to become a multichannel app marketing ecosystem.
Office Location
SplitMetrics Data
| | |
| --- | --- |
| Founded: | 2015 |
| Employees: | 100-200 |
| Social Presence: | 30k |
Sources: Company Data, Press Reports, Linkedin, Twitter, Owler, SimilarWeb
SplitMetrics Info
SplitMetrics News
SplitMetrics Insights
SplitMetrics Videos
Growth Engine for App Store 2023 David Martin and Eugene Lesechko from SplitMetrics delivered an insightful session about the growth engine for App Store in 2023
SplitMetrics Competitors and Alternatives
Sorry, we don't have these details yet. If you are a SplitMetrics representative, please get in touch to add additional information and contact options to your profile.