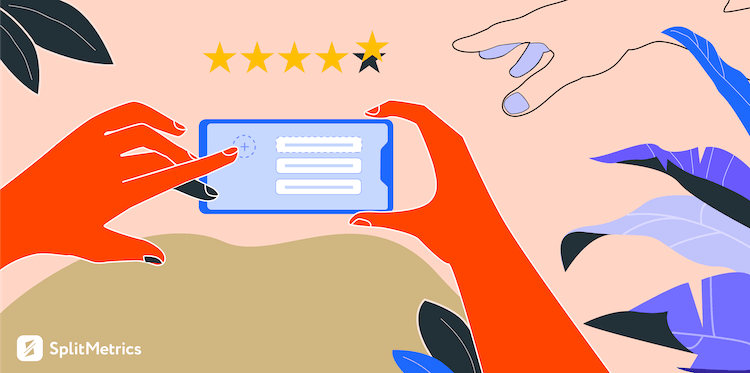 There are almost 2 million apps available for iOS users, so your way to the top of the App Store can be long and tiresome. When there are so many competitors around, you might want to make every effort to improve the visibility of your application and point it out to prospective users. 
More than 65 percent of all downloads from the App Store are organic: in the first place people (70 percent of visitors) use search to find apps they need. The truth is they will hardly scroll down multiple pages – they will most likely choose among the highest-ranked apps visible at once.  
So, your main goal is to increase the discoverability of your app and organic conversion rate on the App Store. How do you do that?
App Store optimization (ASO) is your trusty assistant here. However, you may easily get lost in the variety of ASO recommendations and find yourself locked in a cycle of futile attempts to put your app in front of customers. 
I am going to provide you with some actionable tips to help you succeed on the App Store. Below you will find a short and sweet three-step ASO plan. 
Take Care of Metadata
Imagine that the name, icon, description and screenshots are the body of your application, while the keywords are its soul. What you need to do is to harmonize the body and soul of your app. 
Optimize each element of your product page on the App Store, starting with its inner component: keywords.
Select Effective Keywords and Continuously Improve Them
Well begun is half done, they say. Start with selecting the right keywords. 
The right means relevant first of all. If users find your app irrelevant after entering their search query, they will never click the download button. Consequently, the App Store algorithms will decrease your app's visibility, and this is the opposite effect of what you want. 
On the other hand, you need to think bigger and try to gain insights from users: brainstorm and explore various keywords you would use in search queries in their shoes. Your competitors are also a good source of borrowing a couple of ideas. 
Once you have selected the keywords and filled in the App Store Keywords field, this is not the end of the journey. You have found the right keywords so far, but remember that ASO is a continuous process, so revising your keywords once in a while is necessary.
You may utilize your Apple Search Ads (ASA) account for this purpose. Choose Search Match option and find out the words users type as search requests when looking for a similar app. Give preference to highly relevant, high-traffic and low competition keywords. Then add the best of these keywords to the metadata on your product page.
Furthermore, you might take advantage of some third-party ASA management platforms like SearchAdsHQ and its in-built keyword planner in particular. Type your app's name, specify a storefront and get the list of top performing keywords in seconds. 
Create Relevant & Catchy App Name, Subtitle and Description
Needless to say that you should work thoroughly on choosing an appropriate name for your app, writing a concise subtitle and engaging description. Do not forget to add one of the keywords to the name and a couple of them to the subtitle and description. 
As for the description, it does not directly affect your ranking on the App Store, however, that is what your potential users will read – at least, up to the "read more" button. So, make the text attractive, brief and to the point. Spice it up with a call to action. 
But what if your app name and description do not work? Fortunately, we, mobile marketers, have a kind of magic wand in the Muggle world: SplitMetrics A/B testing that makes it possible for us to test various versions of names and descriptions, and based on the data choose the one which converts the best. 
Design Perfect Icon and Carefully Select Screenshots
The icon contributes much to the first impression your app makes. It should be simple, attractive and reflect the purpose of the app. Do not be afraid to play around: change the colors, background, characters and with the help of SplitMetrics see which icon option is the most engaging for the App Store visitors. Such experiments may improve conversion by 10 percent. 
And what about screenshots? Screenshots constitute the most crucial element of your product page that has a direct impact on the conversion rate. The same applies to videos. Both screenshots and videos provide potential users with a glimpse into your app and its unique features. It is your chance to grab the attention of users – do not miss it. 
Test your videos and screenshots, their orientation and the order you put them. We at SplitMetrics have a representative case: our client, Rovio, experimented with screenshots and their orientation for the Angry Birds 2 page on the App Store. SplitMetrics A/B testing enabled the client to find the optimal combination of screenshots that produced the best conversion rate, exceeding other options by 13 percent. This improvement resulted in 2.5 million additional downloads of Angry Birds 2.
P.S.
Remember that there is no silver bullet when it comes to app store optimization: research, A/B test, try various approaches and tools like SplitMetrics that facilitate continuous improvement, enable you to be flexible, easily adapt to fast-changing environment and optimize the conversion rate on the App Store.
See SplitMetrics in action: request a demo and move a step closer to conquering the App Store peak.
Good luck.