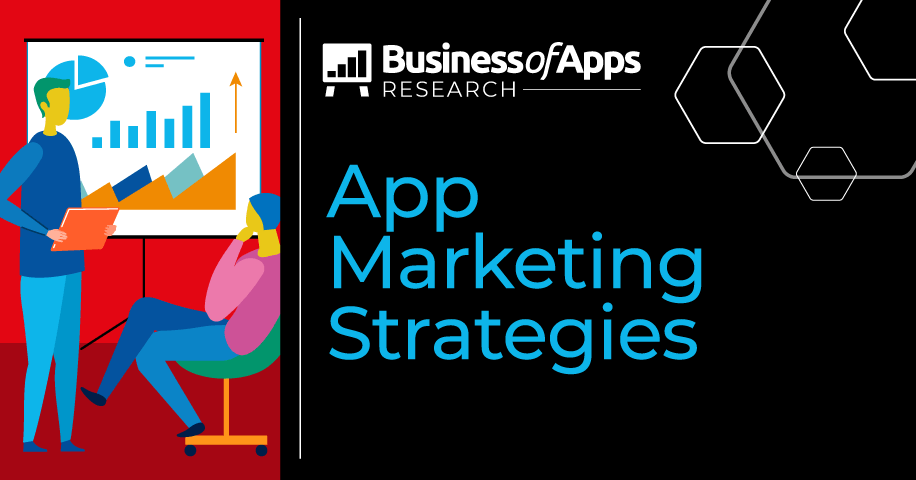 It goes without saying that planning is essential for any business to succeed. When it comes to launching a mobile app project, app marketing strategies are crucial. Since the inception of Apple's app store in 2008, mobile app marketers have built an extensive portfolio of strategies we want to discuss in this article, focusing on the ones that were proven to be effective.
Broadly speaking, an app marketing strategy can be defined as a formalized set of actions to take to promote a mobile app, using a specific marketing channel(s). Any mobile app life cycle can be split into three stages – Pre-Launch, Launch and Post-Launch, the following strategies can be applied to more than one stage and so we begin with the ones that actually should be implemented first, and then cover the rest.
Target market research
The essence of the target market research is getting a good understanding of who will be your app's users, and where and how to reach them.
Apple's App Store and Google Play marketplace from Google combined consist of around 3 million apps. Therefore doing target market research is the app marketing strategy that is absolutely essential to have a clear vision of the market you will be going to with the app.
The starting point for any market research is identifying your app user's profile – that is to say to answer the questions like "who is this person?", "what are her needs?", "where do I find these people online to introduce them to my app?".
Multiple industry research shows that people spend their time online, and with mobile in particular, to interact with other people via instant messaging apps, consume content on social media, search, shop, and navigate via maps. These activities should give you the landscape where you can identify places your potential users spend time.
Target market research questions to answer
The toolbox of app marketing instruments you have to reach your app's users consists of techniques to drive native and paid traffic to the app. Once you identify where to find your potential users, you can also pick up specific tools from this toolbox.
The methods to conduct market research include conducting online surveys, identifying demand via social media, and collecting relevant data about the market using industry app data analytics leaders such s Dait.ai, Statista, SensorTower, Google Trends, and more.
Next up is identifying who will be your competitors on the market by conducting competitor research.
Competitor research
In conducting a competitor analysis, you need to address the following areas – the sources of funding of your app competitors, their business model, their users' profile, top features, how much revenue was generated for the last 6-12 months, and overall marketing strategy.
Such research also involves conducting a SWOT analysis to identify weak and strong points of the app and building a business plan.
Again, analyzing your competitors, tools like SensorTower, App Annie, and App Radar will be essential. This is how you can assess their performance on the app store, get an estimate of how many downloads they may get, identify their ranking and track it over time.
Once both kinds of research are done, it's time to proceed with establishing an online presence for the app.
Creating online presence
This app marketing strategy implies creating for a mobile app a dedicated website, a blog, and a number of accounts on social media such as Twitter, Instagram, YouTube, TikTok, Pinterest, and others. All these accounts should be visually consistent with the app's brand.
The significance of such an online presence lies in the fact that both the App Store and Google Play provide only means for app distribution and selling but not customer management. To build relationships with the app's users, app developers need dedicated channels. A website is the first in the line as a central hub to provide potential users with complete information about the app, provide support, and means for two-way communication via online forms, email, online support systems, instant messengers, and more.
The landing page for the app on its dedicated website should really present the app front and featured, unlike an app store, your app's landing page gives you more real estate and capabilities to highlight the app's features.
With social media accounts, app marketers can reach the app's users in places where they spend the bulk of their time online. With videos on YouTube or Instagram, they can explain in depth the app's features, provide how-tos, and so on, with TikTok videos they have a great channel to inspire their app's users.
Transitioning to the next app marketing strategy that is essential for the app's success – KPIs or Key Performance Indicators.
Setting up KPIs
During its life cycle, every mobile app accumulates a wealth of information about its performance on the market and how it's been used by its users. It is absolutely essential to identify what KPIs to track for a mobile app and optimize its performance based on those KPIs. There is a number of well-established app analytics services that help app marketers to do just that.
The list of major Key Performance Indicators for a mobile app consists of the following: ROI (stands for Return On Investment) – a key financial indicator that tells you if a mobile app project is profitable or not, Retention Rate – this metric gives you the percentage of the app's users who continue to use the app within one, seven or 30 days since the app was installed and launched for the first time.
Also, the list features the Churn Rate – the opposite of the Retention Rate, it shows you the percentage of people leaving the app, LTV (aka Life Time Value) – gives you the total value a particular app user has brought, MAUs, and DAUs – monthly and daily active users respectively, which are yet another important metrics to measure to analyze the dynamics of your app's usage.
Mobile app major Key Performance Indicators (KPIs) 
From an app store performance perspective, app marketers need to measure Impression to Page View rate, Impression to Install conversion rate and more of the App Store Optimization benchmarks.
Looking at how users interact with the app, the KPIs to measure are the average time people spend with the app on a daily/weekly/monthly basis, the number of interactions per day/week/month, as well as App Retention rate, measured the app's users percentage that continues to use the app after 1,7 or 30 days since they've downloaded the app.
The thing to remember about KPIs is that it's not feasible and non-practical to try to optimize the app to all possible KPIs to measure, app marketers, need to identify specific ones to focus on.
Visibility on the app store is absolutely essential for the mobile app to build a sustainable business. Search on the app stores drives 65-70% of all app installs and hence leveraging this channel is crucial and so the App Store Optimization (aka ASO) is next.
App Store Optimization
The App Store Optimization, aka ASO, is one of the fundamental app marketing strategies to apply to both the iTunes' App Store and Google Play marketplace. It's one of the oldest strategies devised by app marketers based on their previous experience of doing Search Engine Optimization for websites, over time it became clear that it is simply wrong to equate people's experience of performing a web search on Google with conducting a search for apps on the app stores but still – ASO techniques do resemble SEO.
The App Store Optimization's major goal is to increase the likelihood of the mobile app being discovered by its potential users. Successfully applied, ASO increases the app's visibility for its target keywords, as well as improves the app's conversation rate on the app store, meaning more people who discover the app on the store actually download it. This app marketing strategy is highly recommended for apps from any app store category.
Technically, the ASO is about the optimization of the following app marketing copy elements – keywords, title, video preview, description, screenshots, icon, publisher name, and category.
The key ASO components
It requires planning and utilizing ASO tools to automate many tasks that need to be performed regularly, A/B testing, analysis, and dedication. It is a long-term strategy, that you should start implementing before the app is released on the market and later throughout its lifecycle.
Switching the gears to good, old public relations – the marketing strategy that has its roots in the early 20th century and to this day is in the marketers' toolbox.
Launching a PR campaign
Public relations, aka PR, is all about distributing press releases about your app to various media publications. It involves writing a smart, attention-grabbing pitch, building and maintaining a journalists list to pitch to, and a lot of patience to pursue them over time.
With a public relations campaign, it is important for app marketers to set for themselves the right expectations. In most cases, it doesn't deliver in a short term but it does create a conducive environment for the App Store or Google Play editors to pick up your app when it gets traction in media and it increases the chances for the app to get on the radar for some big media publications editors to write about your app for their app-dedicated section.
Perhaps the only flip side is that this app marketing strategy doesn't fit with all apps. App marketers should always be realistic about the chances of their apps getting coverage in tech media. With that number of apps on the market, when so many iterations of the same app concept compete with each other, editors have no other choice but to be laser-focused on the best apps, most likely already featured somewhere else.
Top Mobile App Marketing Companies:
The next strategy is all about running promotional actions of various sorts to either attract new users to the app or win back the attention of the existing ones.
Running a Paid UA campaign
From a financial standpoint, mobile app marketing is divided into free and paid ones. Paid app marketing implies spending a portion of an app marketing budget on acquiring new app users via a great variety of marketing platforms, which consists of, but is not limited to Apple's Search Ads, Google Ads, Meta Ads (former Facebook Ads), Snapchat Ads, Pinterest Ads, Reddit Ads, TikTok Ads, Twitter Ads and a big number of advertising networks.
Because app stores provide limited visibility for the app, running paid user acquisition campaigns is a must for app marketers. It's not a question of if but how and when. Today for a mobile app project to be sustainable, except for a very few apps that go viral without financial investments, paid user acquisition advertising campaigns have to be run to reach potential app users that free app marketing strategies such as App Store Optimization and others, can not reach.
Next up is the app marketing strategy that back in the day allowed Dropbox to build its initial userbase – a referral system.
Setting up a referral system
Using a referral system, app marketers can tap word-of-mouth marketing strategy, when shared positive experiences of using your app can be supplemented with special links to the app's page on app stores so that people who will be sharing those links will be receiving rewards for doing so. A well-thought referral system that offers real value to app users in return for sharing the app with their social circle can be a very powerful tool to grow the app's userbase.
The obvious limitation is that no referral system is capable to make the mobile app popular if the app itself doesn't appeal to a big segment of the population.
Getting the app to the limelight of the app store editorial section is next up on our list.
Pitching to the App Store / Google Play editors
Both Apple's App Store and Google Play from Google have dedicated sections to highlight apps that are distinctive and deliver a superior experience to their users. These editorial sections are managed by teams of editors who scout the stores daily to pick up the best apps to highlight. If your app gets a significant number of downloads daily and is getting traction in media publications or on social media, it's time to pitch the app to the app store editors.
Because the editor's choice is always subjective, it's impossible to foresee their conclusion and guarantee that your app will actually land in the Top sections of the stores but the effort is absolutely worth it. Once the app is listed in the featured section, it gets both visibility and social approval because it was hand-picked by editors among tens of thousands of other apps.
The next up strategy to consider is community building.
Building a community
A mobile app belongs to a kind of digital product that has a large userbase. One of the implications is that userbase can actually be a community. It's not the case for every app but for those cases when it is, it is crucial for app marketers to know how to communicate with that community efficiently. In a nutshell, this strategy is about identifying the app's users' community, establishing two-way communication and actually interacting to address these people's concerns, and figuring if that community has your app's brand evangelists that will help you to foster word of mouth for your app.
Community building is another long-term, and time-consuming app marketing strategy, hence ideally to build and manage a community of the app's users a dedicated manager is required.
Content marketing strategy is what drives people's interest in the app via engaging and insightful articles and it is what we're taking a look at next.
Content marketing
Because every mobile app is built to serve a specific function(s), there are always a number of topics associated with it. For an app marketer, those topics present a great opportunity to apply content marketing to spread the word about the app. It involves writing articles to publish on media that is related to the app, as well as establishing a blog to cover the app. The range of topics to cover on such a blog may include the app's development process, thought leadership articles that talk about the market the app was developed for, and more.
Articles and blog posts produced as a result of applying the content marketing strategy serve as a reference point for the app's potential users. It also allows the app's developer to establish herself as a professional in the field.
Another fruitful avenue to apply content marketing strategy is the online publication platform Medium, which hosts publications of thousands of professionals in various fields. This is the place where by publishing well-written articles a mobile app project founder or CEO can establish herself as a thought leader in a particular area. To be clear, this is not a direct sale channel, this is about covering topics that are related to the app, talking about needs, and problems the app was developed to address.
Moving on to the next app marketing strategy – cross-promotion with other apps.
Cross-promotion with other apps
Just like with websites before the mobile app era, cross-promotion allows app marketers to tap each other's audience to find new users for their apps. One of the most popular use cases is running a cross-promotion campaign inside a number of mobile games developed by a single mobile game development powerhouse. This app marketing technique resembles app network exchanges, except with cross-promotion app owners have more control over what ads are being displayed inside their apps.
Switching to the next app marketing strategy that leverages one of the oldest internet communication channels – email.
Running an email marketing campaign
A broad definition of email marketing is sending promotional emails to people who have subscribed to receive those messages. For app marketers, email marketing helps to deal with app user churn, the industry-wide problem when users abandon the app after a brief period of time. With email list building, app marketers can build a database of people who use their apps and create an environment to engage with them periodically, addressing their concerns, telling them about upcoming features, conducting surveys to identify new features to add to the app, and so forth. This is how app marketers can stay in touch with the app users and make sure their connection with the app doesn't vanish.
To use email marketing efficiently, you need to identify the right use case, so the speed of information delivery that email can offer is appropriate. In other words, email marketing is great for sending weekly/monthly updates for the app but to deliver a quick message you need to apply push notifications or in-app messages.
Providing a discount is a marketing strategy that works across both offline and online markets, hence the next strategy is all about offering app users an incentive.
Promo offers & contests & giveaways
App Subscription is one of the most common and lucrative business models app brands can use. In a highly saturated market, where app users tend to use only a handful of apps daily and can easily switch to alternative apps, Apple's Promotional Offers is an excellent tool for iOS app developers to win back or retain app users. Specifically, app developers can offer a limited-time offer of a discounted or free period of service for auto-renewable subscriptions. Apple provides the API for Promotional Offers, hence app developers shouldn't do all the heavy lifting of coding themselves and need only to define specific terms for a particular offer.
Apple's In-App Events is another great marketing tool recently launched by Apple.
With In-App Events, app marketers can introduce specific events in the app to draw their attention right on the App Store. This is a great app marketing strategy to run contests or giveaways to revive app users' interest in the app. There is no single recipe for how those should be organized but generally speaking, they have to be thematically relevant to the app to spark people's interest. Be creative, and generous, and add a bit of humor to make people smile and excited about the rewards they can win.
The next on the list is, applied smart, one of the most kinetic app marketing strategies – Push Notifications.
Sending push notifications
Push notifications allow app marketers to send messages to mobile app users to deliver information for apps that aren't run at the moment. As to the specific kind of content, they can be used for delivering a promo action messaging, local-based promo action notifications, new service/function intro, e-commerce purchase information, delivery notification, and much much more.
To put the push notifications sending process simply, it starts with a message sent, composed by an app marketer to send from the app server, provided by the number of app engagement companies, to the device to display it via the app.
Sending a push notification to a mobile app
The obvious limitation is that applied without a well-balanced approach, sending an excessive number of push notifications can actually be damaging to the mobile app's reputation and can trigger the app users' churn.
Coming up are Ratings & Reviews as one of the social approval/disapprove signals mobile app users are exposed to with every single app on the App Store or Google Play.
Ratings & reviews management
When people open either the iOS or Android app store app and look for a mobile app to download, one of the first signals that help them to make a decision about the app is Ratings & Reviews. To this day, despite the stigma of being a subject for faking and manipulation, ratings and reviews apps are getting help from them as a point of reference and means to compare the app with others.
Left unattended, app reviews and ratings may seriously hurt the app's reputation. Because people tend to be vocal and express their assessment of the app when they are frustrated and disappointed with the app if they encounter issues with the app they will express their frustration via low ratings and negative reviews. Therefore it's crucial to always keep an eye on all new reviews and ratings set for the app to be on top of possible issues. Both app stores provide developers with tools to reply to reviews left for their apps and resolve any possible issues that may occur.
Moving on the app marketing strategy that is essential for a mobile app's long-term sustainability – Retention campaigns.
Launching retention campaigns
As we said earlier, mobile app user churn is one of the biggest issues app marketers have to deal with. Despite a huge variety of apps available, people tend to stick to using only a handful of apps for social interaction, instant messaging, search, e-commerce, and maps. It takes a considerable effort to pursue people to continue to use the app for a long period of time. To solve this problem app marketers run co-called retention campaigns. Using push notifications, in-app messaging as well as email marketing, marketers reach out to the app's user base to re-engage.
Regardless of how well-crafted the messaging and carefully chosen the timing is, retention campaigns simply can't guarantee to win back the users who have abandoned the app. People's plans change, and the need to use the app may not be there anymore.
Social media campaigns via influencers
On the vast landscape of social media platforms, there are people who draw a huge amount of attention to them and have tens of millions of followers. These people are called influencers. Because they manage to build a rapport with their followers, they are in a great position to introduce them to products and services they personally use and rely on. Running a social media campaign with influencers is one of the best ways to go your mobile app viral. This is how you can dramatically increase your app's user base and more important – acquire loyal users for your app.
The crucial components of a successful influencer marketing campaign are – finding the right influencers, people who have a genuine interest in the topic your app is built upon, the effective campaign management tool to work with multiple creatives, and communicate with many influencers in parallel, and handle financial compensations. There is a number of influencer marketing companies and tools on the market to simplify all these processes.
The limitation of this app marketing strategy comes down to the fact that influencers do not collect and possess information about their followers – no information about demographics, location, mobile devices they use, and so on. This is to say that, contrary to running paid user acquisition campaigns, when all that information is more or less available, it is not the case with an influencer marketing campaign.
And the final app marketing strategy to mention – viral loops.
Using viral loops
A viral loop is the content sharing instance when social media users interact with content, and express what they think or feel about it – like, comment, and share it with others. Once this cycle repeats over and over we get viral loops.
Viral loops are essentially what is also known as word of mouth but defined in social media terms. If an app marketer manages to achieve viral loops for her app, she acquires a powerful tool to increase the app's user base.
Because viral loops are driven by people's emotions, for some types of apps that by definition don't trigger strong emotional reactions, it is really hard if not impossible to reasonably expect them to occur.
Final Thoughts
The most important thing to remember about app marketing strategies is that there is no such thing as the best app marketing strategy. The success of any app marketing campaign always lies in the smart combination of a number of strategies.
To identify strategies that may or may not work, app marketers need to build their app's user profiles to understand who are these people, where, and how to reach them, assess how much money they can allocate to the app's marketing, and decide should they hire an app marketing agency or run campaigns themselves.