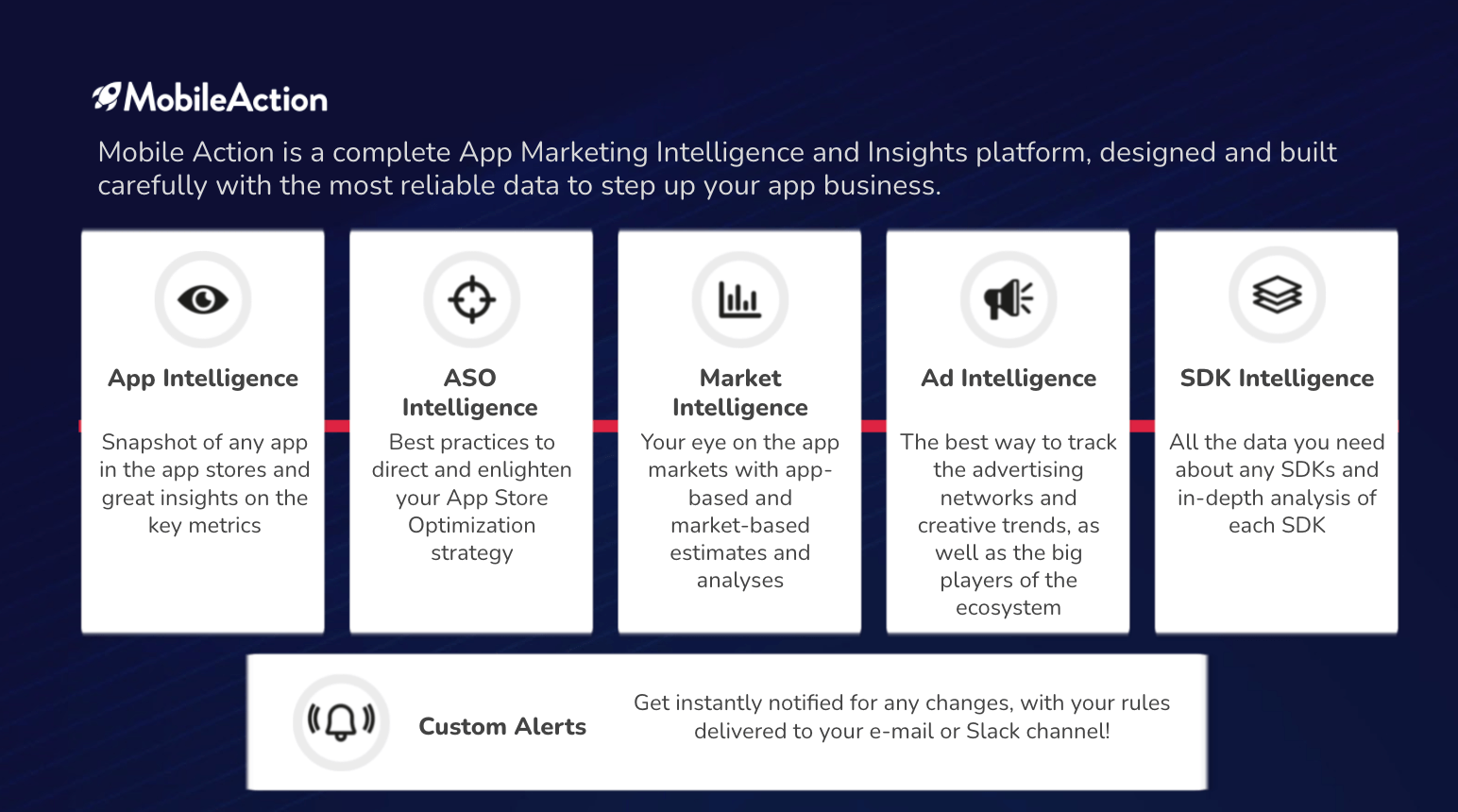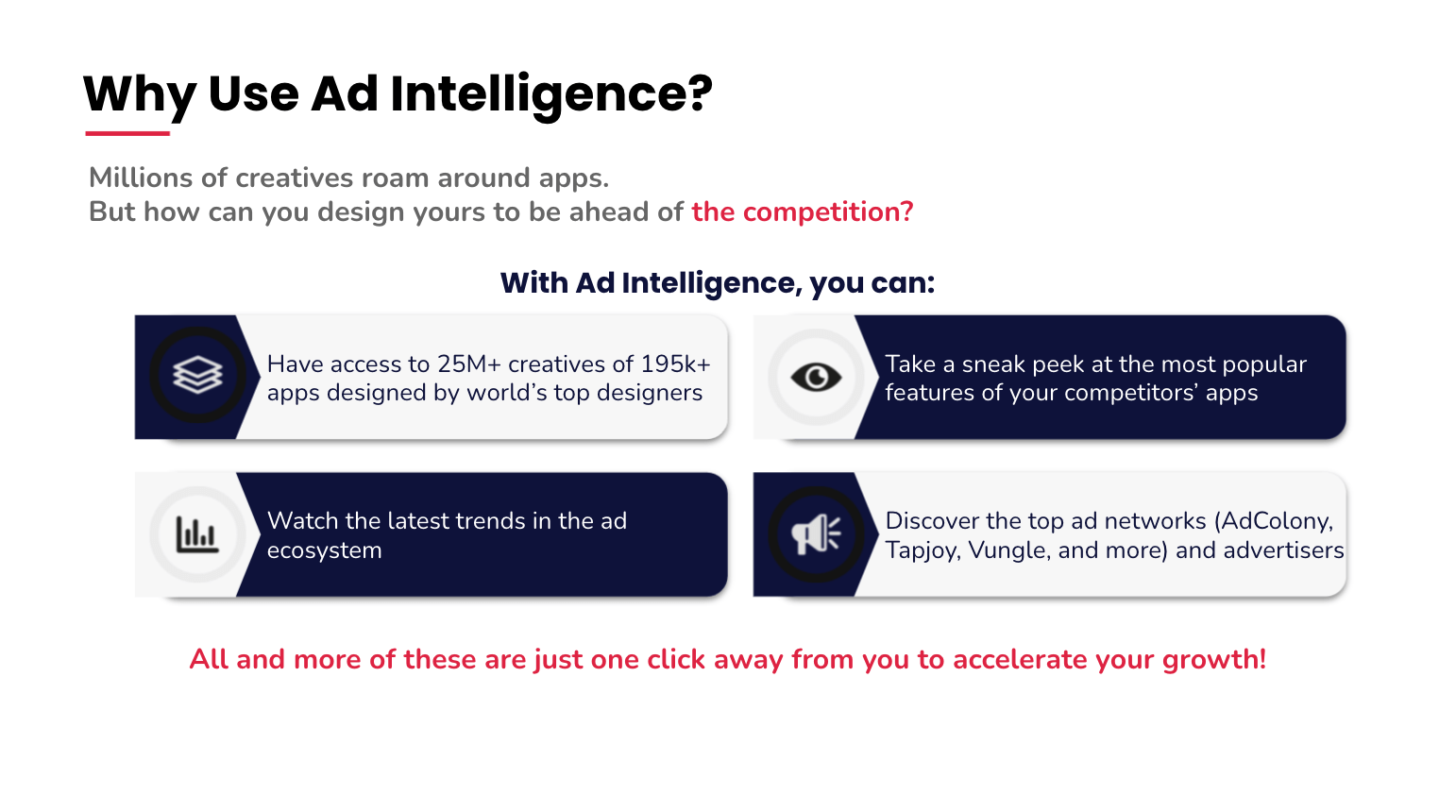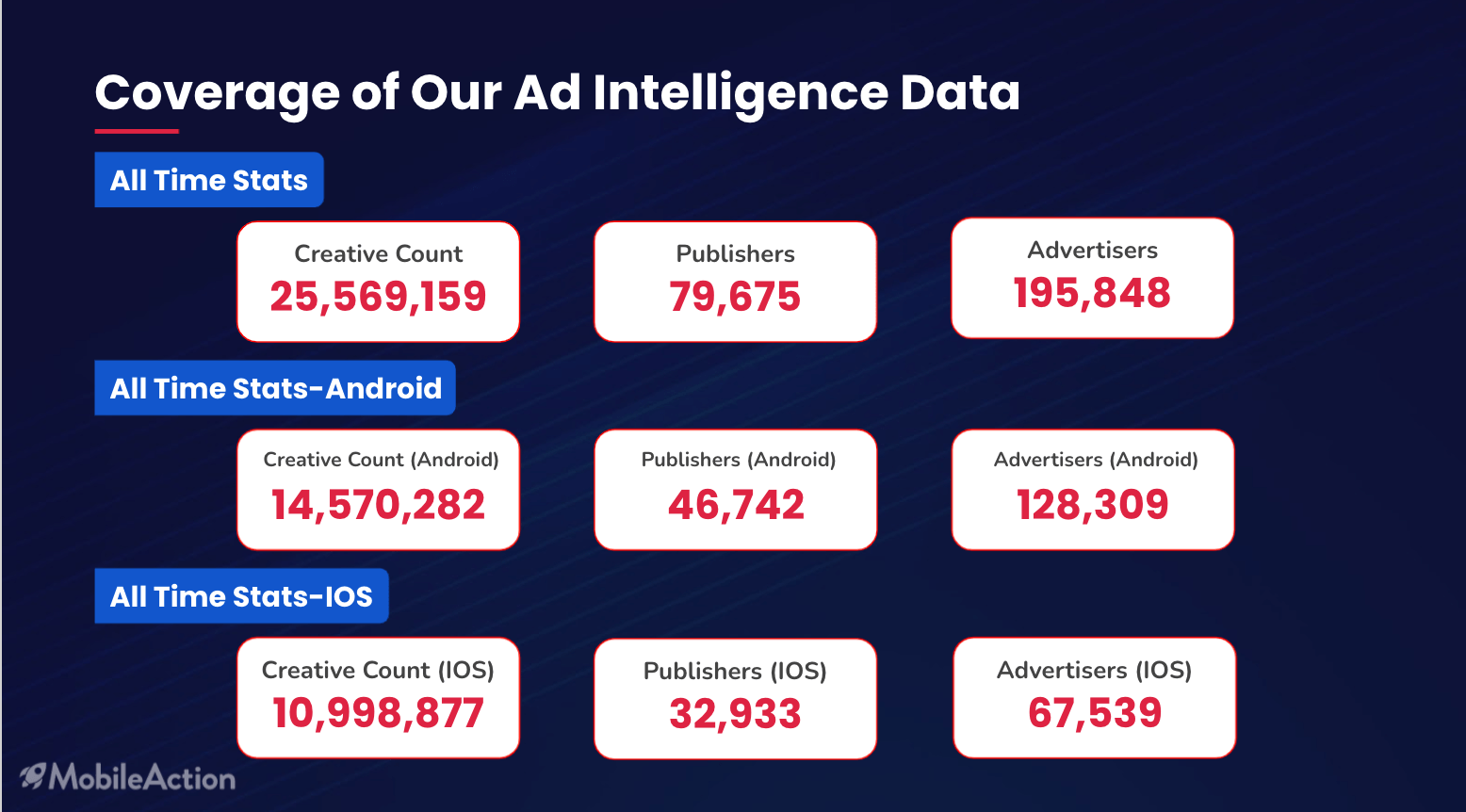 MobileAction is an app marketing insights & intelligence tool. Founded in 2013, the company has become the only platform that provides intelligence tools for every step in the app growth journey. 
In 2018, MobileAction has launched SearchAds.com, an Apple Search Ads campaign management and optimization platform. Backed by MobileAction's superior data, SearchAds.com offers a one-stop-shop with actionable insights into Apple Search Ads campaign optimization and all the essential keyword intelligence to scale your campaigns.
What's available on SearchAds.com?
All in one platform that merges your Apple Search Ads and MMP data

Automation Rules to save time when managing your account

Organic and paid keyword intelligence to scale your campaigns

Regular account health checks full of actionable insights
Ad Intelligence of MobileAction
Designing the most intriguing ad creatives is the halfway to reaching your user acquisition KPIs. MobileAction's Ad Intelligence provides 25M+ ad creatives made by world-class designers to help you create the best ads to attract more users.
The data coverage also includes ad creatives from 17 ad networks including but not limited to Unity, Applovin, Tapjoy, Ironsource, AdColony, Vungle, Facebook, TikTok, Instagram, Mopub, and AdMob. You can find the campaign analysis data of 195k+ advertisers and 79k+ publishers who are publishing ads.
If you wish to see a quick glimpse of what Ad Intelligence can offer, head over to the Ad Library by MobileAction.
The Key Features of Ad Intelligence:
Campaign & Impression Analysis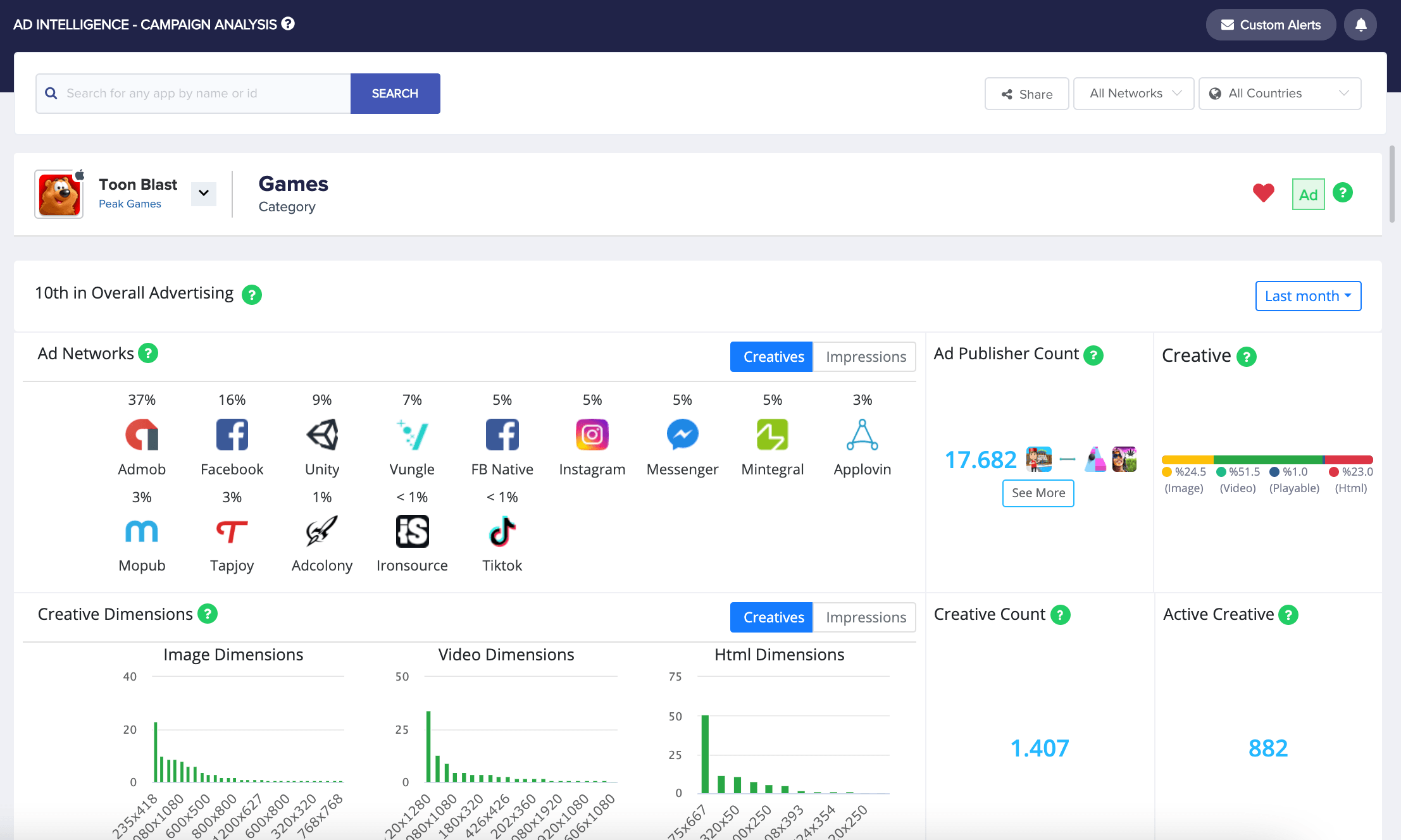 Campaign Analysis gives you a quick overview of an app's user acquisition strategy. You can search for any app and instantly access the ad networks it's using, the number of its creatives, the percentage of its creative types (video, image, playable ads, etc.), the countries it's running ads, the creatives with CTAs it published so far, and more. This feature gives everything you need to know about your competitors' UA tactics.
Top Creatives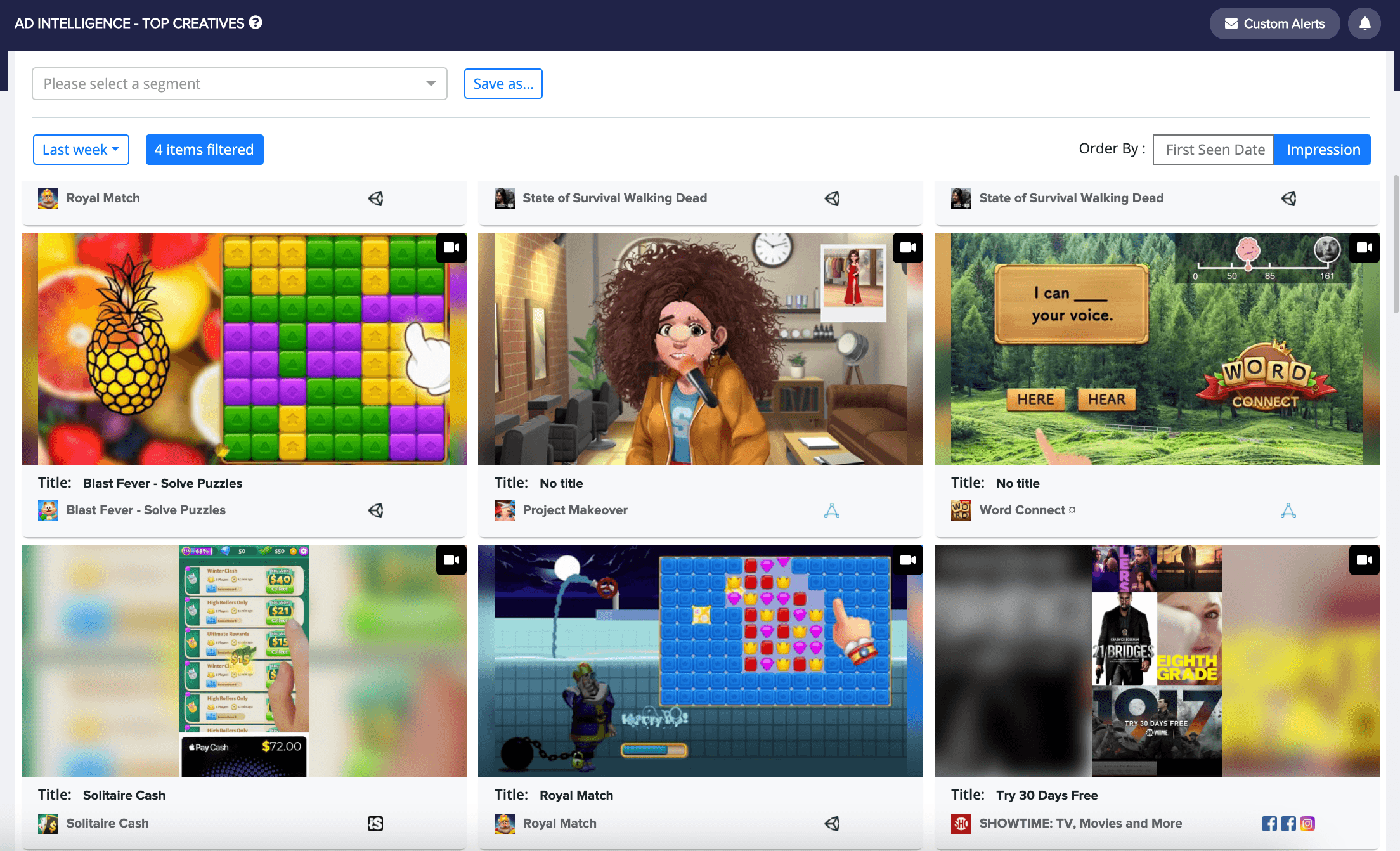 When you run out of inspiration, your competitors' creatives can help, and Top Creatives is the most comprehensive ad library to find any type of creative from any app category in seconds! Simply set your filters such as the platform (iOS or Android), ad network, country, app name/category, and media format and quickly analyze the creatives that matter to you. Reverse-engineer those creatives to apply the same tactics to your own creatives.
Top Advertisers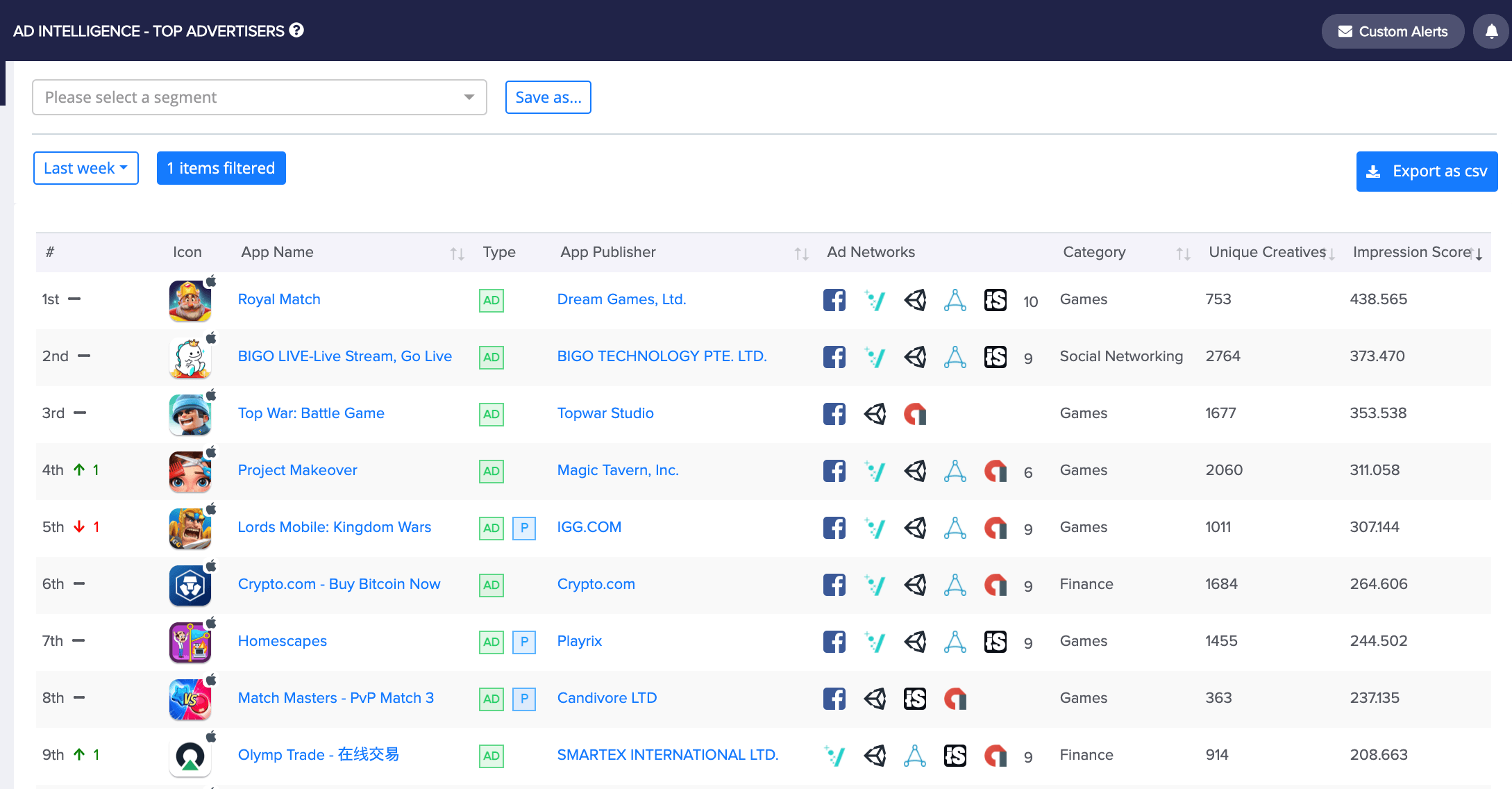 Top Advertisers is the feature where you get to see the apps with the highest impression scores. You can filter the list by ad network, country, platform, app category and use advanced filters such as searching for apps that have a certain keyword, apps in Top Charts, or App Publishers.
With Top Advertisers, you can easily discover your competitors and the biggest players in your category and even set alarms to get notified when they publish a new creative.
To learn more about Ad Intelligence, feel free to schedule a demo with our UA Experts.
SearchAds.com
SearchAds.com merges the data of your Apple Search Ads account and attribution partner to prevent you from bouncing back and forth between different dashboards.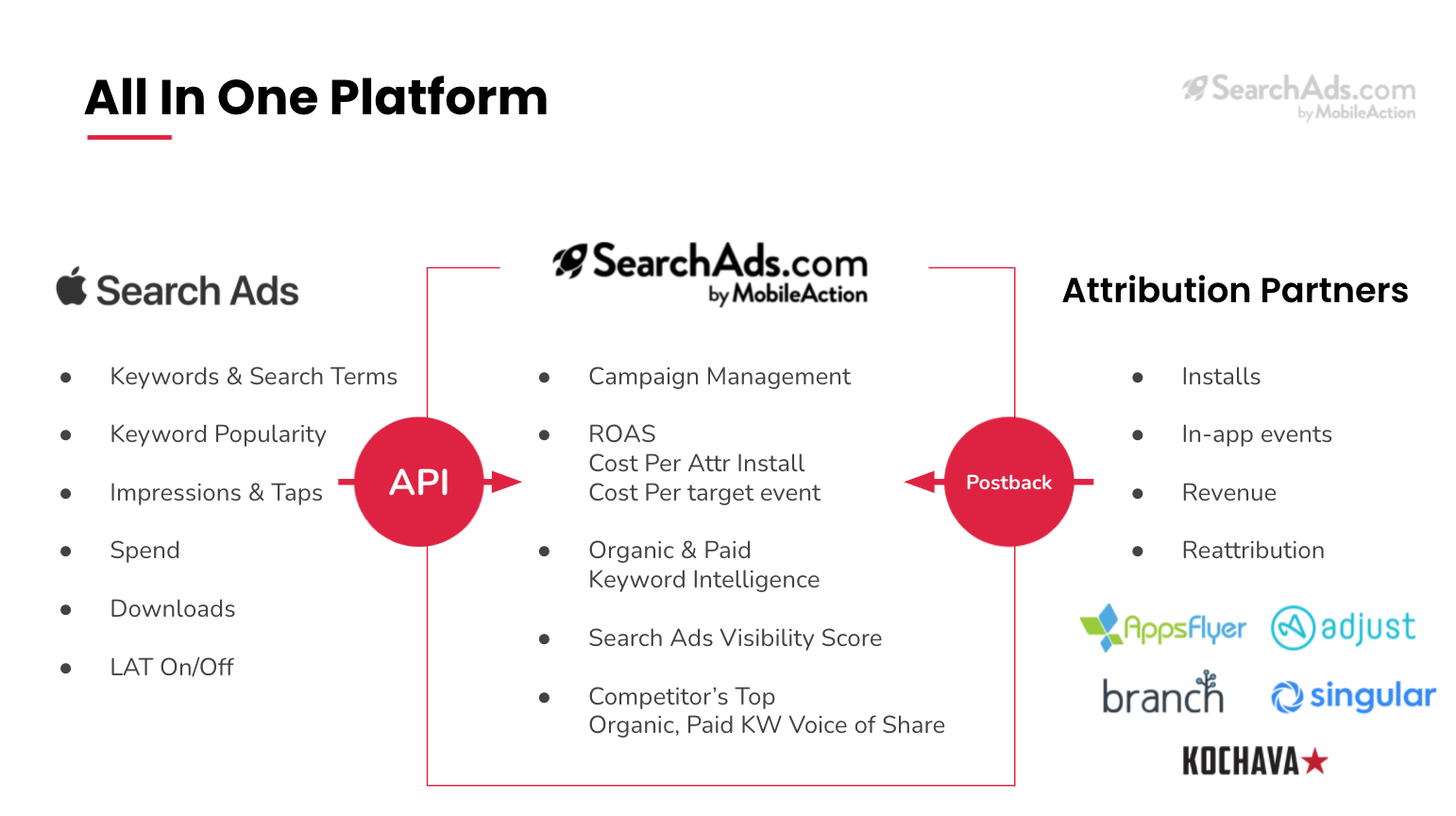 It's time to dump your excel sheets! With both ends of data coming from different sources, you can easily set goals based on your in-app events and match them with the Apple Search Ads metrics such as Impressions, TTR, CPT, and CPA on the same dashboard.
With MobileAction's keyword data, SearchAds.com also provides two peerless keyword tools: Keyword Auction Insights and Organic Keyword Hunt.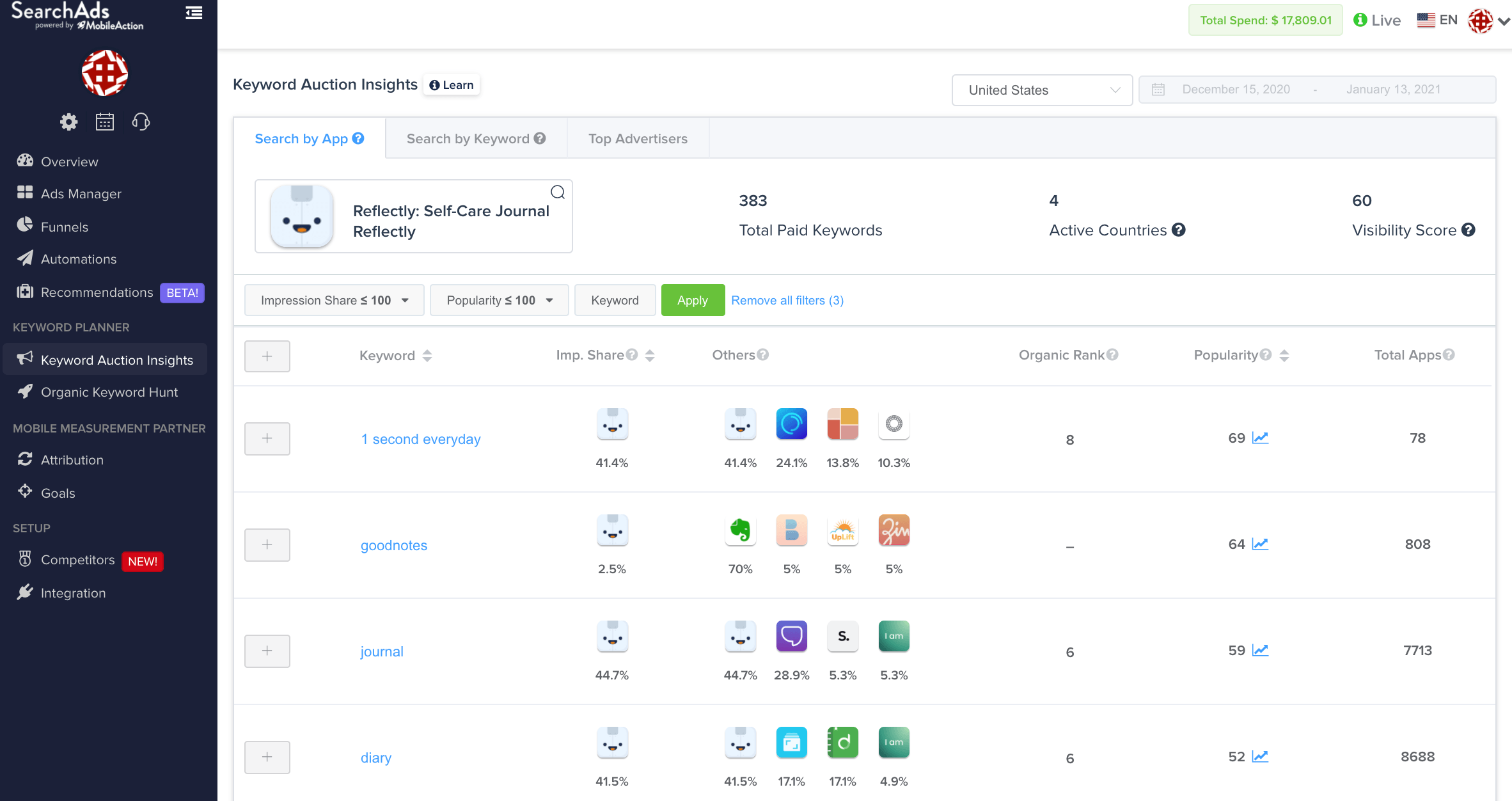 Keyword Auction Insights shows the Apple Search Ads keywords of your competitors and any other app of your choice. You can also type a keyword to see who's running ads for it. This feature allows you to decode your competitors' Apple Search Ads strategy and immediately run ads on their keywords.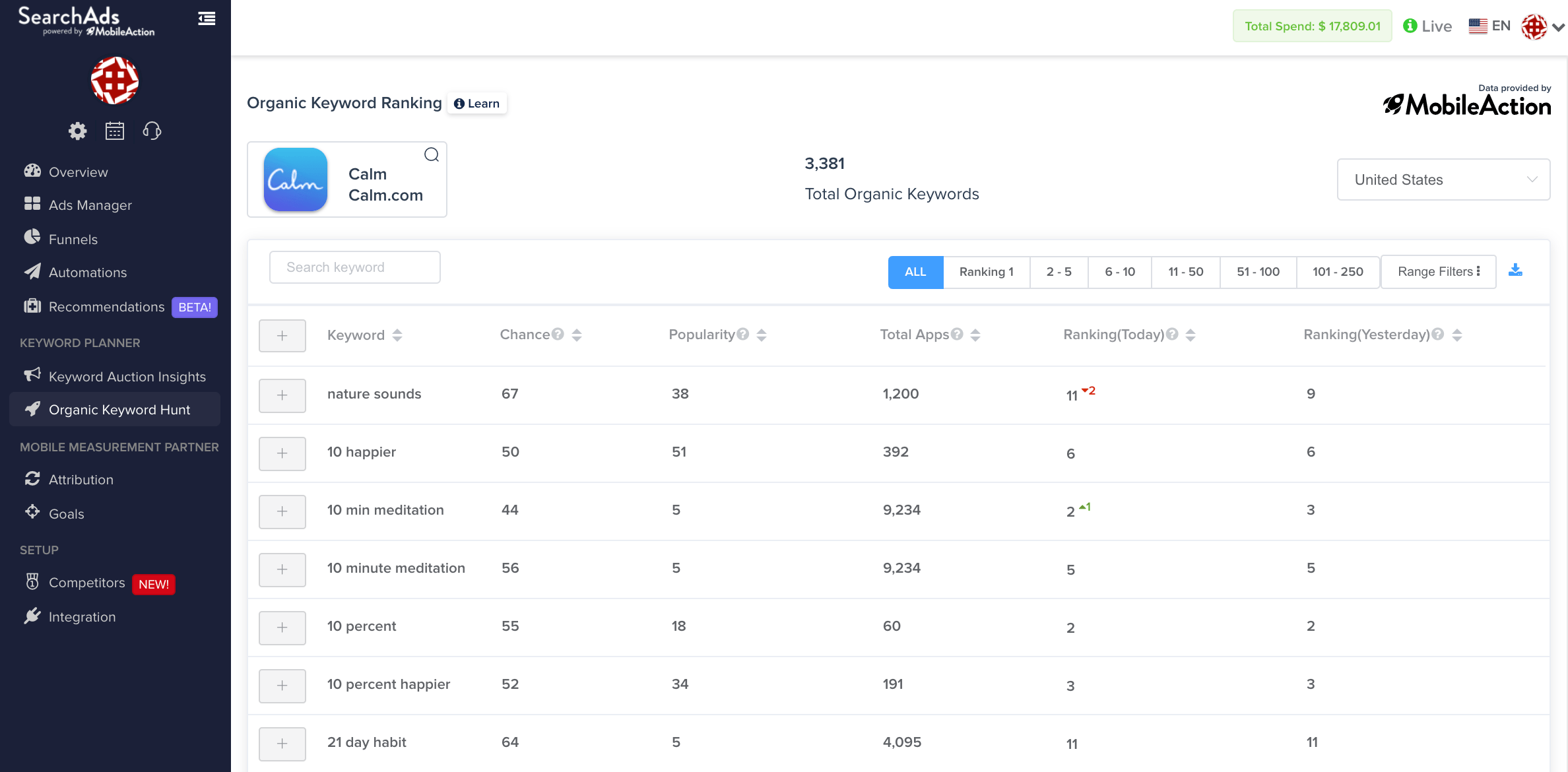 Organic Keyword Hunt shows all the keywords that an app is getting its downloads from. Using this feature, you can easily detect the low-hanging fruits and start running ads to steal your competitors' organic traffic.
Automation rules of SearchAds.com enable you to manage Apple Search Ads on autopilot. You simply determine the conditions and set the automation rules live. They do the manual work on your behalf such as decreasing the bid of your underperforming keywords, adding well-performing search terms to your other campaigns, or increasing the bid for keywords getting low impressions.
To learn the best ways to optimize your Apple Search Ads campaigns, schedule a demo with our Apple Search Ads Certified Experts.
Office Locations
San Francisco, CA
London, UK
Ankara, Turkey
Tokyo, Japan
Vancouver, Canada
MobileAction Features
Ad Intelligence
ASO Intelligence
Market Intelligence
App Intelligence
SDK Intelligence
MobileAction Data
| | |
| --- | --- |
| Founded: | 2013 |
| Employees: | 10-50 |
| Revenues: | - |
| Social Presence: | 20k |
| Website Traffic: | 70k |
Sources: Company Data, Press Reports, Linkedin, Twitter, Owler, SimilarWeb
MobileAction Info
MobileAction News
MobileAction Insights
MobileAction Videos
MobileAction Podcasts
MobileAction Competitors and Alternatives
Sorry, we don't have these details yet. If you are a MobileAction representative, please get in touch to add additional information and contact options to your profile.