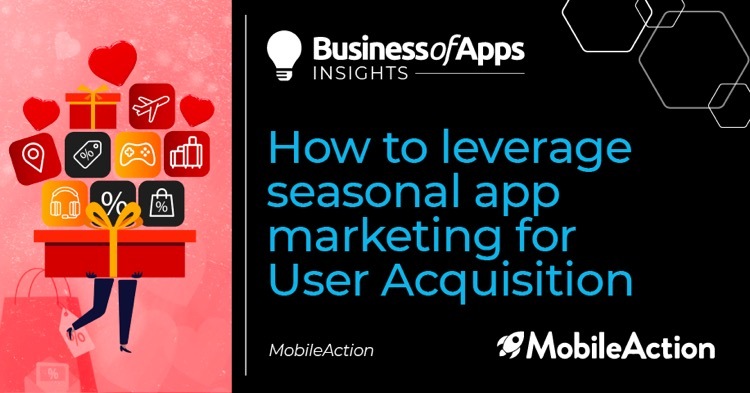 The same way you prepare yourself for the holiday season, you can also adapt your app marketing strategy for different seasons and events to boost your user acquisition efforts. From App Store Optimization to creative advertising, there is a lot of things you can do to gain traction in the marketplace.
Different seasons, different user behaviors
All days are special but some days are more special and popular than others. 
For instance, is stress awareness day as special and popular as Christmas? Not quite. For Christmas, we buy and spend days decorating a pine tree. Do we do this for stress awareness day or any other days of the year? Nope, right? App stores are also dynamic markets that are extremely responsive to special days. Using MobileAction's competitive intelligence tools we can easily see how top publishers are preparing their apps and adapting their marketing strategy to different seasons.
As you can see, keyword popularities drastically change during different times of the year. The above example demonstrates the change in the search scores of some popular keywords such as 'Santa', 'Halloween', 'easter' and 'valentine'.
So, let's talk about how you can benefit from unique user behaviors across seasons.
Plan Ahead
The best way of getting ahead is to plan ahead. So start by preparing yourself a calendar.
Christmas 25.12, Black Friday 25.11, Thanksgiving 24.11 New Year's Eve 31.12, Good Friday 15.04, Saint Patrick' day 17.04, Valentine's day 14.02, Halloween 31.10, Oktoberfest 17.10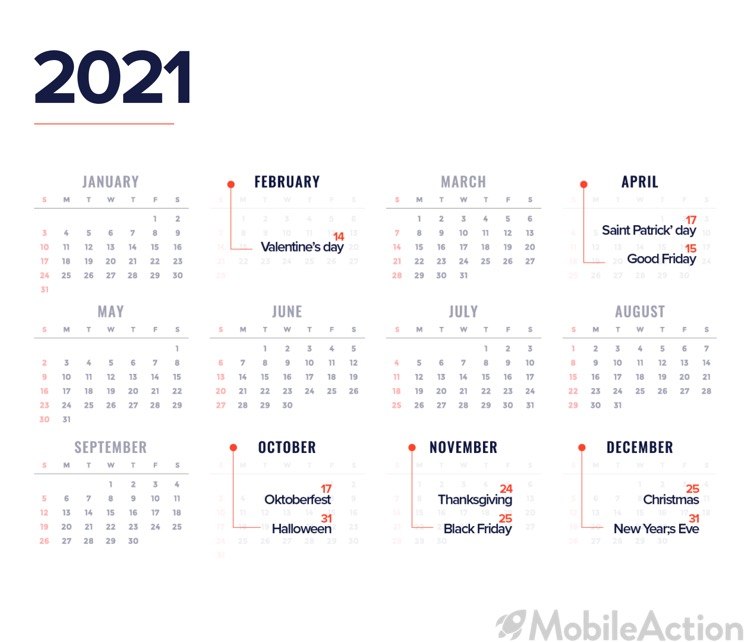 Decide which special day or event works best for you
For instance, if you have a shopping app, you don't want to miss out on Black Friday & Christmas. Or, your app might be related to sports, in this case, the Olympics or the start of new seasons in different sports might be a perfect fit for you. 
However, you should also consider the popularity. All the money, time, and effort can go for nothing if you decide to be the holiday armadillo on Christmas. 

Localize your app in important markets
There is something attributed to every single day of the year. Assume that we have a game that we are mainly marketing to far east Asia. February 1st is celebrated as the Korean new year in Korea and as the Chinese new year in China. We may want to utilize both. Careful planning will help you to prepare your app for holidays in different regions. Once again, we can see that localization is much more than simply translating your metadata. Seasonal adjustments will most certainly give you the edge over your competitors. 
Research the keyword performances
As we mentioned above, keyword performances change due to the changed searching preferences of users. A low-profile keyword can hit its peak and gift us, fruitful users. But if we don't know which keyword performs how in which season, we can't succeed in seasonal app marketing. 
For instance, for Valentine's day, love can be the first keyword you think of. However, as our Keyword Trends feature shows that its search score stands still over the course of the year. On the other hand, the search score of valentines day skyrockets from 5 to 53 as Valentine's day approaches.
It is a significant opportunity because you can easily rank in the top ten for a highly popular keyword. As you can see above, Valentine's day usually has a search score of 5. As a result of this low search score, apps don't target it unless they are specifically created for Valentine's day. This is to say, there is not much competition for the top ranks before the season.
The chance score indicates the probability of any app to rank in the top ten. Meaning, in the right season, with the right keywords, you have a pretty good chance of boosting your app rankings.
Conversion Optimization for Seasonal ASO
Seasonal ASO is a great way to increase your visibility score, find new users and re-engage the old ones. Let's talk about how we can increase our conversion rates and improve our retention. 
Conversion rates are closely related to the visuals of your app. Our App icons, Screenshots, video previews, adding new backgrounds, and new levels are all important for seasonal ASO. In order to succeed in seasonal app marketing, we should pay close attention to these subjects. 
App Icons
App Icons are the first thing that users will see when they make a search. Therefore, it is of utmost importance that we utilize them to the best of our capabilities. 
As you would remember, the first step of the preparation is to put on a hat. In other words, fitting into the holiday season. It is simple but a nice touch that welcomes your new users and attracts your old ones. Your app will also stand out in the search results in comparison to apps that did not pay attention to these trends.
Screenshots and Video Previews
The next step is your screenshots and video previews. You can showcase how you adjust our app/game to the holiday theme. You may have added some new levels, maybe changed the location where the game is based on. In short, they are increasing the quality of our communication with users, so we should benefit from them.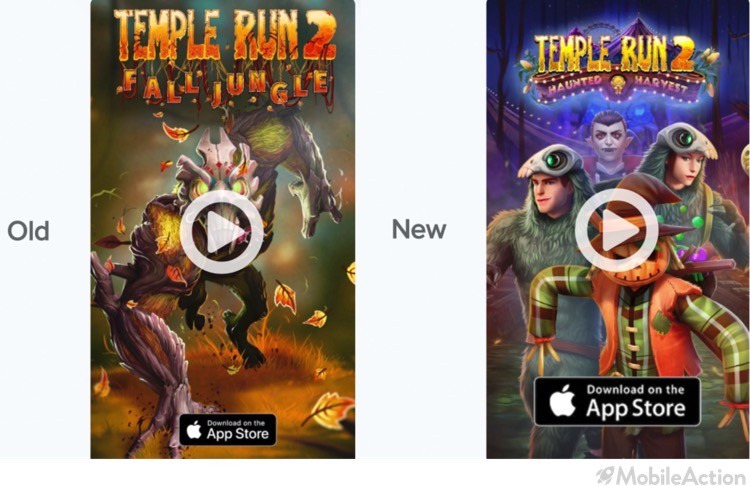 This is how Temple Run 2 prepared for Halloween. As you can see they changed the location from Fall Jungle to Haunted Harvest. It is more suitable for the Halloween theme, don't you think so? In this way, you have an excuse to use in-app events to talk with your user base. 
It is important to mention that you should still maintain your product page's integrity. If you decide to change your app icon, you should also change your screenshots and other assets. Otherwise, these changes may have unwanted effects on your App Store Optimization performance.
If you want to learn more about the strategies of your competitors and fuel your growth in the App Store, you can claim your limited offer by February 28th, 2022, and utilize our ASO and Apple Search Ads intelligence tools for free!
In-App Events & Promotional Texts
In-app events are also a great tool to re-engage your already existing users. We can create challenges and live events for these special days. Where's fun if nobody knows about the events, right? Don't worry. Once our event card goes live, users who already downloaded our app can see it on the listing page. Plus, we can always send push notifications. 
Promotional texts can also play a huge part in conversion. 
Here, we see how Subway Surfers announced that they added 'chilling' Mexico to their World Tour. When you add something new whether it's new levels, challenges, or modes, make sure to promote these assets with whatever means available.
Competitor Analysis
ASO is not a one-person game. You have to know what your competitors do. Which special days and events are they targeting? How are they preparing for these occasions? Do they change app icons or screenshots? If so, when? 
Our App Store Optimization tools hand you all the information above. 
An important aspect is that both apps changed their creative assets on the exact same day for Halloween. Meaning that they start racing three weeks earlier than the main event. This is why planning beforehand is crucial for reaching success in seasonal app marketing. 
For instance, Shein changed their screenshots in October to increase conversion rates utilizing Black Friday. 
Do you see how they implemented the Black Friday theme to their creative assets?
Our Creative Asset Hub lists all the creative assets of apps in order of category rankings. This way, you can instantly see how the top app publishers are preparing themselves for the upcoming seasons.
Ad Creatives for Seasonal App Marketing
Seasonal app marketing does not end with seasonal ASO. We have to combine our organic and paid marketing efforts to achieve maximum growth. As you can see below, Coin Master adapts its ad creatives to Christmas, too.
So let's say, we want to optimize our ad creatives for Halloween. In this sense, market research will come in handy. Our Ad Intelligence tool allows you to conduct your research according to your own custom criteria.
As you can see above, we searched for the ad video creatives of games that have "Halloween" in their title. For a better understanding of the market during Halloween, we set the time intervals to October. If we want a more focused analysis, we can add rules to narrow our research. 
Similar to what we did for ASO, keeping a close eye on your competitors and their ad creatives will help you to keep in touch with the market, allowing you to apply best-performing techniques to your own mobile user acquisition strategy. With the launch of Custom Product Pages, we have much more control over the customer experience leading from impression to the install. 
Without a doubt, the competitive analysis will help seasonal app marketing to become even more effective. You are always welcome to schedule a call with our mobile growth consultants to find out more about the value that MobileAction can bring to your mobile business!