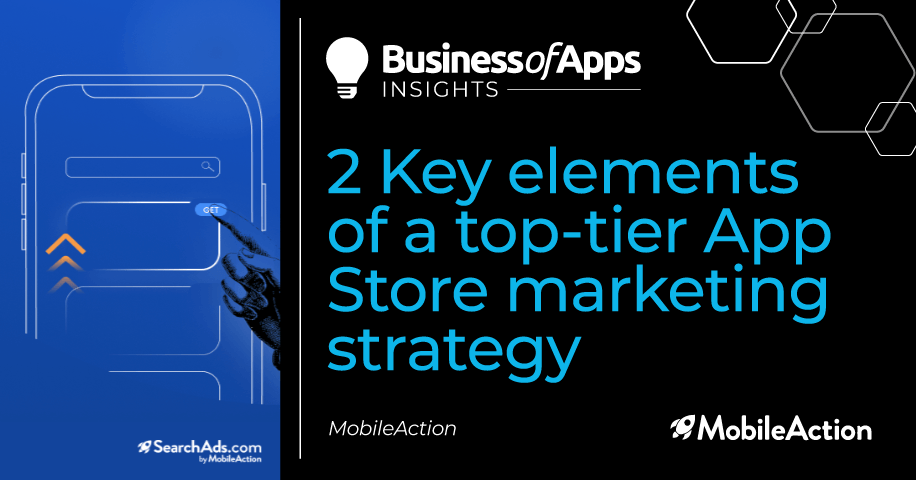 Marketing is at least 90% of everything. You may have the perfect app for your category, but you won't see downloads until you build a solid marketing strategy.
Users tend to stick to the first page of search results when searching for their next app. Therefore, if your app is not in the top 10 results, your chances of reaching users significantly decrease.
Today, we'll talk about must-have elements of a successful iOS app marketing strategy:
App Store Optimization
Apple Search Ads
App Store Optimization
Most think ASO is about keyword optimization; however, top app marketers know there is more to ASO.
Here is how you build an advanced ASO strategy in three steps:
Start with competitor analysis to understand the market and position yourself correctly.
Do keyword optimization to reach relevant users and bring organic downloads.
Optimize product page management to increase conversions and maintain your user base.
Complete with what's relevant – Competitor analysis
Don't compete with broad definitions of your category.
You may have a shopping app. Do you target men, women, or both? What goods do you provide? Clothing, electronics, household goods, or something else?
There is no reason for you to compete with an app that focuses on electronics if you are on women's clothing, right?
So, specify your audience to know who your top competitors are. This way, you can build keyword sets and creative assets to target relevant users.

So, where to start?
You can start by searching which apps are ranking for your target keywords.
Or you can check out similar apps to your app.
Once you determine your top competitors, you can study them:
See which keywords bring the most downloads. Replicate what already works for them to save time and money.
See how your top competitors adjust their creative assets for different storefronts and fine-tune yours to improve conversion rates.
Find out how often and for how long your competitors are running in-app events. Adjust your in-app events calendar and protect your retention rate.
Be visible in the market with the right keywords – Keyword optimization
Let's start with what the right keyword is.
Relevant to your app
Popular
Easy to rank in the top 10
Your keyword field is limited. Don't waste your space with irrelevant keywords that won't convert or keywords that no one is searching for. And let's be honest, users don't scroll below the 10th position.
It would be best if you implement a data-driven approach to your keyword research to get the best results possible.
For instance, you might want to fill eight characters of your field with "Shopping".
✔️ It is relevant to your shopping app.
✔️ Its search (popularity) score is 56. So it's also popular.
✖️ The chance score shows the possibility of ranking in the top 10. It is currently sitting at 39, so it won't be easy to rank in the top 10 for this keyword.
Instead, you can go with "Fashion".
✔️ Fewer characters
✔️ 52 search (popularity) score
✔️ Relevant
✔️ Chance score of 70, so your app will more likely be in the top 10.
With the right keywords, you can maximize the potential of your keyword field and boost your organic downloads.
Convert and maintain retention – Product page management
You defined your audience and reached them with the right keywords. Users landed on your product page and it's time for conversion.
Here is what you should aim for:
Simple and engaging app icon
Short and clear description of your app
In-app screenshots and video previews showcasing your user interface
Banners explaining your value propositions
Don't lose users due to poorly built product pages. Keep it clean, organized, and to the point.
You can study top apps and your competitors to learn about the best practices.
Keep in mind that apps usually leverage special seasons and holidays to engage users. Don't forget to track your competitors to respond to their marketing strategies.
Another significant and mostly ignored area is the reviews.
Users check out your reviews before they make their final decision.
Here is how you should approach reviews:
Try to respond to all reviews, positive or negative. It shows that you care about your user base.
Respond and provide support to negative reviews. It'll help you turn negative reviews into positive ones and improve your rating as well.
Segment your reviews by rating and tracking your performance on a daily basis, so you can operate more efficiently.
Apple Search Ads
You are now closer to conquering organic downloads with the proper ASO. Apple Search Ads is the missing piece of your top-tier app marketing strategy.
You should have Apple Search Ads in your marketing game because it allows you to skip the organic line and reach users. Moreover, it helps you improve your organic rankings and boost your downloads.
The steps are similar to App Store Optimization.
Here is what you should focus on when building your Apple Search Ads strategy:
Study your competitors to see which keywords they are bidding on.
Analyze best-performing ads to improve your copy and creatives.
Leverage Custom Product Pages to match the search intent with your product page.
Find the right keywords
The first step is to always know what your competitors are doing. Your competitors won't have all the best-performing paid keywords. However, you can also learn from their mistakes and eliminate waste.
The right keyword has three characteristics:
is popular
has low competition
complements the ASO
You already know why popular keywords and low competition is important so let's move straight to the third condition.
ASO and Apple Search Ads go hand in hand. An improvement on one side impacts the other so you get better results when you leverage both.
How?
When you have high organic rankings, you can win auctions with lower bids due to relevance. Therefore, if your aim is to increase downloads with lower costs, you can target popular keywords where you are already in the top 5-6 ranking.
On the flip side, Apple Search Ads campaigns contribute to your overall brand authority, which leads to increased organic performance and increased organic rankings. In this case, you can go for the keywords that you want to improve their organic rankings.
Again, implement a data-driven process where you exactly know how popular the keyword is and how tough the competition is. This way, you can better plan your budget and expected return.
Leverage custom product pages to improve your TTRs
The right paid keywords will get you impressions. Conversions come from your copy and creatives – product pages.
Here is how you can optimize your conversions:
Always be up on the latest ad trends and adjust your ad creatives accordingly.
Learn the best practices by analyzing top advertisers in your category.
Better address your audience by crafting your message and creatives specific to the search term with CPPs.
When you have more than one value proposition, you automatically create sub-audience groups. They all might have different expectations from your app.
Assume that you have a travel app. For the search term "Flight", you need to show flight-related features and value propositions.
You shouldn't show the following creatives to this specific audience segment.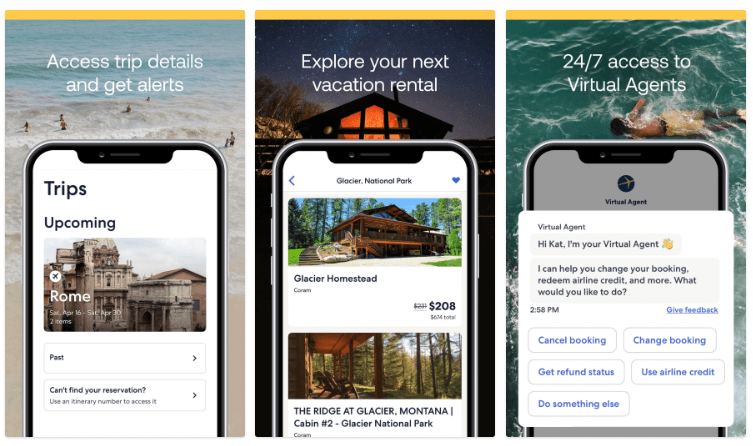 Although your app provides what they're looking for, they won't tap your ad.
Instead, you should focus your message on the search term and talk about what users are searching for. This is where custom product pages come into play. They allow you to create tailored product pages for specific ad groups.
With CPPs, you can increase your TTRs by up to %610, and decrease CPA as much as 51%.
Now you know how to build a top-tier app marketing strategy.
Here is one last tip: You can get insights and do all of the above for free forever.
Check out how MobileAction's free plan can help you:
Discover high-intent keywords and increase your app visibility.
Uncover the latest ad creative trends, and improve your CTRs.
See what works for your competitors and fine-tune your user acquisition strategy.
Never miss a growth opportunity with customized insights and alerts.
Automate Apple Search Ads with SearchAds.com.