App Annie Review
But what (or who) is App Annie? Is it worth paying for the premium service? What kind of competitive edge does it provide over competitors? That's what this guide is for. It's divided into the following sections:
The guide will also answer something you might have asked yourself: why is the company called App Annie? Dive in below to find out.
App Annie Company Overview

App Annie is the industry's most trusted mobile data and analytics platform. App Annie's mission is to help customers create winning mobile experiences and achieve excellence. Founded in 2010, the company launched the first mobile market data solution.  
In 2020, App Annie launched Ascend, an advertising analytics solution, making it the first company in its space to offer a side-by-side view of market data and companies' own data to support mission-critical business decisions. Together, these solutions comprise the industry's most complete mobile performance platform. More than 1,100 enterprise clients and 1 million registered users across all geographies and industries rely on App Annie to drive their mobile business. The company is headquartered in San Francisco with 12 offices worldwide.
In July 2020, App Annie announced the availability of App Annie Ascend. App Annie Ascend aggregates disparate data sets from demand and supply side advertising into one organized system, and takes the cost and complexity out of the equation. 
In the words of Ted Krantz, CEO of App Annie:
"We are proud to be the first company to offer a side-by-side mobile view of both market data and your own analytics to maximize performance. App Annie Ascend enables publishers and brands across the globe to easily aggregate disparate advertising data sources, assemble them into a single view and drive actionable insights."
It's made four acquisitions so far, and each of those companies did analytics and market intelligence extremely well. It bought Distimo (app store analytics) in 2014, Mobidia Technology (app analytics) in 2015, Appscotch (market intelligence) in 2016, and Libring (1st party analytics) in 2019.
The company is also trusted by some extremely large enterprises. Key clients include Google, Snapchat, United Airlines, Activision, Ubisoft, Visa, Lego, Samsung and more. Since its start in Beijing, it moved its headquarters to San Francisco and also has offices in Beijing, Berlin, London, New York, Paris, Seoul, Shenzhen, Singapore, Tokyo, and Utrecht.
For more information on company visit: https://www.appannie.com/en/about/why-app-annie/
The App Annie Client Wall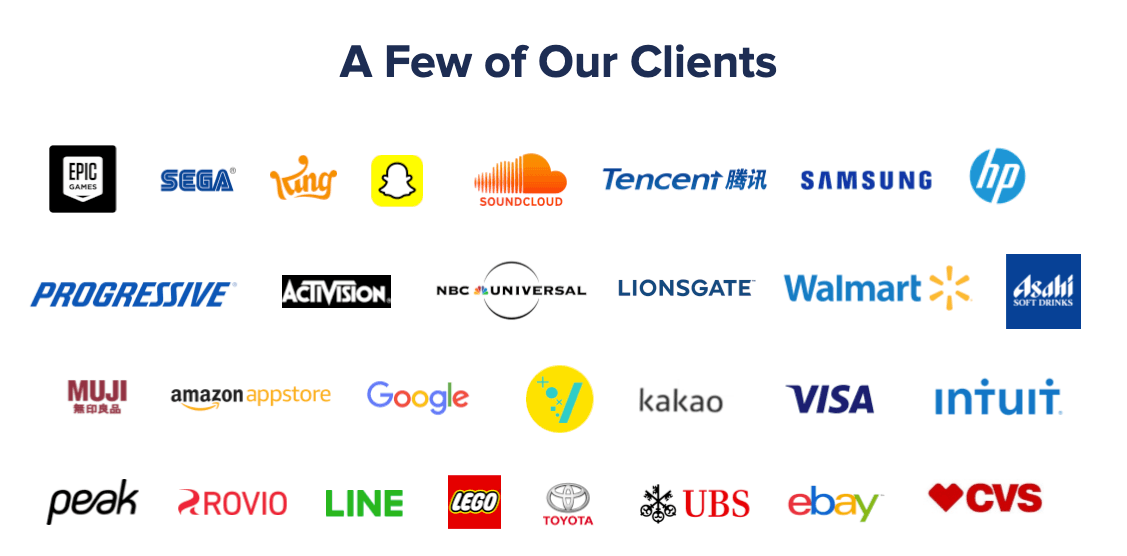 Source: Appannie.com
Learn more about App Annie's customer stories.
It has also been recognised by a number of publications and businesses worldwide, including being nominated in the top 100 cloud companies by Forbes and n.10 in the Technology Fast 500 for North America by Deloitte.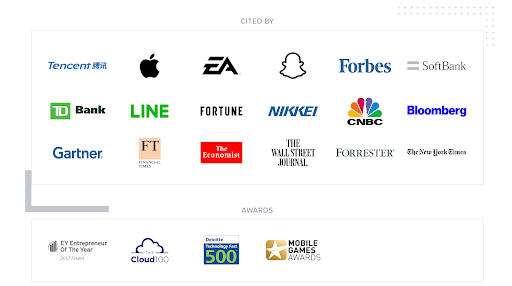 Each of their Intelligence products has a free tier, allowing you to test them out and think carefully before signing up to their paid-for products: App Annie's pricing structure is highly dependent on your needs and means, so it's in your best interest to know exactly what you need.
In a world where app store optimization can double or triple sales, you want the best intelligence there is on what works and what doesn't. So let's dive into the platform to help you decide, starting off with some key facts about the company.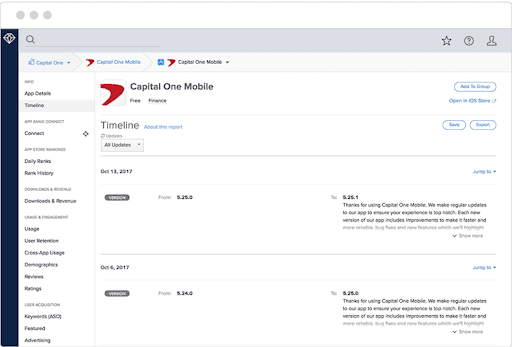 App Annie's timeline feature is key to understanding how app publishers are optimizing their app store presence.
App Annie Key Facts
App Annie is a large company not in the sense of the number of employees, but rather the amount of data it produces just how crucial it is to app marketing. Here are a few figures to chew on:
Employees:

~400

Founded:

2010

Customers

: 1000+

Facebook likes:

43,000

Twitter followers:

27,600

Total Equity Funding:

$157M in

6 Rounds
As you can tell from the stats, the company is very strong and has had an upward curve from pretty much the moment of inception. Up next: what they offer.
App Annie Products
App Annie divides its products into two major categories: Market and Analytics. The first supplies you with intelligence and statistics of what other publishers are doing, while the second is about your app and its performance.
Intelligence
The App Annie platform provides the most accurate and comprehensive mobile market data, trusted by over 1 million users to analyze 14+ million apps across the globe. App Annie has made a name for itself for a number of reasons, one of which is their rankings index, which shows which apps are downloaded the most from the major stores in the market, including iOS App Store and Google Play. 
Free Product
App Annie Free Intelligence gathers the same excellent data: App rank history, ratings tracker, app details, keywords ranking, ASO features and featuring are all included, giving you the chance to find out how competitor apps are doing on the market.
App Annie Free Intelligence is a good tool to analyze downloads and revenue trends for all apps in the market.
To get started, you can watch their onboarding videos and learn how you can make the most of the free version.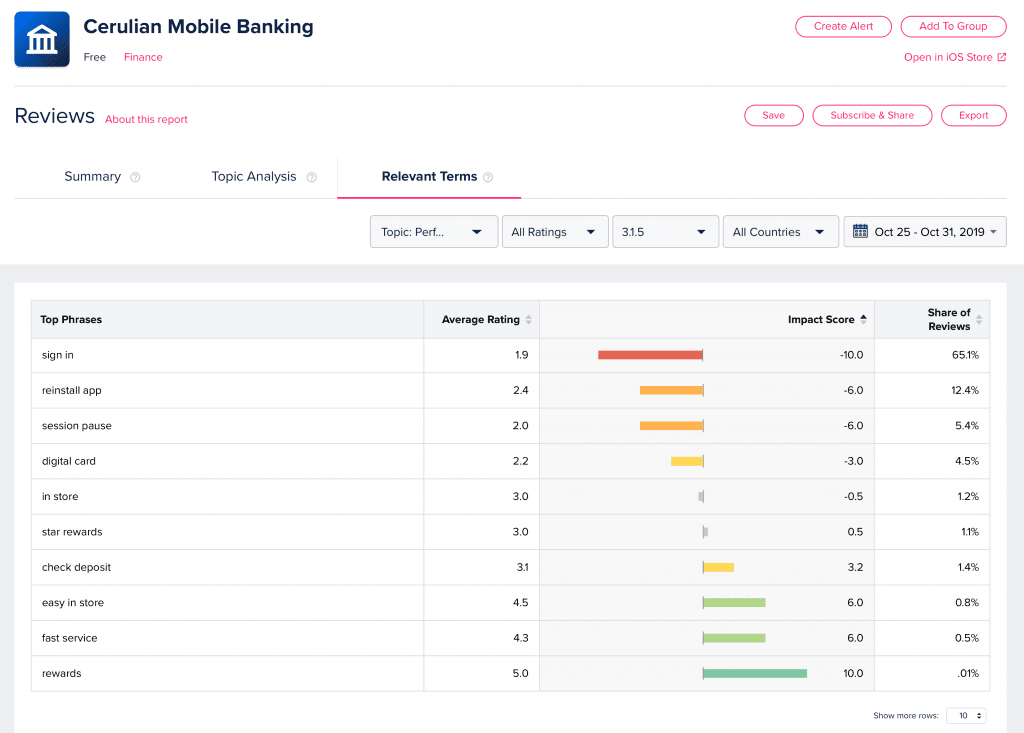 App Annie Free Intelligence also has extensive user reviews and ratings analytics capabilities.
App Annie Marketing Intelligence Overview
The paid version of App Annie Intelligence offers ton of data to look under the hood of high-performing apps:
Downloads & Revenues

for every app on iOS and Android across over 150 countries.

Engagement metrics

such as DAU/WAU/MAU, Avg Session Duration, User Retention, Cross-App Usage (+ over 12 more metrics).

Demographic data

including Age and Gender split and user segmentation.

App Store Optimization (ASO) tools

to help optimize discoverability in the App Stores and organic acquisition.

Advertising

gives visibility on paid user acquisition campaigns. Intelligence customers can use the Ad Monetization report to identify the ad platforms on which an app is monetizing,to uncover the individual advertiser apps that are placing ads in the app, and to get a country view showing the app's global ad monetization footprint.

SDK Insights

to know which SDKs each apps have installed and their market share
Download Channel helps you understand how users discover apps prior to download. We can show you if paid advertising, organic searches, or an app store feature were the
source of the download. Understanding the source of your downloads allows you to allocate marketing resources more efficiently.

Web Journey

reveals the user journey from the mobile web browser to a mobile app. Web Journey demonstrates the interaction between web and app while also providing insight into how users behave in each channel. For customers who are curious about the full cycle of mobile behavior, Web Journey has the answer for you.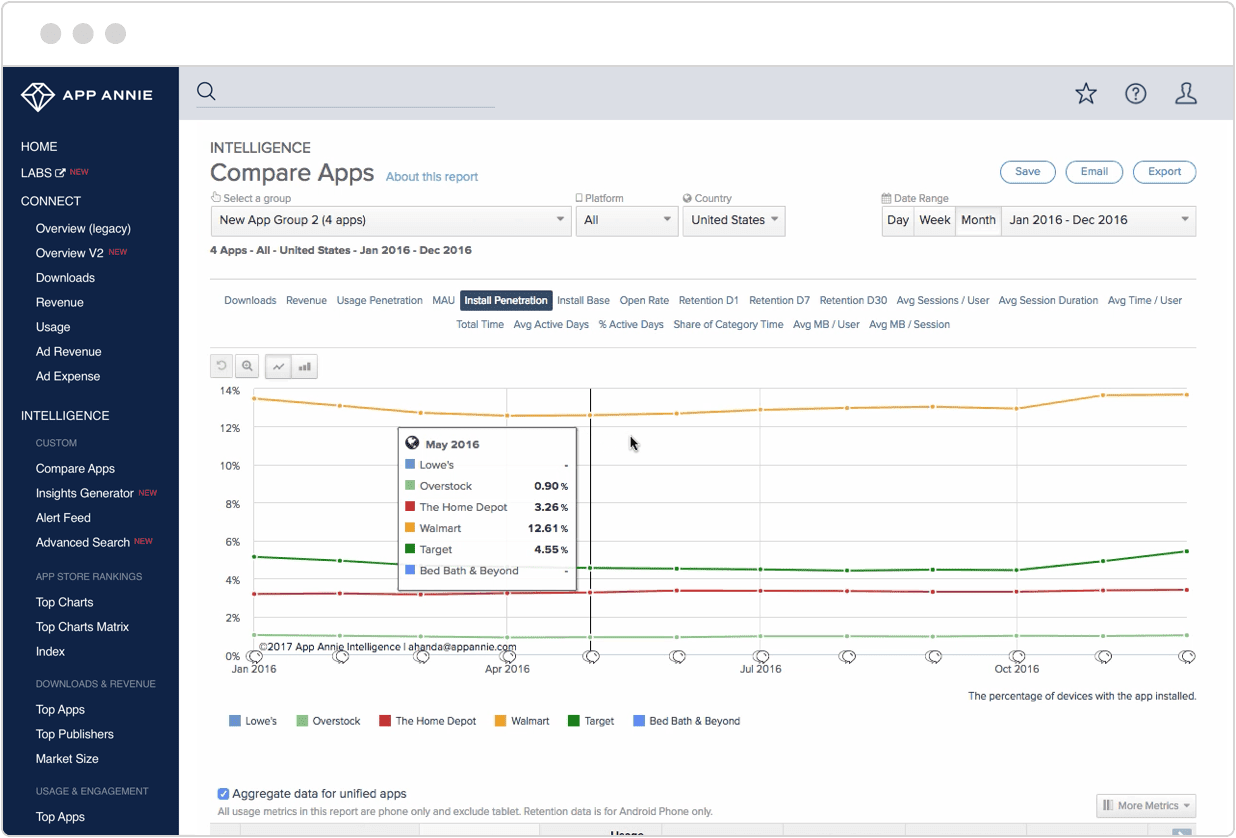 With App Annie, you can compare apps in the market against a large set of metrics to identify trends and growth opportunities.
This data allows you to optimize your app's store presence by optimizing your app's downloads (be they paid or organic), revenue, engagement and retention.
This customer stories page has videos of customers such as VSCO, who uses App Annie to support it's monetization, growth and partnership strategy. Watch VSCO Customer Story video.
https://www.appannie.com/en/customers/
App Annie Intelligence delves further into apps by tracking number of active users, duration and frequency of use, data usage, revenue per user, retention rates and even market penetration. It also gives you access to estimates of demographics and cross-app usage and a whole slew of advertising estimates: from the top advertisers to country breakdowns and share of voice. On top of that, the platform enables you to compare apps, set alerts, and share reports easily.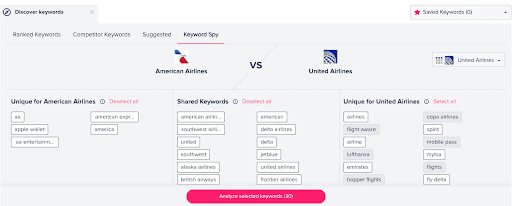 App Annie has built-in capabilities to keep track of any change in the market and benchmark these changes against performance metrics.
There are numerous use cases for a large array of industries and personas. App Annie is mostly used to analyze competitors, improve ASO and paid UA, understand an audience base, identify potential partnerships, assess expansion into new markets and and build new innovative app features. Marketing and Product functions are mostly using the platform but the data can be leveraged for a lot of different projects.  
With App Annie's revamped ASO capability, customers can understand market trends and the competitive landscape to increase confidence and certainty. Watch the video to learn more.
ASO Keywords includes keyword discovery features and reporting views.
Discover Keywords:

View up to 1,000 ranked and competitor keywords. Then, get organic keyword suggestions by typing in a seed keyword of your choice.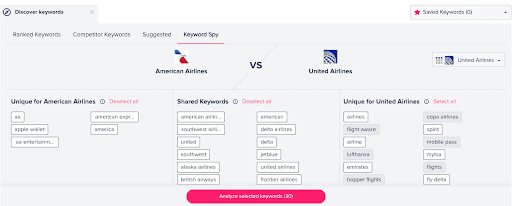 With our Keyword Spy feature (pictured), we'll show you the keywords that a competitor is targeting. And, we can go deeper in assessing the keywords that your app shares with your competitor and then identify keywords that are unique to your competitor.
Keyword Analysis:

Learn about keyword rank, search volume, difficulty, and which keywords are driving your traffic share. 

Keyword Lists

create blueprints for ASO Success. Some ways that you may want to organize your lists include:
Primary keywords list:

Save your primary keywords that you're optimizing for today.

Brainstorming list:

Save keywords that you're not quite ready to commit to.

New version list:

Save keywords that focus on a new app version into a separate list.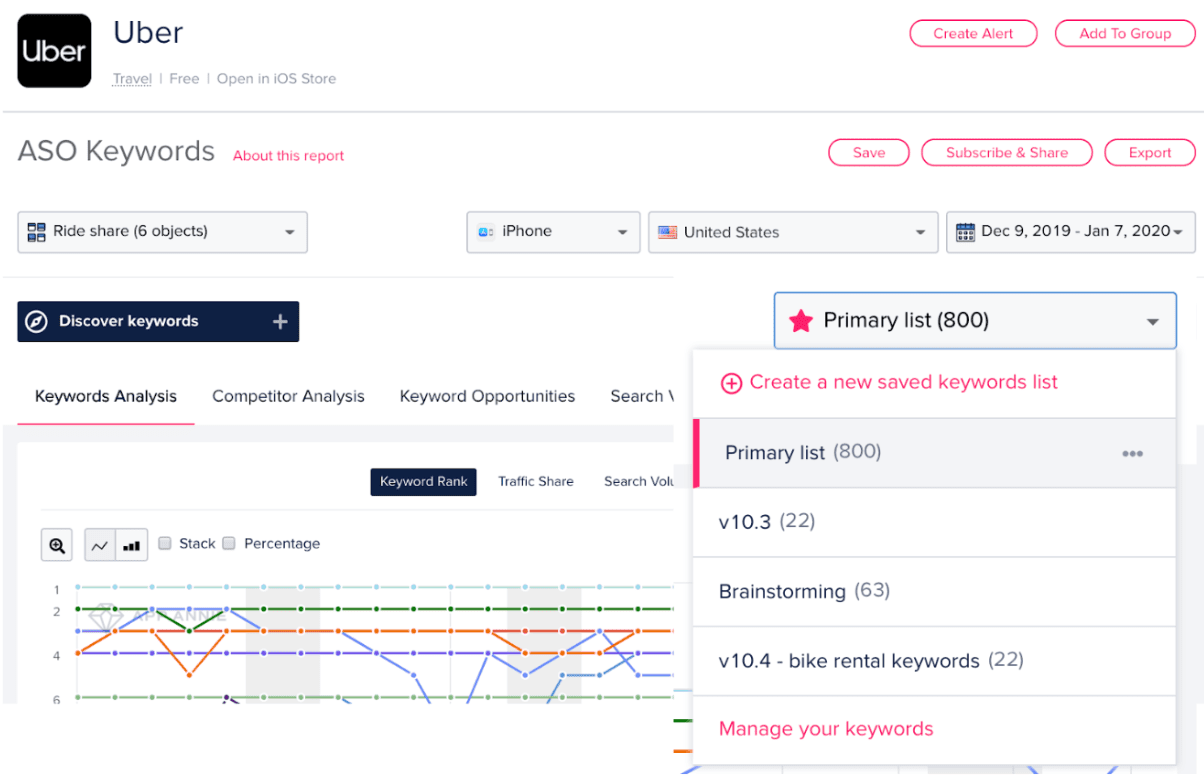 Competitor Analysis:

Track your traffic share and keyword rank for specific keywords among your competitive set. 

Keyword Opportunities:

Visualize which keywords to try out with keyword opportunities mapped by their search volume and relative difficulty. Also, learn how the difficulty and search volume has changed over time to ensure you pick the best keywords. 

Search Visibility

is a new metric that allows you to benchmark your keyword performance against the competition. It does this by illuminating the overall effectiveness of ASO efforts for your own app, a competitor's app, or any app in the market.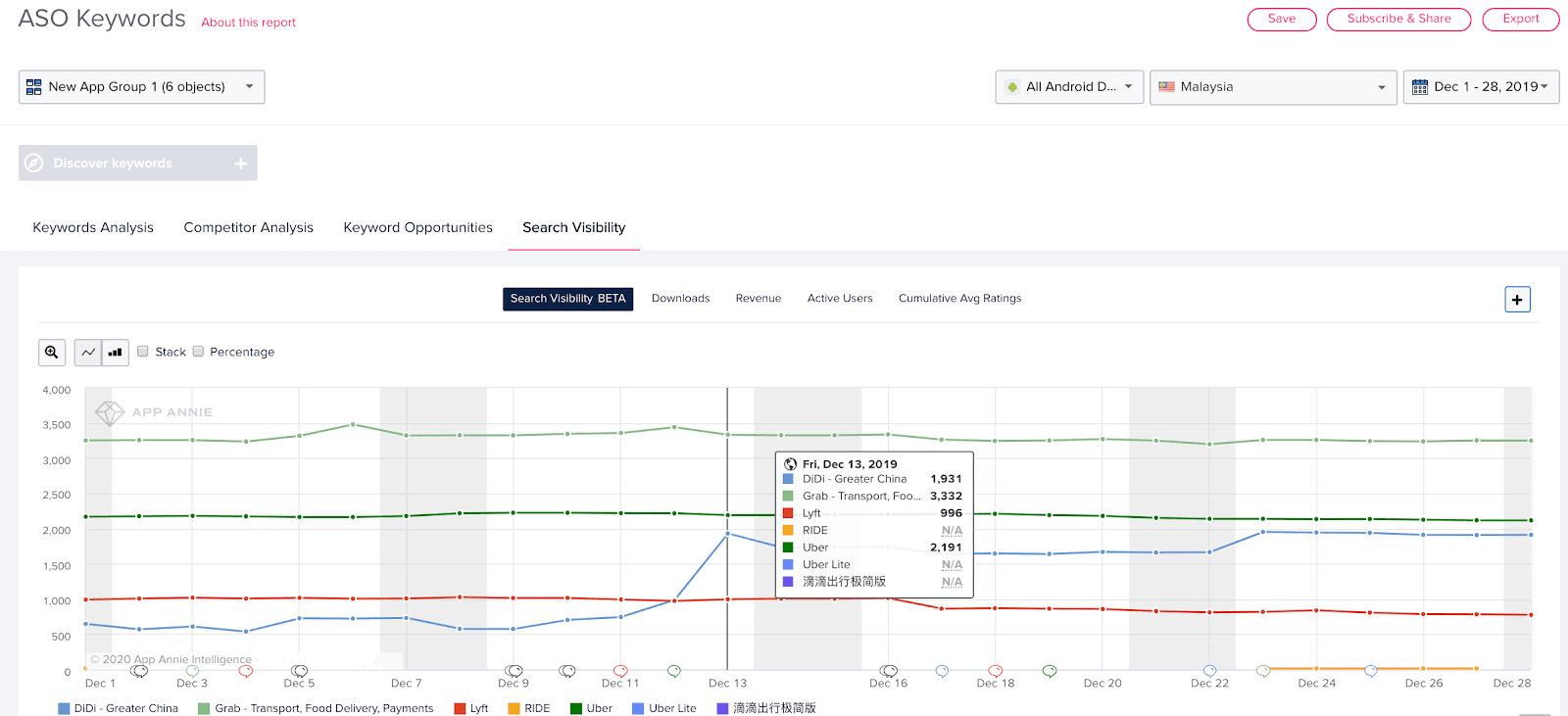 Paid Search: Insights for an app's paid search activity. Uncover your competitors' paid search strategies to inform your user acquisition plan. Dive deep into all of the keywords on which a competitor is placing ads and see the share of voice per app advertiser, all in a single view. 
Keyword Defense: Find out which of your organic keywords are most at risk from competitive paid search, so that you can protect your organic traffic.
App Annie Connect – Free Analytics for Your Apps
This free tool gives you insights into how your app and your ads are performing.
App Analytics with App Annie
There are two versions of this: App Analytics and Advertising analytics. Here are the two explained in a little more detail.
App Annie Connect covers all the baseline metrics generated from your app such as revenue and which keywords return your app, downloads by store, country and period and plenty more. This data (which you can access on the web, through the API, on mobile, through app reports or CSV file) can then be used to optimize your store's page through App Store Optimization, also known as ASO.
On top of that, advertising metrics helps you determine where your marketing budget is bringing in a good return on investment and where it isn't. Examine revenues, conversion and click-through rates by campaign, vertical, ad platform, demographic data and much more.
To put it simply, App Annie Connect's value proposition is: "All of your app data – All in one place."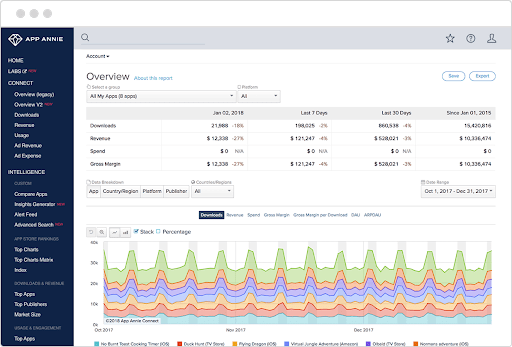 An overview of a dashboard in App Annie Connect to analyse the performance of your own apps as well as your marketing campaigns. 
App Annie Ascend – Advertising Analytics
App Annie Ascend is a data aggregation, reporting and analytics SaaS that connects to supply-side and demand-side data partners. WIth over 400+ ad partner and store connections, Ascend helps monetization and advertising managers normalize and optimize their revenue and growth data.
Data Partners Integrated with App Annie Ascend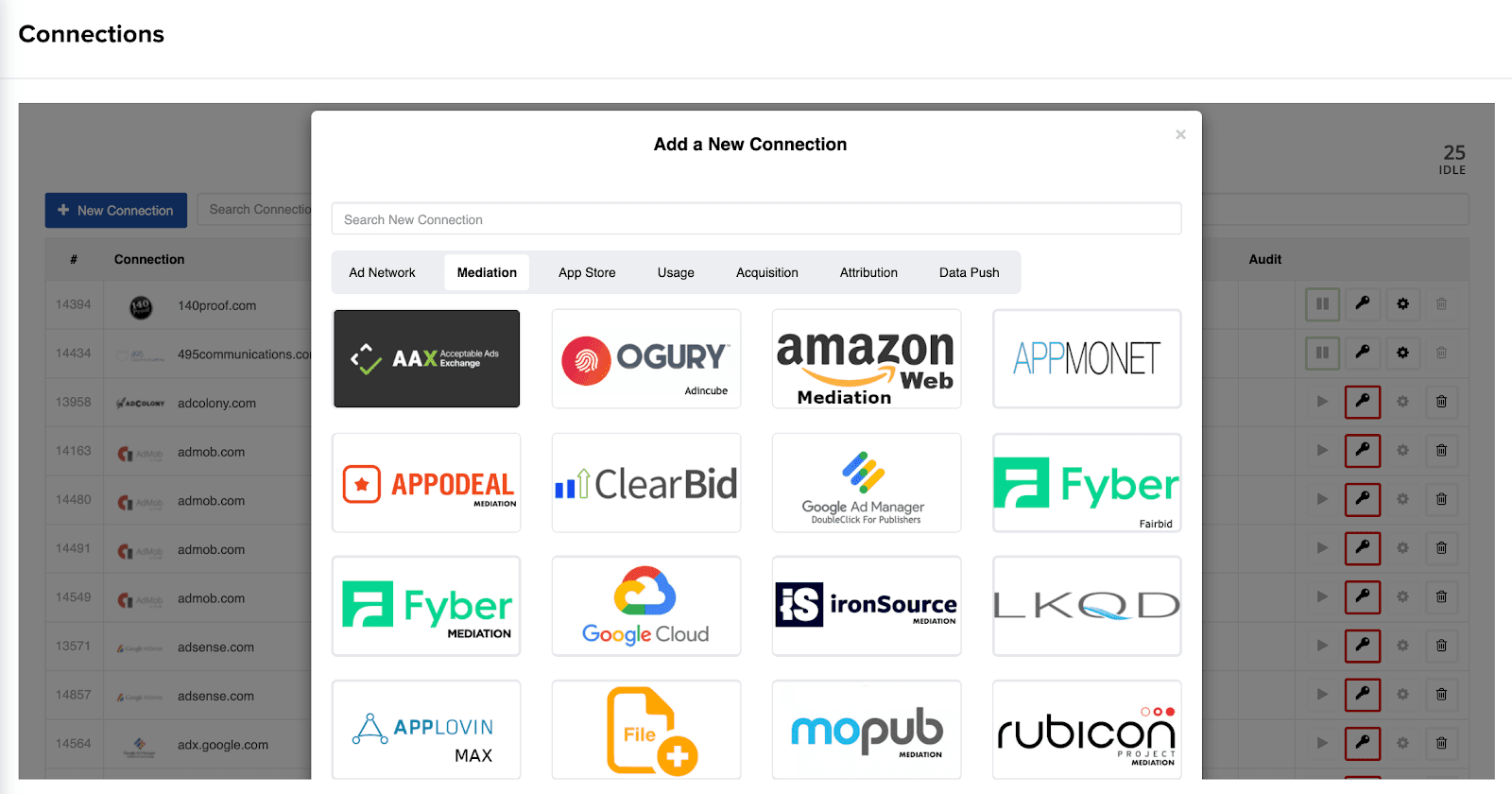 App Annie allows you to seamlessly connect from many data sources including Ad Networks, Mediation partners, App Stores, Usage partners, Acquisition platforms, Attribution platforms, and Data Cloud warehouses so that you don't need to gather reports from different dashboards.
The App Annie 1st party platform uncovers areas for improvement in your properties for revenue generation or acquisition growth by:
Monitoring and controlling the partner network

Enriching and transforming data with ease

Identifying value for optimization
Key Features:
Data Connections: Facebook, Google, Ironsource, Amazon S3, Appsflyer, and 400+ additional partners

Revenue metrics: eCPM, eCPM, Impressions, Clicks, Fill Rate, IAP revenue, Ad revenue, and more.

Data Enriching Tools: Bulk Normalization, Pivot table analysis, revenue adjustments, custom dimension calculations, daily data connection
Together with the App Annie Ascend analytics software, App Annie is focusing on combining deep insights of your own advertising ecosystem with competitive and market benchmarking through the Intelligence product for a holistic mobile marketing strategy.
So now we've given you a run-down of the products, how much does App Annie cost?
App Annie Pricing
App Annie's model is what's known as "Freemium". Some features are free, but there are premium tiers you need to pay for.
Basic App Annie Connect is free for insight into high-level app performance – along with some of the features from App Annie Intelligence – with the more advanced App Annie Ascend platform priced through a SaaS model depending on impression counts and number of connections. 
App Annie's pricing structure is highly dependent on your needs and means – given that it can vary so much, they do not display prices on their website, but require you to get in touch with them to get a quote. Generally, the price of the package will depend on the depth and the scope of the dataset requested. They have different offers and packages depending on your size in the store in terms of downloads, MAU and revenue.
App Annie Pricing 
For the latest packages, visit the App Annie Pricing Page. 
The Market Estimates product has three tiers, of which the first is free. Prices will then depend on the category and the number of countries purchased, with annual subscriptions available.
The free tier for Intelligence has email only support only, and results are delivered on their web UI.
The premium tiers offer much more.
App Annie ranking tables shows top apps by downloads, revenue and usage.
App Annie is an extremely powerful tool and one of (if not the) best in its category. The company recently achieved the $100m revenue mark and constantly brings in new products in the market (latest ones being Mobile web, SDK insights and paid versus organic downloads distribution). If you're interested to access the paid version, you will need to submit a request via their information request page.
Final Thoughts
Without a doubt market intelligence, app store and app analytics are a key part of any app-related business strategy, and App Annie delivers on all three. Coupled with a world-class dashboard and a broad range of metrics, it really is a perfect tool to see how your app is performing and what it could be doing better; that said, if the potential price puts you off, there are plenty of other alternatives, starting from the very accessible price of free.
App Annie provides the most complete mobile performance platform. It is the first company in its space to offer a side-by-side view of market data and companies' own data to support mission-critical business decisions. 
App Annie Services
Global support
Global customer success
Research & reports
Professional services
Events & community
Team
Theodore Krantz
Theodore Krantz is the Chief Executive Officer at App Annie. Ted has over 25 years of senior-level experience leading high-growth sales organizations across the technology industry. Most recently he served as CRO for global marketing software provider Kenshoo, where he led global sales and customer operations for three years. Prior to Kenshoo, he held senior-level sales positions at SAP and PeopleSoft. Ted holds an M.B.A, International Business and a Bachelor's degree from the University of Texas.
Office Locations
Suite 2701, Tower B
Sanlitun Soho 8 Chaoyang District
Beijing, 100027
China
Design Offices Berlin
Leipziger Platz Leipziger Platz 16
10117 Berlin
Germany
Shropshire House 2-10
Capper Street App Annie - 5th floor
London WC1E 6JA
United Kingdom
HEADQUARTERS
One Kearny Building
23 Geary Street, Suite 400/800
San Francisco, CA 94108
USA
8, Avenue Hoche
75008 Paris
France
A-2706, Boutique Monaco, Seocho-daero 397, Seocho-gu
Seoul, 06616
Korea
App Annie Data
| | |
| --- | --- |
| Founded: | 2010 |
| Employees: | ~400 |
| Revenues: | $100m+ |
| Social Presence: | 70k+ |
| Website Traffic: | 3m+ |
Sources: Company Data, Press Reports, Linkedin, Twitter, Owler, SimilarWeb
App Annie Info
App Annie News
App Annie Insights
App Annie Podcasts
Latest Tweets from App Annie:
Twitter cannot show tweets right now. Please try again.
App Annie Competitors and Alternatives
Sorry, we don't have these details yet. If you are a App Annie representative, please get in touch to add additional information and contact options to your profile.