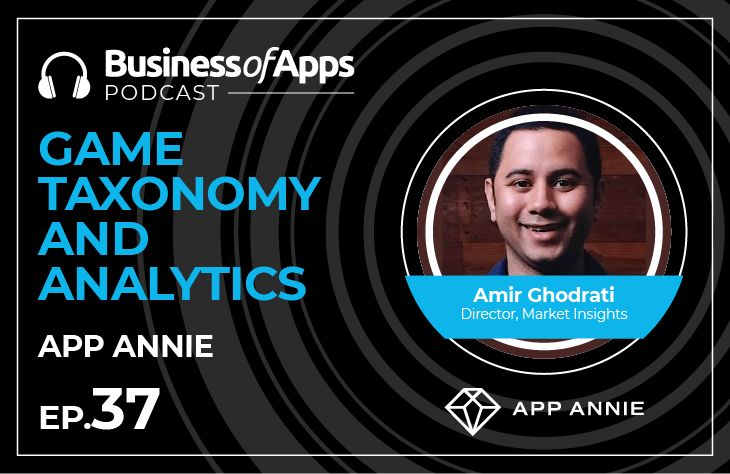 With so many games available in app stores, people can play them anytime and anywhere. Both Apple's iOS App Store and Google Play store from Google don't provide mobile games classification granule enough for developers to monetize their games efficiently. How can game developers better navigate the mobile game market to make more money?
Today's guest is Amir Ghodrati, Director – Market Insights at App Annie, a mobile market data and analytics platform. Amir talks about game taxonomy analytics, problems game developers are facing with it today and what solution App Annie offers developers and brands.
Today's Topics Include:
✔️ Data and People: Amir's interest in analysis and communication of successful solutions
✔️ What is taxonomy? A branch of science that studies classifications. 
✔️ Mobile Game Landscape: Game categories and popularity challenging to navigate
✔️ $100 Billion: Mobile gaming is largest platform based on spend; 3X bigger than PC/Mac
✔️ Game Lifecycle: Shift habits and conditioning of casino, casual, and core game structure
✔️ Monetization Forms: Advertising, in-app purchases, and subscription models for games
✔️ Apples to Apples? Problems/solutions of multiple app stores, inconsistent classification 
✔️ Game IQ: Bring order, hierarchy, and insights to granularly segment gaming industry
✔️ Mobile Game Misconceptions: Changes over time and making money 
✔️ COVID-19 Impact: Share experiences and connect with friends and family through games.
Links and Resources:
Tweets/Quotes by Amir Ghodrati:
"The mobile gaming industry has never been more lucrative, but also it's never been so competitive."
"It's really a platform that has democratized gaming because the mobile phone is the one device that people have with them."
"People are increasingly spending their time on mobile."
"Information is only going to be useful if it's accessible enough that people are willing to make decisions based off of it."
Follow the Business Of Apps podcast