This guide will cover the best healthcare app development services, how much it costs, top app development features, and how you stand to benefit from using healthcare app development companies.
Healthcare apps help to contribute to the well-being of people. From tracking activities to keeping up to date on a medical regimen, healthcare apps are here to stay.
Hospitals and medical institutes are now creating their own apps to help their patients keep healthy and are benefiting from being able to reach more people as a result. In fact, more than 90,000 new healthcare apps were introduced in 2020 alone.
Building and developing healthcare apps requires a number of must-have features to be implemented.
First and foremost, the app needs to be easy to use. Secondly, patients need an app that is able to save them time, from booking appointments to an online diagnosis; the key is ease of use and a high level of functionality.
Providing actionable information is important, too, as well as facilitating easy communication with medical professionals.
Don't know where to begin? We'll cover everything you need to know about healthcare app development.
What is a healthcare app?
A healthcare app is most commonly an app that diagnoses, tracks, or treats disease.
An important distinction is that while many apps fall under the health category, not all are medical healthcare apps. An app that teaches you how to do Pilates may help you achieve your fitness goals, but it doesn't cover your physician-led care routine–those are fitness healthcare apps.
Medical healthcare apps are apps you can use in conjunction with your health regimen and offer health tracking and reporting, medical reminders, and communication with a provider; some may even serve as a platform for virtual health visits.
Users can download healthcare apps on their smartphones or tablets.
The best healthcare apps have strong reputations that get backed up by thousands of positive reviews. They facilitate live consultations with doctors, dentists, and psychologists and allow you to manage your prescriptions.
Types of healthcare apps
Examples of healthcare apps, across both mobile and web apps, include the following:
Fitness and exercise apps
Remote patient monitoring (RPM) apps
Prescription price comparison apps
Pharmacy delivery apps
Symptom checking apps
Medical reference and database apps
Healthcare app developer example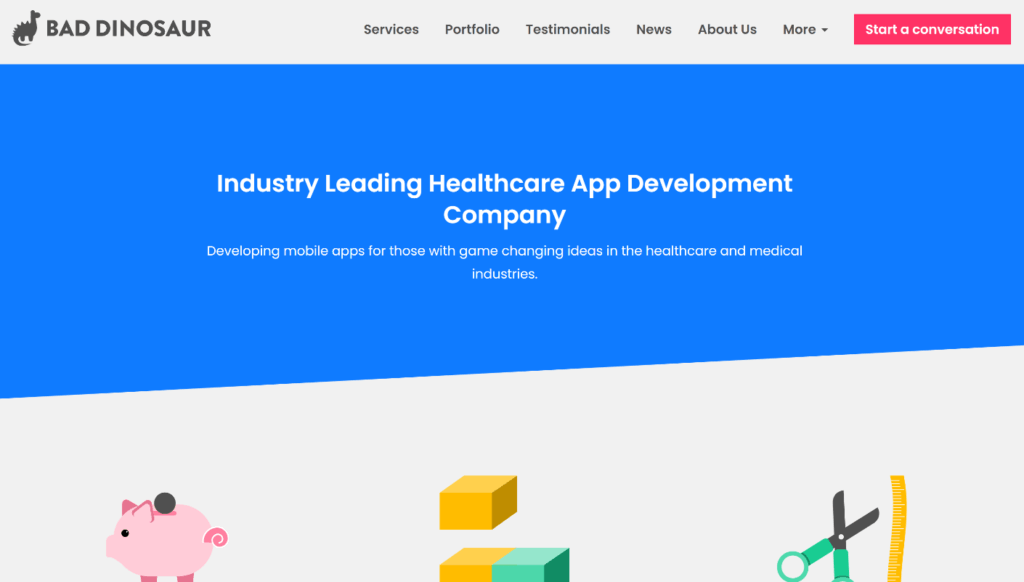 Source: Bad Dinosaur
Remote monitoring apps enable patients to remain at home, and practitioners can keep track of their patient's heart rates, oxygen levels, and blood glucose readings without the need for office visits.
Clinical reference apps offer digital access to the ICD-9 and ICD-10, E&M coding, and other specialized reference materials in the US, ensuring healthcare providers can avoid carrying around heavy reference guides.
Think carefully about which category your finished healthcare app would fall under before setting off.
Why should I develop a healthcare app?
There's enormous potential in the space, for one. Mobile users love healthcare apps and frequently prefer their doctors to use them over more traditional methods due to the ease of use. Pandemic-driven lockdowns have only accelerated this trend.
On the provider side, the same is also true. The use of medical apps has become widespread. For example, 70% of medical school students reported using at least one medical app regularly, with 50% using their favourite app daily.
Healthcare apps help a wide range of users, including doctors, patients, nurses, prescription vendors, administrators, and lab technicians.
For doctors, the apps help with patient tracking and monitoring, appointment scheduling, and staff management. While patients can book appointments, chat with their doctors, and get recommendations when required.
The use of healthcare apps is growing, too: there are 45,478 healthcare apps on the App Store and around 43,285 applications on the Google Play Store.
Healthcare app developer example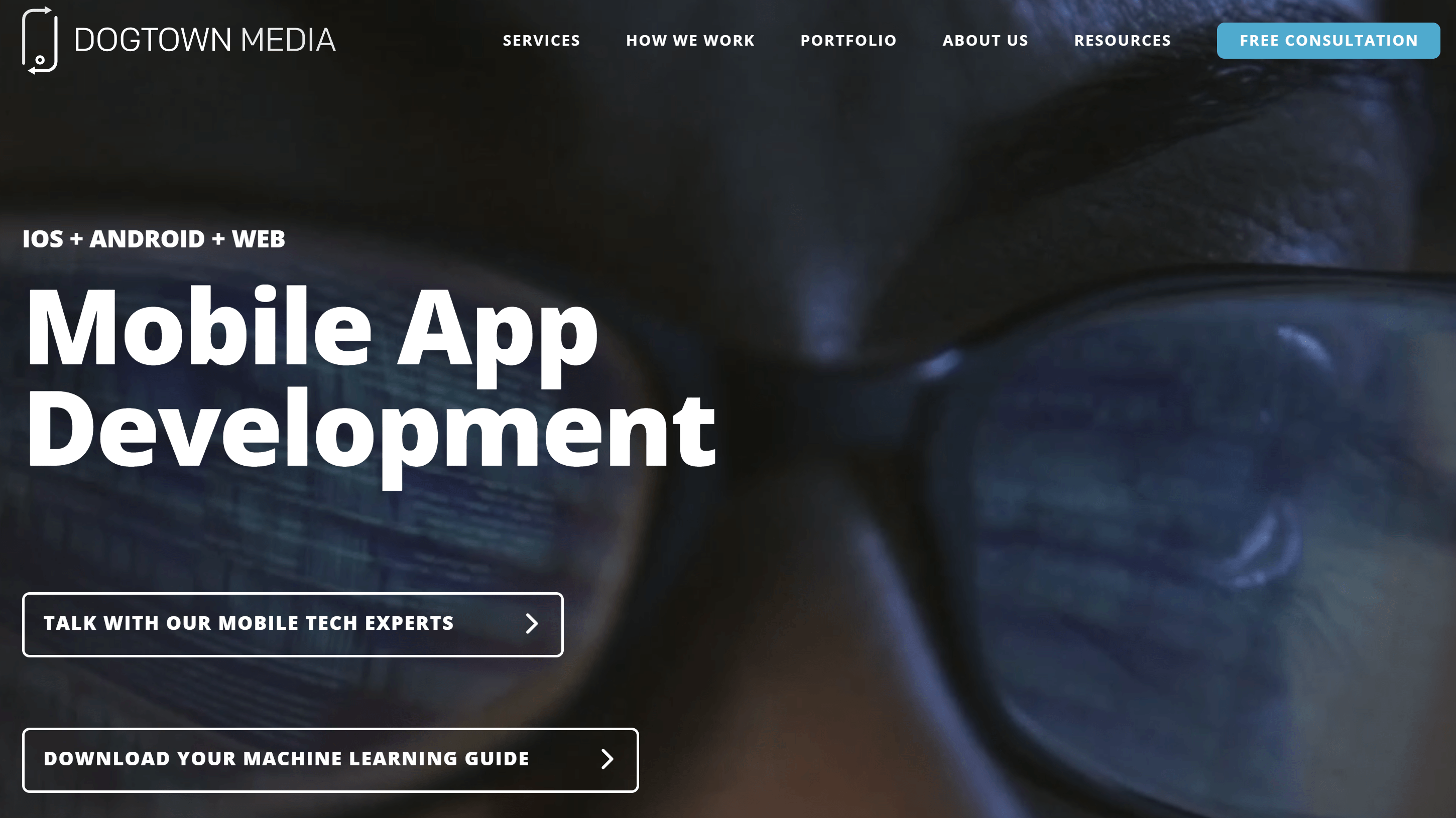 Source: Dogtown Media
Additional benefits for users include faster loading times than those experienced when logging in via computers, better UIs and more convenience wherever they happen to be at that specific moment. The key value that a healthcare app offers is medical knowledge that's painless to obtain.
Health apps are used by the general public and focus on medical information or prescriptions as well as track users' daily medical data. Development costs are less when compared to standard medical apps for healthcare professionals.
In a nutshell, whether you target patients or healthcare professionals, the audience is highly engaged, and the demand is growing every year.
What is the healthcare app development process?
You need to develop the best healthcare app possible, one that loads quickly, runs smoothly, has tracking and monitoring features for patients and medical professionals alike, and isn't plagued by glitches.
Building a great healthcare app is about following a well-defined process that ensures nothing gets missed in development, from identifying a good healthcare idea to testing and maintenance. Let's take a look.
1. Find your idea
The most important step is finding a good idea for your mobile healthcare app. Your app development must be oriented by considering a healthcare problem and applying its solution.
Idea validation determines a mobile app's viability and interoperability; you need to start by organizing your internal resources.
From there, identify the market need before using any healthcare mobile app development services.
Once you have a good idea, you must check its viability by doing the following:
Conducting market research of customers
Developing your healthcare app idea
Testing
Validation
2. Market research and customer feedback
You need to conduct market research and gather crucial customer feedback.
For instance, if you were validating an idea for a mobile health solution that caters to people suffering from a heart condition, you must be able to help them find doctors, medicines, vendors, and information. They would need to be able to maintain their records via the app as well.
Start by conducting healthcare industry and app market research at both ends. In this scenario, you would find out the following:
The number of patients with a heart condition in your target region
The number of existing similar apps (competitors)
You must also get feedback from existing entrepreneurs; skilled entrepreneurs will help you develop a good mindset for building a medical app.
3. Validating a business hypothesis
The next step in the process is customer acquisition planning. By now, you have a product, and it's achievable.
You have also researched your competitors, and due to business hypotheses testing, you have built a more suitable product for doing so. However, how will your customer know it's a better product?
Simple: you can determine this by conducting customer interviews.
Inform customers by placing paid ads and creating UX designs for landing pages. Remember that promotion and marketing of your startup is an innate part of developing a mobile healthcare app.
Top Healthcare App Developers
4. Estimate the cost
You need to consider many factors for determining the cost of your healthcare solution, from the app's must-have features to ongoing upkeep costs.
It's best to estimate before starting the app development process–you can do this by preparing a budget and detailed timelines.
5. Build an MVP
When you have enough data to support your idea about mHealth (mobile health) app creation, you need to think about the development of the healthcare app MVP (minimum viable product).
It's time to think about finding a development team of healthcare app developers who excel in the world of healthcare and can do this for you.
With the development of a healthcare mobile app MVP, you'll be able to test out your mobile app in its most basic form.
If required, look for funding for medical app development through bootstrapping or acquiring investors. Remember that a healthcare mobile app MVP is a fully functioning solution and is one of the primary steps needed to minimise risk.
6. Design the app
Any healthcare app development concept must incorporate design elements such as UI, interface, screen rotations, button placements and more.
Great healthcare app designs hook in users immediately, so you need to get this right straight away. A good design is critical and will make or break your app.
Be sure to hire a team of developers or work with a reputable app healthcare development company with the appropriate expertise. You need to be able to build a competent app without excessive fuss.
Healthcare app developer example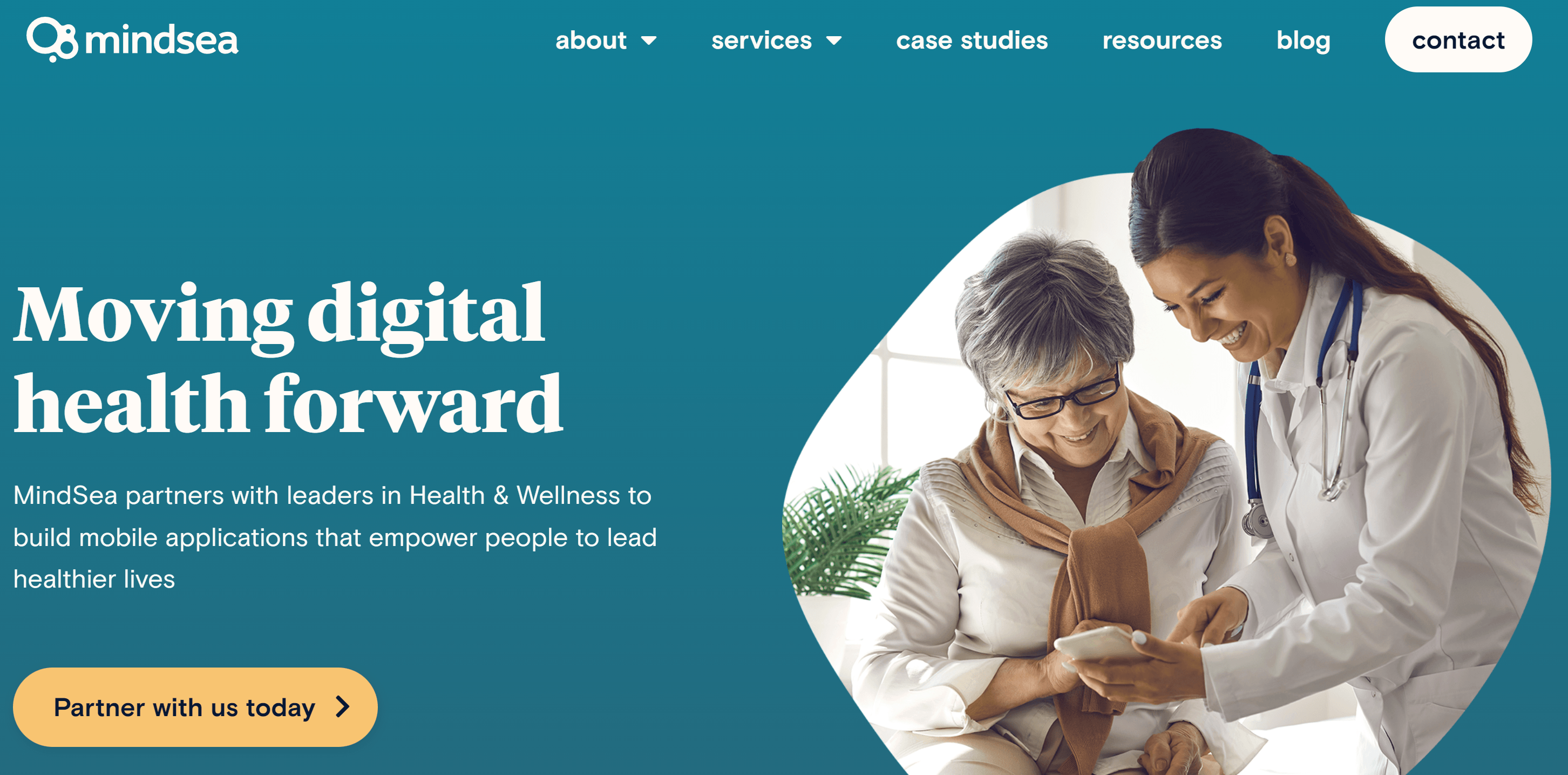 Source: MindSea
7. Deployment
Deployment is the stage where you must ready your marketing materials before sending your app out into the world. This step is usually achieved via social media but includes video ads to get the word out as well.
The healthcare app must stay updated, and you need to be ready to deal with customer problems. Focus on the user experience first and foremost, as this cuts down problems before they appear.
8. Upgrading and improving
Your mobile healthcare app is always in development from a long-term point of view–a smart perspective, as you aren't finished after its launch.
You need to be sure that you keep improving and upgrading the healthcare app as feedback comes in, including tackling new bugs and other user problems.
The improvement of processes and products should be made by adopting new tech where possible. Keep your focus on marketing and check which features are missing too.
Healthcare app development best practices and features
Here are some of the critical aspects to consider when developing a healthcare app, including best practices as well as essential and advanced features.
Easy registration and login
In-app registration and user logins let the users input their information so that wait times for the appointment get cut down. Logging into your healthcare app needs to be flawless.
Registration can help patients create their profiles on the app and input any information they need. Any protected health information (known as PHI) your app collects must stay safeguarded against malevolent forces to comply with HIPAA regulations.
Appointment scheduling
Appointment scheduling is one of the healthcare app's core features and functionalities that patients expect to see. Having appointment scheduling on the go through a healthcare app benefits both patients and healthcare professionals.
Your app must display available slots for the appointment and allow users to book one that's convenient for them. Once the doctor or admin approves the appointment, confirmation gets sent out to users through the mobile app.
Healthcare app developer example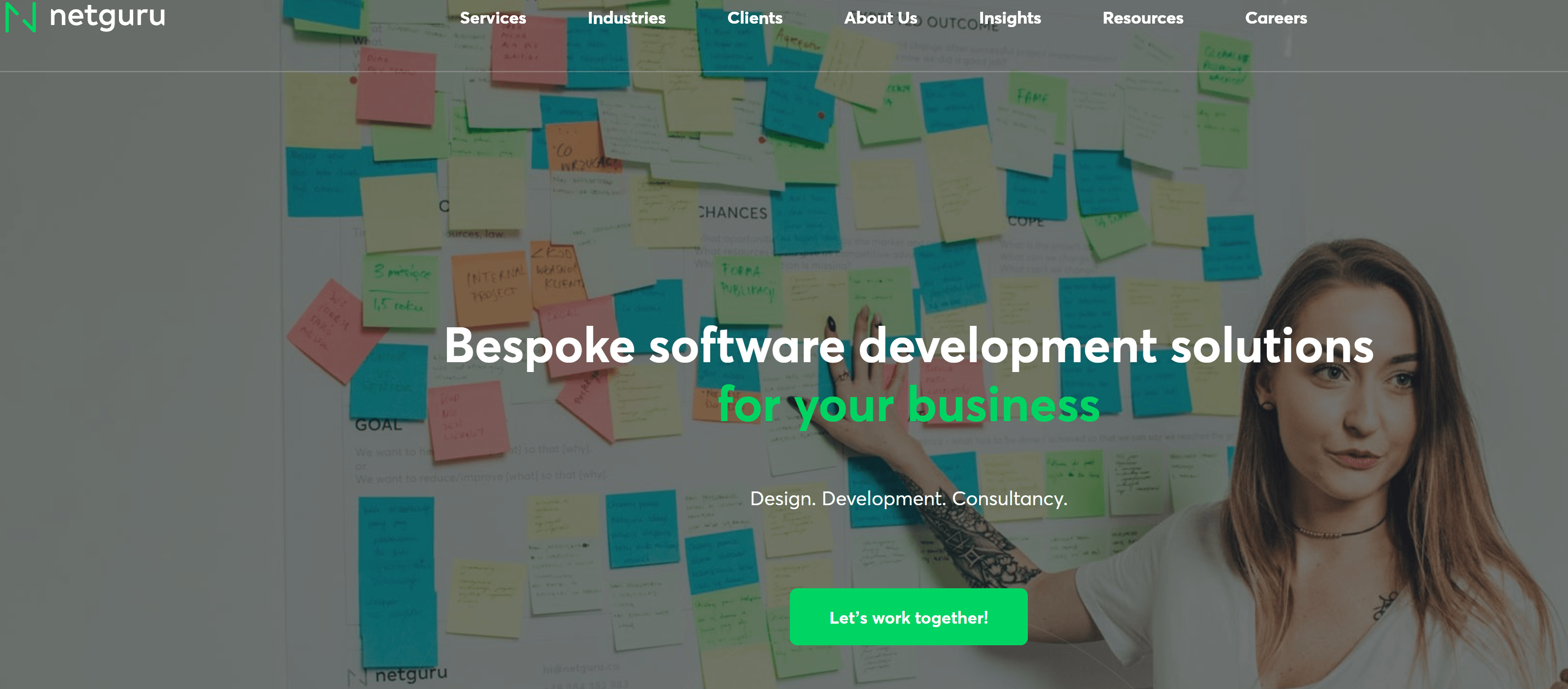 Source: Netguru
Doctor profile lookup
Your healthcare app needs to enable patients to choose the doctor of their preference. A doctor profile lookup section is a critical feature if you offer virtual healthcare appointments. Apps can find doctors within a city, check for pharmacies, or even find a list of hospitals and compare services.
With this feature, patients can look up their credentials and choose the doctor they like based on their experience. You can add additional features such as geolocation that can help connect with doctors nearby and more.
Essential features
Your healthcare app will need to offer a lineup of essential features that the app can't function without (and that users expect to see to take you seriously).
The MVP is the minimum standard to showcase your product to your target audience, and the features must fulfil the most critical functions of medical and fitness apps.
These are the essential features your app needs to have:
1. Reminders and notifications
2. Symptom checker
3. In-app chat
4. Patient community
5. HIPAA compliance
6. Remote diagnosis features
7. Integration with medical devices
8. Health dashboard
9. Prescription tracking
10. Access to medical records
Focus on healthcare app features that provide the greatest value to your customers at all times. Gather feedback, let users tell you what features make sense to them, and then implement the changes when possible.
Healthcare app developer example

Source: Light IT
Advanced features
Advanced features are optional, but they allow your medical app to offer more value to users. Advanced app features include the following:
1. Wearable device integration
2. Cloud support
3. ML (machine learning) integration
4. EHR integration
5. IoT functionality
6. Multi-device support
7. Live video consultation
8. Use of blockchain technology
9. AI support

10. Health activity tracking
Of course, the more advanced features you add, the higher the cost of the healthcare app's development. Keep this in mind when deciding your overall budget.
How much does it cost to develop a healthcare mobile app?
Development costs of healthcare apps vary. Below are the average estimates per app complexity:
Approximately $45,000-$80,000 for a mHealth app for a single platform.
Approximately $80,000-$120,000 for more complex apps used across multiple platforms.
Approximately $425,000 for a fully-fledged app for multiple platforms. This includes the pre-build, development, and maintenance phases.
Companies in Eastern Europe charge around $70-$150 per hour. On the other hand, developers in the USA charge over $80-$250 per hour, as you might expect.
You'll also need to factor in the costs associated with being HIPAA compliant, which are typically around $10k and above.
On average, healthcare app development will cost you between $45,000-$150,000, but this depends on the app's complexity. It's worth contacting a healthcare app development company for an estimate first.
How can I benefit from healthcare app development services?
Partnering with healthcare app creation companies allows you to create customer-friendly apps that enable users to track their daily medical data and schedule appointments when needed.
These developers let you take advantage of the significant opportunity available while keeping things as stress-free as possible.
Healthcare app developers can build highly-scalable apps, whether they're fitness apps or dedicated medical apps for practitioners. These development companies create stunning apps that use the latest tech and trends while meeting user expectations.
Healthcare app developer example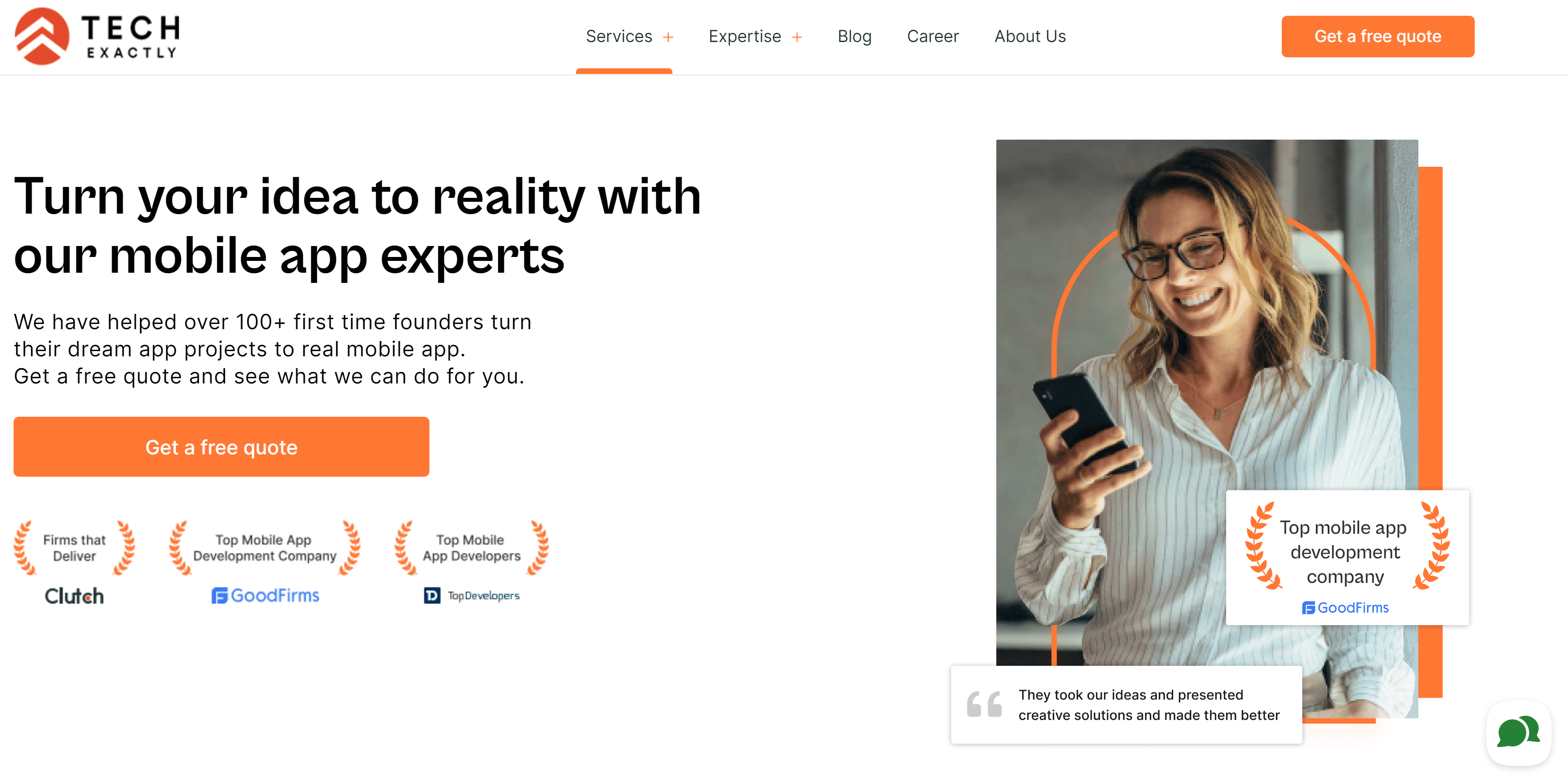 Source: Tech Exactly
Some of the key benefits of healthcare app development companies include the following:
Reduced development and maintenance costs — Healthcare apps get designed using different frameworks, which allow developers to reuse the code for many different medical apps.
Improved functionality and usability — App development companies provide excellent functionality and usability with top-notch healthcare features, such as remote diagnosis, as standard.

Flexible plans

— Custom plans designed to fit all needs, big or small, and typically come with superior scalability for your medical and fitness apps.

Better security — Healthcare apps get built with increased security for patients and practitioners using the latest encryption technology.
Compliance and data management — Better data management solutions that protect patient data and help you stay compliant.
Secure and fast communication — Healthcare apps that can help you reach patients anytime with messages and live video consultations.
If you're planning to develop a healthcare app, getting a free quote from mobile app development experts is usually a good idea–this is especially true if you're a non-developer or a beginner.
Get started with the best healthcare app developers
To recap, the most critical reasons for having a healthcare app are the following:
It can allow for easier communication between patients and practitioners, wherever they are
Patients can keep up to date on prescriptions more easily
You can maintain online medical records and stay HIPAA-compliant
Booking a visit to a doctor can be completed through mobile apps on the go
The use of medical apps has become frequent and widespread for both patients and practitioners
You can provide directions to clinics and hospitals via your healthcare app
There are a number of app development companies that take on healthcare app development projects and have app developers with experience specifically catered to these apps. Here we've put together for you a list of the best.
List of healthcare mobile app development companies