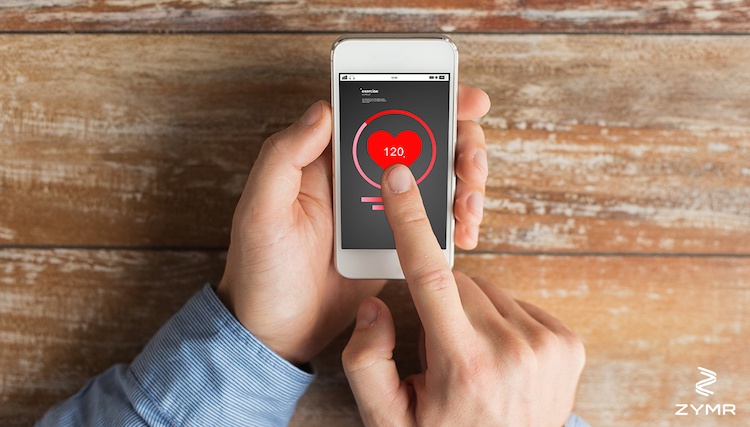 Healthcare in the United States alone amounts to almost 18 percent of global GDP. These amplifying stats, affordability, access, and quality of care among many other things have forced us to ponder upon the possible future that lies ahead for the healthcare industry. Vigorous advancements are being made in the healthcare domain by the tech market dominants to shake up the entire industry.
These biggies have witnessed the healthcare market rife with organizational inefficiencies, ever-rising costs, and customer dissatisfaction, which has, as a matter of fact, turned them eager to crush the traditional healthcare model. From patient-engagement technologies and cloud platforms for healthcare data to hospital smart rooms and artificial intelligence in health and fitness, the mastodons of the digital world have started threatening to disrupt the entire healthcare market.
Lately, the burgeoning market of healthcare has been occupying waking thoughts of big brains running Silicon Valley goliaths. Power players like Apple and Google are no exception to this. In his keynote address in August 2017, CEO Tim Cook gave a glimpse into the iPhone behemoth's vision for healthcare technology. Quite notably, healthcare plays a meatier role in Apple's future. The healthcare market, considering the way it has managed to splurge in such a short amount of time, makes the smartphone market appear smaller in comparison. 
The tale of startups and the upswing in the healthcare technology apps & trends
The remarkable hike in healthcare technology apps released in the past few years has transformed the approach medical professionals and patients use to interact. Needless to say, the healthcare industry has heavily utilized mobile and web space. As we move on to the trends related to the industry, technologies based on the cloud are becoming the norm. Adding to the revolution, the need for businesses and organizations to overhaul their existing digital infrastructure has significantly gone low. Healthcare facilities small and large have started adopting IoT apps at an unprecedented rate, pushing more operational healthcare market to open up for app developers seeking to enhance the way their countries deliver healthcare.  
To sum it up, with interest in machine learning and apps, which can literally perform things like refilling prescriptions and tracking your symptoms, snowballing; and with more physicians and healthcare experts being deployed to assist developers seeking to fulfill the individual needs of both facilities and patients, 2019 is projected to be a BIG year for healthcare app development. The year will unveil the real potential of highly advanced technologies to further improve the healthcare sector by means of more rewarding implementations. 
So are you ready to carve out your niche in the Silicon Valley's new "hot favorite" sector? Go ahead and explore our list of healthcare app development trends that are going to dominate 2019 and find the one that suits your technical know-how and service offering. 
Healthcare app development trends you shouldn't ignore this year
Telehealth: Being proactive, when it comes to healthcare, is useful and can change lives. In this time where everyone is so busy juggling between career, personal growth, and leisure, many of us choose to ignore much stuff when it comes to our health. We schedule an appointment with the doctor mostly when the situation gets out of control or turns "BAD." However, we don't have to wait for our health to go worse for consulting a doctor. With personalized health apps, everyone is now aware of the status of their health without having to undergo much hassle. Right in the comfort of our homes and office, we can now check whether we've started getting high blood pressure, an unusual heart rate, or get reminded of the due appointment scheduled with the doctor. App developers specializing in monitoring and maintenance of health algorithms are making it big in the Telehealth market. 
Internet of Things: IoT trend has become a necessity for this generation. Thanks to the immense benefits. Fitness bands are an excellent example of IoT's implementation in the healthcare industry. This range of device helps individuals get to terms with their health conditions and offers suggestions for required medical/training/therapy sessions accordingly. Tech moguls like Apple, Samsung, and Google are working on various IoT devices along with wearables for improving the healthcare industry. Focusing on IoT healthcare app development will assist numerous activities like enhanced diagnosis, patient's vital tracking, treatment, and maintenance of the inventory, among many other things.
Patient Generated Data: Patients these days want to learn from their own medical/health data and take measures to enhance their lifestyle accordingly. The rising digital tech innovations have turned patient-generated data into a gold mine, i.e., a high-value resource. The amassed data from various consumer health technologies like mHealth apps, in-home medical devices, and wearables are powering customized approaches to patient engagement and healthcare. The patient information is already playing a pivotal role in monitoring patients remotely, and this trend is going to continue in 2019, with a significant focus in the concerns like depression, diabetes, cholesterol, stroke (HIT), and cancer. Healthcare providers are increasingly leveraging data to come up with actionable insights and interact with patients in more meaningful ways as care keeps moving outside of the hospital.

Operations Optimization: Sure there are several out-of-hospital slots for healthcare app development. However, there are just as many opportunities for app developers to help physicians in more meaningful and crucial ways. From prenatal care to surgery, all sorts of medical establishment can benefit from various enhancements in operational efficiency, which machine learning apps can bring. 
Closing the List
The technology aims to connect individuals by smashing the roadblocks and to perk up interactions over time. The global medicine market is projected to become worth the US $40 million (approx.) by 2021. The key to offering a groundbreaking app in any of the healthcare app development trends we've listed above is to come up with responsible and ethical solutions derived from real and valuable recommendations, clinical trials, and medical records, ultimately supporting both clinicians and patients. 
The app developers are going to be a significant part of 2019's push in driving great digital health apps, which will offer clinical care at a reasonable distance, eliminate potential delays for medical practitioners, and increase accessibility on a global scale. At Zymr we see the economic and social value in enhancing the patient experience via our cloud software and app development for the healthcare industry. We deliver premium solution serving arrays of needs like patient apps, clinical apps, EHR integration, health analytics, and healthcare IoT. 
To check out what Zymr can do for your business, contact us at hello@zymr.com today.