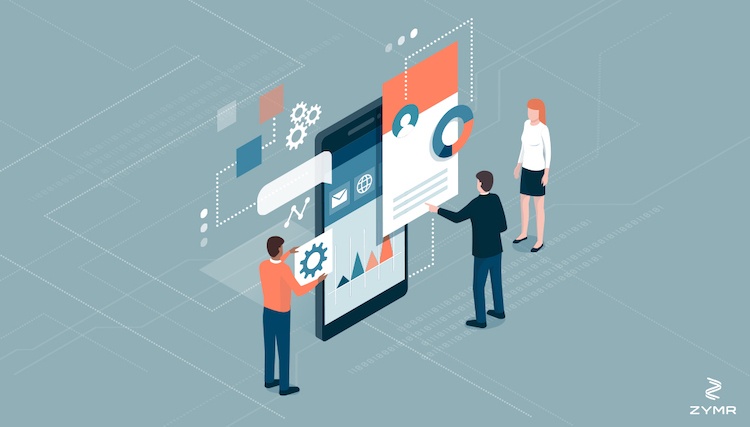 The winning formula for businesses to survive this digital age starts and ends with delivering exquisite user experiences that go beyond the traditional boundaries. Take digital platforms, for instance, businesses either rely on websites or mobile apps to communicate who they are and what they do. 
However, modern users seeking quick access are no longer a big fan of slow loading websites or mobile apps consuming too much space. It all comes down to user experience and excellent web experience for mobile users. Which is why businesses should consider investing in a Progressive Web Apps (PWA).
A PWA is nothing but a website that provides the same look and feel like mobile apps where users can access everything without having the compulsion to download. PWAs can help you with easier development, offline accessibility, smoother UX, cross-platform support, hasslefree updates, push notifications, quick load time, and better engagement rate. 
This blog enlists key examples of PWAs that explain why and how every top-notch company considers PWA to propel growth.
Successful progressive web application (PWA) examples you must know
Uber – Uber has changed the paradigm of the sharing economy with its technological advances. With an intent to delight its tech-savvy commuters, Uber has a PWA which provides its users' quick accessible options (even when they don't have a mobile app).
Bottom Line – With PWA, users can book a ride with a simple click regardless of their network connection, operating system, speed, and device type.
Starbucks – Starbucks's PWA mimics its current native app with essential features to provide fast and responsive performance to its customers. No surprise, why the website users have skyrocketed with PWA.
Bottom Line – The famous coffee house made sure its customers get easy and hassle-free access with great UX and smooth animations even when they are offline. 
Pinterest – Pinterest's popularity and sign-ups continued to drop among millennials due to its poor website experience. PWA turned out to be a perfect solution for Pinterest to regain its popularity and drive revenues.
Bottom Line – The PWA version improved the vital performance metrics, boosted user engagement, and the time visitors spend on the website.
Forbes – The publication giant rebranded mobile experience with a PWA version to increase readers, readership rate, ad viewability, average time on the articles, and scroll depth. 
Bottom Line – The Forbes PWA is highly personalized with a new layout of card stories, offline support, push notification, amazing UI/UX, and add to home screen prompt to increase user engagement.
Twitter – Twitter's PWA significantly re-engaged the users on the mobile web. The social media behemoth PWA ensured users with instant loading times and improved mobile web experience for users by making its website reliable, lighter and faster. 
Bottom Line – Twitteratis can access microblogging websites from any device and any location without getting into any downloading hassles. 
Instagram – Instagram PWA has a web manifest, push notifications, and offers a plethora of functionalities that are available in the native app. The Facebook-owned social media platform is working on a slew of features to provide a seamless experience to Instagrammers.
Bottom Line – With PWA, The users can log into their account from any browser, or add pictures and view stories. 
Tinder – Tinder has swiped right on the web through a PWA version which is simple, and easy-to-use with keyboard and touchpad modes of operation. 
Bottom Line – With PWA, the user engagement is up across the board as the online dating platform encourages its users to swipe more, the message more, and explore the app features for a long period of time. 
Spotify – Spotify, the digital music streaming services stepped in with a PWA to continue to provide superior listening experience to the listeners. With PWA, the listeners couldn't get enough, just like the mobile app.
Bottom Line – Spotify PWA provides a native look and feels and exceptional user experience for desktop users where accessibility, speed, functionality, and responsiveness are in its optimal quality.
Telegram – Telegram's PWA is quite sophisticated in providing a lightning-fast experience to its users and similar functionality just like its native mobile app version does. The cloud-based messaging service PWA is a brilliant extension to those who want a transition from small screens to keyboards.
Bottom Line – Telegram users skyrocketed with the PWA version that has made messaging simple, secure, and synced across all devices.
Wikipedia – When it comes to information, every reader wants to stay updated. Wikipedia PWA offers excellent user experience with offline access and automatic updates (when readers go online). 
Bottom Line – Wikipedia witnessed an increase in readers, readership rate, average time on wiki pages, and readers redirecting from one page to another. 
BMW – BMW, the German multinational automotive manufacturer, is the first luxury car brand to invest in m-commerce. The PWA offers robust loading speed and provides valuable content to the potential buyers. 
Bottom Line – BMW experienced an increase in online audience clicking from BMW.com to a BMW sales site and growth in mobile users. 
To wrap up
PWAs are called progressive as they garner the best of both the worlds i.e., website and mobile apps. With a PWA, you can gain up to 12x more users and help users save up to 300x storage space. The much-hyped future of the web can be effectively built using the React framework. ReactJS is a JavaScript library that can develop UI for PWAs and improve SEO as well. Startups are quickly catching onto this powerful mobile tech to revolutionize mobile UX as PWAs have become the epitome of digital services delivered in a sophisticated way.
Zymr cloud app development services take care of architecture, virtualization, and database – quickly and uniformly to bring your core idea to life, test it with real users, and show it to real investors. With a team of highly qualified engineers who strategize and streamline early learning, lean development, and initial launch, we have got your back in creating an exquisite application that can help you ace the competitive landscape!