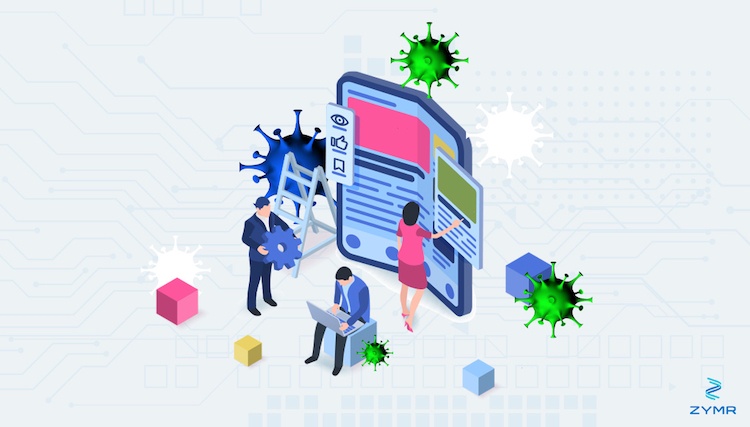 At a time when social distancing has forced individuals to stay within the premises of their house, mobile applications have come to the rescue. Apps are making sure that the lockdown doesn't cut people off basic necessities like groceries, etc., and in fact, has made it easier for them to shop and get it all delivered at the doorstep right away. As per the WHO experts amongst others, it's quite evident that this pandemic is not something we'll be able to get rid of so soon. Life as we knew it no longer exists. Now it's all going to be about social distancing. However, the good news is that mobile apps can engage, educate, encourage and entertain to help everyone cope with the pandemic. 
While every business has hit the rock bottom due to unforeseen shutdowns, mobile apps have arrived  as the knight in shining armor for people. What are the chances to have a successful work from home without Zoom, Skype, Slack, or such enterprise apps that have been making it easier for us to work comfortably well despite being home? Almost none. Moreover, think about a day without binge-watching favorite shows on Netflix or Amazon Prime. Or running out of supplies and not having grocery apps to the rescue? To be honest, it's difficult to imagine and that's the power of mobile apps. It has made everyone's lives so much easier and hassle free that we cannot imagine surviving  without them especially amidst the scenario of self-quarantine. 

Top 6 Mobile App Development Industries Whose Growth Soared High During The COVID-19 Crisis
Grocery Apps
One could survive without anything but grocery. Grocery apps top the list because during the pandemic-induced scenarios, people find it quite reluctant to step out of the home and go  grocery shopping, worried that they may accidentally come under contact with someone infected with virus, However, grocery apps are evolving to keep up the pace with onslaught of demand and to feed people in the safest ways. The most popular grocery apps like Walmart, Instacart, Shipt, Target, and H-E-B experienced a startling amount of downloads amidst the global crisis. Grocery apps have undergone a breathtaking metamorphosis from merely being a choice to becoming an absolute necessity during COVID-19.
Educational Apps
Education sector is no exception to what the entire economy is going through. While education institutes are closed, online education apps and e-learning have gained a huge momentum among faculties and students. Every institution has tapped digital platforms to arrange online classes for their students to make learning uninterrupted. E-learning platforms help teachers to teach their students remotely, and communicate with them over live video chats. Educational apps like edX, Alison, Harvard University mobile app etc., are helping students from all around the world to get uninterrupted education. Institutes are conducting online lectures and webinars to help students hone their skills with video apps such as Zoom, Skype, Google Duo, WhatsApp, and Facebook Video calls.
Healthcare Apps
In a sensitive time like this where everyone is worried about their health, healthcare apps have appeared as a blessing in everyone's life. As our physical movements have reduced drastically, healthcare apps like medical care apps, fitness apps, mental health apps are helping people to keep their sanity intact by keeping us physically healthy. Online fitness programs guide people on benefits and types of exercises, how to meditate or do basic yoga to keep healthy while staying inside, the importance of a balanced diet etc. On-demand doctor's apps provide prompt consultation, guidance on medical sample tests, e-prescriptions, and with medicine delivery. People can consult top-notch doctors over medical apps to discuss their symptoms and diseases to get a better understanding of their health and withstand panic situations.
Social Media Apps
Social media apps play a paramount role during social distancing by facilitating everyone to connect with one another and let everyone stay updated on what's buzzing in the world. Social distancing has  reportedly shot up the social media activities. Popular social media apps like WhatsApp, Facebook, Instagram, Twitter, Pinterest, Reddit, Snapchat, Tik Tok, and Tumblr have witnessed a steep hike in the active user base. Engagement on social media platforms has increased manifold as everyone is chatting, sharing, and posting more than ever before. From celebrities to influencers, and entrepreneurs, everyone is contributing on social platforms to motivate, entertain, educate and gear up the folks to withstand the pandemic by helping them tap into their creative self. 
Entertainment Apps
Binge-worthy entertainment apps help people to slash boredom. In the backdrop of pandemic, entertainment apps like Netflix, Amazon prime, HBO Now, YouTube, Spotify, Google Play Music, Snapchat, IMDb, Scrabble GO, etc., have noticed an amazing spike. Kids are engrossed in gaming apps to engage themselves and have a little bit of fun under these critical circumstances. Adults are engrossed in news apps to stay updated on what is happening nearby and across the world. News apps like CNN, BBC News, Google News, etc., have got more traction than ever before as people are worried and curious about the latest happenings around the world. They want to know what government and healthcare authorities are telling them to do and to learn more  about precautionary measures as well as to understand how the entire world is coping with the crisis.
Digital Payments Apps
Digital payment, online payment, and e-wallet apps are thriving in the season of COVID – 19. People who are reluctant to visit banks for financial transactions are resorting to digital payments apps for funds transfer. Along with banking apps, the usage of Google pay, Paypal, Venmo, Square Cash, Zelle, Alipay, etc., has increased manifold to seamlessly make payments. FinTechs and mobile app development companies are also working towards powering mobile payments keeping security and robustness under consideration. With instant payments, real-time transactions, Digital payment apps and e-wallet apps have played a crucial role in COVID – 19 pandemic. 
To Conclude
COVID-19 disruption has unleashed the real potential of digitalization which is evident to everyone. After all, who wouldn't cherish DIY tips, a workout video, an educational webinar, instant messaging, virtual happy hours, ordering stuff and making payment with just a fingertip so on and so forth? Social media and entertainment apps have played a massive role in uniting individuals by keeping them connected and joyful while the virus was all set to divide them. Said that, as the brick and mortar model experienced an unexpected slow down amid the crisis, the predominance of digital businesses with solid mobile apps have increased manifold. Businesses that have identified the pain points of people and leveraged digital platforms to cater the needs of people will come out even stronger once the pandemic gets over. The global economy is ready to take off by embarking on a digital transformative journey triggered by the Coronavirus disruption.
Take users by storm and unlock more business value with futuristic, brand-oriented, user-friendly, and highly advanced mobile app development services developed by Zymr.