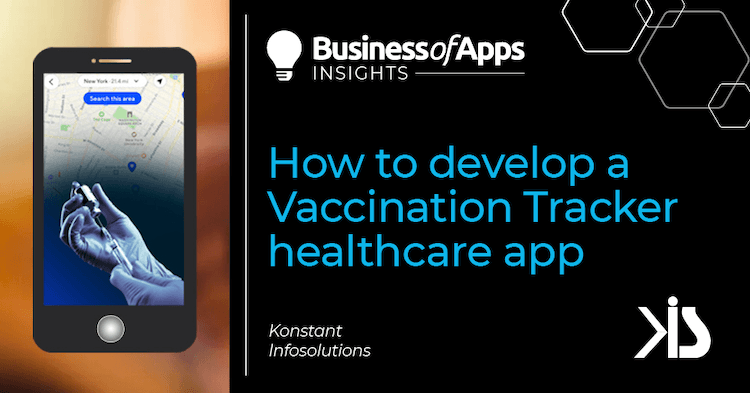 Apps to schedule/track vaccination help them follow the prescribed schedule – know the cause vs. effect of having mHealth apps tracking vaccination on stakeholders!
Missing immunizations? Is it the complex combination of dosage? Or the shortage of time that makes you frequently forget the vaccine dosage? Is it that you're too occupied with work? Or is it the convenience of smartphones that makes you peek into it every alternate second?
Introduction to Mobile Health
Mobile health (mHealth) apps have recently come into being for public health concerns and immunizations for low-medium income countries. Either people are too reluctant to adopt mHealth programs or are critical to embedding digital technology into mainstream health systems. Immunization tracker apps aim at qualitative experiences of frontline health staff and engage real-time digital technology to cover routine immunization.
How does a vaccine tracker app work?
Vaccine tracker apps are especially suitable to remind parents about tracking the vaccine dosage of their children. They need to create the patient/child's profile, add details about the ailment, add the medication with dosage, and set the reminder. It notifies about an upcoming appointment with the respective healthcare provider. Apps to track vaccination are scientifically proven and safe. Following vaccine tracker applications saves time, effort, and a number of visits to the medical specialists. It gives you a sense of control and peace of mind regarding your family's health.
Prerequisites
Patient's history
Dosage of medication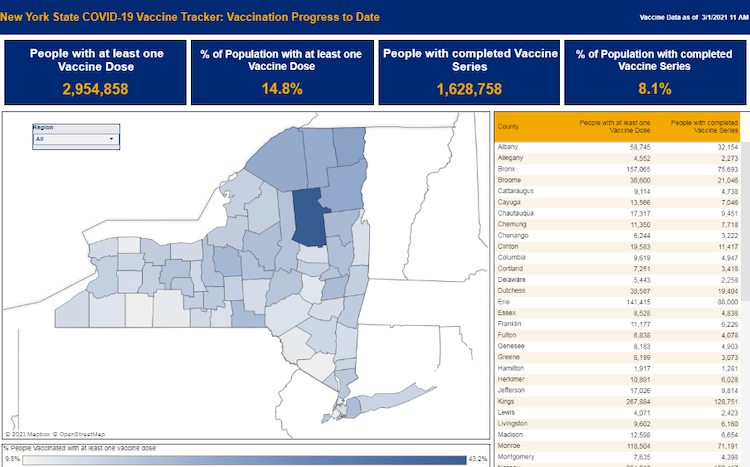 Source: NY state COVID-19 Vaccine Tracker data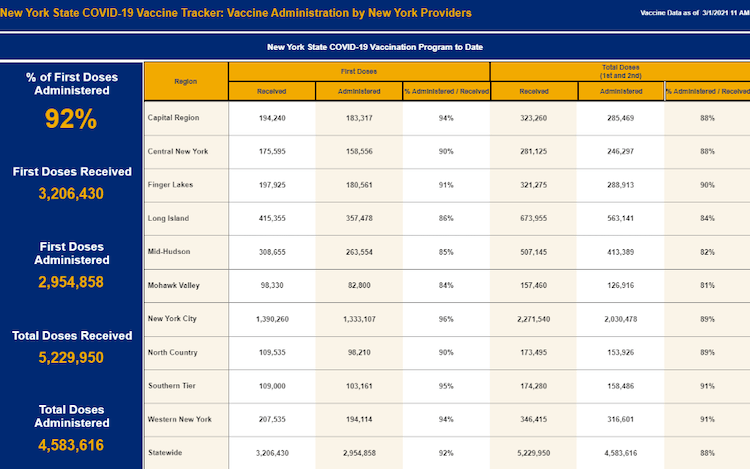 Source: NY state COVID-19 Vaccine Tracker data
Features of a Vaccine Tracker app
To track a child's vaccination.
To track vaccination chart and schedule.
To get email reminders before the shot is due.
What else does it tell?
It lets you know about:
Upcoming hospital worker vaccinations
Long term care facility program
Vaccine dosage allocated across the state
Vaccine demographic data
Know about state health authority's vaccine distribution plans
Eligibility and availability of vaccinations
Desired features in a Vaccine Tracking app
Dashboard
Administrator Panel
Patient's Window
Management of Vaccination/Medication
Push notifications
Scheduling Vaccination/Medication
Sharing with family
Saving favorites
Contacting healthcare professionals
Related Topic: Telemedicine App Development: Features and Cost Update
Prerequisites to create a mobile app to track immunization
This app is based on iterative methods to examine the:
Acceptability and operability of the app
The validity of the collected data
Use of the collected data
Technology stack to create a mobile app to track immunization
Java, Kotlin with Android Studio for Android App
Objective-C, Swift with Xcode for iOS app
PhoneGap, Ionic (plus Cordova), a vast number of libraries, predefined templates, and good compatibility with external tools for hybrid app
Challenges that digital immunization Tracking apps face
The time required to complete digital and manual entries gets doubled.
Outdated phones do not support the newer versions of such app.
Must Read: Prefer Female Health Tracking App to Offer Levity with Those "Goofy" Times
Summing it up – how can an app track immunization digitally help?
Real-time immunization data is useful in monitoring vaccination volume, track children with incomplete vaccinations, correct existing micro-plans in digital health, develop outreach visit plans and disburse a fuel allowance for outreach sessions.
Mobile applications track immunization data digitally better-off than manual records. It is easy to operate and is personally recognizable. It comes with links to field support, giving a sense of empowerment.
These improve coordination, transparent data access, a knock-on effect of an expanded program for immunization review platforms across all stakeholders through digitalized data.
Digital technology and mainstream health systems integrate to enable both the end-users and district stakeholders to operate with ease and satisfaction. This app comes with data reliability, links to field support, empowerment, and personal recognition.