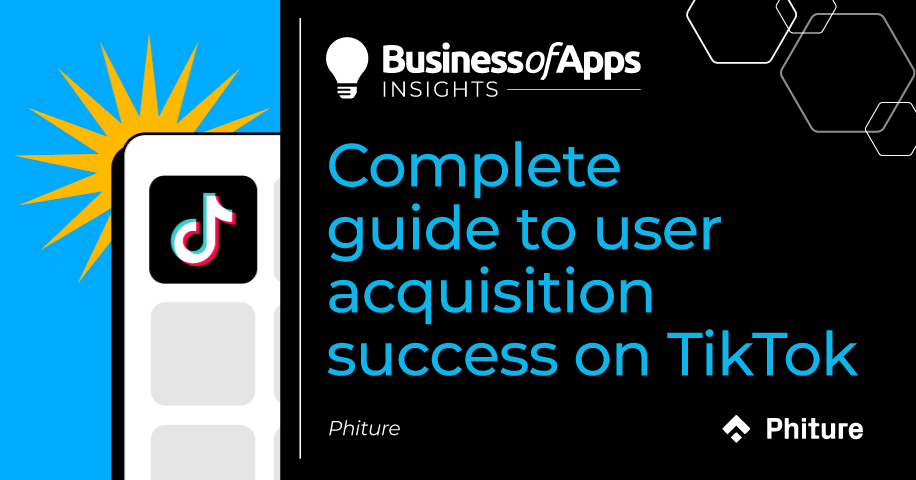 Since its initial release in 2016, TikTok has only grown in popularity. What was once an up-and-coming platform for teens and younger content creators, is now a major consideration in many managers' marketing plans. Latest reports show that TikTok may not have its 'platform for the younger generation' reputation for long. TikTok themselves say 26% of US users are between the ages of 25 and 44.
TikTok has always maintained they are a content platform and not a social media platform; clearly focusing on pulling in new creators through initiatives such as the 'TikTok Creator Fund.'
To date, TikTok's 1.4 billion users can swipe through a plethora of content ranging from trainspotting to crypto-currency, real estate and make-up tips. Add to this the fact that TikTok is much less expensive than other social media platforms (yes, we are calling TikTok a social media platform here), marketers who don't consider it in their performance marketing are missing a big ROI opportunity.
Phiture regularly works with clients seeking to boost Performance Marketing metrics and connect target audiences with paid social advertising campaigns. Through iterating and implementing creative social media ad concepts for our clients, we have been able to identify a number of advertising opportunities available on TikTok in particular. By testing out a few different strategies and frameworks, we have managed to unlock even more ways for our clients to win big on the platform.
This post was first published on phiture.com.
Below is a list of the top 15 tips Phiture has found to help you improve your own campaign activities on TikTok. These tips relate to key activities found within the TikTok Growth Stack.
Phiture's TikTok Growth Stack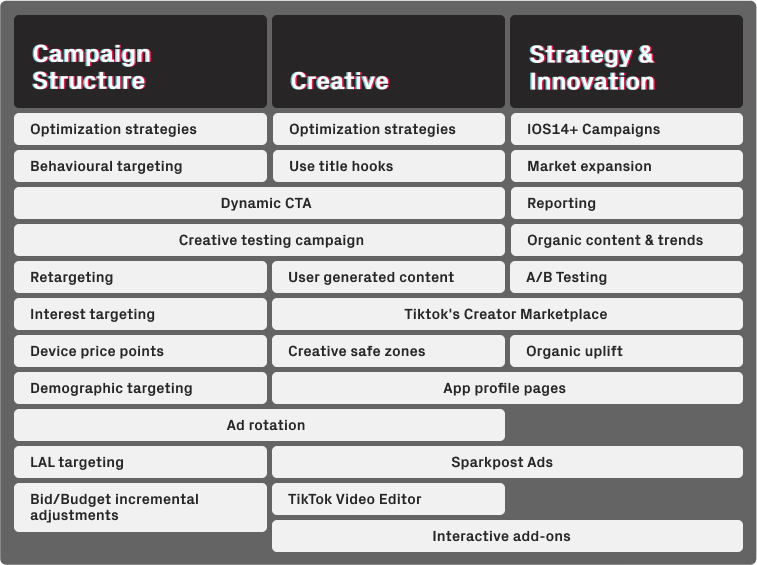 Source: Phiture
Create native TikTok ads
If you want your ads to be accepted by the TikTok faithful, they need to be made for TikTok in particular. Here at Phiture, we've run tests with top-performing content taken from other channels and compared them with TikTok native content, and guess what? The native content won. Go a step further by leaning into a UGC (User Generated Content) focused strategy for your ad creatives for better results.
Grab attention with text hooks
We all know that attention spans on apps are short at the best of times. With so many creators to choose from and an interface designed to move users on to the next visual, you need to act fast. Use hooks at the start of your video (the words on screen at the beginning of the video). It's a tried and tested way to grab attention, and makes your content look and feel native to TikTok. Need an example?
At Phiture we're well versed in getting the most out of creative assets. Creative Support is one of the main pillars of our social media Performance Marketing offer. We come up with creative concepts and develop visual assets, then test them using an iterative approach until we find the winning formula that maximizes your ROI.
Explore the TikTok Creator Marketplace
Yes, even the new kid on the block has its own creator suite. This tool for businesses helps marketers reach out to content creators and generate partnerships for your next UGC ad campaign.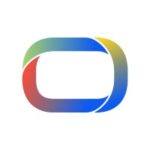 Keep ad campaigns separate
We have found that organizing ad campaigns correctly can contribute to a much clearer overview of ad success. For example, use a dedicated campaign or ad group when testing your creatives, then set up a separate group to house your winning content. Not only will this give you a strong segmented view of what works, you can also keep track of budget split between your 'always on' ads and your test ads. Naturally, you should change your creatives out every so often to avoid ad fatigue, which can kick in a bit earlier on TikTok than on other platforms.
If you want to plan for the efficiency of TikTok creatives, Phiture has developed a framework to test creatives, identify opportunities for creative wins, and subsequently iterate campaigns to capitalize on the best performing elements.
Keep an eye on ad rotation
Ad rotation is the number of times your ads within an ad group are shown. TikTok's ad rotation practice is not an exact science, often rotating ads unevenly. This results in certain ads being shown more times than others. Unfortunately, this can lead to some ads not getting the attention they deserve, while others work their way through the allotted budget quicker. The best way to tackle this is to keep a close eye on the frequency your ads are being shown.
Safe zones are the areas in which your content will be visible on screen. Content overlapping with these safe zones will not be visible to the user. Be aware that TikTok has different safe zones than Snapchat and Meta-owned platforms. This is another good reason to create TikTok native content.
TikTok safe zone
Source: Phiture
Campaign setup and optimization is something which can take many months to truly get to grips with. Phiture's industry-leading Performance Marketing experts can help here, with over 10,000 hours of combined experience to draw from. Our consultants structure your campaigns with clarity and transparency and carry out smooth, accurate analysis to optimize efficiency.
Experiment with TikTok's Video Editor
The TikTok Video Editor is a very handy tool to further enhance your content for a native look and feel. There's also a commercial music library users can browse to give videos an added boost.
Leverage the power of CTAs (Call-to-actions)
Adding a call to action not only encourages users to learn more about your offer, but also helps TikTok determine which of your ad campaigns perform better. TikTok then favors the most effective CTAs to your chosen audience.
TikTok CTAs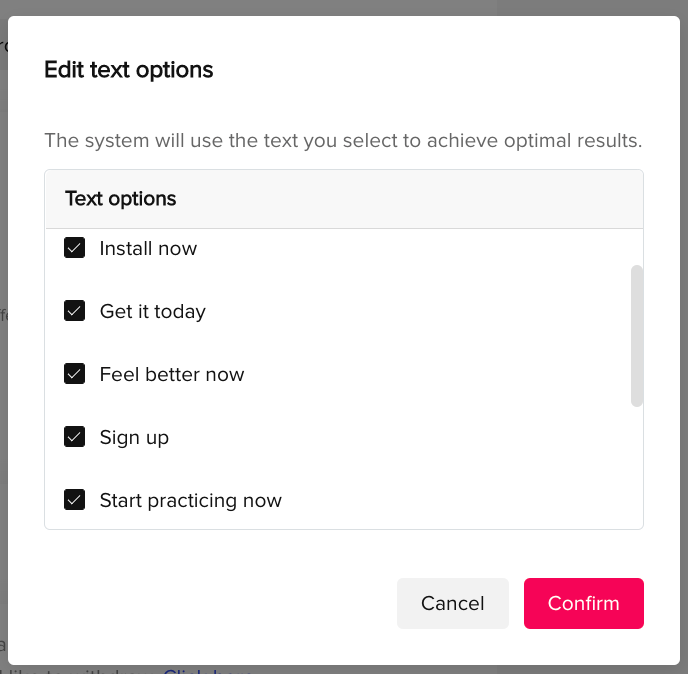 Source: Phiture
Take advantage of Spark Ads and collaborate
By working with TikTok Spark Ads, you can repurpose your best-performing TikTok content as paid ads. Additionally, you can collaborate with other creators to build paid ad campaigns for your brand.
Consider your iOS strategy
In a post-iOS world, we have seen major delays in iOS data. If you are planning on running iOS campaigns, we have a couple of additional recommendations:
Firstly, make sure you have enough budget to pass the iOS privacy thresholds.
Secondly, don't make decisions too quickly. Look at larger date ranges to evaluate performance when accounting for data delays. Additionally, keep an eye on organic uplift in iOS downloads, especially when working with large budgets. Organic uplift can be measured by observing the increase in the average number of organic installs during a newly launched paid campaign.
Don't change bids too much
At Phiture, we have worked with numerous performance marketing clients over the years, and have developed a good instinct for when to optimize campaigns. Once a campaign is launched it is considered to be in the "learning phase", where gathering learnings is the priority. If a campaign seems to be underperforming, it may be tempting to adjust the budget. However, doing this would reset the learning phase and be more costly in the long run.
Knowing how to correctly read the results of your campaigns is possible in-house, but if you do go the 'learning by doing' route, it can be time-consuming and costly.
With Phiture you receive monthly check-ins to keep you informed about upticks and downfalls in your core metrics, the impact of the competition, and the conversion impact of our experiments. We also share reports that outline key metrics, learnings, and uncover opportunities for future growth.
Phiture's targeting options for TikTok audiences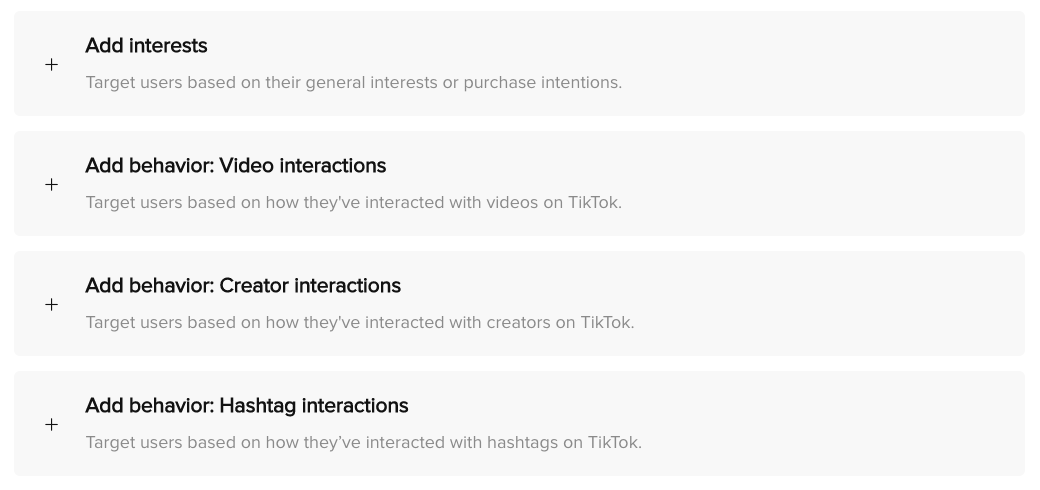 Source: Phiture
Consider targeting by Price Points
TikTok provides the possibility to target users within a certain range of price points. This opens up the option to target high-end Android devices. It is generally accepted that these users will have a higher LTV (Lifetime Value).
Use App Profile Pages
Those who are considering running install campaigns on iOS14 may find the following option interesting. App Profile Pages allow advertisers to direct TikTok users to a specific app profile page. The page then collects information from the AppStore such as name, description, images and ranking. It is also possible to customize some aspects of the page, giving you the opportunity to iterate your offer or CTA.
Keep up with the updates
At this stage in its life cycle, TikTok is an ever-changing platform. It's important to keep up with the latest developments, especially in performance marketing. Two important updates app marketers should keep an eye on are:
A crypto test in a few countries, where a whitelisting process is in place to allow advertisers the option to advertise certain Cryptocurrency products.
Over the next few months, TikTok will be switching to a self-attribution system rather than relying on a 3rd party (MMPs).
Conclusion
Although TikTok maintains they are not a social media platform, they are quickly building out an advertising offer and potential ROI for customers to rival platforms twice their size and age. Not only for the younger demographic, TikTok should be a serious consideration in all mobile growth marketing plans going forward.
The ideas laid out here are meant as starting points to improve your own TikTok campaign results. The performance marketing experts at Phiture are constantly experimenting with what's next in social media and content marketing. Reach out to us if you're curious to learn more about how we can unlock the potential of your TikTok ad campaigns together.
What next?
Learn more about the social media landscape, and omnichannel approaches to User Acquisition, by Lorenzo Rossi, founder of Mobile Marketing Italia.
Explore our guide to systematic creative testing for app campaigns.
For a theoretical overview of brand awareness campaigns, with a specific focus on planning effective campaigns and optimization, take a look at our guide here.