It would be right if we say those starting days of parenthood, with your tot, seem to pass in a blur, as the postpartum period demands equilibrium of your life with a new member despite endless crying, changing hormones, that's a rather tough job. 
You need to hold a backup that may back you in every aspect and help you with keeping track of your baby's feeds, diapers, and naps, connect you with the other parents, share their photos with your families and friends, and a lot more. Besides, you need to be well-stocked with enough naps. Resultantly, this will help you stay updated while feeding and rocking with your baby. 
Allow us to let you know about that backup, a companion who will assist you in taking care of your baby. It's the baby tracking apps. Yes, you read it right; there are various apps available in the market that will help you track your baby's development and a lot more. 
This post will reveal the names of the best baby apps. Before that, we will clear our thoughts about a baby tracking app.
Now, let's start without any delay. 
What Is Baby Tracker App and How Does It Work?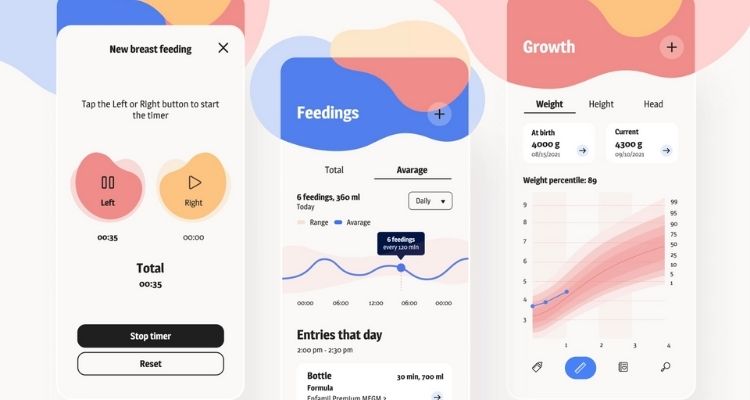 Well, the tag says it all; still, let's dig more to understand better. 
A child development app offers a seamless experience to the users, especially the new mothers, to track every piece of information relevant to their babies. This way, they can easily share details with the pediatricians and record memorable milestones of their babies and share with their family and friends. This way, the exhausted mothers get a buddy that can handle every important detail of their babies and facilitate them to enjoy their motherhood.
What are the benefits of using a baby tracking app?
Crafted by busy parents, for busy parents, the best baby tracking app comes with a simple way to track your babies' routine habits and record their exciting "firsts" that reserves a special corner of your heart. This way, you can relive those priceless early moments with your tiny one.
With the best newborn apps, you can record your baby's diaper changing time, feedings, sleeping patterns just by a single tap and freely go back to add other details and even photos later. 
Furthermore, the baby tracking app offers you a place to track and log information about doctor visits, diaper changes, weight, height, sleep, and more. More features embrace a timer, growth, nursing progress, etc. 
List of best baby tracking app
We have picks the best baby apps holding unique features, and more to assist you in finalizing the baby milestone app.
Available On: Google Play & Apple Store
Offers in-app purchases
Rating: 4.5 
While taking care of the baby, a new mom misses operating her baby's mealtime, bottle feeds, baths, and more.
Here arrives a baby tracker app, which helps the users by creating graphs, timelines, reports depicting your newborn's eating habits, and a lot more. 
Best Pregnancy Tracker: The Bump
Available On: Google Play & Apple Store
Rating: 4.8 
With the baby development app, you can monitor your little one from the starting only when they start growing within you. Also, it includes various fun features, such as baby name inspiration, baby's size comparison, weekly photos wall, etc. 
Available On: Google Play & Apple Store
This app is free and easy-to-setup that aids you in tracking a baby's growth, nursing progress, doctor's visits, diaper changes, and more. It comes with handy location tracking, which helps you remember the feeding spots of your baby, like work, home, etc.
You can even chart your tot's nursing progress and related doctor's appointments, potty breaks, and much more. Moreover, mamas can record their milestones using the in-built photo, sound, and video features. 
Best Baby Tracker: Glow Baby
Available On: Google Play & Apple Store
Contains ads, Offers in-app purchases
Rating: 4.3 
Being a parent, you will always like to capture every data relevant to your little one's feedings, solid food, sleep, diaper changes, naps, etc. 
This app allows the users and their partners to log their baby's info and offers engaging growth charts and personalized summaries. Moreover, the mothers can connect with the community on the app and discuss their queries. 
Available On: Google Play & Apple Store
Contains ads, Offers in-app purchases
Rating: 4.7 
This baby feeding app records every last move of the babies, whether it's his breastfeeding session, diaper changing time, and comes with various options for appending vital notes to record the irregularities, etc. 
Mamas blessed with twins or triplets can also use this app to get each baby covered using multiple baby profiles. Even the mothers get a chance to sync up with their helper's account or husband to let them be informed for every moment of the day. 
Best Baby App for Developmental Activities: BabySparks
Available On: Google Play & Apple Store
Offers in-app purchases
Rating: 3.9 
Well, besides tracking the routine jobs relevant to your babies, you also need to think about the parent-child activities that may help develop your child's brain. 
These apps come with varied tips for parent-tot activities altered as per the baby's age and stage lying between the ages 0-3. You will catch up with the details on the changes in your tiny's brain during the activities. Also, you can track and store their development milestones. 
Available On: Google Play, iPad, & Apple Store
Offers in-app purchases
Rating: 4.3 
The best baby app, Baby Connect, permits moms to craft an online baby tracker that can let them stay remotely updated with their helper, parent, husband, etc. 
Holding various options, this application helps record nursing time, mood swings, diaper changes, milestones, etc. Moreover, this app can prove to be your in-app messaging tool also. 
Best Baby App for Development Tracking: The Wonder Weeks
Available On: Google Play & Apple Store
Offers in-app purchases
Rating: 4.5 
Many parents appreciate the Wonder Weeks app as it assists them in figuring out the reason behind the changing mood of their babies. Also, this app offers their parents the information of every second and way to stimulate and soothe their babies. 
Available On: Google Play & Apple Store
Contains ads, Offers in-app purchases
Rating: 4.7
This baby tracking app reminds the mamas which nursing side they need to start with next time. You just need to tap the big buttons offered to record the time of your baby's feed. Even your partner may log in to the same app from his phone to get synced up and know when to feed their baby the next if you are not with your baby. 
Best for Sleep Help: Dream Lab by Owlet
Offers in-app purchases
If you are a parent of the tot aged between 4 months till 12, you can sign up for this fantastic service for your baby. You will get sleep plans, access to email support, video tutorials, and a lot more which will connect you with backing from certified sleep experts. 
Available On: Google Play & Apple Store
Rating: 4.6 
One of the top child development apps, Sprout keeps you covered from the fetus to your baby's first step using an easy-to-use interface and outstanding capabilities, such as the doctor visit planner, multiple child profiles, routine tips with pregnancy, and newborn trackers. 
Best Baby Apps for Finding Care: Sittercity and UrbanSitter
Available On: Google Play & Apple Store
Both UrbanSitter and Sittercity permit you to browse the babysitters' and nannies' profiles for hire. Even you can post a job listing and facilitate caregivers' responses. You can even go through the background checks and read reviews from other parents before booking. 
Baby Tracker by WhatToExpect
Available On: Google Play, iPad, & Apple Store
Rating: 4.8 
You can get guidance for your parenting journey through What to Expect apps, from preconception to pregnancy until your tot turns one and older. 
It's a customizable baby tracking app that allows recording baby's feeding, sleeping, changing diaper patterns, etc. You will also get a recommended vaccination list, and parents with more than one child can add their profiles as well. 
Best Baby App for On-Demand Medical Care: Blueberry Pediatrics
Available On: Google Play & Apple Store
Rating: 4.9
Well, all the parents, especially the new parents, emerge with various medical questions and issues related to your baby. It's not like you should rush to doctors for every query. Still, if you want, Blueberry Pediatrics comes up with 24/7, live virtual access to doctors. They are always available to connect with you whenever you need, even in the middle of the night. They send prescriptions, diagnose, or guide you with the next steps. 
Best Baby App for Finding Activities: KidPass
Available On: Google Play & Apple Store
Rating: 4.1 
While keeping track of your baby, you can catch up with local mommy and me yoga classes, music classes, "sign and song" sessions, and a lot more with this app. 
Available On: Google Play & Apple Store
Rating: 4.7 
It's quite an exciting job to track your bumps. Also, comparing the growth to an everyday object is better. That's why one of the most-loved apps, Ovia, is widely used by expecting parents. This app offers you a personalized experience with regular articles for your pregnancy and the baby stage.
Cost for developing an app for tracking your baby's development
The app development cost ranges from $10,000 to $150,000 and too depends on app complexity.
Besides, various factors also affect the cost of baby tracker app development, like
The complexity of features
QA phase
Number & complexity of 3rd party integration
Development process
Size and level of the development team
The number of functions and features, etc.

 
Conclusion
So, as you can witness, the baby tracking app is much popular and in-demand. If you are also planning to develop a baby tracking app, you can move ahead and convert it into a real app. Such apps will help you grab a considerable market share and increase your revenue. 
Well, developing an app may sound easy, but it demands the required skills and experience. You can connect with a mobile development company to help you with every aspect of developing an app. 
If your company needs a mobile app, hire an app development firm like Emizentech. Every excursion demands the necessary materials in order to be successful. So, get started straight now on your app development experience!
At Emizentech we are proficient at creating unique mobile apps. You can reach the company at the following mail.