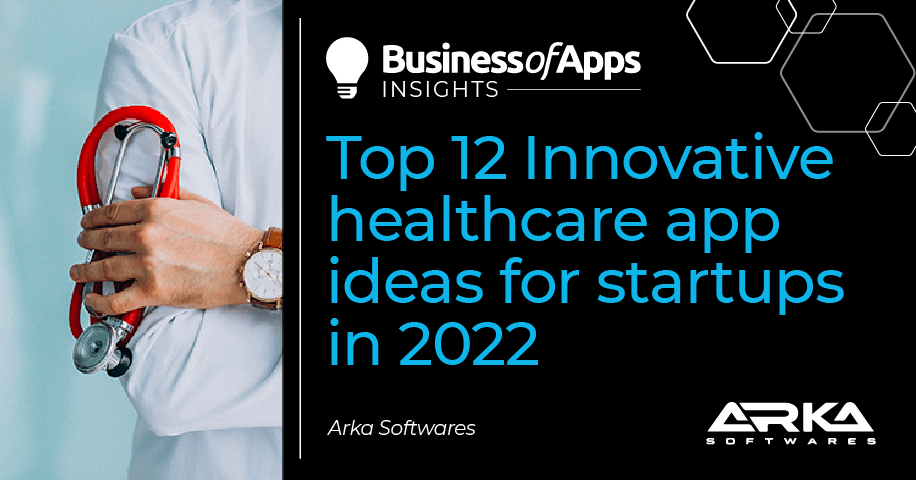 Technology is paving the way to modernize our lives, and aggressive adoption of innovative problem-solving methods is just one of the many harbingers of this change. People are leveraging modern technologies and gadgets to perform their day-to-day activities, and this has been accelerated with the usage of advanced applications that are offering unconventional ways to perform a specific set of functions.
Healthcare is one such domain where apps have enhanced patient convenience and engagement. We can see how healthcare apps are transforming the way medical services are provided in terms of treatment, prescriptions, consultations, etc.
As per market research conducted by Fortune Business Insights, the healthcare apps market size was $24.93 billion in 2020, and it could reach $314.60 billion by 2028 by fetching an astonishing CAGR (compound annual growth rate) of 34.8%.
The size of mHealth apps market in North America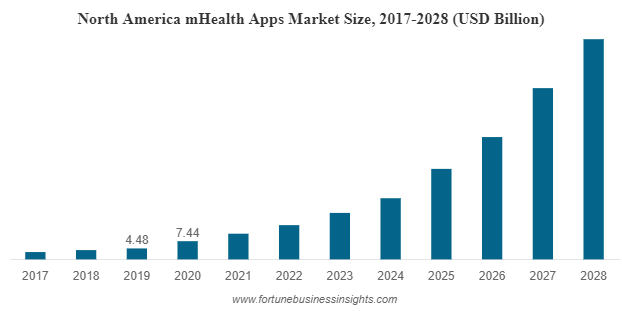 Source: Fortune Business Insights
The spending on healthcare services is increasing; for instance, the USA has spent a whopping 19.7% of its overall GDP on healthcare in 2020. It shows how governments, organizations, healthcare service providers, and mHealth entrepreneurs across the world are investing heavily in healthcare-related technologies.
In 2020, on the onset of the COVID-19 pandemic, people were forced to look for convenient ways to avail themselves of healthcare services, as it became difficult to visit healthcare service providers, fitness clubs, gyms, yoga centers, etc., to stay healthy and fit. This led to a massive demand for healthcare applications, and it is a great time for any startup to develop a healthcare app.
In the present article, we are going to discuss 12 healthcare application ideas that have huge potential for the future.
On-demand Doctor App
It is an exceptional idea, which has gained massive popularity since the advent of COVID-19. On-demand doctor apps or telemedicine apps help patients to book online consultations and get in touch with the correct healthcare specialist via video calls or instant chat.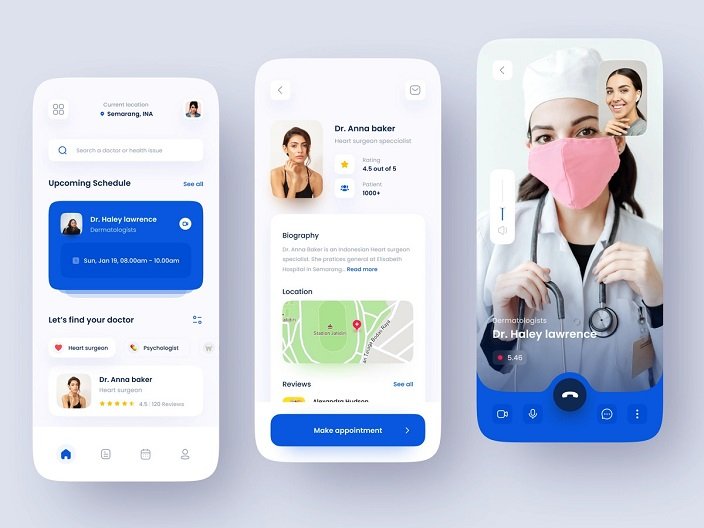 Source: Unsplash
Users can take advantage of medical services from the comfort of their homes and discuss their ailment and medical issues to receive immediate assistance. An on-demand doctor's app is certainly an exciting idea that can perform exceptionally well in the healthcare industry. However, it is important to use innovative technologies such as AI.ML, Big Data to offer a personalized experience to end-users.
Pharmacy Delivery App
If anybody is sick or old, then they prefer to get the medicines delivered to their home, instead of going out to buy them themselves. For the last 2 years, this tendency has increased exponentially due to the spread of COVID-19.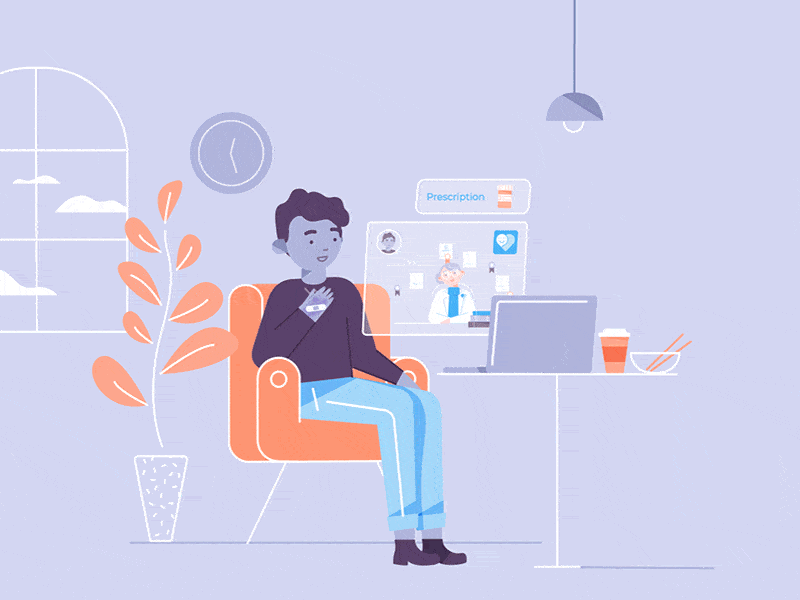 Source: Pinterest
People are not allowing their near and dear ones to go out to purchase medicines, due to the higher risk of infection. Pharmacy delivery applications have addressed this concern and become highly popular among people in a very short time. This trend is only going to grow further, which makes it beneficial for any startup to develop these applications.
Mental Health Apps
People are experiencing mental issues due to an increasingly stressful and busy lifestyle. A lot of people are suffering from depression, panic attacks, anxiety, and other mental ailments. However, people are getting more aware of these issues; gradually, it has become their priority to have better mental health.
Mental health applications are getting highly popular as they help users to consult and discuss their mental health issues with experts without any hesitation or fear. App developers are trying to match their ever-increasing demands by developing mental health applications.
Women's Well-being App
There is not an iota of doubt that women have different healthcare challenges and demands. Their menstrual cycle plays a pivotal role in their well-being, as most of their healthcare issues are directly linked with this phenomenon.
Apps that can provide information about menopause or about diseases, such as breast cancer and PCOD, as well as apps offering support and important information during pregnancy or that can connect patients with gynecologists are increasing in popularity, making them a worthwhile project for tech startups in 2022.
AR/VR-Based Medical Training App
These applications make good use of AR/VR (augmented reality/virtual reality) technologies to train healthcare experts on different medical procedures, without performing them.
We don't need a real human body to perform surgeries and other procedures, as using AR/VR technologies can deliver a similar training experience virtually. Such apps are getting popular among healthcare services providers, as they can save costs and resources in the training of new medical personnel.
Wellness Tracker and Workout App
A wellness tracker app comprises various sensors and functions that can help individuals to monitor their wellness levels. By incorporating innovative technology such as Artificial Intelligence, Machine Learning, Augmented Reality, and IoT, developers offer a convenient app interface that can be used with wearable gadgets and trackers.
These apps enable users to monitor their heartbeat pattern, oxygen levels, circulatory strain, etc. Some apps even include pre-recorded exercising session and several other activities, that can help individuals train and stay fit without going to the gym.
Diet Planning App
There is no doubt that nutrition plays an important role in maintaining an individual's health. A well-planned diet can helps individuals to reach their wellness goals, reduce body fat, and stay healthy and fit.
Diet planning apps allow users to input their diet type, wellness objectives, workout pattern and the app can immediately offer them a diet plan to complement their intended results and help them achieve their well-being tagets.
Medicine Price Comparison App
The medicine market is quite complex, as it is dominated by several big brands, but we do have generic medicines as well.
The cost is a big factor here, and everyone wants medicine that can fulfill the purpose without shelling our exorbitant cost. To help users get the best medicine, we do have medicine price comparison applications that allow people to view alternate prescribed medicine, its components, and its price in different stores.
These apps are getting highly popular as users can use them to get vital details in real-time, and they can make their medicine purchase decisions accordingly. A user has to input the name of the medicine and the app will instantly display the composition and price of the drug at different stores, this helps the end-users save a considerable amount of money.
Personal Medical Records App
This type of apps can help patients to store their health records and share them with healthcare professionals before an appointment.
This app enables doctors and physicians to get a deeper insight into the patient's health history, treatments prescribed, existing healthcare issues, and several other important aspects.  The information comes in handy to doctors too, who can prescribe the best-suited medicines and further procedures to patients.
Developpers can utilize and integrate Blockchain technology to create appss that allow patients and doctors to access medical records from everywhere.
Medical Translation App
This is certainly an unconventional idea, but quite important for doctors and other healthcare practitioners.
As the usage of healthcare apps is gaining momentum across the world, hence your potential customers could be from foreign countries, who may not understand the language of their host country. These people may have difficulty explaining their condition due to the language barrier, and this is where the medical translation app comes to the rescue.
Physicians can utilize these apps to understand users' issues and prescribe them the best medication to cater to their requirements. Artificial Intelligence and Natural Language Processing (NLP) can be used to enhance the understanding of the language and gestures of patients to offer them an adequate prescription.
Health Reminder Apps
Health reminder apps help users by reminding them to perform certain activities to meet their healthcare objectives.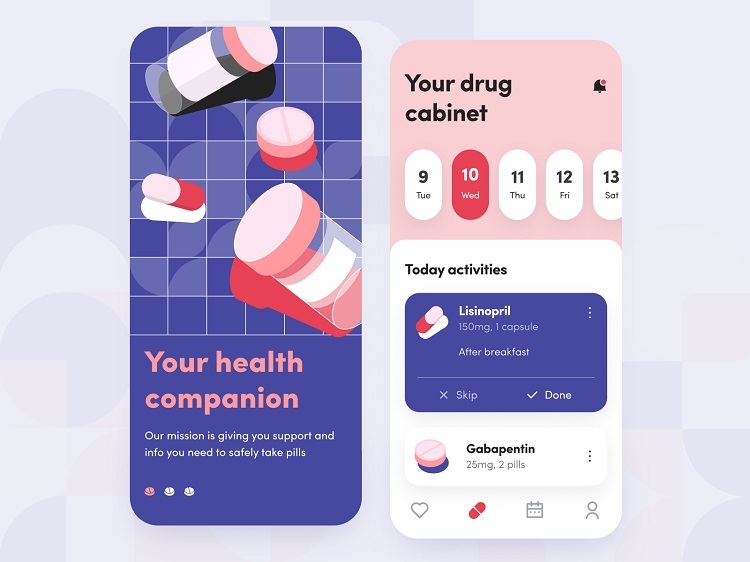 Source: Unsplash
Such applications can remind users to take medicines, raise an alert about the dosage, or remind them to do exercise or walk.
It is important to have such an app, as compliance with medication ensures the effectiveness of the drug, which decreases the risk of adverse measures. Health reminder applications enable users to plan their medical appointments and provide quick tips to maintain their health adequately.
Developers can even add features like reminders to drink water, that can help users to increase their water intake.
Such apps could be developed to be accessed via smartphone, smartwatch, or tablet, allowing users ease of access and will help them keep track of and automate their reminders.
Healthcare App for Lifestyle Diseases
Developing an application that can manage lifestyle or chronic diseases is certainly a worthwhile healthcare app idea.
Chronic and lifestyle diseases, such as obesity, high blood pressure, or kidney ailments, require regular medical attention and frequent checkups. These apps offer a list of healthcare specialists for specialized diseases, who can be consulted round the clock.
People also often ignore the constant monitoring of their health situation due to a stressful lifestyle, which can only worsen their condition. This is where lifestyle disease applications come to their rescue, and that's why this is a brilliant business proposition for any startup. Apps can easily be pushed to the next level by integrating AI and IoT technologies. This will help doctors monitor their patients remotely and take immediate attention if any vital parameter changes drastically.
Final Words
Healthcare apps, medical apps, or mHealth solutions are becoming ever more present on the market. These apps are growing along with the global increase in high-speed internet and smartphone usage.
As the market of healthcare apps is growing, it is a beneficial proposition for any startup to transform an innovative idea into a fully-fledged application. We hope these ideas will help you to understand the paradigm shift in the healthcare industry and inspire you to create a much-needed application.
If you want to develop an app based on the above ideas or have a unique idea of your own you want to see transformed into a reality, then please get in touch with us. Arka Softwares are a leading healthcare application development organization, with extensive experience in offering healthcare solutions to clients across the globe.