This guide will cover the best education app development services, how much they cost, top app development features, and how you benefit from using education app development companies.
Education apps are proving to be more and more popular. It's easy to see why too—most students are unable to leave their phones alone at the best of times.
That's why educational app developers decided to harness that desire and turn it into something useful: mobile apps that help students with their studies.
That said, building and developing education apps requires a number of must-have features to be implemented.
A robust and resourceful learning database is essential, and content that is regularly updated and refreshed has the potential to push an educational app to the top of the app charts.
Live tutorials, a strong user interface, and achievement tracking are also very important to keep students engaged.
Need help knowing where to begin? We'll cover everything you need to know about education app development.
What is an education app?
An education app is mobile software that's designed to help individuals with their learning, but remotely and away from the classroom.
For example, apps that teach children basic maths or act as advanced professional training platforms for adults. They can even help specialists to maintain a high qualification level.
Online course platforms use such mobile apps as a tool for better market promotion, and they can become a crucial part of your arsenal.
There are many educational apps available on both the Android and Apple app marketplaces today, so your app will need to truly shine.
Types of education apps
Examples of education apps include the following:
Learning management system (LMS) apps
Educational apps for kids
Educational games
Learning apps for a specific subject
Education app developer example
Source: iTechArt
Educational games, one of the most popular types of education apps, are game-style apps which motivate users to study through play. Creating such apps is a complex process, but they remain popular to this day.
Learning management system (LMS) apps are training apps; large companies use them to unify multiple learning concepts for their employees. The training of company employees is carried out in a single common space.
Think carefully about your business and the type of educational app that would work best for you.
Why should I develop an education app?
The comfort of having learning opportunities wherever you are makes these apps incomparable to offline classes, and this is especially important for busy people today.
Online education itself is now a fashionable trend that was propelled forward by the pandemic; developers are becoming aware that the industry is capable of generating impressive revenues.
In fact, it's expected that the educational app market will grow by over $46 billion by 2024.
Visuals tend to entice people more than plain text, and education apps are a good example.
Students find it difficult to focus today because we live in such a connected world with constant updates.
But there's a solution: educational apps are stimulating and easy to use and hence attract many learners.
Education app developer example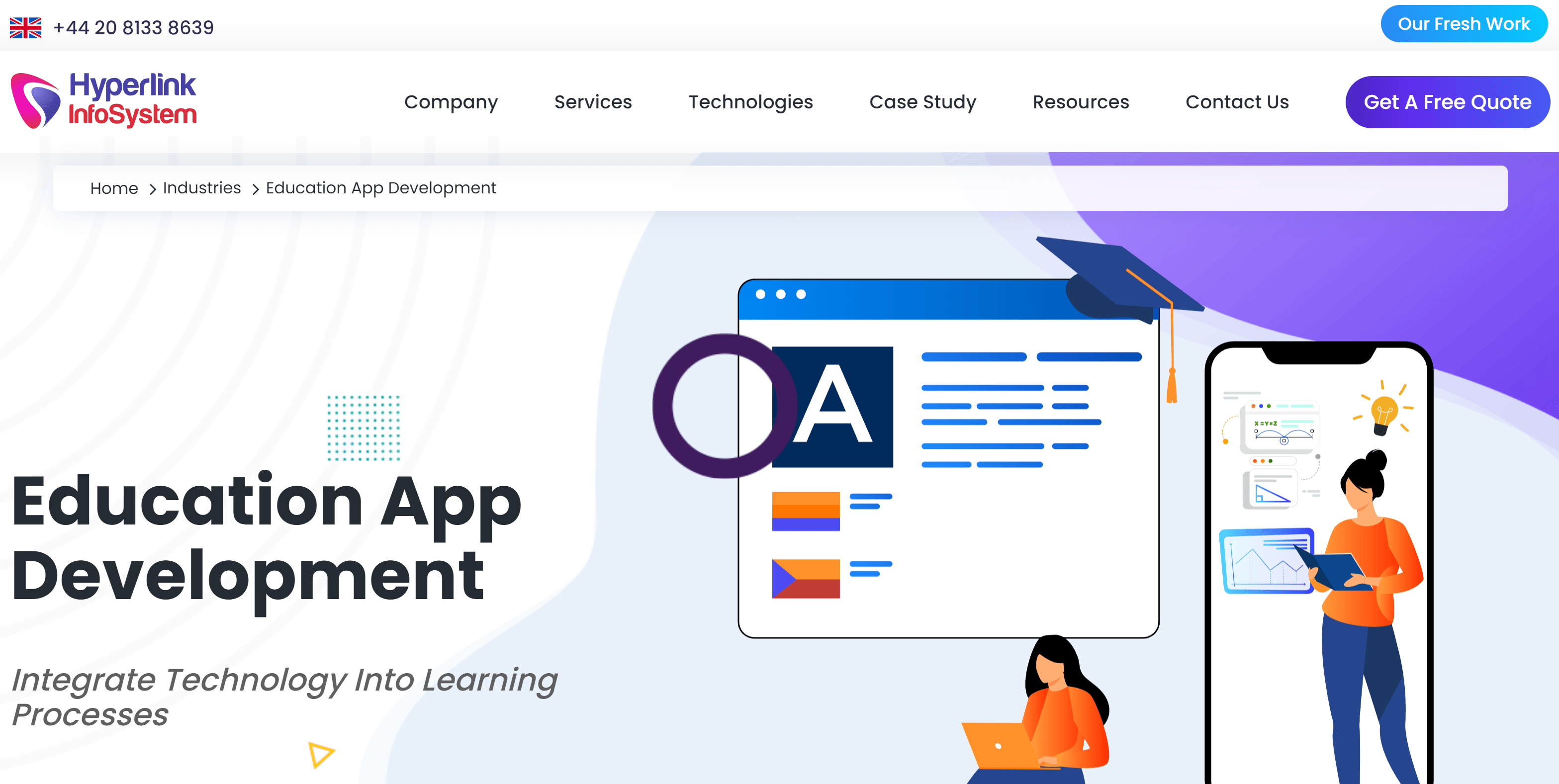 Source: Hyperlink InfoSystem
Learners can also access the content wherever they are, driven by the portability of education apps–educational institutes (and training centres) can attract more audiences with visual presentations too.
The availability of study materials and concept videos makes education apps highly user-friendly and can assist students in independently refining their learning journey.
In a nutshell: educational apps allow you to create something useful for society and make a profit at the same time.
What is the education app development process?
You need to develop the best education app possible. One that loads quickly, focuses on the user (students in this case) and runs efficiently.
Building an education app is about following a specific process that ensures nothing gets missed during the app's development.
The education app development process that app developers follow can be found below–let's dive in.
1. App requirements
A good app developer will first analyze the specific requirements with you to understand the functionalities that need to be integrated into the app.
The process enables a developer to draw up a development plan and transform the clients' concepts into an efficient educational app.
2. UX design
App developers use effective UI trends to design apps that are not only pleasing to the eye but also intuitive.
The best apps are simple and convenient for the end users and ultimately don't overcomplicate things.
3. Prototype stage
App developers will generate a preliminary visualization of what the mobile app would look like before going further.
This step is used to get an idea of the look and feel of the app, and they test users' reactions to the UI and UX designs.
Top Education App Developers
4. Platforms
Most app developers will have a team of experts in native, hybrid and cross-platform app development.
They use coding languages such as Swift, Kotlin, PhoneGap, Ionic, and Xamarin to develop high-quality mobile apps for different OSs.
5. Quality assurance
The best app developers carefully test every app to ensure that they provide an excellent user experience and meet your requirements.
Apps developed are bug-free because they go through a series of tests before deployment–this is essential to long-term success.
Education app developer example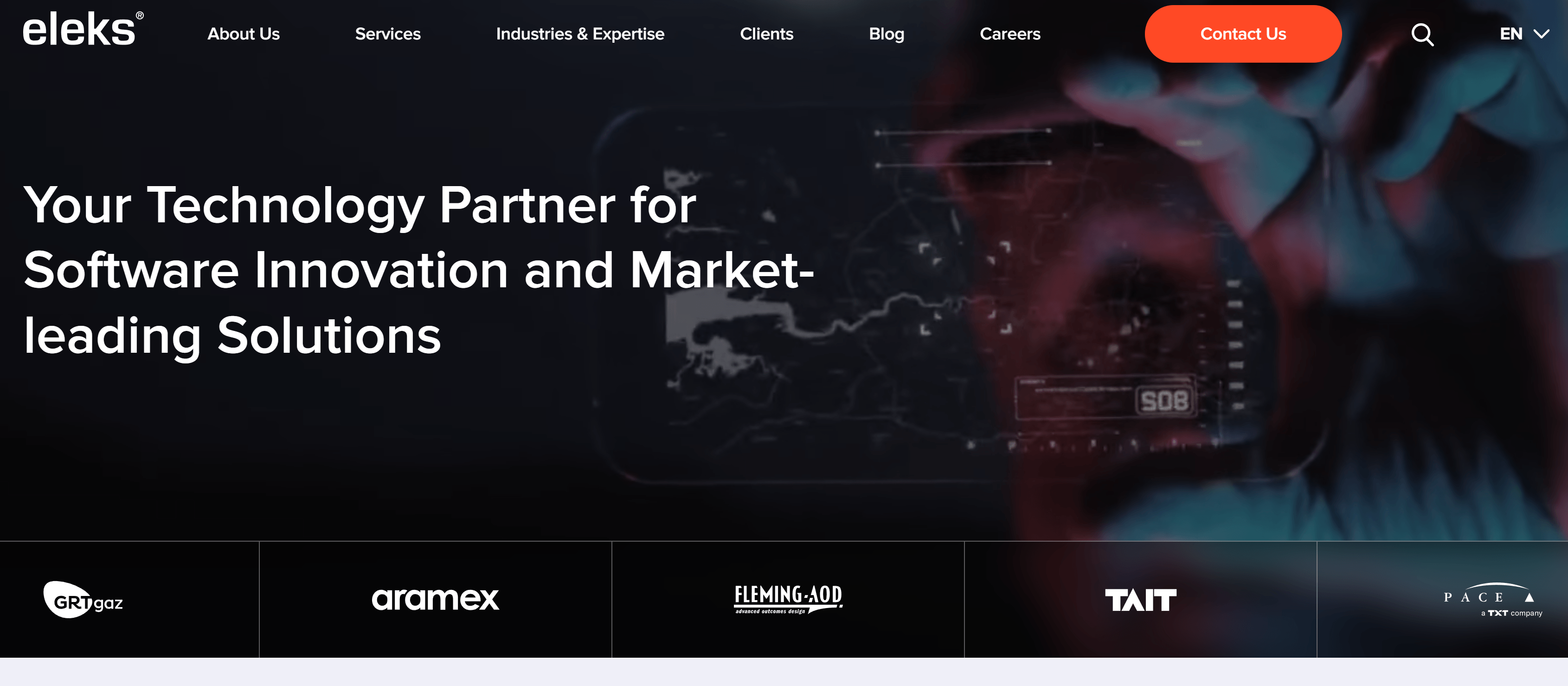 Source: ELEKS
6. Deployment and support
Educational app developers follow best practices when deploying apps across the app stores where they are easily visible to potential new users.
All digital solutions need improvement, of course, and the deployment of an app is certainly not the final stage.
The best app developers will offer post-deployment maintenance and support; if they don't, it's smart to look elsewhere.
Education app development best practices and features
Here are some of the main aspects to consider when developing an education app, including best practices as well as essential and advanced features.
Design your app for the right age
Before you start designing your education app, it's critical that you do research and analyze your target audience first. For instance, is your app for children, older students, or adults? Be sure to design your app according to your target age.
If your app is for children, consider using lots of colour, illustrations of animals, and various animations.
Use video content
More users are looking for video content, and YouTube videos get viewed by their billions every single day.
Videos are a powerful way for people to digest new information. In your app itself, you can create video lectures where teachers explain learning programs step by step.
Education app developer example

Source: Scopic
Don't forget gamification
Learning in a gaming format helps to ensure a heightened level of user participation and increases engagement.
Gamification is a good way to make learning more fun, leading to higher uptake–gamification consists of elements such as points, levels, quizzes, and more. Feel free to get creative here.
Essential features
Your education app will need to offer a lineup of essential features that the app can't function without.
The MVP is the minimum standard to showcase your product to your target audience, and the features must meet the most critical functions of education apps.
These are some of the essential features your mobile app needs to have:
1. Robust database
2. Push notifications
3. Secure login
4. Video-based content
5. Interactive images
6. Accessible image menu
7. Multilingual support
8. Networking element
9. Live tutorials
10. Offline app usage
Focus on app features that provide the greatest value to your customers. Collect feedback, let users tell you what features make sense to them, and then implement the changes.
Education app developer example

Source: OpenXcell
Advanced features
Advanced features are (typically) optional, but they allow your app to offer value to users. Advanced education app features include the following:
1. Achievement system
2. Content management
3. Voice input
4. Different types of video content
5. Hints and knowledge base
6. Social networking
7. Tutor interactive sessions
8. AR
9. Artificial intelligence

10. Polls
Of course, the more advanced features you add, the higher the cost of the mobile app's development. When deciding your final budget, be sure to keep track of your overall costs.
How much does it cost to develop an education mobile app?
Development costs of education apps vary. Below are the average estimates, as well as a few other things to keep in mind:
Depending on your business, you'll need to have access to a few different teams that can assist you during the education app development process. Developing a cross-platform mobile app that targets both main platforms with a shared codebase is economical and highly recommended.
The good news is that it's a flexible model where you can adjust the budget according to your need. That said, it's best to contact an education app development company for an estimate before doing anything else.
How can I benefit from education app development services?
Partnering with education app development companies allows you to create apps that enable users to stay up-to-date and keep on learning.
These expert developers let you take advantage of the significant opportunity available while keeping things as hassle-free as possible.
Education app developers build highly-scalable apps, whether they're your first app or tenth. These development companies create stunning apps that use the latest tech and trends while meeting expectations.
Education app developer example
Source: Bilberrry
Some of the key benefits of education app development companies include the following:
Cheaper development costs — Apps typically get designed using different frameworks, which allow app developers to reuse the code for multiple different education apps.
Superior functionality — App development companies provide excellent functionality and usability with top-notch features.

Custom plans

— Custom education app development plans that are designed to fit all needs and typically come with leading scalability.

Improved security

— Apps get built with increased security for your users and business using the latest education mobile app encryption technology

.
Robust data management — Data management solutions that protect both user and company data.
Leading communication — Communication at every key stage of your education app development journey.
If you're planning to design an education app, getting a free quote from mobile app development professionals is usually a wise move–this is especially true if you're just starting out.
Get started with the best education app developers
To recap, the most critical reasons for having an education app are the following:
Mobile apps combined with traditional learning are a successful mix
Students often prefer the interactivity that apps offer
People who decide to try something new or pursue further education, master the necessary skills, and gain new knowledge can do so through these apps
Apps encourage smart and systematic learning
Using educational apps can help students become more interested in subjects they might otherwise avoid
Updates and content refreshes can be issued promptly
Educational apps allow you to create something useful for society and make a profit at the same time
There are a number of app development companies that take on educational app development projects and have app developers with experience specifically catered to these apps. Here we've put together for you a list of the best.
List of education mobile app development companies
Flutter & Native App Development
| Founded | Employees | Revenues | | Traffic |
| --- | --- | --- | --- | --- |
| 2011 | 201-500 | $2.54m | | 6047 |