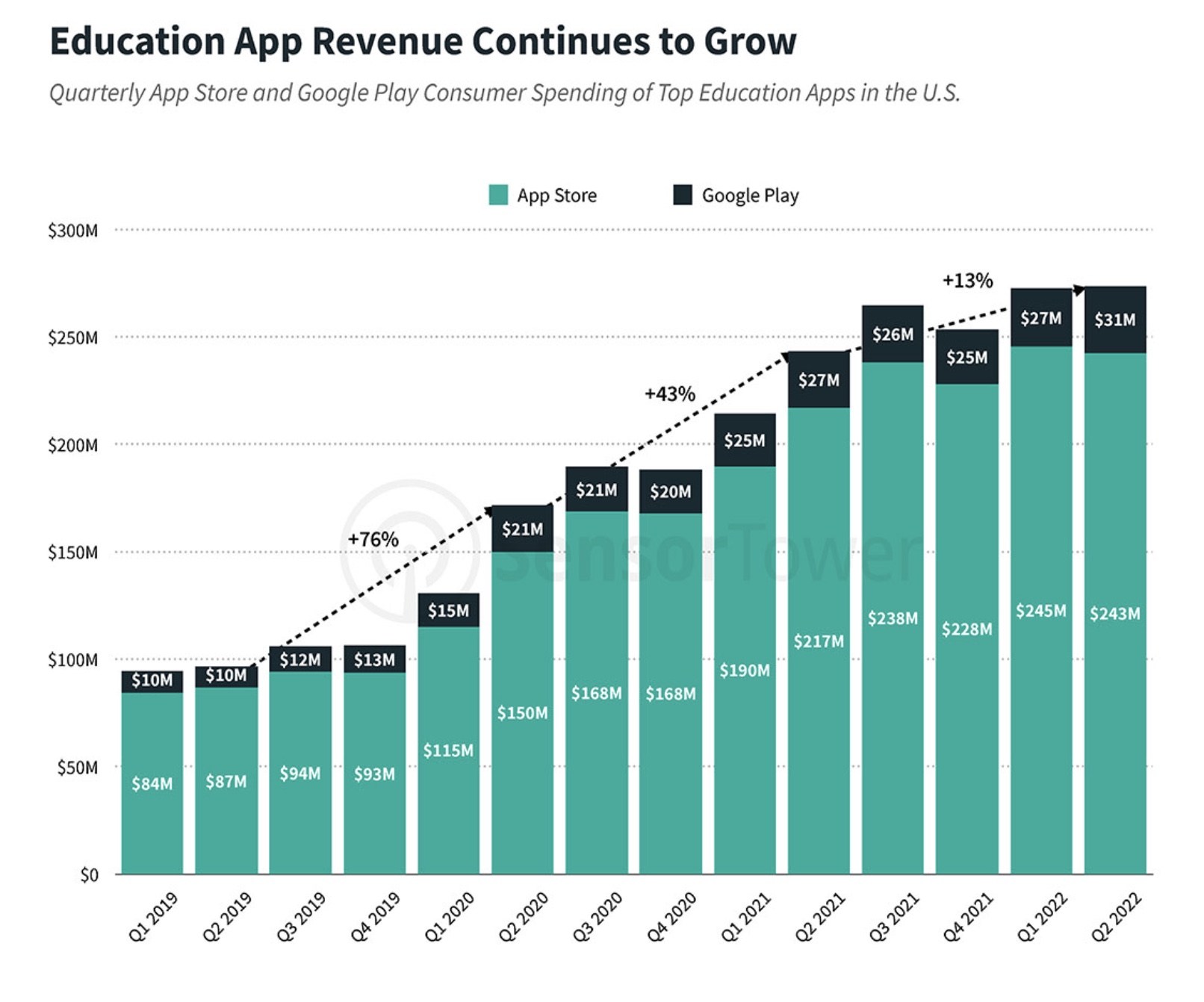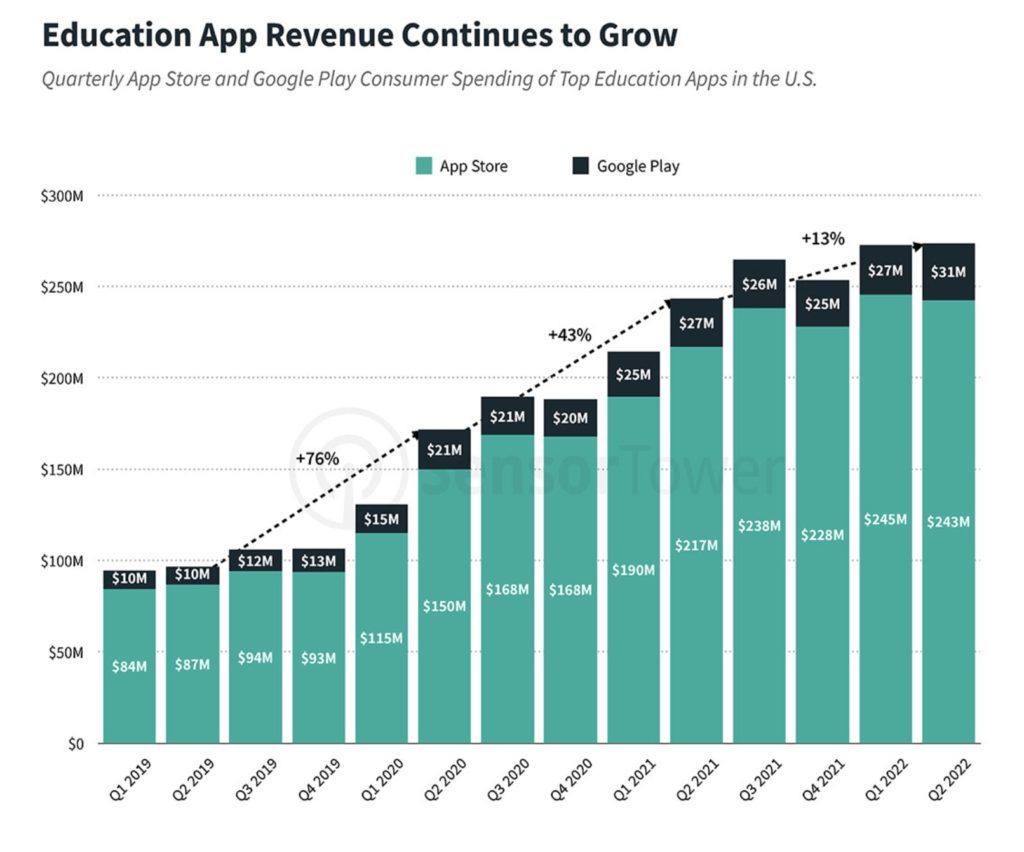 Education apps saw a rapid spike in installs during Covid-19 lockdowns. But now as more students return to schools and universities to continue their studies, new data finds that education app installs are slowing down. 
According to Sensor Tower, education app downloads in the US dropped 7% in 2022 compared to the previous year.
Installs are down but revenues are up
The latest State of Education Apps in the U.S. report finds that while downloads went down to 79 million, revenues from education apps in the US during Q2 2022 climbed to $274 million, a rise of 13%. 
App revenues were up a whopping 183% compared to 2019. What this shows is that consumers are happy to continue spending in education apps
Language apps like Duolingo see highest spending
Duolingo, the popular education app, dominated downloads and revenues in the US. It was responsible for the majority of revenue growth within the education category generating $36 million in revenues during Q2 2022 alone. The language app was responsible for 13% of total revenues within the education app sector.
Other popular categories in education included Kids Education and Studying Tools. However, growth of Kids Education apps, led by titles such as Kiddopia and Epic, has stalled since the end of lockdowns.
In 2019, Kids Education had a market share of 38% of total education apps making it the single largest category. This has dropped to 20% in 2022, with Language taking the lead at 23%.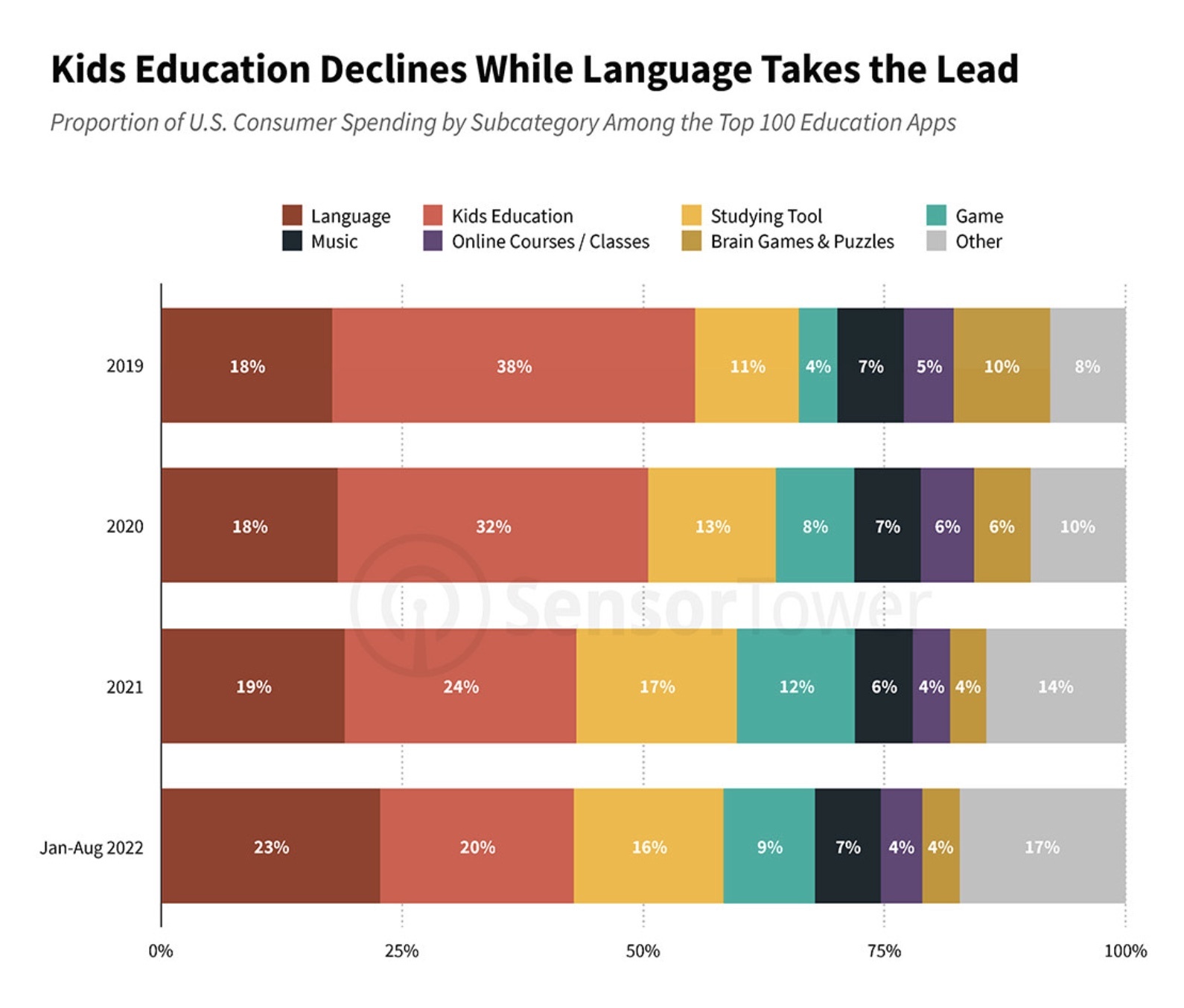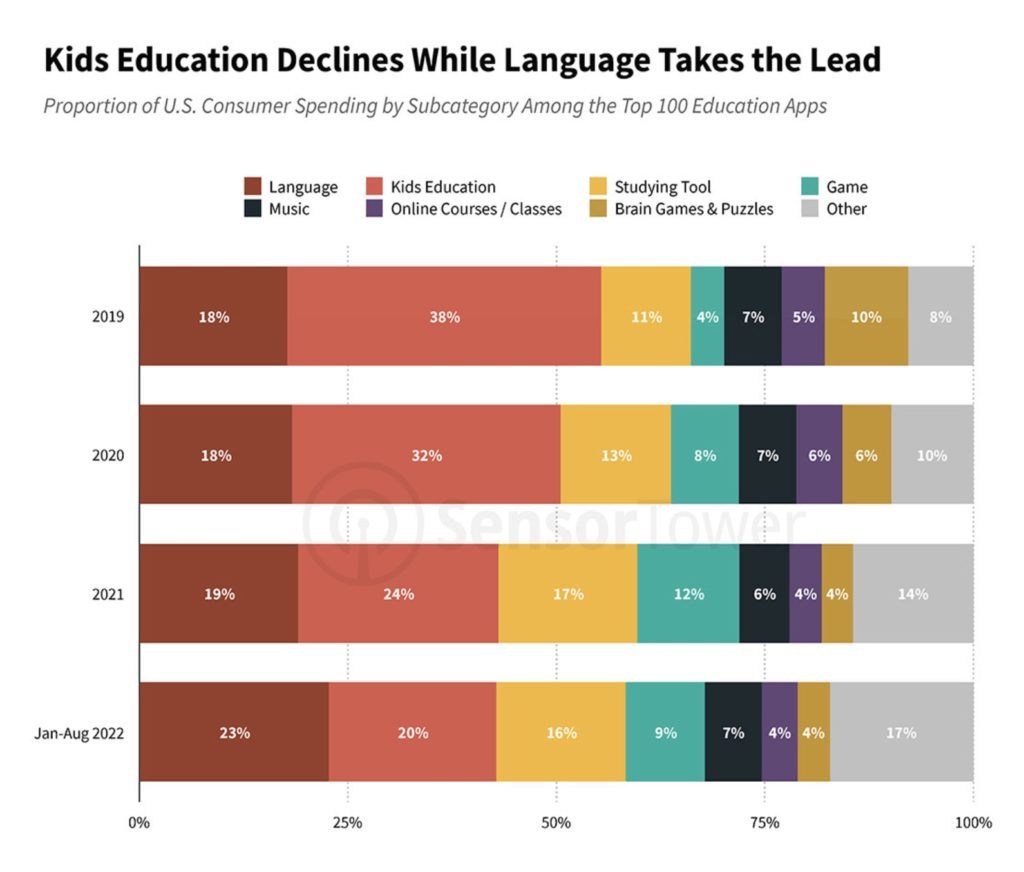 ABCmouse.com boosts subscriptions with ads
ABCmouse.com, the now leading Kids Education app by revenue in the US, led an aggressive growth strategy by boosting its ad spend to $6 million in March 2022. It also offered free trials for parents and students and discounts for subscriptions.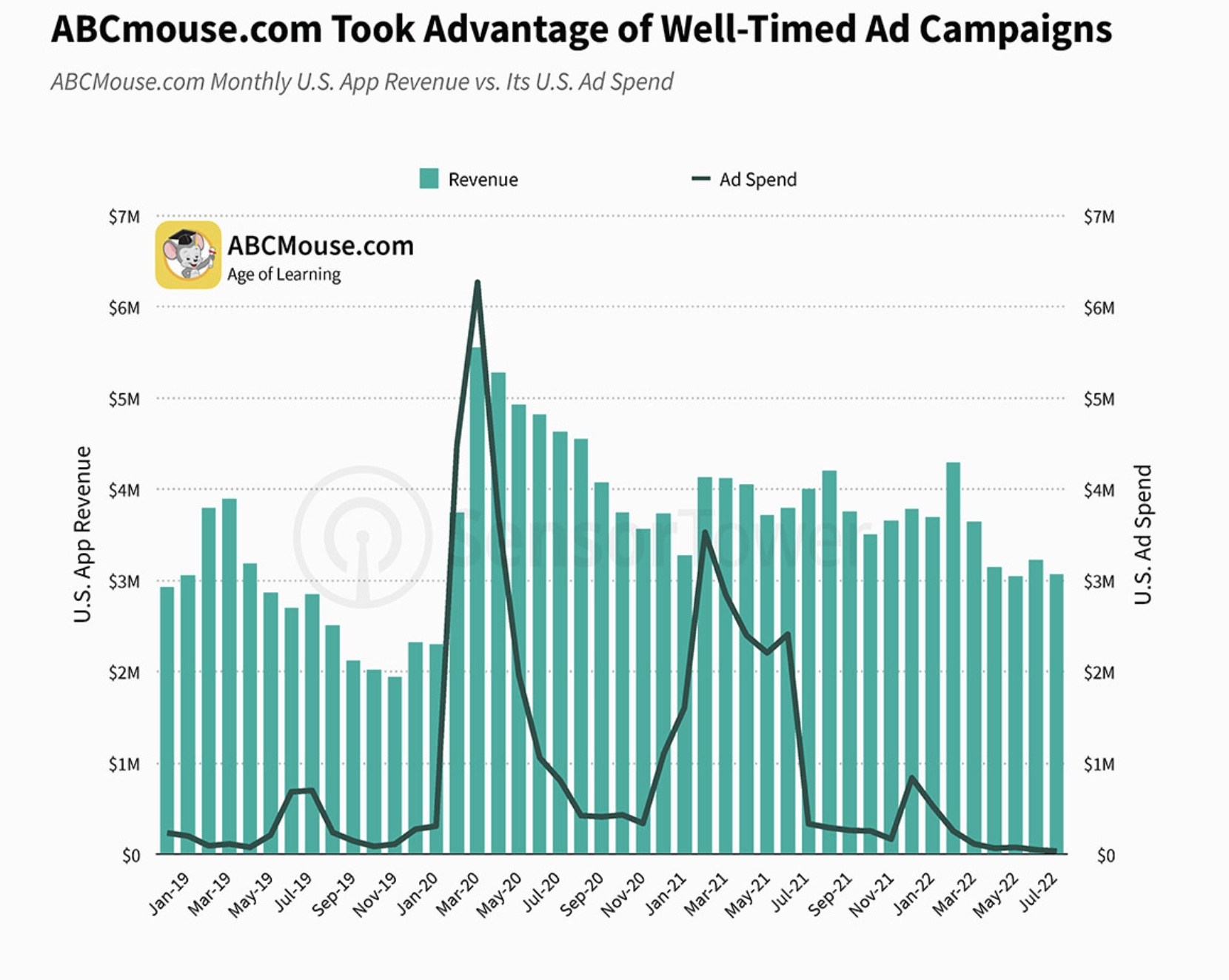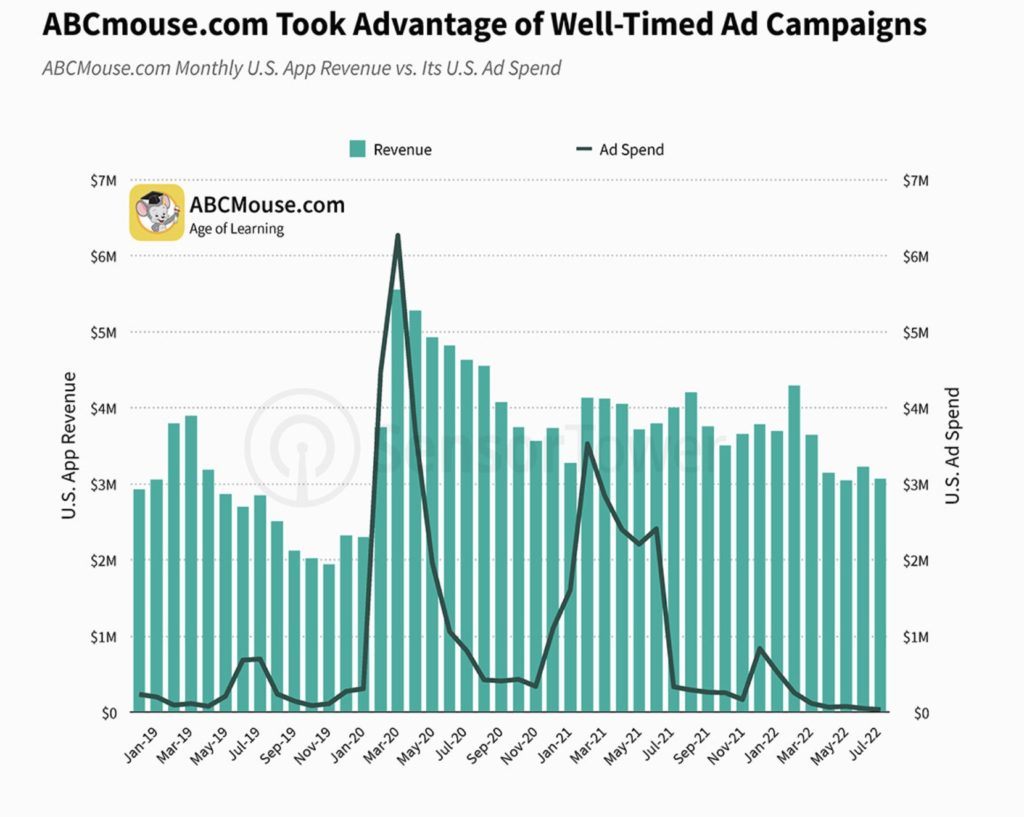 Where do we go from here?
While adoption of education apps in the US has declined with the end of lockdowns, subscriptions and in-app spending remain strong. Given the flexibility of learning apps and the opportunity for incorporating multimedia elements such as video and podcasts, there's still plenty of room for growth.
Key takeaways
US education app downloads fell 7% in Q2 2022
Revenues rose 13% to $274 million
Duolingo has a market share of 13%

 

Language apps are the most popular category followed by Kids Education