When users scroll through Facebook, Google or Instagram and come across ads, they are probably not looking to install the app straightaway. But App Store visitors sure are.
They are helping users find what they are looking for, rather than disturbing and disrupting their browsing. So you can imagine how Apple Search Ads (ASA) is converting.
With the Apple platform becoming the backbone of most mobile and app services, marketers are looking into iOS Search Ads more than ever now to successfully connect with their users .
Find out how to get started with Apple Search Ads to achieve optimal results for your app, with the help of the top iOS Search Ads platforms out there.
What are Apple Search Ads?
Apple Search Ads is designed to drive traffic to your app via search. The Apple Inc. iOS app promotion platform connects you with your relevant target audience, allowing users to discover your app in an efficient and simple way when typing a relevant keyword into the App Store.
This method of app marketing takes the form of sponsored text ads that appear across all iOS devices, including iPhones, iPads and MacBooks.
Creating search ads for Apple devices can be extremely beneficial to app developers, due to the platform rapidly growing in popularity. Apple generated $274 billion revenue in 2020, with 50% coming from iPhone sales alone.
As mobile app installs increase by 50%, with the rate continuing to rise, apps are massively playing an integral role in helping marketers connect with their audience.
This means several users are browsing via an Apple device, making it smart to target them by integrating Apple Search Ads into your app marketing campaign.
Reach your audience when they least expect it.
Why do I need iOS Search Ads?
Did you know that 70% of App Store visitors use search to find apps? And did you know that Apple Search Ads has an average conversion rate of 50%?
This is a significant number considering there are 20 million registered iOS developers earning 500 million visitors per week via the App Store.
So, it is no secret that the App Store has become an important platform for marketers to share their apps with potential consumers.
Optimizing your Apple Search Ads with an effective campaign strategy can boost your app's visibility, making it easier for users browsing the App Store to find you.
But why iOS Search Ads? Well, what if we told you the App Store is the new Google in the app world…
Higher App Store rankings
The App Store Search operates differently than traditional search engines, such as Google or Bing. For example, based on the users' interactions, the App Store narrows their search results down to apps that are likely more suitable for their interests.
A keyword may generate different results on the App Store than it would on search engines. Some may be more successful on Apple's search platform, but would not perform so well on Google.
This is because App Store visitors are considered a high-intent audience, as they fully intend on installing an app already. Implementing a wide range of relevant search terms in ads will therefore improve rankings.
Instantly match with ad keywords
You not only want to rank #1 on your app name, but also amongst the top highly relevant and popular keywords. This is why you need to invest in Apple Search Ads.
It will allow you to run a fantastic campaign against your competitors, by also incorporating App Store Optimization (ASO), so that you rank higher in the App Store Search.
The more you optimize your app and use high search volume keywords, the more App Store visitors will find your app, the more downloads you will get, and the more revenue you will make. Simple.
Creative Sets
Apple Search Ads automatically creates a combination of images and ad copy within the metadata of your ad profile. In addition to this format, with the Advanced tool, Apple offers app developers Creative Sets to create ad variations to enhance these images and text ads even further.
Creative Sets include screenshots and app previews that you can select according to your specific ad group keyword themes and audiences. This tool allows you to boost ad performance and target users that are most likely to convert into loyal customers.
Apple Search Ads uses a single, sponsored ad that may appear at the top of search results when a user is browsing.
Apple Search Ads Format Example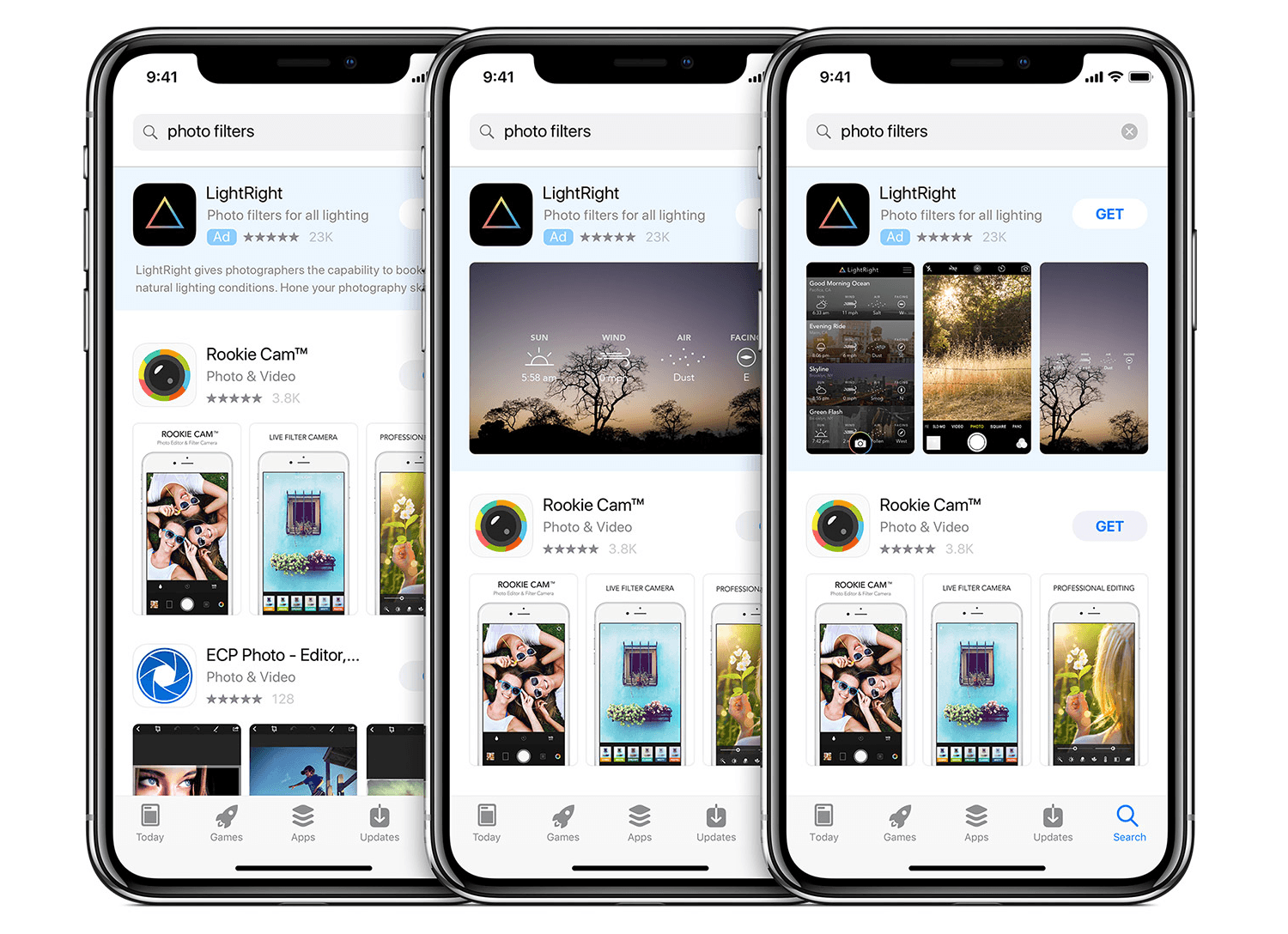 These iOS Search Ads have a blue background and ad disclosure icon.
They can appear in one of several formats, depending on the user's device type, and what may work best for the search query and user.
Make more money with iOS Apps
It's all about the money. And it is no secret that Apple's App Store makes more money than the Google Play Store does.
With Apple being the most popular SDK, the App Store continues to significantly make higher global revenues than Google Play.
This means that Apple users spend more, allowing us to conclude that they spend more than Android users. By using Apple Search Ads, you are therefore more likely to hit those high numbers than you are with other platforms because iOS users are spending money.
Now that we have summarised the highlights of Apple Search Ads and why it may be just the thing your app needs to skyrocket those installs, here is a compact list of the key features of this innovative marketing format:
Key iOS Search Ads features
70% of App Store visitors search to find apps
Reach engaged users at the exact moment they're searching for your app
Set your own bids and budgets
View detailed reports of all key metrics
Pay only for installs at a cost you choose
Pay only when a user taps on your ad
Quick-view dashboard tracks ad performance
Minimal ongoing management needed
Tailor keywords and audiences for your unique ad
Using Apple Search Ads for your app to attract users that have a proven interest in the services of your business is a valuable branding tool. But it can only be as successful as the ad marketing strategy behind it.
How do I set up Apple Search Ad campaigns?
When you first set up Apple Search Ads, there are two solutions available that offer a variety of options to redefine your campaign.
Choose the solution that fits your unique app requirements.
Apple Search Ads Basic vs Advanced: Which to choose?
The platform features two plans: Basic and Advanced.
Basic
With the Basic plan, maximize your performance with ads at the top of App Store search results.
Currently available only for the US market
Set up your app ad campaigns with a specific CPI you choose and let it run independently – no need to manage it
The minimum budget for the Basic plan is $5,000 per app per month
Track your performance on the quick-view dashboard
The minimum budget for the Basic plan is $5,000 per app per month.
Advanced
With the Advanced plan you can get your app seen before people search with Search tab ads and when users search with an ad at the top of search results.
Set up your target keywords & audiences you want to reach
Set bids and budgets you plan to spend
Only pay when mobile users tap on your ads.
The average Cost per Tap of Apple Search Ads is around $0.84
Track key metrics with detailed reports
Measure value and manage at scale with Apple's APIs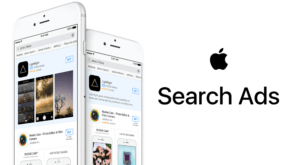 Now that you have decided which plan you believe is best for your app, it's time to create your first campaign with Apple Search Ads.
Apple Search Ads campaign checklist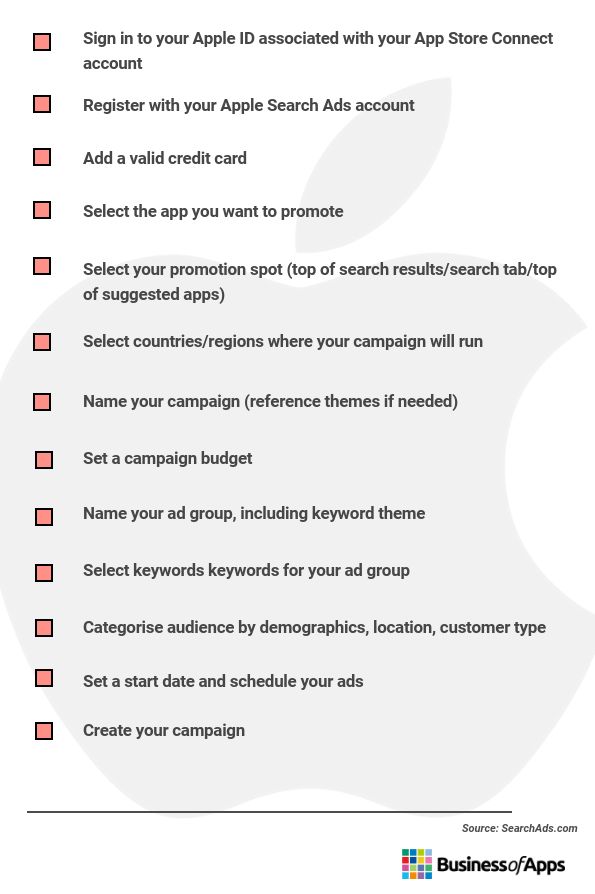 You are now familiar with the process and basics of setting up your campaign. However, the steps in choosing your keywords and categorizing your audience can be more important than you may assume.
These crucial components all belong to optimizing your iOS Search Ads to appear on the top of the list of browsers with a proven interest in your app services. So, you want to ace these steps to really make those conversion rates skyrocket.
How do I optimize my iOS Search Ads?
Keep a keyword pool
Before discussing the purpose of keeping a keyword database, it's crucial to know how to choose your target keywords.
A successful Apple Search Ads campaign is defined by the best selection of relevant keywords that resonate with your app services.
In order to select the right keywords you need to choose the keyword match type you want to use so that Apple understands how you want bids to be placed on your keywords.
You can opt for keywords that are a broad match, which are terms that are related searches, phrases and synonyms, with misspellings and plurals.
Or, you can choose ones that are an exact match, with common misspellings but target a narrower audience, as they tend to have fewer impressions.
Keywords with search match is the most effective option, as it allows the App Store to automatically link your app to relevant keywords and search terms by analyzing your app's metadata.
iOS Search Ads keyword types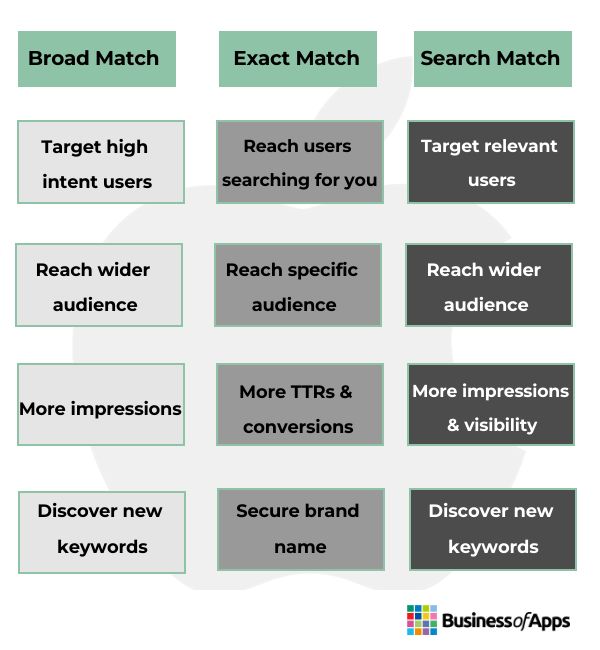 Remember to keep the Search Match toggle ON

You have now selected the right keyword match type for your ad campaign. But how and where do you find keywords in the first place?
Keyword research
Simply type relevant search terms into the App Store that you think best link to your app. You can do research into your target audience and analyse their behaviors by looking into your competitors as well.
The best way to go about this is by creating personas of your target users. These outline what a typical member of your target group may look like and their fictional representation that is created on the basis of behavioral and personality observations gained by your competitor analysis.
Competitor research also includes observing what terms visitors used to search for a similar app. The search results will also automatically generate popular terms and apps in the same field. If they are relevant to your app's type, aim to rank for these keywords with your ad content.
Discovery campaign
By running an Apple Search Ads discovery campaign you can explore new keyword patterns and trends that are relevant to your app and fit your niche audience group.
This way you can efficiently improve your App Store Optimization, attracting more users to your app and bumping up those app installs.
With the Search Match and Broad Match features you will be able to discover valuable keywords that are performing well and promise good cost-per-acquisition (CPA) and tap-through rate (TTR).
Once you have analyzed and selected the keywords that are most suitable and of value to your app, you can put them into your keyword list.
When keeping a keyword pool, make sure to categorize your chosen terms, and continue to optimize and update the list to keep your content ranking for the right keywords as you go.
Throughout your campaign, segment your keyword pool into brand, generic and competitor keywords – And don't forget to include the keyword formats we discussed above – broad and exact match.
So, when you see your app ranking for popular keywords from the list, you may want to sprinkle them into your metadata, headings or title.
Don't forget your negative keywords
If you find that some search terms are disturbing your performance and even affecting your rankings, categorize them as 'negative keywords' in your Apple Search Ads discovery campaign so that your ad will not be associated with them.
Exact keywords are usually deemed negative keywords. For example, words such as 'bank', 'bar' and 'firm' describe two different things but are spelt exactly the same.
Categorizing such terms as negative keywords for your search campaign will prevent users searching for a different product using similar terms to your keywords from discovering your ad.
Choosing what not to target will allow you to attract exactly the users that are most likely to convert.
Top Apple Search ads Platforms and Companies
Limited Ad Tracking
Apple now gives users the option to enable Limit Ad Tracking (LAT) to prevent advertisers from tracking users through their Apple ID settings, such as age or gender. So marketers are not able to track in-app events and can only measure downloads.
While LAT users make up 20% of the App Store, we suggest you focus on analyzing users that have LAT switched off to get a more accurate understanding of your app's performance and even predict the behaviors of LAT users.
How much do Apple Search Ads cost?
Let's finally talk about the golden question.
The emerging iOS Search Ads is still fairly new in the digital space, and is a marketing format that requires next to no special installation, or any configuration or modification of any sorts, allowing you to kickstart your campaign right away.
You can secure a high-quality volume of users to your app at extremely low costs, with the promise of high returns.
This is also because Apple Search Ads works on an auction basis, meaning that the Cost per Tap (CPT) is the bid of your next relevant competitor, with an additional $0.01.
This way Apple ensures a fair competition, eliminating higher CPT bid peaks.
With that being said, how much will it cost you to get started?
Apple Search Ads promo credit
When you first set up your Apple Search Ads account, Apple offers an Apple Search Ads promo credit, automatically giving you a $100 (U.S.) credit.
You can test the platform for free and see the results for yourself, and get an understanding of how well this will work for your business.
Anyone can get a new account credit if you're a developer and registered account holder on App Store Connect, and have at least one app ready for sale on the App Store in the available countries and regions.
Cost per Tap (CPT)
In the App Store, it's mainly about how much you're paying for the taps on your ads. So, when it comes to iOS Search Ads costs, Cost per Tap (CPT) is the main focus.
The average CPT for Apple Search Ads appears as $0.93, with the most expensive app categories, Finance and Shopping, amounting $1.75 and $1.45.
Finance and shopping apps have the highest CPTs as they are most likely to generate a significant amount of revenue from acquired users.
As for the App Store's most popular categories, Games and Education, app developers buy taps for the average cost of $1.24.
CPT (in $) by categories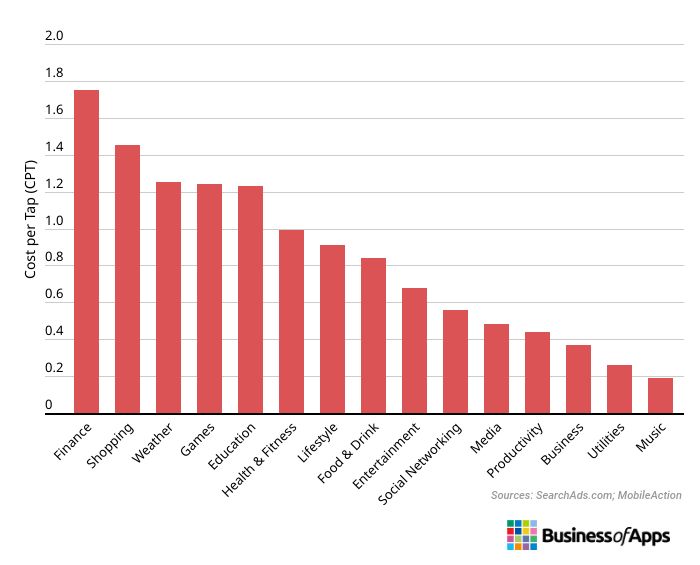 Cost per Acquisition (CPA)
Cost per Acquisition (CPA) indicates how much you pay for every user acquired – when they tap the 'Get' button.
It is an important metric for measuring how effective your iOS Search Ads campaign really is.
The average CPA is $1.61, varying significantly among the different app categories, with once again Finance having the highest CPA, averaging at around $3.33, due to its potential revenue.
Games also scored a higher CPA than with CPT, of around $2.25.
CPA (in $) by categories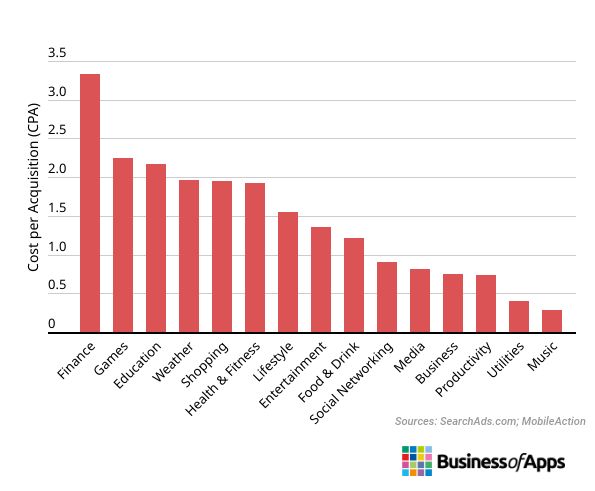 Optimize your bids
Once you have a rough idea on what your budget is, finding the right keywords and optimizing your bids accordingly is a crucial step with a successful iOS Search Ads campaign.
As keywords with the highest bid and relevancy appear at the top of the results page, you want to master the art of optimizing and adjusting your bids to increase your CPTs.
It is useful to categorize your bids across your ad groups: apply your strongest bids to exact match keywords, your decent bids for broad match and semantically related keywords, and moderate bids for any new search terms that your Search Match campaign picks up.
With the evolving nature of Apple's bidding system, you want to increase the bids of keywords with high performance, and similarly lower your bids for under-performing keywords.
Use SearchAds.com to set an automation rule and customs conditions to maintain the sweet spot for your bid: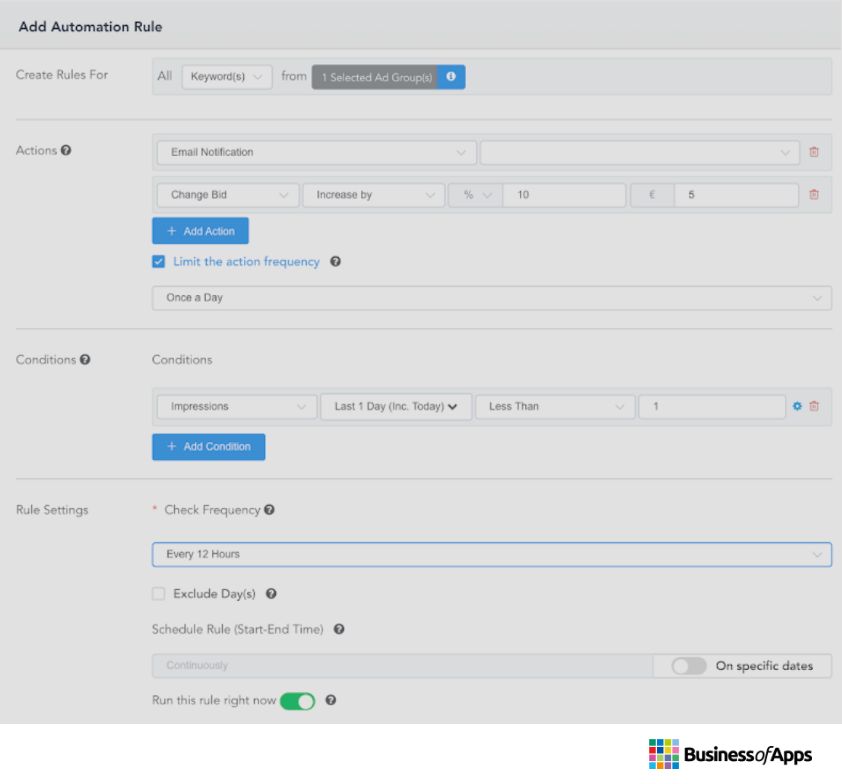 Is iOS Search Ads worth it?
Absolutely. And it is still a fresh platform, with only a few app marketers seeing its potential – for now. So if you are juggling with the idea to get onboard, now is the time.
The costs for acquiring users and turning them into loyal customers are still fairly low. This means your ROAS will be higher, allowing revenue to boom like never before.
App Store visitors usually know what they are looking for. With a combination of the right keywords and a solid iOS Search Ads strategy, your app will instantly grab their interest.
Ads always appear at the top of the results on the platform, so iOS Search Ads is just the marketing format you need, making you stand out from the crowd.
So get ahead of your competitors by creating the perfect campaign with one of the top Apple Search Ads companies, and give your app the recognition it deserves.
List of the top Apple Search Ads platforms