App marketing is a competition to get your app discovered and downloaded, and a fierce competition at that – a single slip can cost you users. Do you know what mistakes to avoid?
App Store Optimization (ASO) helps apps rise up in search rankings, gain more users and turn greater profits. That is, so long as you understand the best practices. Developers new to ASO may have many questions. How many keywords should an app target? What iconography will work best? Should they invest in paid?
Each of these questions has an answer, thanks to ASO best practices. With that in mind, here are three key do's and don'ts of App Store Optimization.
Keyword Targeting
Do: Target a wide variety of keywords
Don't: Limit yourself to just a few
How many keywords should an app target? Oftentimes, developers will pick a handful of core terms and focus entirely on those. It may help them rank well for those keywords, but it also limits them when there are so many more searches their apps could appear in.
It is well-known that keywords are essential for helping apps get discovered, so why would you want to limit yourself? Search Engine Optimization focuses on a handful of core keywords – some SEO experts recommend focusing on approximately five keywords, depending on volume – whereas App Store Optimization can let apps rank for hundreds, if not thousands, of terms.
There are multiple terms that can help an app get discovered on the app stores. A streaming app can target terms like "watch movies" and "watch TV shows," but that's just getting started. What about specific brands, competitors or channels? Are there popular shows on the app you can capitalize on?
All of those are terms users search for and relate to one core feature of the app. When we factor in more features, specific shows and additional varieties, there's almost no end to the potential keywords.
Even if an app can only target so many keywords at once, ASO is an iterative process. Over time, your updates will help your app index for more and more keywords, including those the stores identify based on the terms you're already targeting.
As an Example
For instance, how many keywords do you think "Sonic Dash" currently ranks for? There are clear targets, like "Sonic the Hedgehog" and "racing game," but the app also ranks for over 2,500 additional keywords. These include:
Relevant brand terms like "Sonic app" (#5), "Super Sonic" (#1) and "Sonic run" (#1)
Competitors like "Mario" (#2), "Subway Surfers" (#6) and "Temple Run" (#11)
Gameplay-related terms, including "Running games for free" (#2), "rush games" (#2) and "Classic video games" (#3)
General high-volume game terms, such as "free games for kids" (#1), "free video games" (#3) and "arcade games for free" (#5)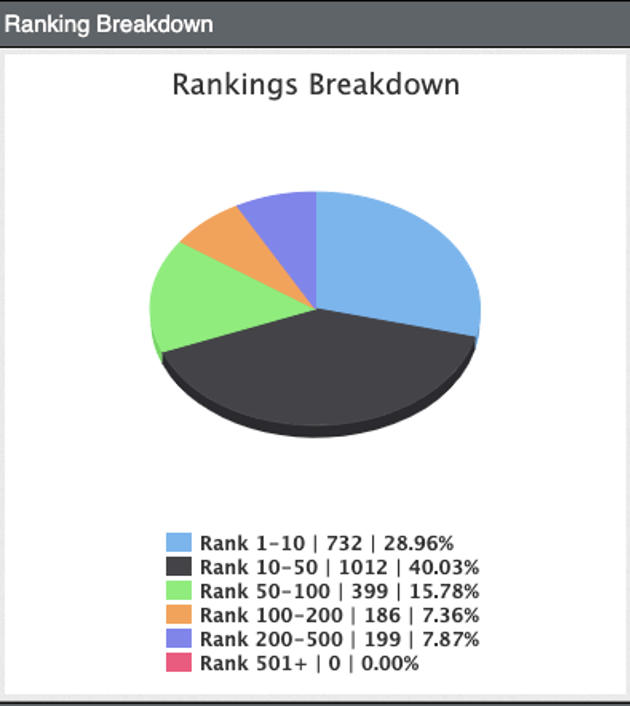 Each of these are high-volume terms that Sonic Dash built up its rankings and indexation for over time. As the result of constant keyword research, targeting and indexation, Sonic Dash ranks in the top ten for over 800 keywords. Out of the thousands of keywords it ranks for, over half of them have a high search volume, making them valuable terms to target.
Simply focusing on a select few keywords can limit your organic growth potential. It's essential that you take into account what terms are relevant to your app and how your next update is going to impact them. Think big – how many hundreds or thousands of keywords can your app reach?
Branding & Conversion
DO: Experiment with store listings
DON'T: Rely solely on branding for conversions
Does an app icon work better if it represents the functionality or the brand? While there are apps that focus entirely on branding, it's also important to test variants to see if the brand icon converts more users or if a different design performs better.
Branding is important for establishing who you are and what your app does. With that said, your app icon does not necessarily have to exactly match your logo to drive downloads. It's important that you discover what designs help your app best, which may involve stepping outside of the usual brand design.
Users have a different intent when they search the app stores compared to browsing a website. They need visual representations of what the app is and does, which could require more than a logo. Test, gather data and determine what draws the most downloads, whether it's a specific color, logo or feature.
ASO Best Practices
Your creative sets, including the icon and screenshots, should incorporate aspects from your brand, such as color schemes or font. At the same time, they need to convey to users what the app is. You'll want to test your creatives for optimal conversions, otherwise you'll lose out on potential downloads.
All apps can benefit from testing, including established brands and relatively new apps without a brand presence. Newer apps can A/B test their creatives in the store and determine what provides optimal conversions without the restrictions of branding. Meanwhile, existing brands can try testing different color schemes within the brand, icon placement and even new brand designs. In fact, the results of the test can even inform branding decisions moving forward.
Understanding how your creative assets impact user conversion is critical to gaining downloads. Ensure your assets are representative of your app and can do, whether this is through your logo or feature-based iconography. Determining what works best for your app will help engage users.
As an Example
We can see this in action with IMVU. Originally, the mobile game used its logo as an icon – this represented the brand, but not the features. As part of the App Store Optimization process, IMVU tested icon variants that included avatars like those players could make.

After testing multiple variants, IMVU launched a new icon. This helped increase the game's daily installs by 45% on Google Play and 105% on the Apple App Store – a significant growth from its previous icon which relied solely on its branding.
Paid and Organic Growth
DO: Take a holistic approach to ASO
DON'T: Neglect organic metadata and store listings
There are times when app developers invest in their paid marketing at the expense of organic growth. While paid campaigns can boost visibility and outreach, that growth will only last as long as the budget does. Taking a holistic approach will help improve paid outreach and help maintain momentum once the paid campaigns end.
Paid marketing such as Search Ads campaigns can be great ways to supplement your organic growth, but it is not a substitute. If you have not optimized all aspects of your store listing, it can hinder your paid campaigns as well.
Whether users find your app through paid ads or organic search, the store listing will function as a landing page for your user acquisition. If the listing isn't aligned with your messaging and the expectations your ads set, it could cause users to drop off.
Your store listing is an essential part of the paid funnel, whether users are driven the store listing page directly from a link or see the screenshots in search results from an Apple Search Ad. You'll need to fully optimize your store listing if you want the ads to be effective – otherwise users will feel lied to by advertising.
In fact, your organic efforts can have a significant impact on your paid marketing. Proper optimization can provide a 0.97:1 organic to paid ratio for impressions and app units. Without being optimized for organic search and conversions, you're leaving half your potential users behind.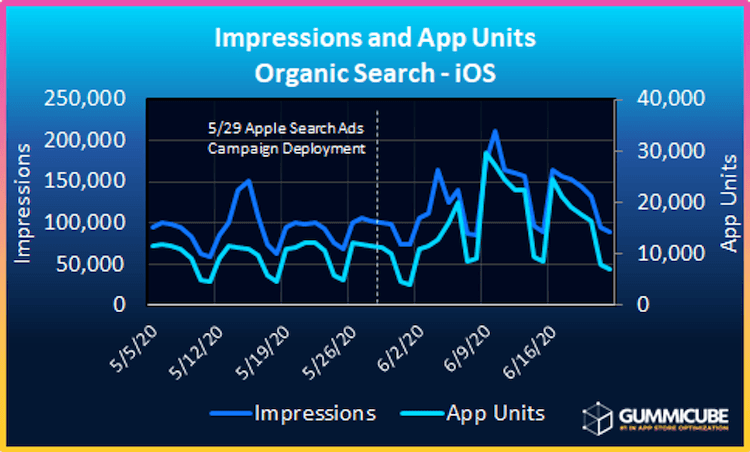 The more optimized your page is, the better you'll perform on all channels. This will help lower your cost per install (CPI) in the long run while keeping your paid campaigns effective. If you're not optimized, your paid marketing will struggle to keep users engaged as they continue down the acquisition funnel.
Overall
There is an art to App Store Optimization. Developers need to understand what to do when optimizing as well as what to avoid. By targeting a wide array of keywords, testing their creatives rather than relying on brand name alone and using a holistic combination of organic and paid marketing, you can help you optimize and improve your performance.