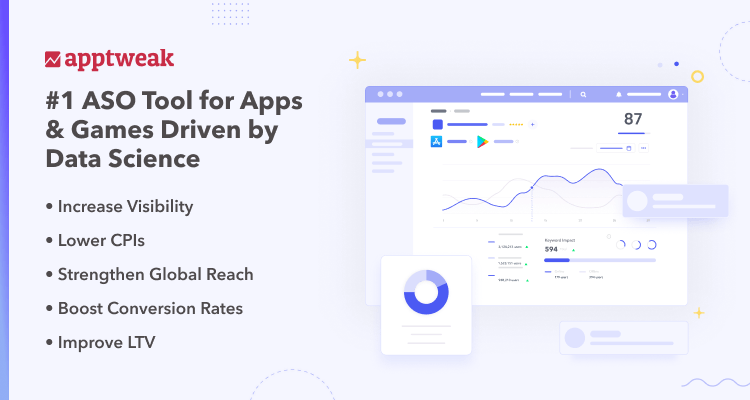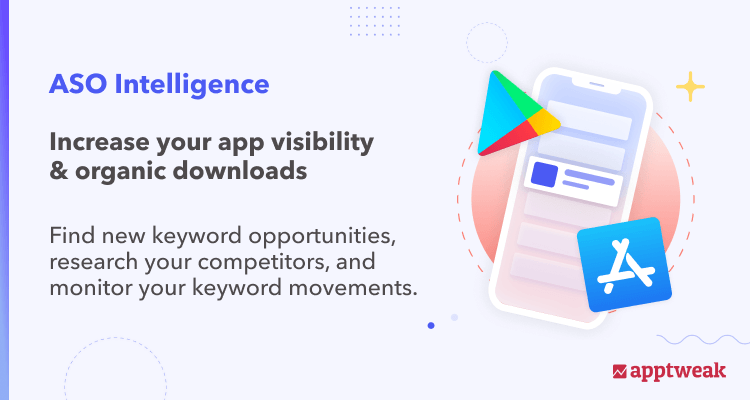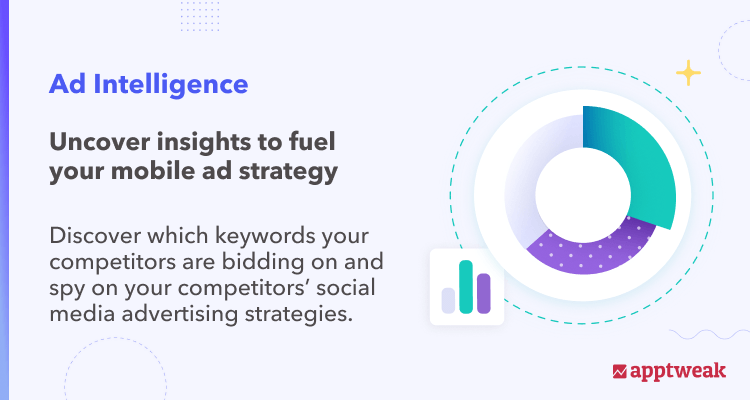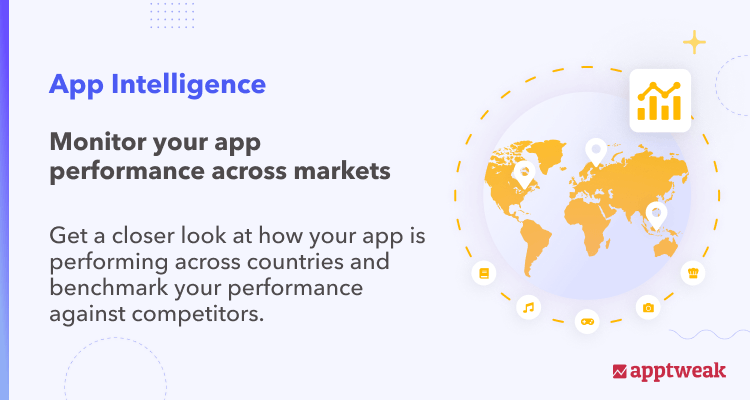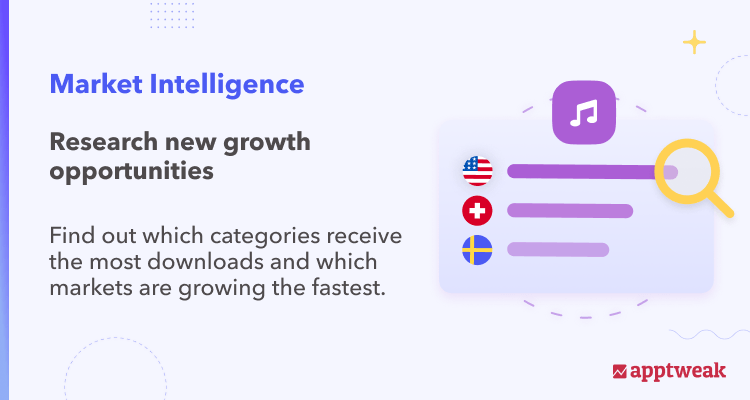 AppTweak is the leading ASO tool driven by data science. AppTweak empowers mobile leaders – such as Amazon, Jam City, Yelp, Zynga and Adobe – to grow their apps and games with actionable insights in a simple interface. 
Committed to developing the most accurate, transparent and easy-to-use ASO tool on the market, AppTweak supports over 1,500 app developers and game publishers worldwide. 
Unlike other platforms, AppTweak does not rely on any third-party data providers. Instead, AppTweak's features gather data directly from the app stores. This allows the team to employ proprietary deep learning algorithms to leverage data science, highlight vital metrics and help mobile innovators discover app growth opportunities.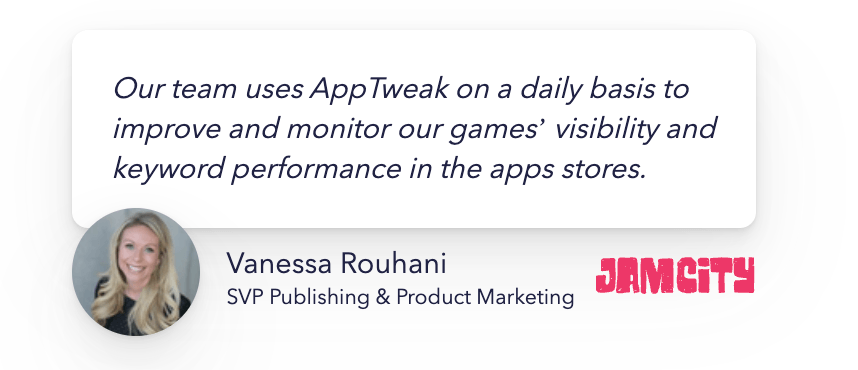 AppTweak has been awarded the "Best ASO Tool" by the App Growth Awards community and was recognized as the 6th Fastest-Growing Technology Company in Deloitte Belgium's Fast 50 competition. Launched in 2014, AppTweak serves customers from all corners of the world, with offices in Brussels, San Francisco, Tokyo and Bengaluru.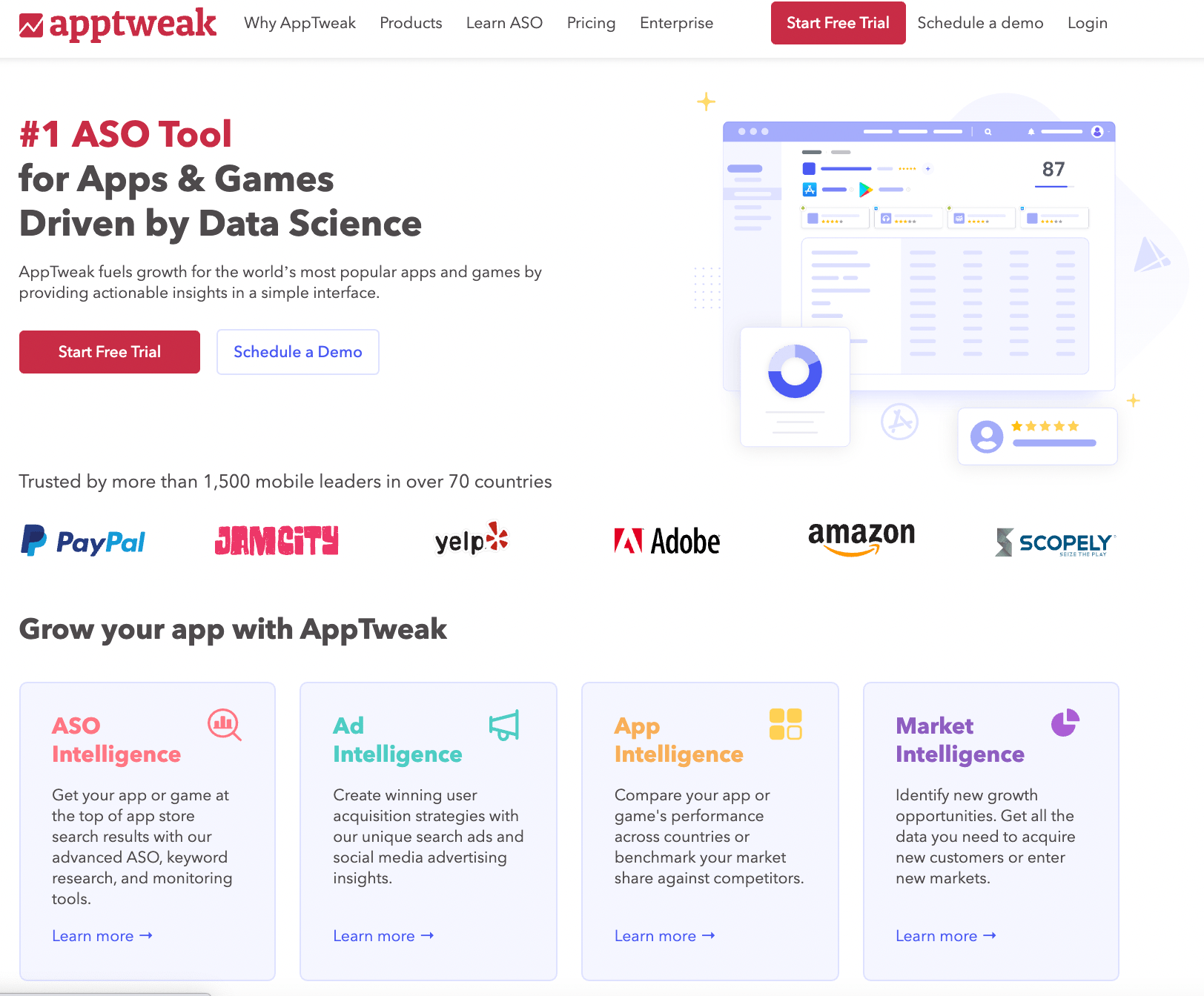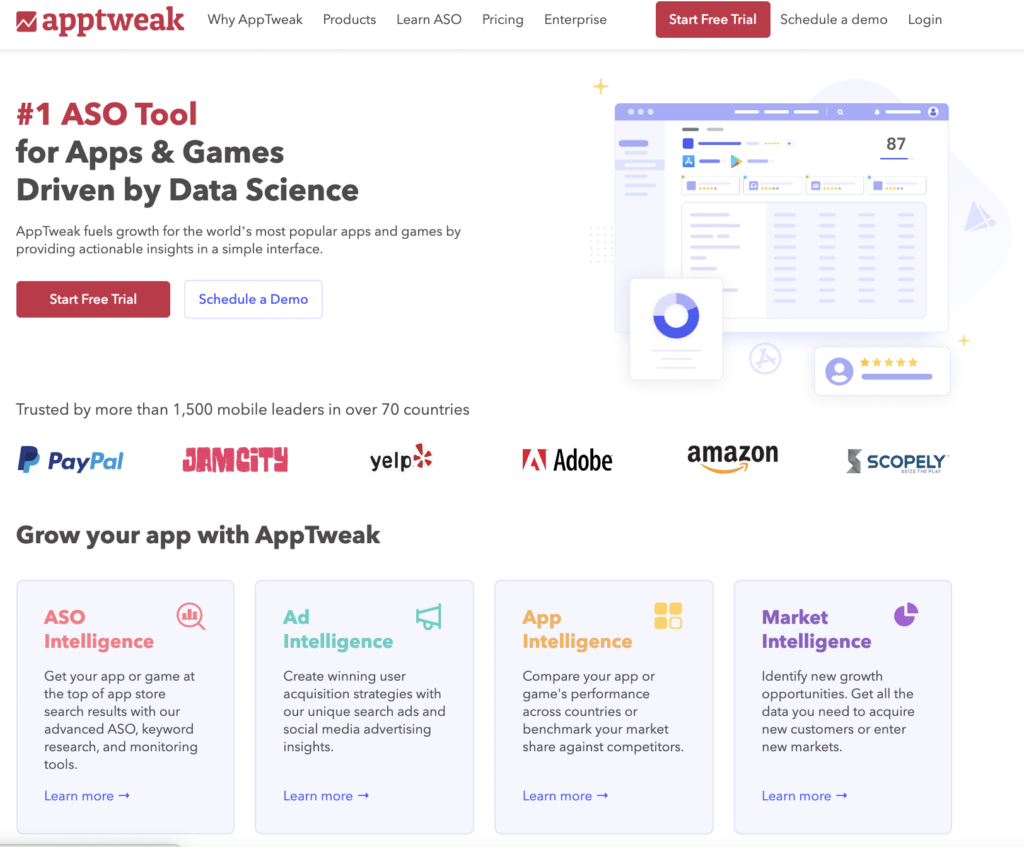 Learn more about AppTweak, schedule a demo or start your free trial
APPTWEAK'S MAIN FEATURES
AppTweak's simple interface provides a variety of smart insights to help grow your app or game's visibility and downloads. 

AppTweak's Keyword Performance Report
The Timeline feature tracks every metadata update and A/B tests of each app on the App Store and on Google Play. As a result, you can analyze your competitors' past ASO updates and the ASO impact of each of them. The feature also demonstrates the impact of your competitors' past A/B tests which provides the inspiration you need to increase your app's conversion rate.
AppTweak's Timeline 
AppTweak's Ad Intelligence provides you with valuable insights to fuel your mobile advertising strategy. For example, you can find out which keywords your competitors are bidding on with Apple Search Ads, learn which keywords Google displays your UACs on, compare your ads' Share of Voice with your competitors, and much more!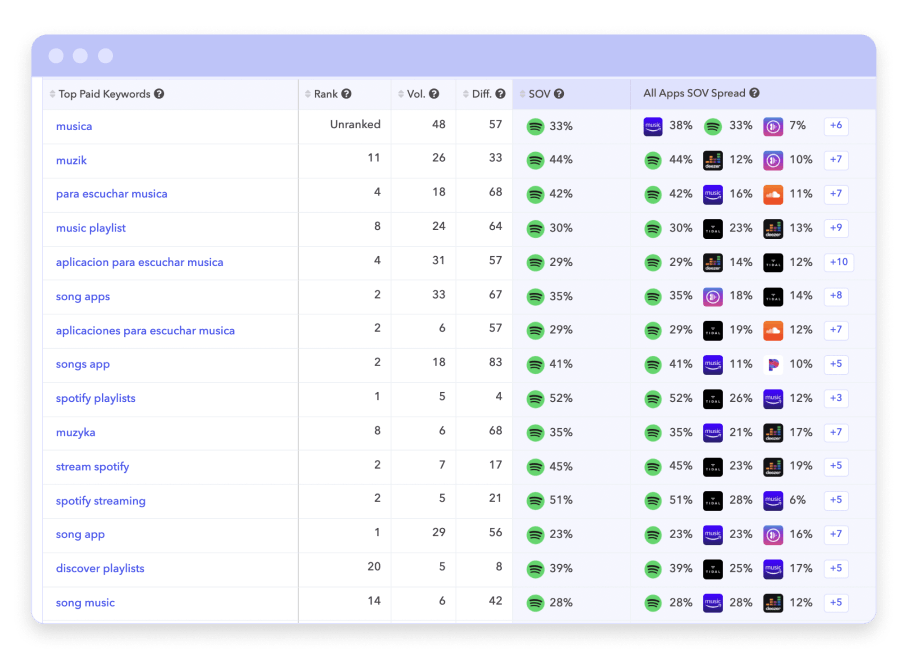 AppTweak's Ad Intelligence
Additionally, Facebook Ads Intelligence gathers data from the Facebook ads library to help you fine-tune your social media advertising strategy. This feature shows, for any date range, your ad activities along with those of your competitors. You can compare the level of your social media presence with your competitors, and also discover which channels – Facebook, Instagram, etc – your competitors are using to reach their audience.
With AppTweak's unique Analytics section, you are able to easily visualize the impact of your ASO efforts in a customizable graph. You can monitor important KPIs, such as category rank, downloads and revenue, and compare them to your competitors. By integrating your Apple and/or Google Console with your AppTweak account, you can also analyze your app's metrics across countries, immediately check the impact of your ASO work (e.g., a metadata change) on your app's performance, or even benchmark your app against the market.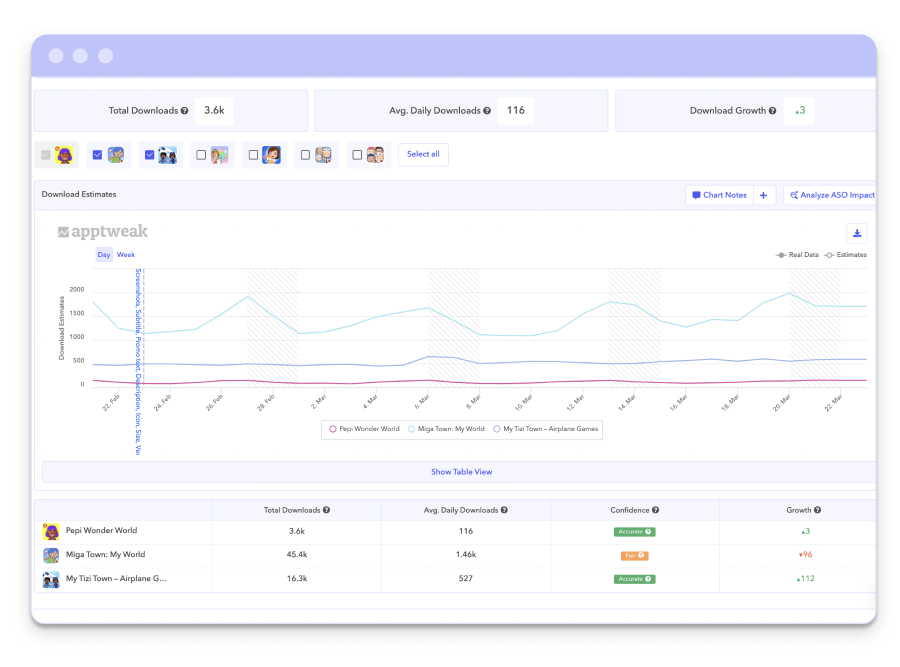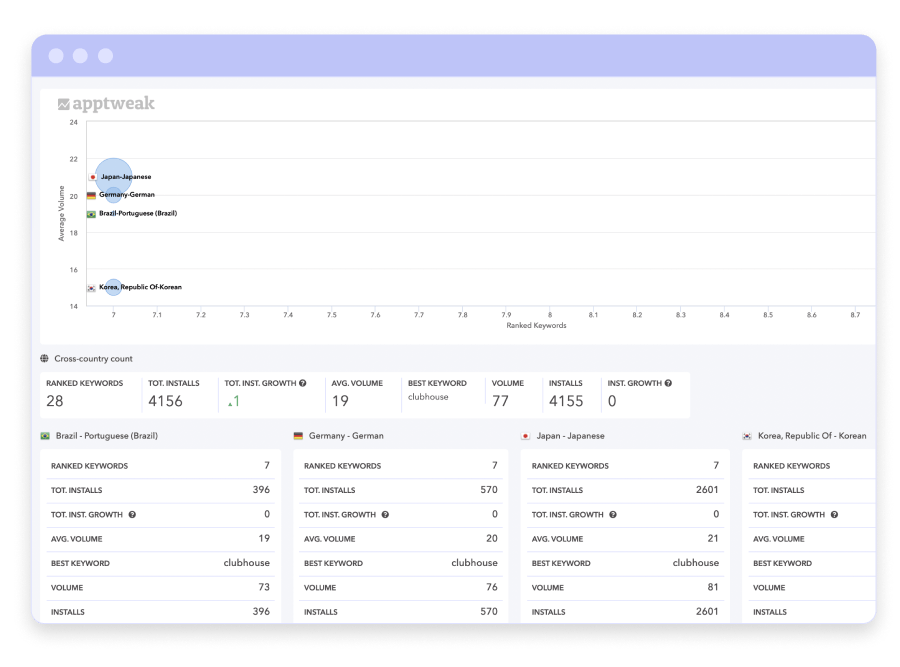 AppTweak's App Intelligence 
With AppTweak's Market Intelligence, you can discover new growth opportunities to help acquire new customers or enter new markets. For example, it helps you determine seasonality trends across categories, identify the top players in your market and analyze market trends across the world based on downloads and revenue estimates.
AppTweak's Market Intelligence
PRICING 
AppTweak offers two categories of plans adapted to the needs of its clients: Enterprise plans and Business plans. 
1°) Enterprise plans
Enterprise plans bundle all AppTweak's tools, features, and services with large capabilities to let you work comfortably on your ASO and your App Marketing Strategy. This category of plans includes a great level of customer support with a dedicated Customer Success Manager, Slack support, monthly calls, onboarding/training sessions and the access to our ASO Managed Services.
The price of our Enterprise plans is highly dependent on your needs and the required capabilities. If you're interested in learning more, contact  the AppTweak's sales team now and  receive a personalized quote based on your needs. 
2°) Business ASO Plans
AppTweak offers four Business ASO Plans: 
Starter ($69/month), 

Pro ($199/month), 

Guru ($299/month), 

Power ($599/month).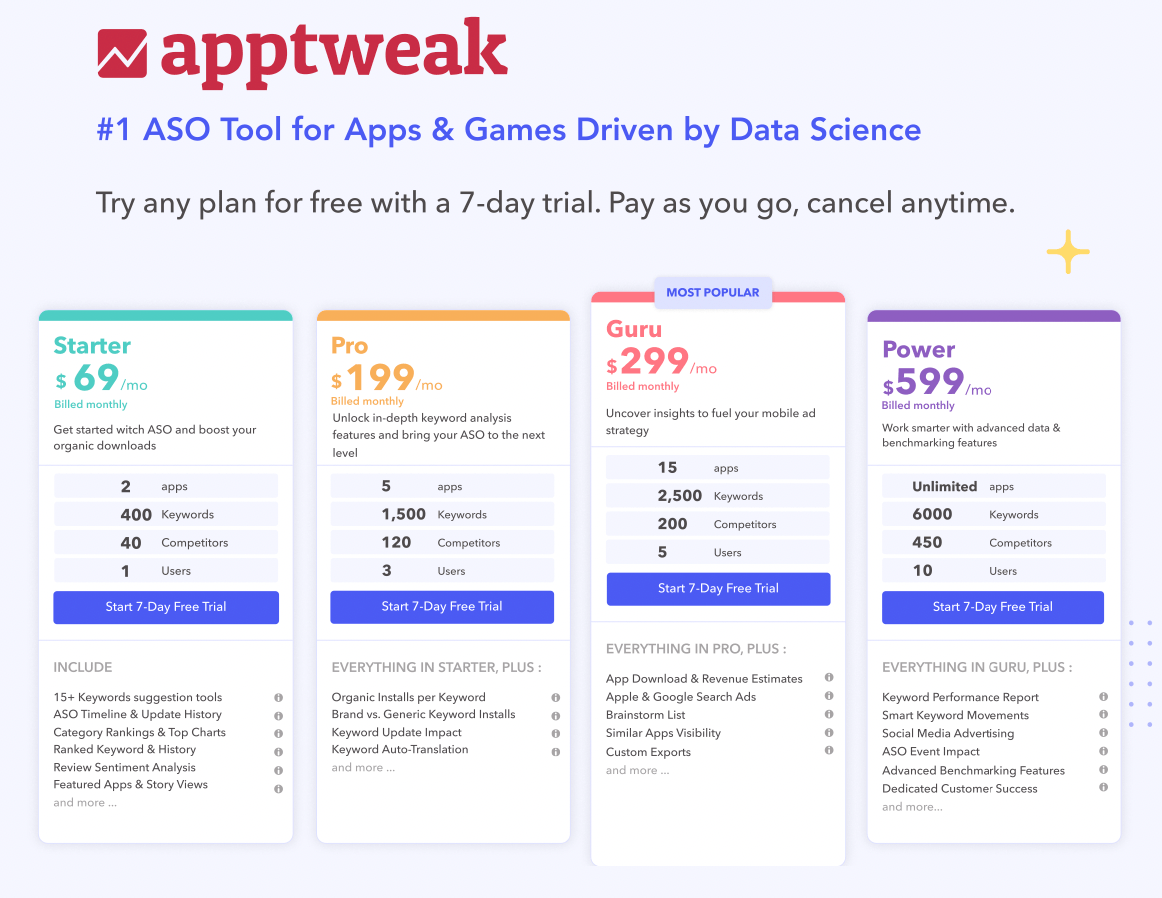 *Disclaimer: Pricing subject to change according to billing country and currency.
Each of these plans offers different capabilities (number of Keywords, number of Apps, number of Competitors, number of Users) and unlocks unique features, data, metrics and services: 
The Starter plan lets you track 5 apps, 400 keywords, 40 competitors and gives you access  to 6 months of data history. Starter is perfectly suited for Indie Developers. 
The Pro plan lets you track 10 apps, 1,500 keywords, 120 competitors and gives you access to unlimited data history. This plan includes unique metrics and features: Organic Installs per keywords, Keyword Update Impact and Daily Install Growth by app. Pro has been designed for small teams looking for untapped growth opportunities.
The Guru plan lets you track 15 apps, 2,500 keywords, 200 competitors and gives you access to unlimited data history. This plan includes Search Ad Intelligence features (Search Ads, Google App Campaign), Downloads and Revenues estimates in 70+ countries, Custom Export capabilities (XSV & PDF) and Similar Apps visibility. Guru is AppTweak's most popular plan for Growth teams.
The Power plan lets you track unlimited apps, 6,000 keywords, 450 competitors and gives you access to unlimited data history.This plan includes Keyword Performance Report,  Smart Keyword Movement, Social Media Advertising (Facebook Network), Advanced Benchmarking features, and a Dedicated Customer Success Manager.
On top of these four ASO plans, AppTweak offers two add-ons: 
App & Market Intelligence tools at $299/month.

AppTweak API plans.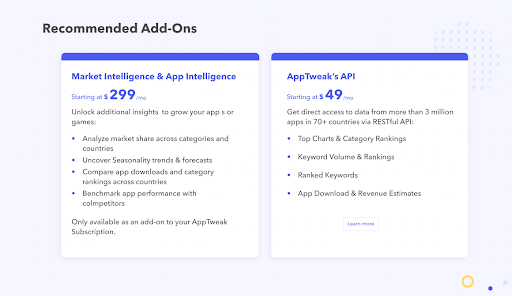 Start a 7-day free trial today and try AppTweak's tools and add-ons! 
Key facts

6,400+ LinkedIn followers

3,600+ Twitter followers

2,200+ Facebook followers
Grow your app with data-driven insights powered by Data Science!
AppTweak fuels growth for the world's most popular apps & games, get started:
ASO Blog:

Discover our latest app marketing articles, tips, news and latest features.  

ASO Guides:

Download our detailed guides to learn everything you need to know about ASO.

Follow us on Social Media 
AppTweak Features
ASO Intelligence 
Ad Intelligence
App Intelligence 
Market Intelligence
Team
Olivier Verdin
Olivier Verdin is the CEO & Co-Founder at AppTweak.
Office Locations
HEADQUARTERS
AppTweak S.A.
235, avenue Louise
1050 Brussels
Belgium
AppTweak, inc.
650 California Street FL 7
San Francisco, CA 94108
United States
AppTweak
43 Residency Road
Bengaluru 560025
India
AppTweak Japan GK
9F, 1-6-5 Marunouchi Chiyoda-ku
Tokyo 100-005
Japan
AppTweak Data
| | |
| --- | --- |
| Founded: | 2014 |
| Employees: | 40-50 |
| Revenues: | - |
| Social Presence: | 6k-13k |
| Website Traffic: | 72K |
Sources: Company Data, Press Reports, Linkedin, Twitter, Owler, SimilarWeb
AppTweak Info
AppTweak News
AppTweak Insights
AppTweak Videos
AppTweak Podcasts
AppTweak Competitors and Alternatives
Sorry, we don't have these details yet. If you are a AppTweak representative, please get in touch to add additional information and contact options to your profile.