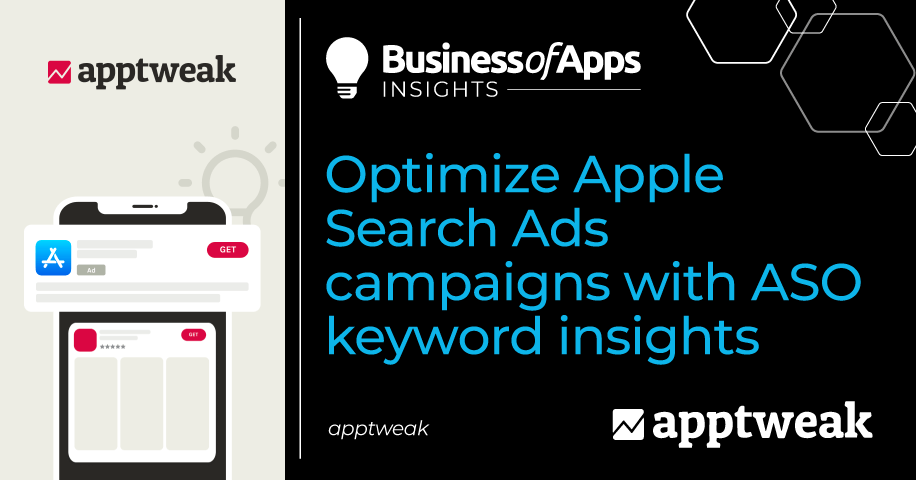 When building your Apple Search Ads (ASA) campaigns, keyword insights should be an essential part of your winning bid strategy. When it comes to discovering potential keywords to target in your ASA campaigns, ASO data is instrumental, whether they drive good traffic on the App Store, evaluate what users expect to find with their queries, identify trends and opportunities to improve your campaign creatives and app product page metadata, etc. Selecting and bidding successfully on the right keywords will, therefore, win you impressions for your Apple Search Ads campaigns.
In this article, we will discuss how ASO keyword insights can inform and improve your Apple Search Ads campaigns.
Find and select keywords for Apple Search Ads
Conducting proper keyword research is the key to a successful campaign in Apple Search Ads. Important, high-volume keywords but also highly relevant long-tail keywords will allow you to achieve scale and performance. To begin with, let us look at a few ways can try finding keywords to bid on:
Brainstorming all the possible search terms is a good starting point as well as accepting the Search Ads Console suggestions.
You can also dig into your app metadata and category insights to get keyword recommendations.
New keywords can also come from your discovery campaigns after you have tested them and proved their value.
Deep-dive into keyword research with insights from ASO tool
With the help of additional tools, you can really professionalize your keyword research. For instance, using an ASO tool like AppTweak, UA managers can uncover relevant keywords that are underperforming organically and identify popular keywords that drive organic downloads for competitors. These are all very interesting keywords to target with Apple Search Ads campaigns.
For example, at AppTweak, we found that the travel-booking app Booking.com doesn't rank in the top 10 for highly relevant keywords such as "last minute hotel," "resort," and "vacation rentals." Booking.com could actually increase exposure for these keywords by including them in their ASA campaigns.
Booking.com keywords
Source: AppTweak
Secondly, an ASO tool can also help you evaluate a handful of metrics associated with the keyword like:
Search volume: Helps you analyze how popular the keyword is in terms of searches on the app stores.
Competitiveness: How many apps are actively targeting that keyword organically? From the perspective of Apple Search Ads, consider it as if it's a keyword that's being heavily bid on.
Relevancy: AppTweak has a unique KPI called the relevancy score (a metric between 0-100) that indicates how relevant a keyword is to an app. This helps confirm if an app and keyword are semantically close to each other. For example, the keywords "run" and "running" would be different in the eyes of the app stores than in our eyes. While the app stores would view "run" in terms of mobile games like Minion Rush, Temple Run, etc., "running" is about a physical outdoor activity, so, it might not be interesting for Minion Rush to run ads on "running" as Apple might not consider this app very relevant to the keyword.
Utilize search terms from user intent
The way users search in the App Store can be very different from how people search on the web or how people would talk about a product or service (highlighted by the example of "run" and "running" in the previous paragraph). Therefore, it is important to put yourself in the mind of the user and think about how they transform intent into search behavior on the App Store. To find those highly relevant keywords with high user intent, consider the following two options:
App user reviews are a great way to discover a few keywords that users use often and identify motivators. Mining competitors' reviews can also give you valuable insights into relevant keywords that might be interesting to bid on.
Organic search results is another place to analyze user intent. Top-ranked apps are meant to be most relevant for the query, so analyzing how they relate to a specific keyword can tell you a lot about user intent.
Tips to inform your Search Ads bids with keyword insights
Consider the following tips to increase the effectiveness of your Search Ads campaign with keyword optimization:

Download our MMP Buyers Guide
Having a trusted partner for accurate, unbiased, indisputable data and real-time insights is no longer a nice-to-have, it's a must-have. Download our guide to help choose your next MMP provider.
DOWNLOAD
Structuring your account by keyword themes (brand, generic, competitor, and discovery campaigns) helps you measure results and monitor performance, optimize your campaign, and set up to scale for long-term growth.
Using negative keywords (for example, search terms with poor performance, names of apps you do not want to compete with, words you do not want your app to be associated with, etc.) in your Search Ads campaign will ensure that your ads will not display when users search certain terms and be added on the campaign or ad group levels.
While monitoring keyword performance, you may identify keywords that do not drive high efficiency. However, you don't always need to remove bad-performing keywords. Instead, you can decrease bids on the poor-performing ones and increase bids on the better-performing keywords.
Lower bid prices with a strong ASO performance
Apple will consider your metadata to determine whether or not a keyword you bid on is relevant to your app. The more relevant a keyword is to your app, the higher your chances your app will win the bid auction, at a lower bid. This means that a well-ASO-optimized app page that contains highly relevant keywords will aid in lowering your bids and the cost of your campaign.
Here is where you should leverage the synergy between App Store Optimization (ASO) and Apple Search Ads (ASA). As explained, a strong ASO strategy is expected to have a positive impact on your Apple Search Ads performance. On the other hand, you can also use the learnings from your ASA campaigns to optimize your app page and strengthen your ASO performance even further. Apple Search Ads can give quick insights into which keywords have a high conversion rate. If a keyword has a high conversion rate, it is a good indicator that the keyword is very relevant to the user's search intent. If you add these high-converting keywords to your app's metadata, you will likely increase your organic keyword rankings and visibility. This improved ASO performance, in turn, will have an impact on your ASA campaign performance.