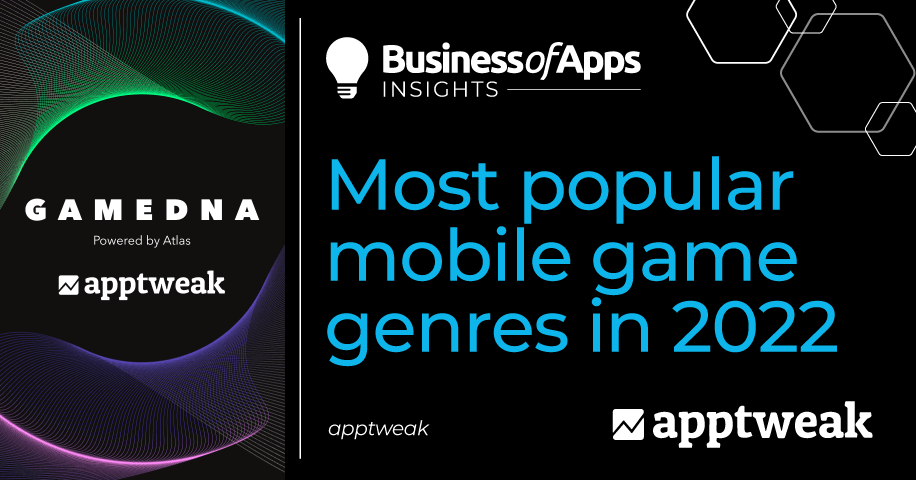 With most of the world's gaming market now dominated by mobile games, the mobile gaming industry is more diverse and popular than ever. Thanks to GameDNA, AppTweak's mobile gaming classification, we are now able to uncover more precise and relevant app store insights than store-given subcategories.
AppTweak analyzed the top 1,000 games that drove the most downloads on the App Store and Google Play in the US in 2022. In our latest report, "GameDNA: Mobile Gaming Trends 2023," we have listed the most popular mobile game genres of last year, which can help developers better inform game business decisions in 2023.
Hyper-casual games drove 25% of mobile game downloads
Download share of the US App Store & Google Play (2022)
Source: AppTweak
In 2022, we found that users heavily downloaded easy-to-play hyper-casual games, with this gaming category driving almost 25% of all downloads of the top games analyzed. Action and puzzle games each also held over 10% of the market's download share in 2022.
The most popular GameDNA subcategory was hyper-casual simulation, with the game Money Rush (6.7M) leading this subcategory in downloads. Stone Grass: Lawn Mower Game (5.1M) was the second most downloaded hyper-casual simulation game, despite only being released in February 2022.
Hyper-casual simulation
Source: AppTweak
Although hyper-casual games drove the highest download share in 2022, many hyper-casual GameDNAs held a lower download share in 2022 than in 2021. For instance, hyper-casual shooting, hyper-casual racing, and more hyper-casual gameplays seemed to be less powerful in the market. As a result, hyper-casual games may not be the most stable genre over time.
GameDNA download share in 2021 vs 2022 (US)
Source: AppTweak
Word games saw the strongest growth in 2022
Word games also led the mobile game market in 2022. With top games including Wordscapes and Wordle!, word games drove 1.4% more download share than in 2021. Word games could, therefore, represent interesting growth opportunities for game developers.
Top word games in 2022
Source: AppTweak
App store visitors are spending more on match games
In terms of revenue, match games drove the highest-grossing revenue share of all game subcategories. In particular, match-blast games experienced the biggest revenue growth of all GameDNA subcategories in 2022, driving 1.3% more in-store consumer spend share than in 2021.
Top match game in 2022
Source: AppTweak
Download the Mobile Gaming Market Trends 2022 report by AppTweak.