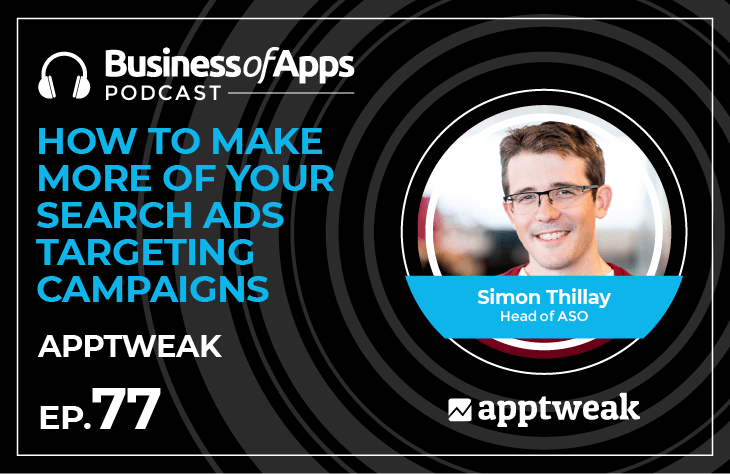 At this point, It wouldn't surprise any app marketer that to acquire users for their apps they need to do both – App Store Optimization to get native traffic and run paid search, among many performance marketing, ad campaigns.
It's given.
But the question they may have – what about bidding on their brand keywords? Should they do that? They've heard other folks do it and now they're trying to answer this question for themselves. In this episode, we have Simon Thillay, Head of ASO at Apptweak, the leading ASO tool driven by data science, to riddle this question for you.
Today's Topics Include:
✔️Simon's trajectory in business: from a small mobile game studio, to Deezer and finally one of the leading App Store Optimization agencies.
✔️Apptweak – ASO and marketing intelligence tool, covering both major app stores and expanding beyond to cover the Facebook Ads platform and more.
✔️Apple's iOS 14.5 ATT framework and how it changes app marketers UA campaigns.
✔️Keywords cannibalism – what is it, how and why app brands need to pay attention to it closely.
✔️The role of ad creatives in the App Store Optimization, how app screenshots may help to communicate the app's message to specific audiences.
✔️Apple's A/B testing tool and custom landing pages – what should we expect
✔️ Android or iOS? iOS
✔️ What app features would Simon miss the most? Texting via WhatsApp and music streaming via Deezer
✔️ What is missing from mobile app technology? Offline mode for mobile games
Links and Resources:
Quotes from Simon Thillay:
If you look at the direct impact of the ATT on Apple Search Ads it's almost zero because Apple Seach Ads was the one marketing channel that was going to be exempted from it.
If I'm seeing a small pirating app that is based on pirated shows on YouTube, I don't think it's possible anymore, but just for the sake of the argument, I won't feel the same level of threat. This is where you need to think "ok, not every threat is equal"
Don't expect too much out of it, we still see a lot of people only now finding out what is ASO and thinking that they can get 300+ downloads just out of the thin air"
Follow the Business Of Apps podcast