The US has been for a long time the biggest app market in the world, only recently being surpassed by China for number of downloads in 2015. There are currently over 100 million users in the country access the internet with a mobile device, and in 2014 the iOS App Store alone made $10 billion worth of earnings for developers.
The app developer market in the USA is, as a natural consequence also in extremely good health. Estimates say there were about 1.66 million app economy jobs in the US at the end of 2015, up from 750,000 in 2013. From big-name companies to niche and boutique studios, the landscape is rich with choice. This guide will help you guide that landscape, giving you the tools you need to choose the right developer for your app
The guide is divided in the following sections:
We'll begin with a quick overview of the app developer market in the USA
The app developer market in the US
As of 2014 there were an estimated 680,00 mobile app developers in the US, and Actonline says 74% of all global development companies are found in the USA.
As you would expect, distribution is heavily skewed towards cities, the main hubs being San Francisco, Los Angeles, Boston, New York and Chicago. However, the sheer number of app developers, and the size of the country, means that despite there being a high number of devs in urban centres, about 82% of developers are actually outside cities. The map below is a representation of the distribution of development companies across the United States.
App development company distribution in Contiguous USA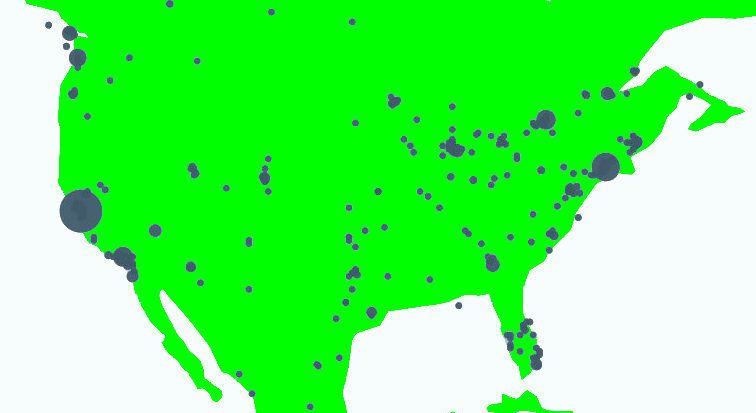 Source: Cariboudigital.net
If you leave in the United States, chances are there's an app developer near you. Having spoken of the strength of the app economy and where devs can be found, the next question is how much does app development cost?
US app development costs and statistics
App development costs can vary not only from developer to developer, but from platform to platform – as well as naturally rising with the complexity of the app. Prices for developing an iOS mobile app can average around $27,000, with cost decreasing to $23,000 for Android (though this is on the rise as Android gains market leadership) and $18,000 for Windows phone.
Below is a graph representing the range of rates and median average rate one can expect to pay an app developer for iOS and Android apps.
Range of app development costs per hour in US (US Dollars)
Data source: Nine Hertz
The relatively high top end prices, compared to global rates, are because the best developers in the world can be found in the USA, and they bring the mean average up considerably (which is why we've chosen to show the median instead). However, the US also has the biggest range of rates, and while we don't recommend going for the bottom-of-the-barrel rate, there are plenty of talented and award-winning developers at all points on the scale.
How to choose an app developer in the US
There's two major sections this divides into: research you can do on your own, and the interview phase with the app developer, where you'll explore their skills and expertise while they try to understand your business and your app. The research you can do at home is as follows:
Review their portfolio: not only to see how many apps they've made and how successful they've been, but also to see which industries they've worked for. A niche social network app has vastly different characteristics and challenges to a mobile enterprise app for industry. Experience in your specific field of business is just as important as development skills.
Recommendations: ask others in your industry who have launched successful apps to recommend a developer, or find out who made the most successful apps if there's an industry benchmark.
Check out our Market Place: You'll find a wealth of information and app developer profiles in Business of App's Marketplace.
The more you know of your app developer, the better questions you can ask

What questions should you ask?
This is an exploration phase, and it goes both ways. You'll be trying to find out what it's like working with the app developer, what their approach is, where they excel and what their philosophy on design is. On the other hand, the app developer will want to know what it's like working with you, your expectations, your business model for the app and how you plan to take it forward and expand it. It's a conversation, and an enjoyable one at that – both parties are thinking about how to do business together, and both have a vested interest in the success of the app. So what should you look to ask?
1. What platforms do you develop for natively? Do you develop cross-platform apps?
You want to know this right from the start, especially if you have a specific platform in mind or if you want to be platform-agnostic. The difference between iOS, Android and cross-platform can be monumental, so it's important you know which one you want to aim for. Coding natively for both iOS and Android can equal paying for two separate apps.
2. Do you cover every stage in the development cycle?
Some specialise in UX/UI, others in back-end, others still in integration. If your chosen company only does certain stages, then you'll need to make sure whoever does the other parts can work well with them.
3. How can my app make money?
This is really something that you need to think of together, especially if your app is linked to your business. It is not uncommon for app development companies to also offer business plans and strategy advice as part of their services.
4. How do you communicate during the development process?
Are you the type to want constant updates, or would you rather sign off and only see the end product? Companies work in different ways and use different development processes, so you want to find one that suits your communication needs. There are app developers who communicate daily, while others only on major, significant updates.
5. What kind of testing will you do?
The polishing of an app is in the testing: from stress (basically overloading the app with activity to see how it behaves) to A/B, testing is key to making sure your app is successful and functional from the start.
6. Is submission to app stores included?
Submission to iTunes requires subscription and that the app adhere to strict guidelines. Android has fewer rules, but also requires a registration, and both ask for a publishing fee. There's more to it than just submission as well: app store optimization can be the cherry on the cake of a well-thought out and slick marketing campaign.
7. What's the latest tech you're using?
This will get the conversation going, and perhaps there is some new technology your developers are using which could catapult your app to success.
8. What other app related services do you offer?
Many companies also offer strategic guidance, marketing campaigns, app store optimization, post-launch maintenance, branding advice and all the other activities that go behind a successful app. The world's best app won't go very far if no one knows it exists, or if it has an awful name.
Hopefully asking all these questions will give you a clearer idea whether the app developers in front of you are the right people to deliver your product, but also someone you'll get along with. This is key, as your relationship with an app developer will rarely end upon publishing the app: there's updating and maintenance to be done most of the time, and perhaps another app to be made if the first one is successful.
Selected app development companies
Not just a full-stack developer but also a tech consultancy, they cover everything in app development, from design and development to business plans and strategy. Offices are in Boston, London and Newcastle (UK) and India.
Platforms: iOS, Android, Windows, Web, Blackberry OS – Sector Focus: IT and Healthcare
Offices: Boston MA, Austin TX
40 team members in 4 locations.
50+ high quality projects completed.
Free online quotation available.
An outsourcing agency, Octal have worked with companies ranging from start-up size to Fortune 500 corporations, and they pride themselves in their attention to the specifics of your business.
Platforms: iOS, Android, Web – Sector Focus: Business Services
Office: Sarasota FL
Key clients include Oricom, Aviva and FIAT.
150+ skilled professionals.
Over 1200 clients since founding in 2004.
More than a decade of experience and nearly 200 professionals give Konstant Infosolutions a huge variety of skills and knowledge. Have worked in a number of industries including eCommerce, services, media and e-Learning.
Platforms: iOS, Android, Web – Sector Focus: Transport, Media, Entertainment
Offices: Palo Alto CA, New York NY, North Palm Beach FL
Awarded in 20 Most Promising Web Design & Development Companies 2015.
ISO 9001:2008 Certification for quality assurance and commitment.
Recognized as Best Companies to Work For 2015 by SiliconIndia.
Founded in 2008, Shubhashish Reliantekk takes apps and software projects from the design phase through development and quality assurance to deployment. Minimum project size starts at $5000.
Platforms: iOS, Android – Sector Focus: Business Services
Office: Sarasota, FL
FastPay and Tip-Pop among its 350 clients.
ISO 9001:2008 Certified.
60+ qualified developers in its ranks.
100-person app development company with a focus on start-ups and enterprise apps. Partners with SuperMoon for marketing and Early Growth Financial Services. Builds natively in both iOS and Android.
Platforms: iOS, Android, Web – Sector Focus: eCommerce
Office: Santa Monica CA
Benefits program includes free Amazon Web Services.
Has worked with syncplicity and Bambino, among others.
Based in Santa Monica, California.
Full cycle devs with offices in Houston (Texas), India, Singapore and Australia, Mobisoft Infotech have some truly global reach, and have also worked with companies ranging from start-ups to established industry leaders.
Platforms: iOS, Android – Sector Focus: IT, Healthcare, Education, Consumer Products
Office: Houston TX
170+ clients served around the world.
More than 200 mobile application development experts.
Key clients include Deloitte, Samsung and Tata.
IT outsourcing company drawing its talent pool from India but with offices in New York. Their track record includes 2000+ apps delivered for 500 clients, which implies a high level of return business and trust from their customers.
Platforms: iOS, Android, Windows, Blackberry, HTML5 – Sector Focus: IT, Advertising, Business
Office: New York NY
Top clients include Home Depot, US Financial Management, Yahoo! and MSN.
Ranked in top Indian app development agencies for Appindex in 2014.
Microsoft Gold Partner and certified Google Adword Partner.
Los Angeles-based full-cycle development agency, they were entrusted by Beats by Dre with their brand app, and have worked in the wearables sector too.
Platforms: iOS, Android, Web – Sector Focus: Health, Consumer Products, Travel
Office: Los Angeles CA
Winners of IF Design Award, Appy Awards, and Best International Mobile App Award.
Named best digital agency in California.
Portfolio includes work for Samsung and BBC Worldwide.

From UI/UX to hybrid apps, testing and publishing, Syon Infomedia does it all. Founded in 2007, it has grown into a team of over 135 professionals working in the real estate, advertising, arts and IT sectors.
Location: USA, India – Platforms: iOS, Android, Web Dev, Mobile Web, HTML5 – Sector Focus: eCommerce, Education, Healthcare
Resource hire and in-house professional options available.
Various engagement models and pricing plans.
Key clients include Phillips and Hyatt Regency.
Based in California with two offices in India, Zymr specialises in cloud-based solutions for enterprise mobility and apps. Their expertise has led them to work with communications giants Cisco and Vodafone.
Location: India, USA – Platforms: iOS, Android, Windows, HTML5, Mobile Web – Sector Focus: Communications.
Cloud architecture, infrastructure and security development also offered.
50+ projects successfully delivered.
100+ strong team.
With a presence in India, USA and the United Kingdom Promatics have worked for several multinational clients across the globe including J.J. Threads and DHL.
Location: India, USA, UK – Platforms: iOS, Android, Mobile Web, HTML5 – Sector Focus: Business Services, Advertising.
Has done work in the arts, entertainment and hospitality sectors as well as education and IT.
Cloud solutions, QA and IT consulting also available as services.
ISO 9001:2008 compliant.
Expert in mobile, IoT and wearable apps, [x]Cube Labs have worked with big-name clients like Honeywell, Amazon and Nokia to name but a few. HQ is in Dallas with offices in Bengaluru and Hyderabad (India).
Platforms: iOS, Android, Windows, Blackberry – Sector Focus: Consumer products, Health and Fitness
Office: Dallas TX
Deep Experience: Delivered over 700+ Apps.
Team Size : 400+ across technologies.
Award Winning Design Team : 20+ Awards in last 3 years.
Mobiles apps, games and wearables are all included in the Prismetric skillset, as well as websites and eCommerce. Business focused and offers consultancy and content management systems as well as app development.
Platforms: iOS, Android, Web Dev – Sector Focus: Business Services
Office: Oklahoma City OK
Cross-platform Mobile Application Development (iOS, Android, Windows), using Xamarin, Phonegap and Ionic.
Peugeot, Coca Cola and Chase Bank among its big name clients
Has case studies and a free eBook download.
Start-up focused studio that covers both front-end and back-end development. Has a very streamlined development process outlined on its website leading to development times of as little as 2 months.
Platforms: iOS, Android, Web – Sector Focus:  Finance, Arts, Business, Education
Offices: San Francisco CA, Boston MA
Native iOS and Android application development.
Uses Angular.js, Node.js and MongoDB for its back-end dev.
Key clients: Hagtap, Good.co.
Zco Corporation started out 25 years ago developing software and have now moved to include app development. Having worked with Fortune 500 companies (Verizon, Microsoft and more) as well as small business gives it masses of experience in all sectors.
Platforms: iOS, Android, Windows – Sector Focus:  IT and Gaming
Offices: Nashua NH, Boston MA
Large development team with unmatched in-house development proficiencies.
Developer of best-selling apps that have generated millions in revenue.
Experienced project managers who will deliver your project on time and on budget.

Trusted and used by Facebook, Apple, PayPal and Sesame Street – and that's just the tip of the iceberg of Y Media Labs' impressive portfolio. They also do digital strategy, prototyping, consultancy and internet of things work.
Platforms: iOS, Android, Windows – Sector Focus: Business Services
Offices: Redwood City CA, Chicago IL, New York NY, Indianapolis IN
Worked with 24 Fortune 500 companies.
Counts 300 million plus users in its' apps.
Six offices around the world.
Hidden brains have delivered a massive amount of projects in their history, currently numbering 850+ mobile apps and over 5000 web projects. They cover all major platforms natively.
Platforms: iOS, Android, Windows, Blackberry – Sector Focus: Media, Arts, Business, Healthcare
Office: Schaumburg IL
Microsoft Silver Certified Partner.
Winner of the Aegis Graham Bell Award.
Allows direct hire of developers as well as in-house development.
Covers both app and mobile web development, and does so with two different models: either with in-house development and design, or by allowing you to hire one of their devs to work with your team.
Platforms: iOS, Android, Windows – Sector Focus: Gaming, IT, Utilities, Arts
Office: Maple Shade NJ
Founded in 2011.
90+ strong developer pool.
More than 500 projects delivered.
One of the longest-standing agencies in the US, Boston-based Raizlabs has a portfolio greatly concentrated on consumer products and user experience. Also have a focus on geolocation.
Platforms: iOS, Android, HTML5 – Sector Focus: Consumer Products
Offices: Boston MA, Oakland CA
Key clients include Intel, HP and Virgin Media.
Products used by over 30 million people.
Winner of first-ever Material Design Award by Google.
Can claim to having made three of the first fifty iPhone apps, as it was already around when the phone launched in 2008, and have been featured by the Cupertino company 27 times. Also do Android however!
Platforms: iOS, Android – Sector Focus: Business, Retail, Healthcare, Consumer Products
Office: Chicago IL
Key clients include Chicago Tribune and Whirlpool.
Strong in apps for the healthcare sector.
185+ apps delivered for both iOS and Android.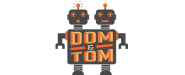 End-to-end mobile app developers with offices across the US (New York, Chicago and Los Angeles), they are particularly adept at working with startups.
Platforms: iOS, Android, Web – Sector Focus: Publishing, Financial
Offices: New York NY, Los Angeles CA, Chicago IL
Key clients include Tyson and the University of Oklahoma.
Produced 110 native mobile apps.
Also offers digital strategy consulting.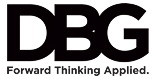 Consulting, design and development are all offered by DBG, who have a number of "engagement plans" for their clients, from fixed-scope to retainers and per-hour costs.
Platforms: iOS, Android, Windows – Sector Focus: Consumer products, Healthcare, Advertising
Office: Irvine CA
Free quotation available.
Nominated top developer by Clutch.co.
Experience in Health, Financial, Consumer Goods and Manufacturing industries.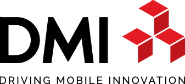 One of the bigger companies in this list, they've worked extensively in the government sector and defence, as well as eCommerce and hospitality. Has offices in Bethesda, New York, San Francisco and Illinois.
Platforms: iOS, Android, Windows, HTML5 – Sector Focus: Government, Retail
Offices: Bethesda MD, New York NY, Lincolnshire IL, San Francisco CA
250+ mobile projects in 12 months from 2014/2015.
Clients include RBS, Rosetta Stone and Toyota.
Won a large number of awards including a Webby award in 2015.
Texas-based and as it was founded in 1997 it started as a software developer and has been developing mobile apps since both iOS and Android came out. Hybrid apps also available in a number of different frameworks.
Platforms: iOS, Android, Windows, HTML5 – Sector Focus: IT, Business, Media
Offices: Houston TX
Past clients include nVidia, Atlas Copco and Blizzcon
QA testing also available as a separate service
150+ Full time employees
Final thoughts: There's plenty of choice in app developers in the US, perhaps more than any other country in the world, and the app economy is extremely strong despite being surpassed by China in 2015/2016. We hope we've given you enough information to pick your perfect app developer, but if not, you can always browse through Business of App's Marketplace.