Have you thought of a million-dollar app idea and are you now looking to develop a new iOS app?
Choosing the iOS platform is a clever choice due to its widespread popularity among most mobile and app services. So you want to understand all of the inner workings of the app making process and how to choose the best iOS app development company.
This may be a tricky task however, and you may not be sure where to start or what to look for in an app developer when hiring.
In this guide we will walk you through how to develop an app for iPhones, and introduce you to the top iOS app development companies to help you build the ultimate app.
What is iOS app development?
iOS app development is the process of creating mobile apps using Apple's operating system, a.k.a. iOS. This includes all of the iOS devices, such as iPhones, iPads, Mac computers and iPod Touch.
Apple conveniently provides helpful tools and resources for building apps for their devices. So iOS app developers can easily program in native languages, such as Swift or Objective-C – iOS apps only run on these.
With these tools iPhone app developers build, test and refine applications for devices that function on Apple's operating system, working consistently towards the objectives and standards of the business.
Now, you may have a basic understanding of the inner workings of developing apps, or perhaps this all is simply double Dutch to you.
Either way, when creating an app, even if you are looking to get a specialized developer to do the job, you want to have an overview of the process.
So let's first discuss why this operating system is important and what advantages you have from integrating it into your app concept.
Why iOS for app development?
As you probably know, Apple is in its prime right now having emerged as the ultimate platform, with macOS, iOS, watchOS and tvOS being used by hundreds of millions of people around the world.
And if you have done a competitor analysis and market research, you may have quickly realized that your potential customers are among those Apple users. You therefore obviously want to engage in OS app development.
But because the iPhone is the main device the majority of people own to use apps, we will mainly focus on the importance of iPhone app development for you to reach a much wider audience.
Swift for iPhone app developers
The iPhone has established an image as a more powerful device in the mobile phone world. There are several reasons for this, but the one most relevant is the efficient programming language, Swift.
So what is so cool about Swift?
It's simple
Today, the Apple App Store has 1.96 million downloadable apps available that are mainly written in Swift, including the major apps Facebook, LinkedIn, Slack and Uber.
It is a programming language that is easy to learn and read, as it requires much less code than other languages.
Once your app is developed, Swift also makes it easier to maintain. This is mainly due to the language combining the Objective-C header (.m) and implementation files (.h) into one program (.swift) file.
It's safe and stable
Another advantage of Swift is its safety, as it is a type-safe and memory-safe programming language. These attributes ensure the language prevents any type errors and avoids vulnerabilities referring to 'uninitialized pointers', which may cause a program to crash.
Moreover, Swift also provides Application Binary Interface (ABI) stability, which is a binary equivalent to its Application Programming Interface (API).
But what's more is that the Swift ecosystem offers the ultimate benefit, which is the ability to talk to apps and libraries built with other versions and ensure binary compatibility.
Time & cost efficient
Swift is a simplified programming language that is becoming the preferred choice for iPhone app developers.
It requires minimal effort to adopt and maintain, having integrated functions that are programmed to eliminate crashes and errors, so that developers can focus on more important aspects of the app, such as its performance and efficiency.
With Apple offering a user-friendly and efficient programming language along with a popularized platform that will instantly reach a wider audience, developing your app for iOS will drive your ROI to new heights.
How to choose an iPhone app developer?
If you're building an app yourself, you may have a million other things on your plate and building the app can be extremely overwhelming – especially if that isn't your field of expertise.
We have got you covered though. There are several top iOS app developers, operating both freelance and full-time, available for you to hire, allowing you to create an app of high-quality that will drive major installs on the App Store.
Top iOS App Development Companies
But before you choose an iPhone app developer or iOS app development company, here are some things you should consider to create a viable product for guaranteed success.
Do your research
You want to understand the basic requirements of app developers and what their day-to-day tasks are, so it is crucial to see what responsibilities app developers usually have.
In essence, an iOS app developer writes, tests and improves applications for devices that use the iOS operating system. So logically, they will need to have an advanced understanding of iOS and how it works across all Apple devices, being able to adapt the software to the business' requirements.
Choose your app developer type
Once you have browsed the world of iOS app development, getting to know the different types of app developers can be useful to understanding which of these your business really needs.
There are four main types of app developers, but you can find many subsets within these, such as specializations in a particular platform.
In general, enterprise-level companies tend to cost more but have the quickest and most effective methods to develop your app, while boutiques are more like small artisans, with the final category being freelancers that are your all-in-one players.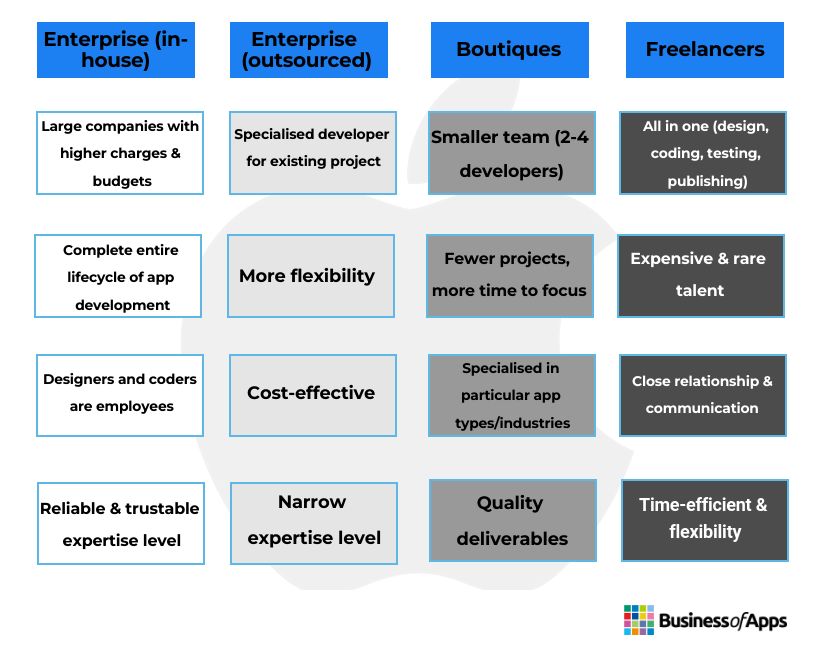 Communicate your business objectives
When you are meeting with potential iOS app developers, make sure you communicate the main concept of your app, including target audience, as well as the overall needs and objectives of your business.
This way you can avoid longing the app making process and have an expert that knows exactly what you envision your app to be.
Experience is key
In fact, not all job positions need a rich background of experience in the field. But when it comes to app or software developers, and in general, roles that require more niche skills and expertise, experience is essential.
Just like how you would not trust a surgeon who has never performed surgery before, a developer who has never developed an app before may not be your best option.
So be sure to look out for previous work and significant projects they have done in the past to really understand their level of expertise.
You want the best players for your app.
What to look for when hiring iPhone app developers
Here is a breakdown of crucial skills and requirements your candidate should ideally have to ensure you choose the best iOS app developer in the field: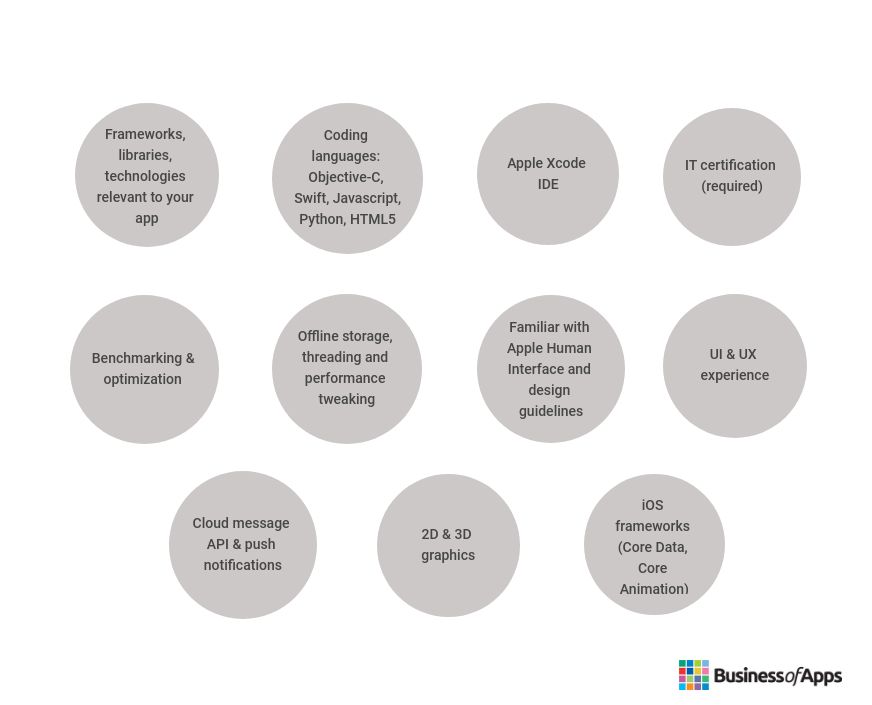 When hiring, you want to have an idea of what their day-to-day tasks will look like. These can vary depending on what type of developer you are hiring.
Nonetheless, here are some points to paint you a better picture of what a typical iOS app developer does:
List of iOS app development companies