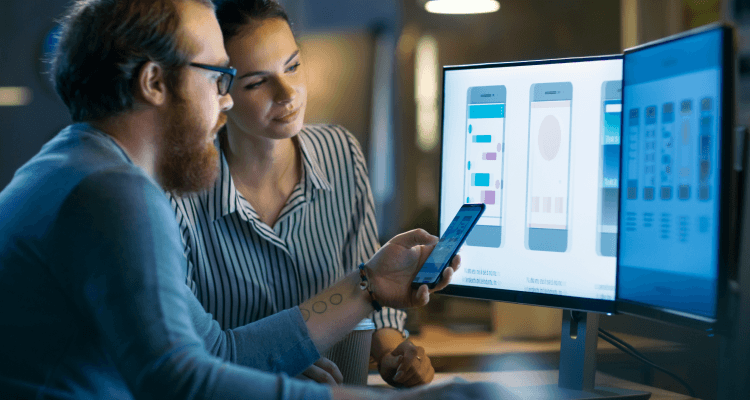 An experienced and worthy mobile app development company is adept in creating apps that seamlessly work across all devices and screens.
Whether you want to build a mHealth app that simplifies patients' lives, a mobile food ordering app, a travel-based app, an insurance app, or a photo chatting app — whatever your idea will be, you should hire professionals.
Here's our insightful 4-step guide to hiring the best mobile app developer more efficiently in 2020.
Define your why
Before you start searching for developers, define your business needs and goals. Make sure to look through this list:
Determine specific business challenges you want to solve with the help of your app.
Select the most fitting mode of operation for your business: outsourcing, outstaffing, an in-house team, team extension, etc.
Choose a more suitable option: hiring freelancers or a company? Unless you have a small task that can be handed off to a freelancer, we recommend searching among companies.
Find potential mobile app developers
After defining specific business needs and challenges, it's time to create a list of potential candidates. Here's a two-step way to make the most of it.
Choose destination
The profound humanitarian fallout of the COVID-19 continues to expand by the day. Companies have developed and implemented business continuity plans, security guidance, and, most importantly — seamless remote working conditions.
Today software engineers are highly mobile. Using different engagement models, software development labor force can be significantly cheaper in some regions.
There are three types of outsourcing between client and development team:
onshore (on the client's premises as well as in the regions)
nearshore (in close proximity to the client)
offshore (remotely)
Benefits of Hiring Developers From Central & Eastern Europe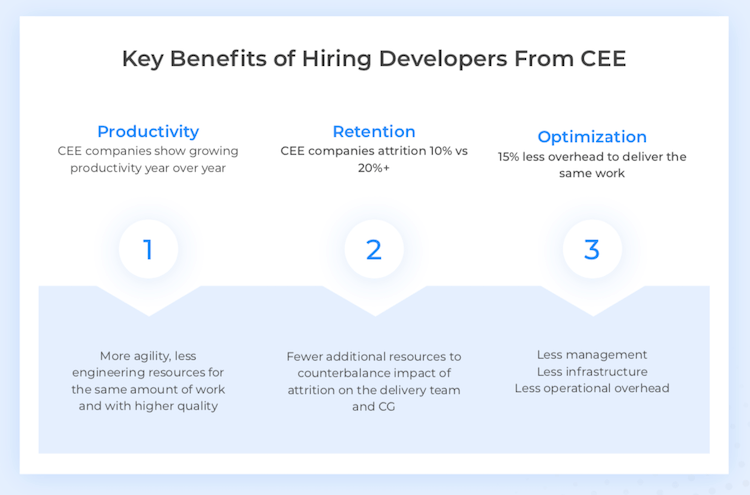 An increasing number of enterprises become inclined to work with Central & Eastern Europe (CEE) teams due to following reasons:
A new hub of technological innovation
A cornerstone of the delivery model, providing access to high caliber IT talent
Ability to push products out to global markets faster than their western rivals
Several of IT giants like Epam, Luxoft, or Snapchat, operating from CEE
Multiple well-known startups that succeeded in securing investments and becoming profitable and bought by giants: Viewdle (Google), Ring (Amazon), Looksery (Snap)
The most flexible combination is an amalgam of competence centers (or nearshore development centers) and onshore presence. Additionally, working with certain offshores can bring particular risks, especially when there are no onshore offices on display.
Conduct research
B2B directories such as Clutch.co provide ratings and reviews of leading IT and business services companies categorized and grouped by specific parameters. Such resources address B2B buying hiring decisions for companies looking to partner with top-rated organizations. Make sure to check them before jumping to the next step.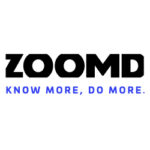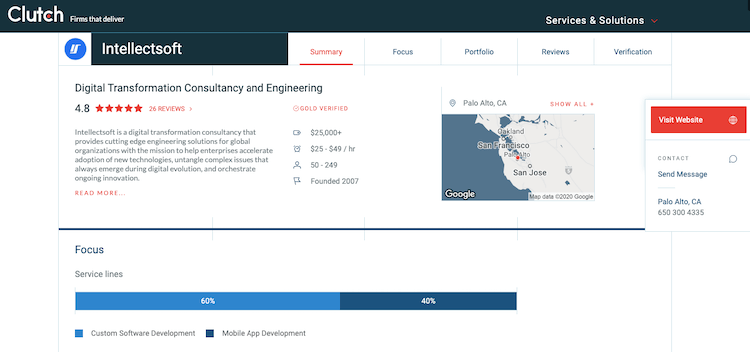 Source: Clutch.co
Tech blogs, freelance websites, and design communities can be great resources for finding app developers and designers since many of them provide design along with development services.
Here are some of the resources to check: Dribbble, Behance, Upwork. The easiest way to check samples of source code is to visit GitHub.
Ask as many questions as needed
Hiring mobile app development has long emerged as the top choice for businesses across industries. When hiring, you hand over your project to a team of external experts, provided by a partner company.
Consider asking these questions before making a decision:
Do your partners have prior experience in developing mobile apps you need?
Do your app development partners have established policies and process development documents?.
Do your partners offer any app development guidance?
Do your partners provide post-launch app support?
What are the testing methods applied by your partners?
You should also ask about providing up-to-date progress on your app, submission to App stores, and marketplaces required, if any, etc.
Hire the best fit
After you've carefully analyzed your potential partners, it's time to make up your mind:
Make a list/table of all your findings.
Put there the most important criteria to pay attention to and rank top companies you'd like to move forward with.
Get final referrals, emphasize communication skills, check their community engagement, clarify all controversial points with your potential developers.
A trustworthy IT vendor has an established security policy and full control over the process. Besides, there's a globally recognized information security standard to check-in – ISO standards — developed by the International Organization for Standardization.
In a nutshell
Whether you lead a startup or a much bigger company, every enterprise often needs external help in completing their software solutions or digital transformation efforts. Technologies evolve quickly, new ones emerge from time to time, and you simply cannot expect every software engineer on your team to know it all.
As learning always takes time, the deadlines are pressing, and consumer demand changes fast,
the question of how to find an app developer or an entire team to complete a project could arise at any moment. Still, projects differ in size, and budgets are not limitless.
In this article, we showed how to find an app developer or development team for any project and business size, as well as different scenarios — so you can find the solution for your case as soon as possible. I hope this helps. Good luck!