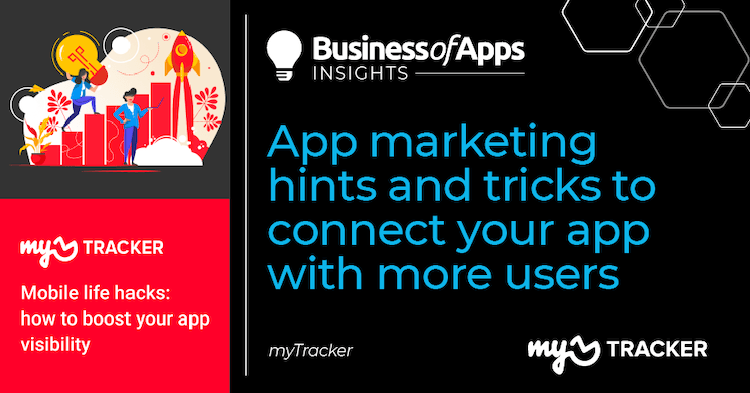 Developing an app is only half the success. Promoting it is a more intricate and demanding task. To get on the list of featured category apps in a store and get hundreds of thousands of installs, you need to start with effective marketing that can be done even with a budget running low. See the key tips below.
Bring your app to the top of the Google Play and App Store search
Your product needs to be visible among millions of other apps in a store. About 65% of downloads occur directly after a search on Google Play and in the App Store.
To help your product gain more recognition and installs, use App Store Optimization (ASO), a process aimed at getting the app to rank higher in an app store's search results and boosting organic installs by visitors of your app page.
ASO starts before you launch your app on the App Store and Google Play platforms, and there are a number of things to bear in mind to help your product be more successful.
Optimize the title (indexed for search)
App title is shown in the search results and is one of the first elements users see. Make sure your title is unique, describes what your product is about in plain language, contains no odd symbols, and covers the most popular search queries. The App Store and Google Play limit their title length to 30 and 50 characters, respectively.
App icon
Users' decision on whether to visit your listing or scroll past it is often a spontaneous one. It happens in a split second. A striking, attractive and recognisable icon may contribute to improving your click-through rate, so make sure it is well thought-out.
Some tips to put a spotlight on your app icon:
a word or letter – only if it is part of the app name or your company logo;
not more than one or two objects so that the user quickly gets it;
no screenshots or photos: tiny elements are hard to make out;
limited number of colours: two or three are enough for a contrast;
plain or gradient background;
unique shape or image that takes up most of the icon (good examples are Vine, YouTube's rectangle, Instagram's camera, Snapchat's ghost, Pinterest's letter "P", Tinder's flame, or TikTok's musical note);
adaptability to any background: make sure your icon looks good and eye-catching on different wallpapers;
simplicity: the simpler the better – your icon needs to be easy to draw by hand;
unique: try to avoid using colours and images of other famous apps of the same category.
Description
Once the user is interested and proceeds to your app page, the task at hand is the right description. It needs to tell exactly what problems your app can solve for the user.
The user is interested enough to go through the first couple of lines. But they would be driven away from the app page if you go deep into tech details from the very beginning.
If your app is a game, it is best to start with how much fun it is. For a social networking app, start out by describing the people users can get in touch with through it. For a photo editor, focus on how it can enhance pictures. After that, move on to:
the app's core functions;
its competitive advantages;
latest updates;
awards (if any).
Add keywords
The App Store contains the keyword field (up to 100 characters) for terms and phrases that your app should show up for in search results. Separate keywords with a comma without adding spaces.
Avoid using duplicates, similar words, category names (if you have already selected a category), words "app" or "programme", or other developers' trademarked terms. You can use Keyword Planner, Keyword Tool, Mobile Action, ASOdesk and other tools, which usually have a free trial, to select the best-fitting keywords.
Basic optimization also includes:
adding graphic elements (screenshots and videos);
app indexing that allows users to click into apps directly from search engine listings on their Android and iOS devices;
setting deeplinks that send users straight to specific in-app locations instead of the home page;
working with ratings and reviews, including negative ones (the key tip here is to avoid emotional replies; always write "We're sorry" if a user has had a negative experience with the app).
Analyse the listings of your competitors, learn from their mistakes and take up the best practices. Before the big release on Google Play and in the App Store, try a soft launch – a small campaign to attract the first users that might become your core audience.
Let them install your app, test it, and leave reviews. This will help iron out any apparent bugs and make you feel more confident about your ASO.
Almost free promotion channels
There are many online resources that you can use for free under certain conditions. Here are a couple of examples.
Engage with the media
Start a few weeks, better months, before the launch. Prepare a list of relevant media based on your target audience groups. For example, your target users are more likely to read IT-focused and general-interest sources but the best way to reach out to your stakeholders and potential partners is through business and industry media.
Messages need to be tailored to each audience group based on their interests and questions they might ask.
Similarly, every target audience group will require a set of materials – a press release highlighting the aspects most relevant for a particular group and background information on your company/studio. Put together a list of questions you might be asked by journalists, and make sure to come up with answers for them.
Provide the media with embargoed news on the app launch so that, if interested, the journalists have the opportunity to prepare their piece, get comments from other market players, and collect additional data. Small publications are more likely to agree to exclusive materials prior to the launch. Insights into mobile app development and the uniqueness of your new app will form relevant and compelling content that can be helpful both for the media and readers.
You can start out with Pressfeed, a platform for journalist enquiries. Subscribe to receive media requests every day and share your knowledge or expert comment on topics relevant to you.
Also, some of the online publications today rely on user-generated content. Write articles and expert columns, speak openly about your mistakes, successes, and tricks of the trade: your experience may be helpful for players both within your industry and in related areas.
Make a website for your app
A website designed specifically to promote a new game or programme makes the task so much easier. It can serve as a landing page for traffic from search engines or targeted ads and provide more details about the app. App stores can restrict certain content, while on your own website you have all the freedom you need.
Add user reviews and share users' success stories. Also, put a visible "Download" button to start the download. Even a mini website with a couple of pages or a simple landing page will help bring in new people.
If you have a website with a lot of visits, a link to the app in its footer is a must – it is a stable and free source of traffic.
Interact with online communities
Reach out to audiences on forums, in relevant online communities, and on groups on social media. Be open to discussion and try to build a positive perception. The development stage is the right time to start doing so.
You can then offer beta testing to highly rated users or community members you have liaised with. This will help you create a loyal audience and get high-quality feedback even before the official release.
Other useful promotion tools involve bonuses or free trials. Even if your app is a paid one, a trial period will allow you to analyse aggregated user data, profile your audience better, establish communication, and work more effectively in the future.
Paid promotion channels
There are several basic tools to promote a mobile app.
Online advertising
Online ads can help with the basics, such as attracting new users and engaging the current audience (or those who have used the app previously).
You can reach out to potential customers with various formats – banners, video ads, or multi-format ads that adapt to different parts of the website. There are also other options available. The key here is to target the relevant audience correctly.
Take into account standard social and demographic parameters and geolocation, as well as users' interests and behaviour.
Does your app become more relevant in certain weather conditions? Then set up weather targeting, and users will see a CTA ad when the weather matches the set parameters. As one example, this feature will be useful for taxi aggregators or food delivery services.
Ads can be displayed not only on mobile websites but in social media apps as well. Some of them let you set up campaigns in built-in ad accounts, while others allow cross-device campaigns through external services (ads in OK and VK can be set up only through myTarget). myTarget has developed special formats and audience search settings for app advertising. For details, see a dedicated article as part of our online course.
The current audience and customers who have stopped using the app can be engaged and reengaged with remarketing. This way you can show ads of special campaigns or bonuses to your audience. Clicking on the ad will take the user directly to the app or its page in the app store.
Higher conversion can be achieved using deeplinks, with the ad taking the user to the relevant section of the app, even if it has just been installed.
Video advertising
Videos are good at attracting user attention on social media and encouraging them to engage with the brand. Platforms are rich in entertainment content, including streams, music videos, films and TV series that grab the attention of users. Your video ads are sure to be seen.
The optimal length is 10 to 15 seconds, with the first five seconds playing the crucial role. The contact time is limited, as the user may keep scrolling and miss your ad.
When making a video, go for:
static first frame – if the user's internet connection is low-speed, it will catch the attention while the video is still loading;
subtitles – the video is played without sound, so the subtitles will help convey the message;
visible logo and product name – users will remember the brand better;
CTA button – add it to your video to guide the users to the desired response;
focus on interface – the audience needs to know how to use your product. The most effective solution here is the new playable ads format with a demo version, which can be launched in the mobile version of OK through the myTarget account;
a clear description of the product's major benefits is vital: customers are not just shopping for goods and services, they are trying to solve their problems and need to understand how the product will help them with this.
CPI and CPA networks for mobile traffic
One of the ways to attract traffic to your app is through CPA and CPI networks. CPA networks charge for certain actions in the app, while CPI offers charge for installs only. There are also CPM and CPC models with payments for impressions and clicks.
All you need to start working with mobile CPA and CPI networks is banners and a link from the tracking platform. Select several networks, define the KPIs, and give each network a small limit of installs per day (e.g. 100). By monitoring the traffic for a week, you will be able to assess its efficiency and quality.
Take a look at ROI and other metrics – the first results should already be clear. Get rid of the less successful networks and keep those bringing value. Collect the source ID stats to evaluate traffic efficiency for each channel.
Engage opinion leaders
Bloggers, media personalities, opinion leaders, and owners of large and medium-sized platforms (groups and public pages in social networks, messenger chats, etc.) can be a quick win.
Unless you are the leader in your category, try to avoid the most popular influencers. Reach out to smaller bloggers, especially if they have just started out, as they will usually have lower prices and more loyal audiences.
Performance measurement tools
There is a number of metrics to analyse the efficiency of advertising campaigns and optimise the costs:
impressions – the number of users who saw your ad;
clicks – the number of times users have clicked on advertising links;
click-through rate (CTR) – the ratio of clicks to impressions (helps assess the quality of your ad and its relevance to the target audience on the selected platform);
click to install rate (CR) – the ratio of actual installs to the number of ad clicks;
session duration – average time between the opening and closing of the programme;
DAU, WAU and MAU – the number of unique users per day, week and month;
retention rate – user engagement typically assessed one, seven and 30 days after installation;
cost per install (CPI) – the cost of one install, i.e. the amount spent to attract one user;
average revenue per user (ARPU) – the average revenue per install. As a rule, if ARPU and LTV (lifetime value – the total revenue from one user for the entire period of the app use) exceed the CPI, your business model can be considered effective;
ROI – the advertising campaign's return on investment (the ratio of generated revenue to advertising costs).
If you know your audience well and monitor ad metrics, making your app truly successful will be much easier now. But be mindful of fraud – even if your metrics reach their target values, there is a chance that clicks and installs are not coming from real users.
Learn more about your audience analytics and protecting your marketing budgets from fraud with myTracker.